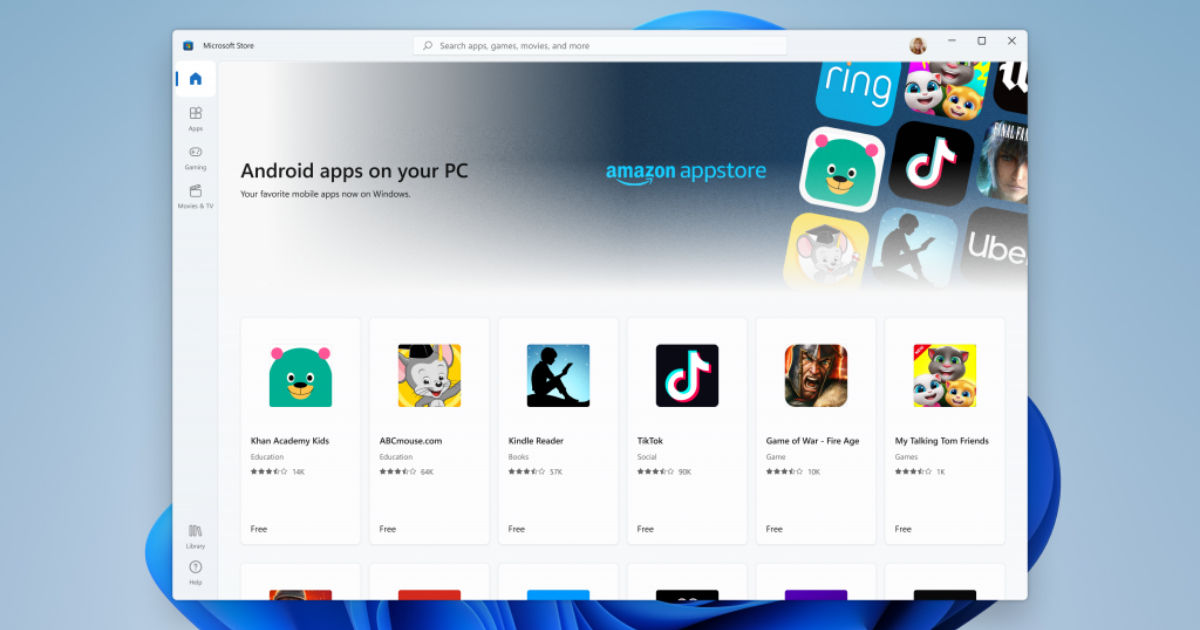 An update to the Microsoft Store may not have surprised or interested most, but Windows 11's new store may be the biggest change for Microsoft ever. The company has partnered with Amazon to bring Android apps to the Microsoft Store. "We also announced a partnership with Amazon to bring their catalog of Android apps and games to Windows. Windows customers will be able to discover Android apps in the Microsoft Store, and acquire them through the Amazon Appstore," the company said in a blog post. The feature makes the Microsoft Store the most open amongst the app stores today.
But Android apps aren't the only reason why the Microsoft Store is more open. Microsoft is also increasing the types of apps that can be hosted on the store. "Starting today, Windows developers can publish any kind of app, regardless of app framework and packaging technology – such as Win32, .NET, UWP, Xamarin, Electron, React Native, Java and even Progressive Web Apps. Developers can sign up later today to publish desktop apps, or build and package PWAs using our latest open-source tool PWABuilder 3," the company said in its post.
Between Android apps and all the others Microsoft is allowing, the company could get a significant boost to the sheer number of apps available on the Microsoft Store. This has been a major point of failure for Microsoft over the years.
But the company didn't stop there. With Windows 11, it seems to have decided to break more than one of the industry's unsaid rules. Developers will now be allowed to keep 100% of their app revenues by using third party commerce platforms, which is an unprecedented move for Big Tech giants like Microsoft.
It could also spell trouble for Google and Apple, who have both been criticized for this aspect of their stories. Microsoft said it will offer 85-15 and 85-12 revenue share models, for apps and games respectively, for developers who plan to use its in-built payment modes. But they could choose to not use them at all, and keep all of the revenue.
This could become an important aspect of antitrust cases against Google and Apple, reducing the two companies' control on their stores. Unlike Microsoft, which earns most of its revenues from enterprise users, Google and Apple need their stores to bolster revenues.