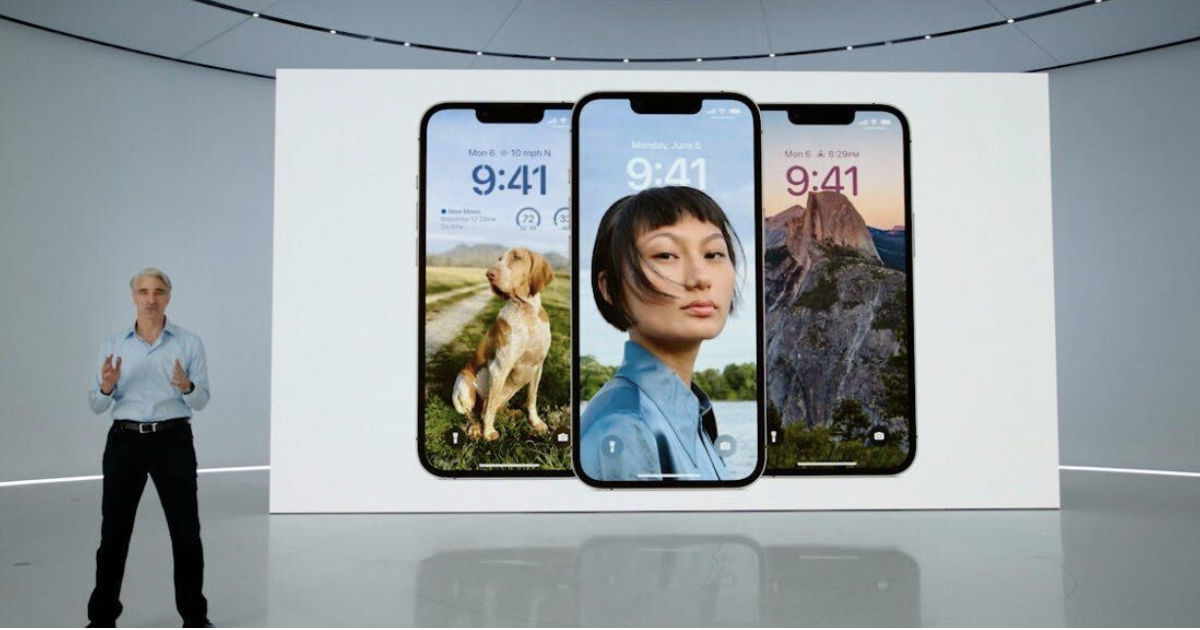 Apple has announced many new software features that will be coming to all Apple devices later this year. At the Worldwide Developers Conference (WWDC) 2022, the Cupertino tech giant announced the iOS 16, watchOS 9, iPadOS 16, macOS Ventura, M2 chip, and two new Macbooks. The event that commenced on June 6 will continue until June 10, 2022. Unlike the past two years, Apple made the WWDC 2022 event a limited in-person event on an invite basis. Apple WWDC 2022 can be rewatched on YouTube, Apple.com, Apple TV, the Apple Developer app and the website.
The WWDC event had a lot of major announcements on what's coming to your device, whether it's an iPhone, Macbook, iPad, Apple Watch, etc. Apart from that, Apple also announced new continuity features that treat multiple devices as one. The new iPadOS features now make the iPad function more like a laptop and less like a smartphone. macOS gets a new name, Ventura. The new Macbook Air and Pro gets powered by the latest M2 chip. Here's everything that Apple announced at the WWDC 2022.
iOS 16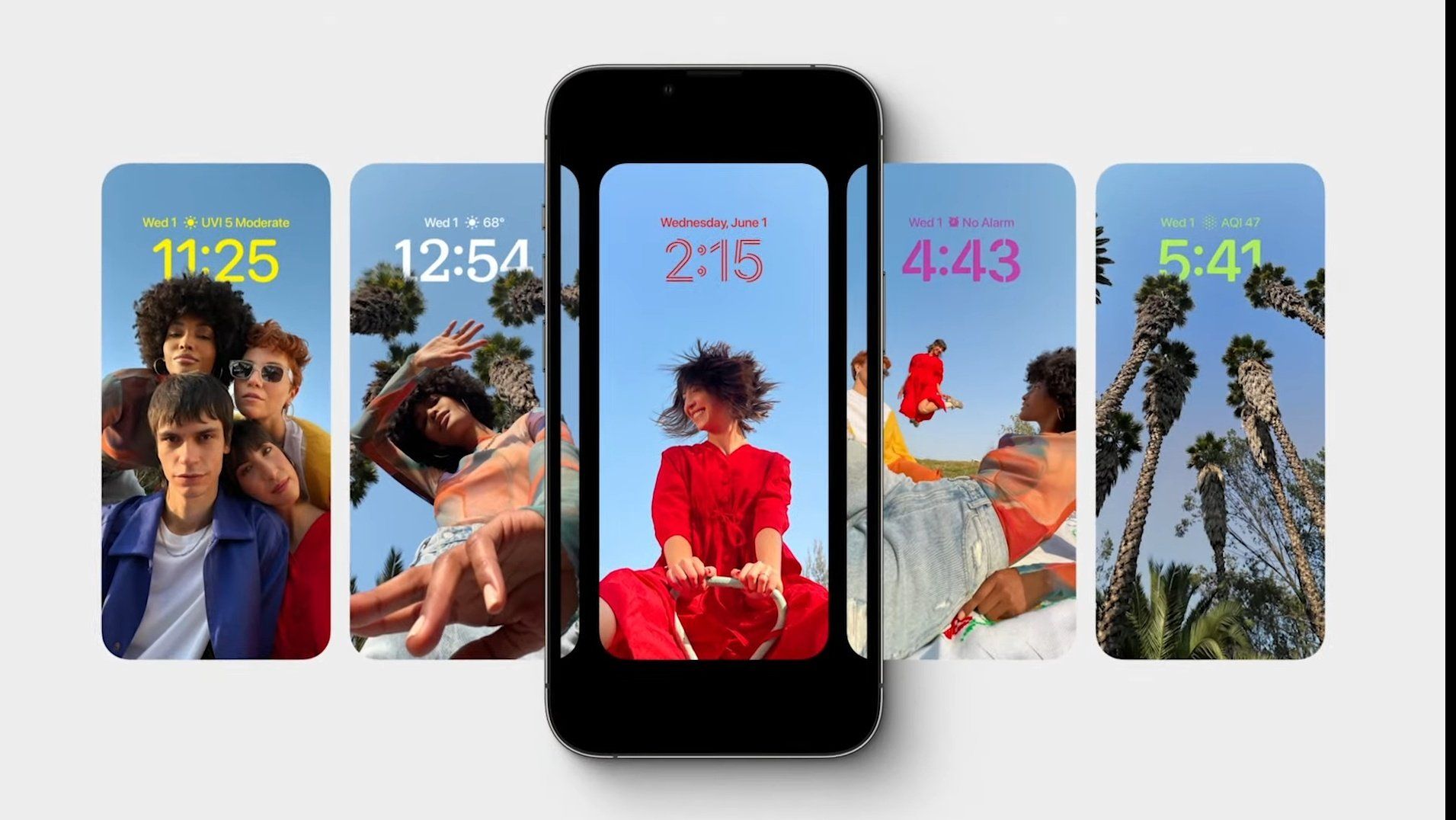 The iOS 16 comes with a new lock screen that offers various customisations. Not just that, the lock screen can now be divided into different slides where you can customise it individually. New widgets have been added, and they can be added on the lock screen. Notifications have got a redesign, and it now rolls up alerts from the bottom. Live activities for notifications make it easier to stay on top of the things which are happening in real-time such as a live match score, ride-share, or food delivery orders.
Also Read: iOS 16 Announced: Which iPhones to Get New Update, Here's The List
Apple iMessage users can now edit or unsend the sent messages. The company also announced the Apple Pay Later, which allows you to break down your purchases into 4 payments across 6 months with 0% interest. Live Text feature is now being expanded for videos, which means you instantly get the live captions for videos. The new version of the app includes features like cycling, look around, Multistop routing, and more. Lastly, in terms of privacy features, Apple's Safety Check now includes protections that help victims of domestic violence.
watchOS 9 and iPadOS 16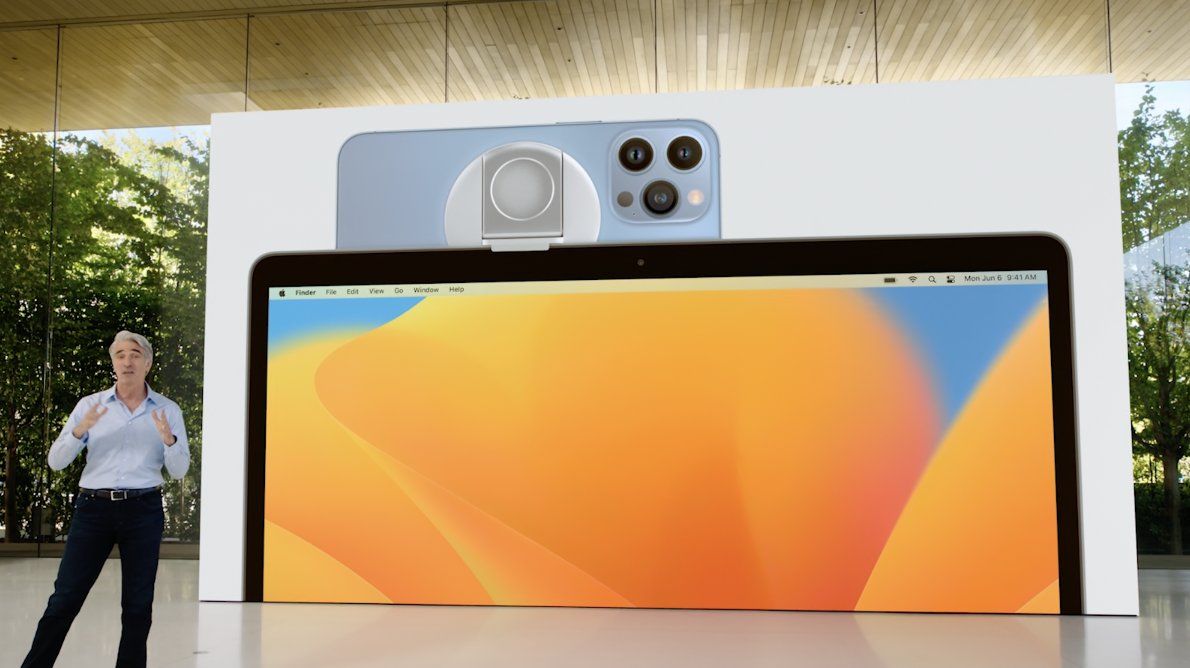 Apple has announced several features coming to the iPad and Apple Watch later this year. The watchOS 9 features a lot of workouts, including custom workouts, heart rate zones, and three new metrics in workout modes. The Sleep Stage feature will club all your sleep data and show them in a more clear way. The Apple Watch can be used to remind users to take medicines, all they have to do is enter the medicine name with a picture of it. Apple has added various animated watch faces like lunar calendars, astrological, and more in the WatchOS 9.
Apple has announced everything that will come in iPadOS 16 later this year. A new Screen Scaling feature has been added, which adjusts each app screen in split-view mode. Apple has added the Stage Manager in the iPad, which it also introduced in the macOS Ventura. iPad users will be able to organise the tabs in a better way with Stage Manager. A new collaboration feature allows users to share their iPad screens while talking with other users. Freeform, which is essentially a whiteboard, has been added, which you can use during video calls. Apple has added a Reference Mode that targets to produce better accurate colours on the screen.
Also Read: Apple M2 vs Apple M1: What is the Difference in CPU, GPU, Performance, and More
Apple M2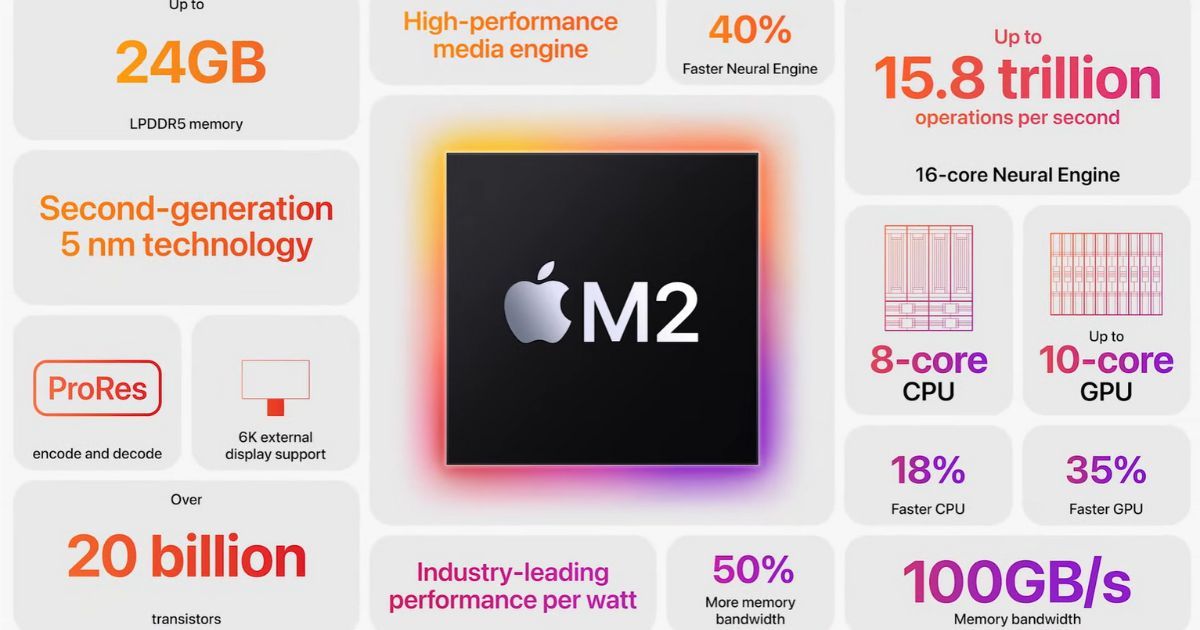 Apple, at WWDC 2022, announced the successor of its first silicon chip, M1, the M2 chip. The newest Apple M2 brings a lot of improvement over its predecessor, the Apple M1. It brings a plethora of features and sits between the Apple M1 and Apple M1 Pro chipset. The Apple M2 chip is built on top of the second-gen 5nm technology with over 20 billion transistors. The chipset comes with support for up to 24GB of LPDDR5 RAM. The new 16-core neural engine can operate up to 15.8 trillion operations per second, and it is 40% faster compared to the last-gen SoC.
The octa-core M2 chipset comes with four performance-centric cores as well as four power-efficient cores. The new 10-core GPU has a larger L2 cache, and it is said to offer a 35% better GPU performance than M1. The Apple M2 chip also comes with 50% more memory bandwidth, 100GB/s memory bandwidth, ProRes encode and decode, and support for up to 6K external monitors.
macOS Ventura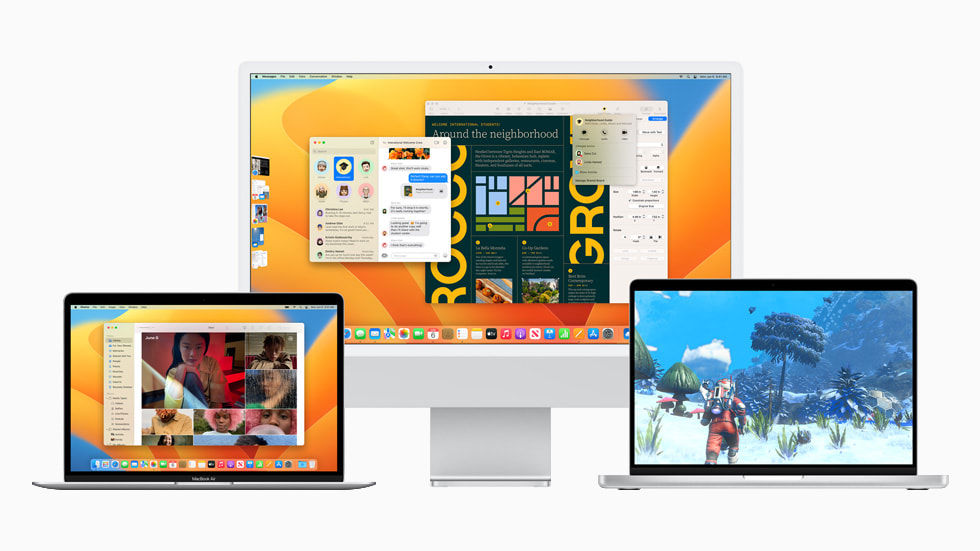 Apple has named its next operating system for Macs as Ventura. The latest version of macOS will focus more on productivity. There is new software called Stage Manager, which helps you organise all your stray tabs and apps in a sidebar, and you can pick them whenever you want. The Mail app on macOS will allow you to undo or schedule the mails, and the search function is now optimised to keep you the accurate results. Safari will now allow you to share your tab with friends or family members via the Shared Tab Group feature. A new Passkey privacy-based feature has also been added, which the company says can't be phished by hackers. It will be your unique credentials for logging in to each site.
macOS Ventura features Metal 3, which will allow the Macbook laptops to run games at 1080p resolution. Here's an interesting feature that will be helpful for most business users. Apple will now allow you to use your iPhone camera as your webcam during your meetings, the company calls this feature Continuity Camera.
New Macbook Air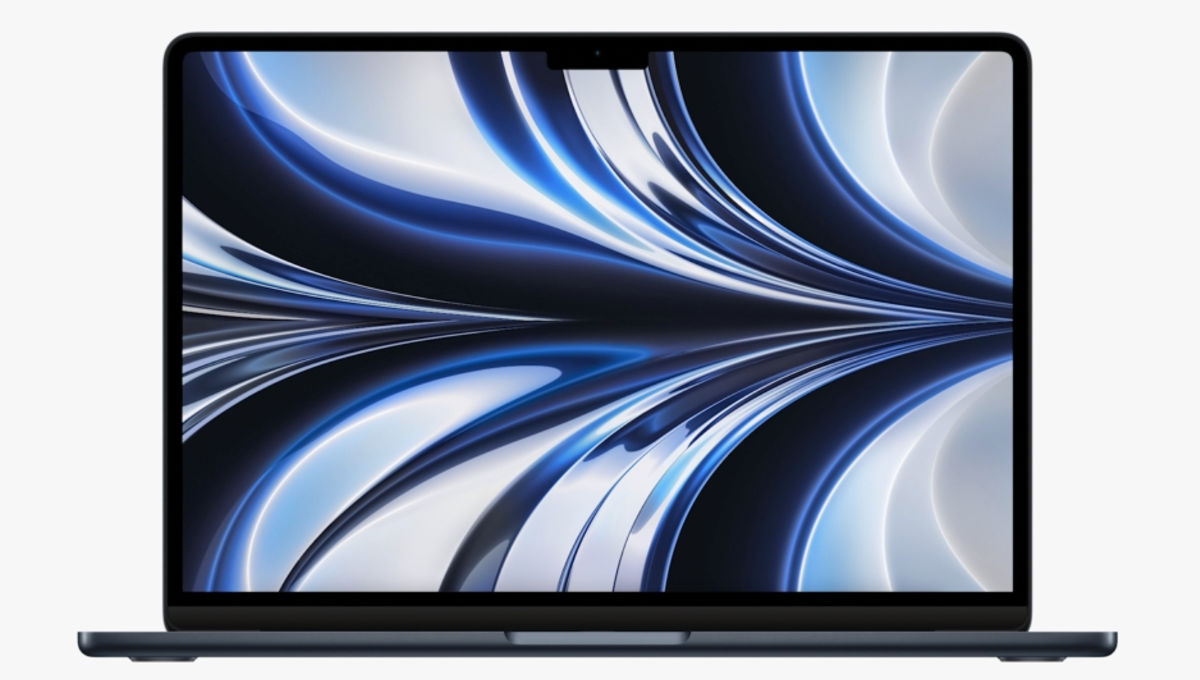 Apple unveiled its latest MacBook, the 2022 MacBook Air, at WWDC 2022, which is powered by Apple's new M2 chip. The company says that the new Macbook Air performs 40 per cent better than its predecessor because of the M2 chip. It comes in 4 colour variants Midnight, Silver, Space Grey and Starlight. It is 11.3mm thick and weighs about 1.2Kgs. For the first time, Apple has added the notch on a Macbook Air, which houses a 1080p HD camera. In addition, the new mics come with support for Dolby Atmos, which will make the video calls more audible.
Also read: Apple Launches New MacBook Air With M2 Chip, Refresh Design, and Display Notch
It features a large 13.6-inch Liquid Retina Display which can be as bright as 500 nits. The company has brought back the Magsafe charging in the new Macbook Air. It retains the Touch Bar, which has been removed from the new Macbook Pro variants. The Apple Macbook Air 2022 will sell in India at a starting price of Rs 1,19,000 and will go on sale next month.
MacBook Pro 2022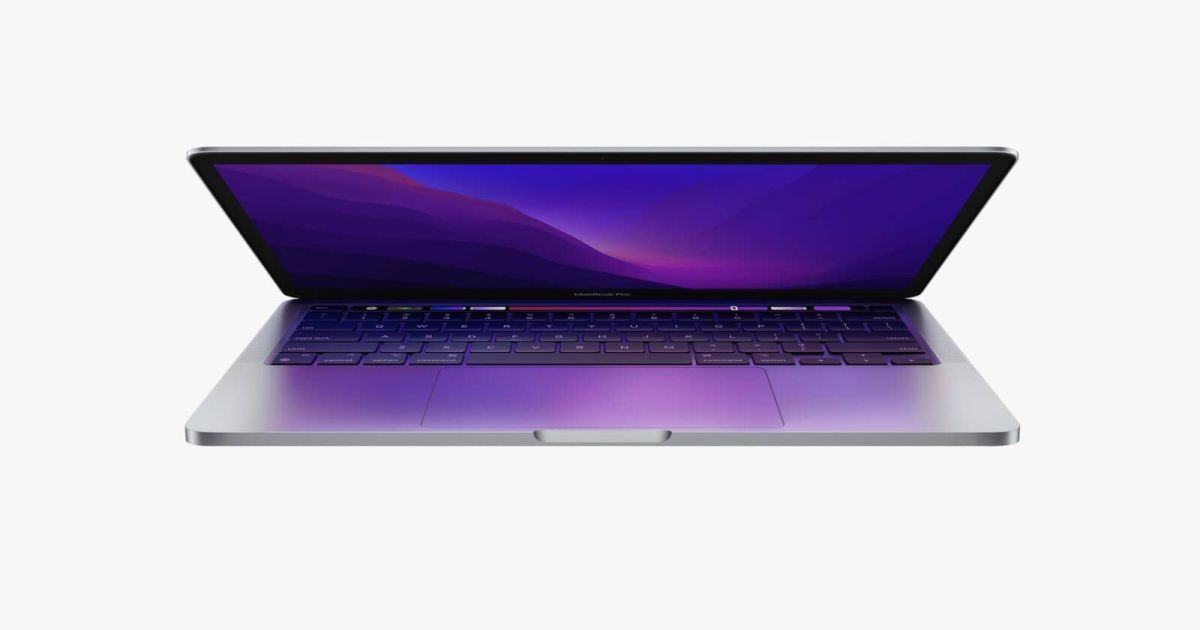 The new Macbook Pro doesn't seem to come with major upgrades from its predecessors. It features a 13-inch retina display with 500 nits brightness and P3 wide colour gamut. The Macbook Pro 2022 is powered by the M2 chipset with up to 24GB of LPDDR5 RAM. Apple claims the new MacBook Pro with an M2 chip can last up to 20 hours on a single charge. It comes with a Thunderbolt port as well as support for Wi-Fi 6 connectivity.
Also read: New 13-inch MacBook Pro with Apple M2 Chip With Up to 20 Hours of Battery Life Announced: Price, Specifications
Other features include an advanced camera ISP, studio-quality mics, ProRes support, an active cooling system, a magic keyboard and a Touch Bar. Apple says that users can play intensive games like Baldur's Gate 3 at a 40 per cent faster rate. In addition, the new Macbook Pro can play up to 11 streams of 4K and two streams of 8K videos. It can also convert the normal videos to ProRes format three times faster.