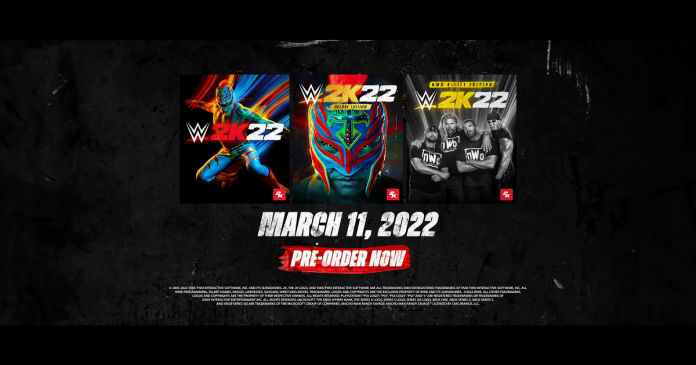 WWE 2K22 just dropped a new trailer, confirming its release date as March 11, 2022. The game is currently available for pre-order and the bonus includes 3 playable versions of The Undertaker. Leaked earlier last week, it is now confirmed that Rey Mysterio will indeed be the cover star for this year's edition of WWE 2K.
The game was scheduled to come out in the latter stages of last year but development was pushed to 2022 in order to deliver a much more polished experience. While there hasn't been much in the way of excitement within the fanbase with the past couple of releases, it certainly looks like 2K22 is turning things around.
Among other things, the fanbase is really excited to see the return of much-beloved game modes such as the GM Mode. It will be interesting what other new things 2K Interactive have in store for WWE fans come March 11, 2022.
Also Read: Former WWE Wrestler Booker-T Sues Activision Over Call of Duty Character and Loses
WWE 2K22 Comes Out on March 11, 2022
So far, 2K has confirmed that WWE 2K22 will indeed have a new controls system as well as a redesigned gameplay engine. There hasn't been a lot in the way of gameplay, apart from a small trailer released earlier last year, but it does appear that the game packs a whole lot of game modes not seen in previous games.
Some of the most exciting game modes and features included in WWE 2K22 are:
MyGM
MyFACTION
MyRISE
Universe Mode
Creation Suite
More information will likely be revealed later this month and hopefully, we'll get to see the game in action. While 2K hasn't had the best of streaks, there has been the occasional sign of innovation in past WWE games, and 2K22 could be really a game-changer for the franchise.
It will be interesting to see if the fanbase accepts the game's with open arms or whether they're in for another bugfest a la WWE 2K21.
Thanks for reading till the end of this article. For more such informative and exclusive tech content, like our Facebook page