Highlights
WWE 2K23's combat is snappier and more responsive
Showcase, this time around, revolves around John Cena — with a twist
The game retails for Rs 3,399 on Steam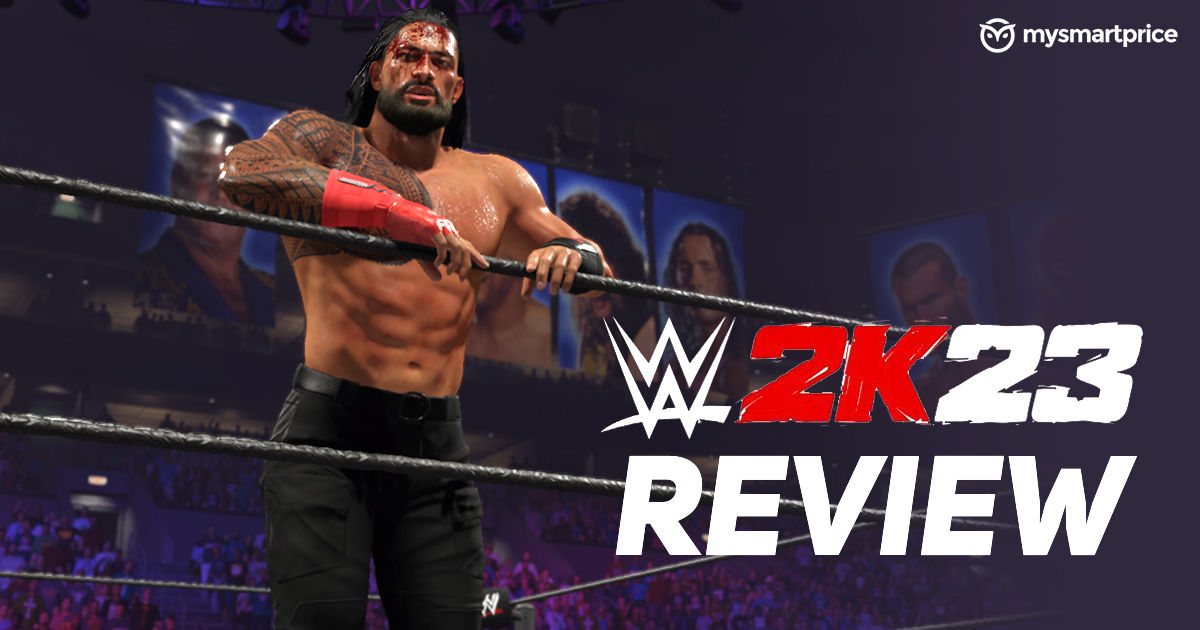 Whenever I think of WWE games, a quick flashback to my childhood days spending hours smashing buttons on Playstation 2 controllers at a nearby gaming cafe, brings a sweet little smile to my face. For me, THQ's WWE Smackdown vs Raw: Here Comes the Pain was one of the most revolutionary video games I had ever laid eyes on, back in the day. Then came the recent era of WWE games from Take-Two Interactive subsidiary 2K. It completely changed things around from the ground up.
Over the years, this franchise has gone through a bunch of changes, both good and bad. However, a recent mishap, in the name of WWE 2K20 hindered the ongoing legacy. So much so that the developers had to take a year-long hiatus. As is the case with WWE Superstars, the franchise also made an epic comeback with WWE 2K22 (Review).
Now, developers Visual Concepts plan on making the next iteration a bit more polished with improvements that can add to the package. The result is WWE 2K23, which surely lives up to its predecessor, with a different perspective and some quality of life changes which feels refreshing. Here's our review.
WWE 2K23 Review: Pricing and system requirements
WWE 2K23 is available across gaming platforms ranging from PlayStation 5, PlayStation 4, PC, Xbox One, Xbox Series X and Series S. Sadly, the game still does not have support for crossplay. We tested the game on a PC running AMD Ryzen 5 3600, 32GB RAM, and GTX 1660 Super.
Pricing for the game varies from platform to platform. You can find the PC version on Steam at a starting price of Rs 3,399. However, the variant we reviewed was the Deluxe Edition which basically gives you access to DLCs and a bunch of other features such as MyFaction cards and packs.
WWE 2K23 Review: Plethora of game modes
WWE 2K23 has a lot to offer, be it for a first-timer like me, or a seasoned WWE gamer. While that's a good thing, it can also be a bit overwhelming at first glance. Starting off with "Play," which has in place a slew of options for gamers to warm up or just blow off steam after a long day, can also be seen here. You can indulge in one vs one, two vs two, and so on with options for TLC, Hell in a Cell, Royal Rumble, and the usual bandwagon of modes that can often be found on WWE games.
Before entering into other modes, I usually started off with these matches to get into the vibe. Alongside this, I found myself playing War Games more often than not. It's essentially similar to Hell in a Cell with six other wrestlers creating complete chaos, but with a different approach. It's best if you try it first hand.
Showcase
After that, 2K's brainchild Showcase is one of the best modes to spend your time in the game to explore it from the inside out. Well, the publishers and developers know the people playing these games are kids that once enjoyed watching WWE live on TV during their school and college days. And in the middle of that might have also pulled up a finisher or two on their siblings. So naturally, they played on nostalgia. And to that, I say, well played. In simple terms, this mode lets you relive pivotal moments from a WWE Superstar's career.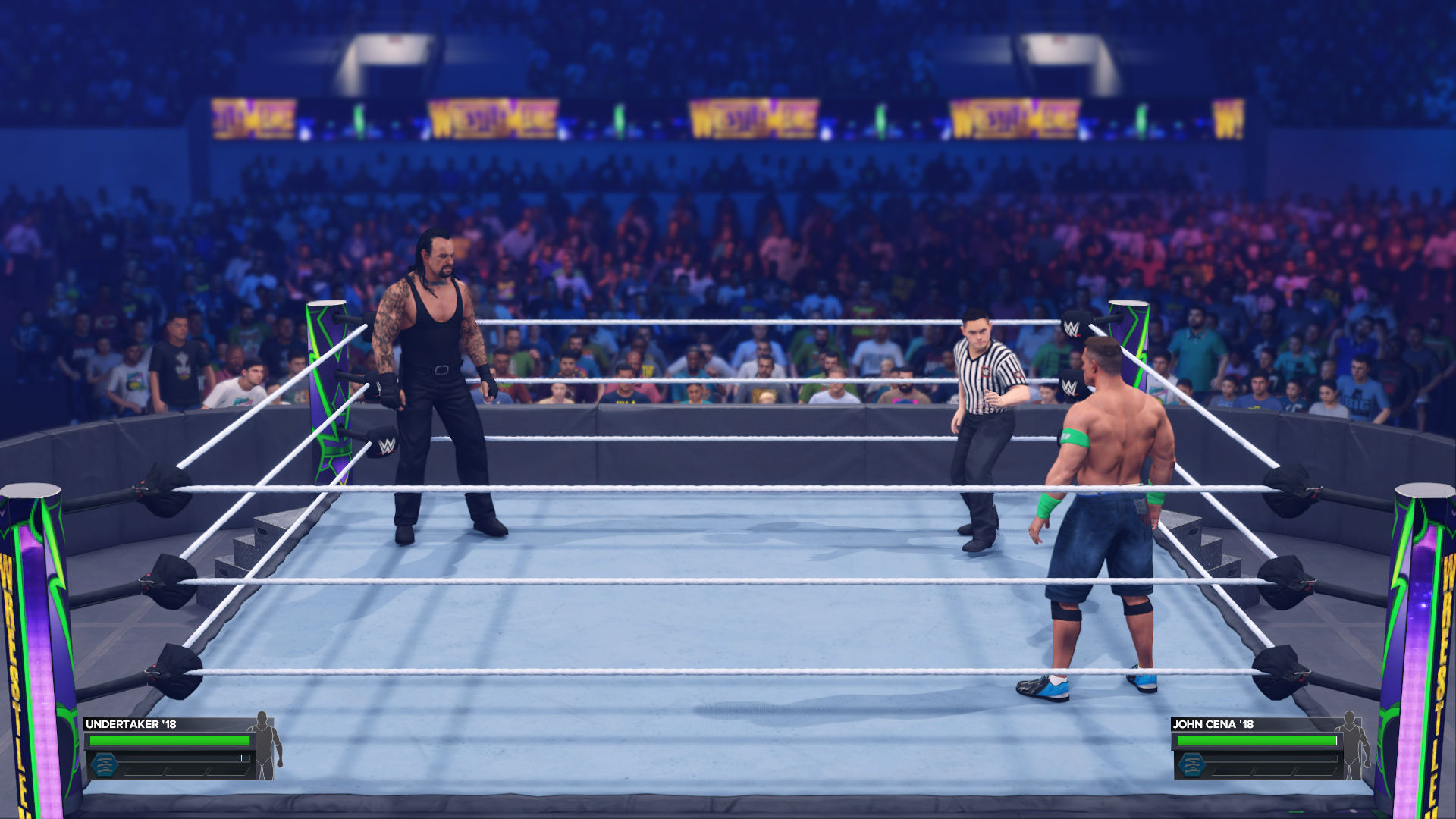 While that sounds pretty simple and straightforward, this time they made some changes to the perspective that might have just given this game an upper hand over its predecessor. In WWE 2K22, we experienced Showcase as the king of athleticism, Rey Mysterio. This time around, we can see an even more well-known figure from the WWE catalogue, John Cena. And before you say it, yes we can see him. But the twist here is that, unlike last year, this time around you get to play as opponents of John Cena to whom he lost. It's a completely different take on this mode as we usually focus on wins, but this year's Showcase focuses on losses.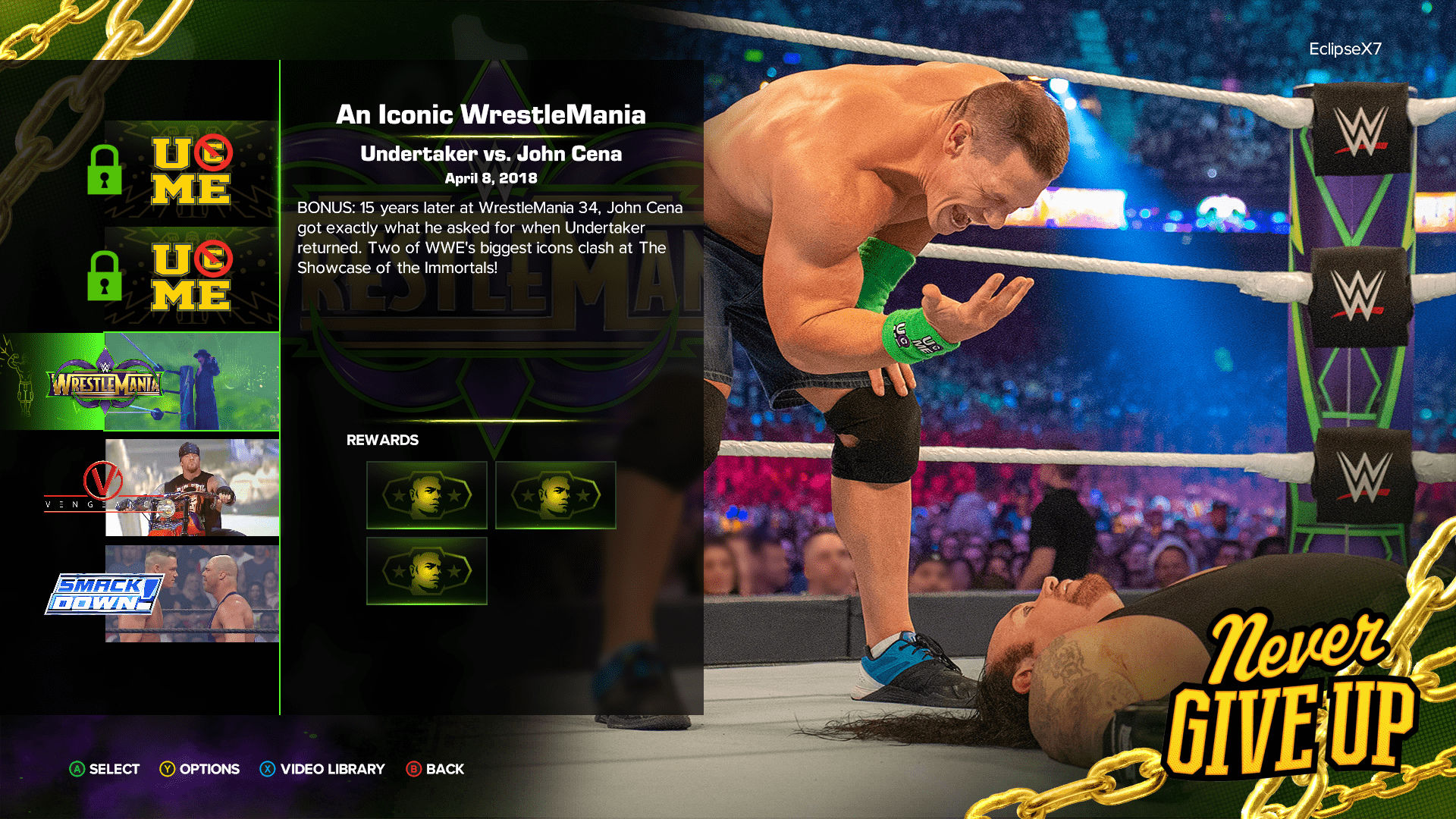 This is paired with beautiful promos by John Cena himself, before entering into each match. The storytelling is spot on and with the help of a huge archive of old matches, it hits you right on the nostalgia nerve. It's a welcome change because having to play with the same character over the course of the story can get a little monotonous. With this, you get to play as some of the big names in the WWE Universe like Rob Van Dam, The Undertaker, Kurt Angle, and more. A Visual Concepts spokesperson mentioned this was the best Showcase they have worked on in recent times.
The concept (no pun intended) is pretty simple, you get a set of objectives to complete throughout the match. These are mostly replication of moves pulled by John Cena's opponents. Completing each objective unlocks another and eventually ends up in rewards. While you can still finish the match without having to complete the objectives, this won't give you a deep insight into how things unravel in real life.
MyRise
Other modes such as 'MyRise' also make an appearance here with vengeance on their minds. MyRise is something similar to career modes from other sports games such as FIFA or NBA. Unlike WWE 2K22, it has a more refined overall experience with two new modes, namely 'The Lock' and 'The Legacy'. This is yet another addition to the single-player catalogue that's worth spending time on. Both storylines are unique, with the former focusing on a male character who is an established wrestler on the verge of making his RAW debut. You get to customise the player as per your preference with an ample amount of costumes at your disposal.
Starting this journey puts you straight into the ring against an Intercontinental Champion. Winning this round will result in you becoming the 'next big thing'. There are a lot of similarities when it comes to 'The Lock'. For starters, it rhymes with 'The Rock', followed by a chain around his neck which kicks you back to John Cena's Thugonomics days. As for 'The Legacy', you get to play as a female wrestler who has to get away from her WWE Superstar Aunt's shadow and make her own name in the universe. Both the journeys are two opposite ends of the rope and that makes the entire experience even better.
MyFaction
MyFaction also gets a slight boost this time around. This mode is technically similar to that of Ultimate Team in FIFA. It's a card-based game wherein you create a little squad, or faction that consists of both male and female wrestlers fighting week and week out to earn rewards by completing a set of challenges. The addition this year is the ability to pit your team against online players. While that's a good thing gamers also have the option to buy cards with real money and make their faction stronger. This puts someone who doesn't spend money on the game at risk of losing daily. It's an outright pay-to-win system, and WWE 2K23 is not the only game taking this route.
WWE Universe and MyGM
Universe allows you to set your own rules with two different options — Superstar Mode and Classic Mode. The former lets you follow and take control of a particular superstar from the WWE Universe. You get to try your luck against different opponents and fight for the title and eventually make a name for yourself. On the other hand, the Classic Mode — as the name suggests is your typical and original sandbox mode with complete freedom over rosters, schedules, arenas, and more. I usually found myself getting into Classic Mode more often.
Last but not least, the MyGM mode is a universe in itself that can for sure be overwhelming for a first-timer. It essentially allows you to take over one of the WWE Shows as General Manager (GM). This allows you to call the shots while having to maintain budgets, keep in check with Superstars, and more. It now allows you to add up to three other friends and also save up to six superstars for the upcoming season.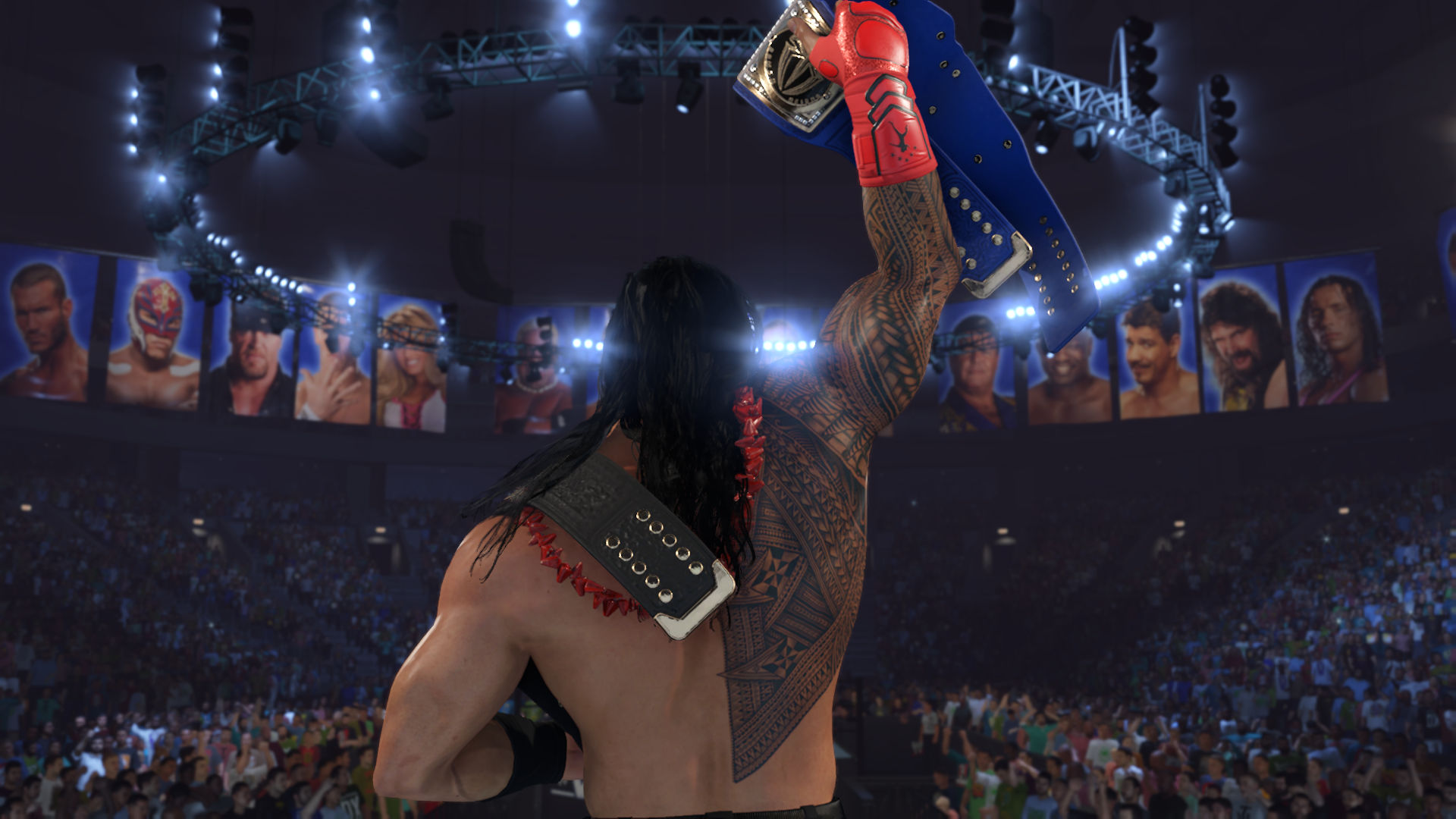 Besides these single-player outings, you also get to play matches against real-world opponents in the Online mode. You can create your own lobbies and play matches against other players, or just head into quick play for an instant unranked fight. However, we noticed latency issues most of the time as the nearest server was Japan with about 140ms ping. This resulted in missing hooks and reversals.
WWE 2K23 Review: Graphical refinements and combat mechanics
What could set a game such as WWE 2K23 apart is its combat mechanics. While it gets most things right, especially when you compare it to previous iterations, there's still a bit of room for improvement. For first-timers, the game runs you through a very neat and concise tutorial that gives you a quick run of how the game works. If you've already played WWE 2K22, there won't be much surprises here. The Superstar HUD on the bottom of your screen can be a bit confusing at first, but it helps you determine the entire outcome of the match.
It's quite detailed and gives you an insight into your finisher and signature moves progress, while also keeping in check the amount of damage the superstar's body is taking. The entire game is dependent on stamina, much like real life. Depleted stamina is indicated by a red bar as you take damage, which means trouble. A single knock to your face in this scenario could land you on the ground with almost no way out from a pinfall or submission. A set of three yellow bars indicates where your finisher level is at.
Additionally, the special bar lets you do a bunch of things which can turn the game in your favour. The old payback options are here, but you don't have to just depend on Resiliency to get out of the lock now. From a defensive perspective, you can instantly recover from attacks or play possum before landing a surprise uppercut. As for attacks, you can perform a signature move on the opponent, which can eventually lead to a finisher move.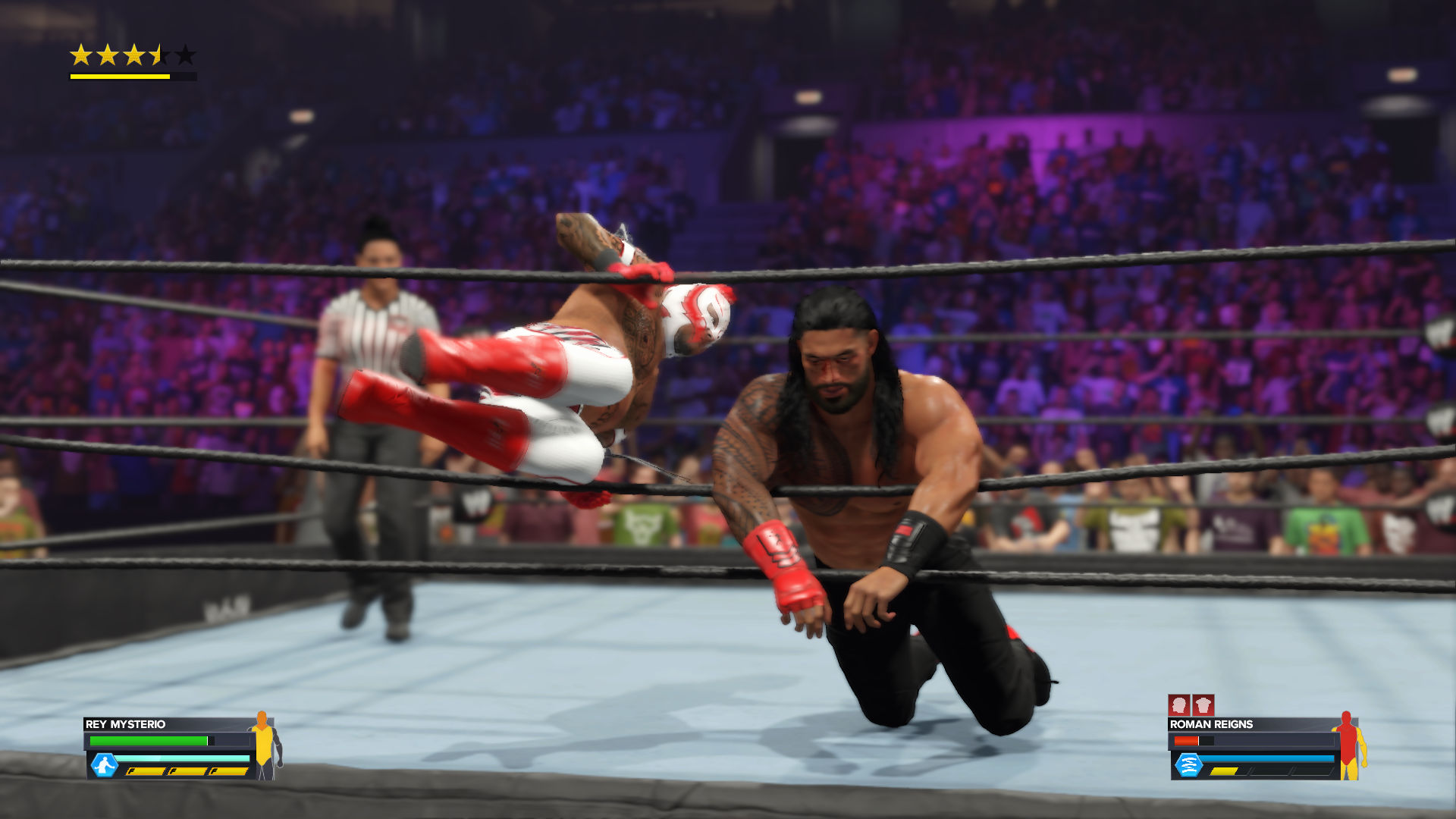 Controls on WWE games have always been a bit over the top, and overwhelming as there are a lot of combos chained together and remembering them is tough. Speaking of which, you can perform specific attacks by using a set of combo buttons — this varies between Superstars. For a light attack, pressing "X" works, while a heavy attack can be performed by hitting on 'A' — this takes a bit more time when compared to the former.
For a grapple, you'll have to hit "B", followed by different combinations of buttons for your preferred attack. If done perfectly, you'll have your opponent on the ground, if not, it'll be you. Combinations have always been a part of the franchise. This slightly improves your chance of not getting smacked in the face by a reversal attack. Speaking of reversals, it's quite a tricky trade.
During the first blow, you can hit "Y" on Xbox controllers or "Triangle" on PlayStation controllers for a reversal. However, there on it's just a guessing game that could either yield good results or end up with you furiously smashing every button — which is exactly what I did every time till I couldn't feel my fingers.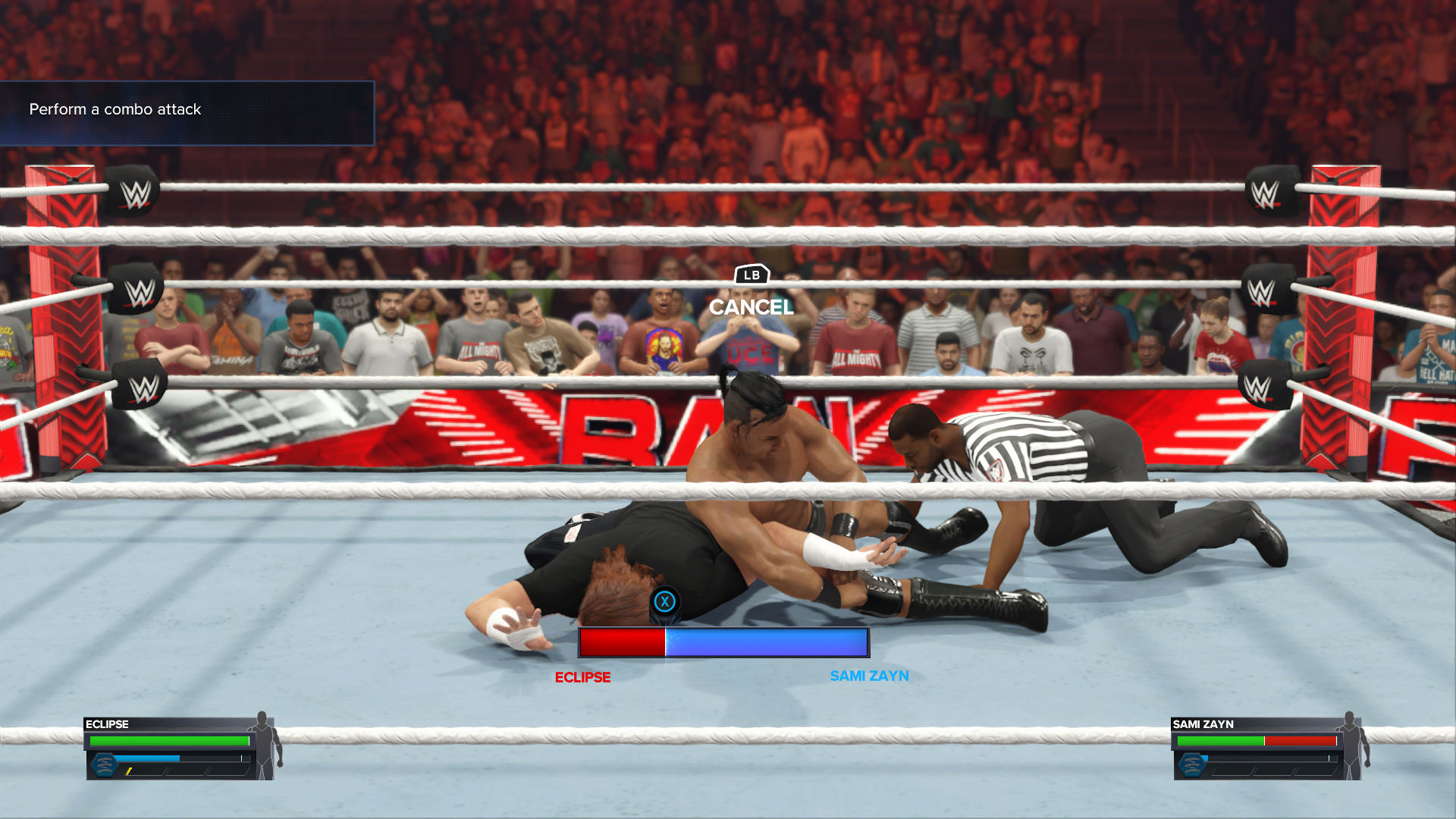 What I found quite useful was the "Instant Recovery" button popping up after I was shown the ground. This was quite useful to get back on track. Though it also varies between Superstars — for instance, Rey Mysterio stands tall (no pun intended) in an acrobatic style, giving almost no chance for the opponent to throw in a punch. The same cannot be said for The Undertaker, since he does his classic rise-up move that allows the opponent some more time to ready their next plan of attack. While everything works well in the graphics department, I noticed a few involuntary bugs that cost me a couple of matches. Most of these bugs occur in chaotic matches such as Triple Threat or War Games.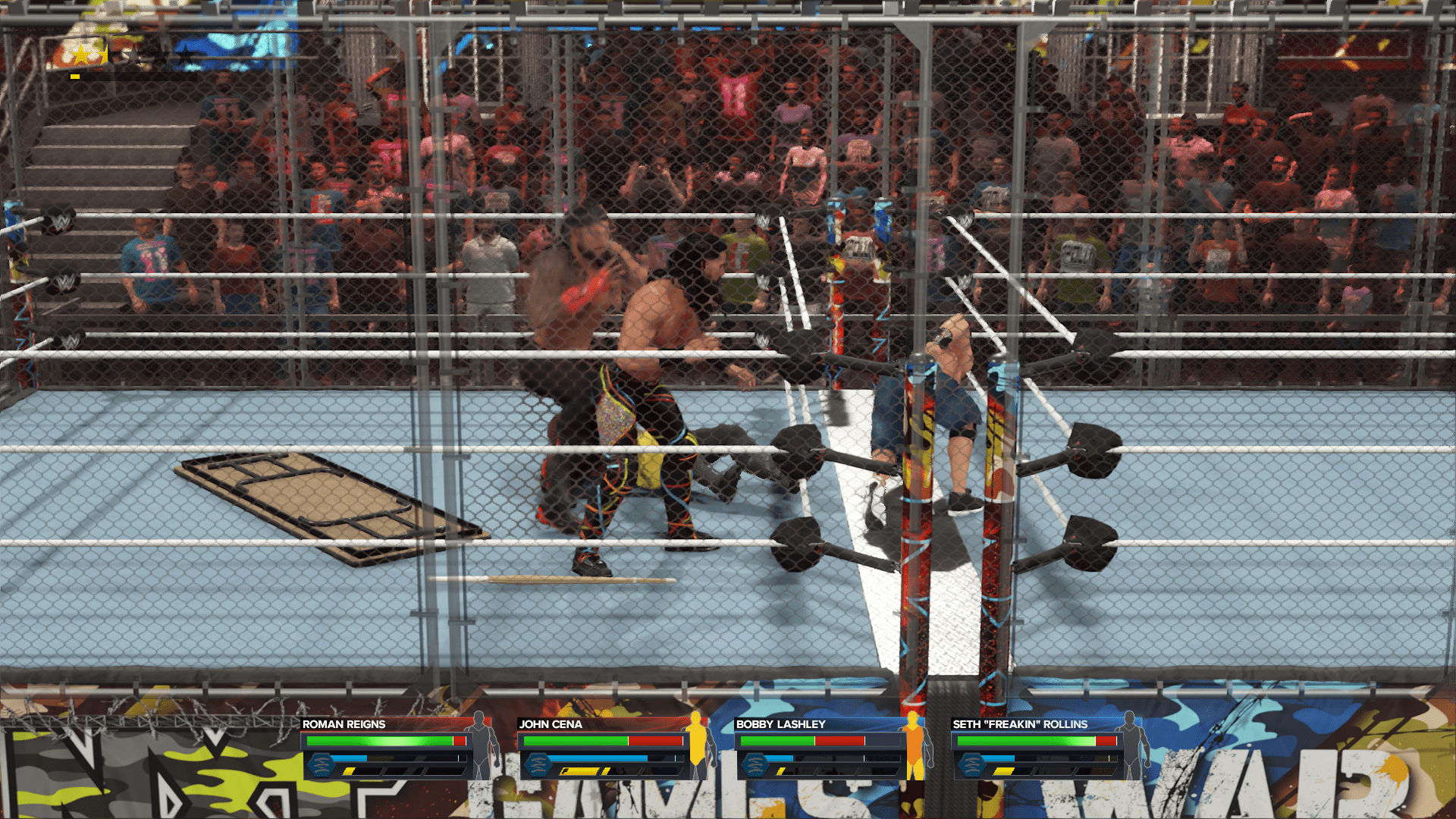 In one instance, which had me completely bamboozled for a good minute, the referee just stood in plain silence with me trying to pin an opponent. Another such bug in War Games caused my finisher to go in vain when I kept entangling with my teammates. These might be nitpicking, but it definitely caused me the game at that time. Besides these gripes, my entire experience was great.
Speaking of graphics, WWE 2K23 looks absolutely splendid with pinpoint lighting that makes sure your favourite star looks as close to reality as possible. The Superstar collection is also massive with over 240 wrestlers to choose from — and to think each one of them looks nearly similar to their true self is something crazy. This is then paired with spot-on commentary, entrance scenes, audience reactions, good stage lighting, proper rope animations, and more.
Overall, harking back to the WWE 2K20 edition, we can see major improvements in the graphics and mechanics department. WWE 2K22 was already an advancement, but with WWE 2K23, the developers made sure everything slots into place well.
WWE 2K23 Review: Verdict
WWE 2K23 is an incremental upgrade over last year, but these upgrades introduce a new outlook for the game that could yield even better results down the road. WWE 2K22 made sure that the legacy of this franchise stays alive, and this year's edition carries forward the torch.
The game looks absolutely stunning and is by far the best from the franchise in terms of graphics. Additionally, combat feels much snappier and more responsive with a few improvements in the mechanics. What's even more impressive is that the game, despite being so overwhelming, is noob friendly with a bunch of tutorials to help you through the catalogue.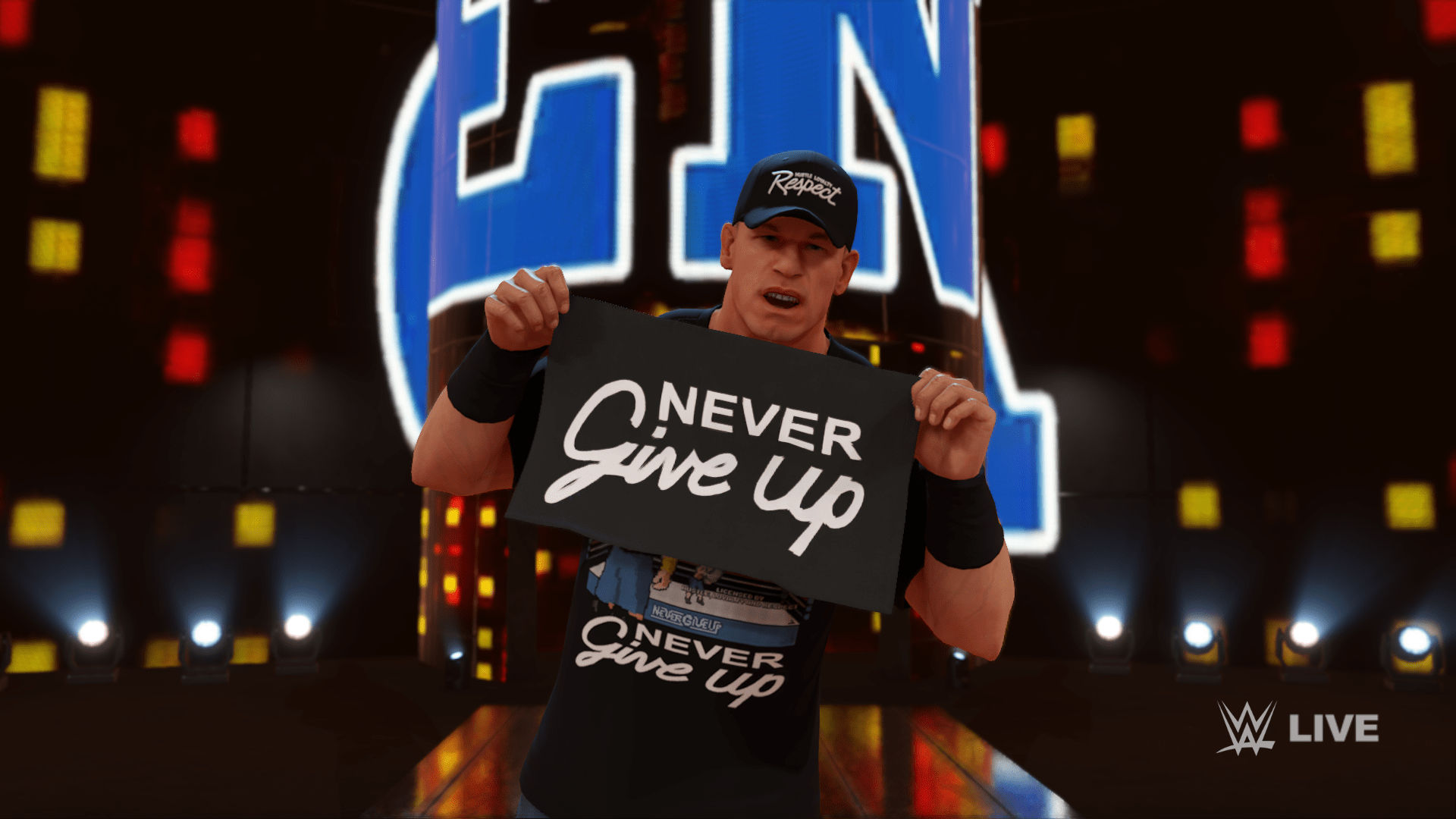 All of this combined with game modes such as Showcase and MyRise which bring in a new perspective to the storyline, sets the game apart from its predecessors. While there are still minor glitches that plague the game, it shouldn't really be a dealbreaker. For anyone looking to spend some time casually wrestling around, WWE 2K23 works well.
While I'm sure MyRise and Universe will make sure gamers stay in their chairs till the next edition, I would like to see some more fun and crazy game events to keep the enthusiasm going. Nevertheless, WWE 2K23 is filled with chaos, and chaos is good for any wrestling game.
WWE 2K23 also runs superbly well on PC and does not face any unnecessary frame dips or stutters. However, it is still locked at 60 fps, just like WWE 2K22.
Disclaimer: MySmartPrice was provided with a complementary copy of the game on which the review is based.
MSP Gaming is the gaming arm of MySmartPrice. We are a one-stop destination for everything gaming. Join our community for regular tournaments and stay updated about the gaming ecosystem – https://bit.ly/msp_gaming_community

What Is Good?
Fast gameplay
Improved graphics
Showcase and MyRise are addictive
Combat feels snappier
Lot of options for single-player
What Is Bad?
MyFaction is pay-to-win
Minor glitches can cause the game
Still locked at 60fps on PC