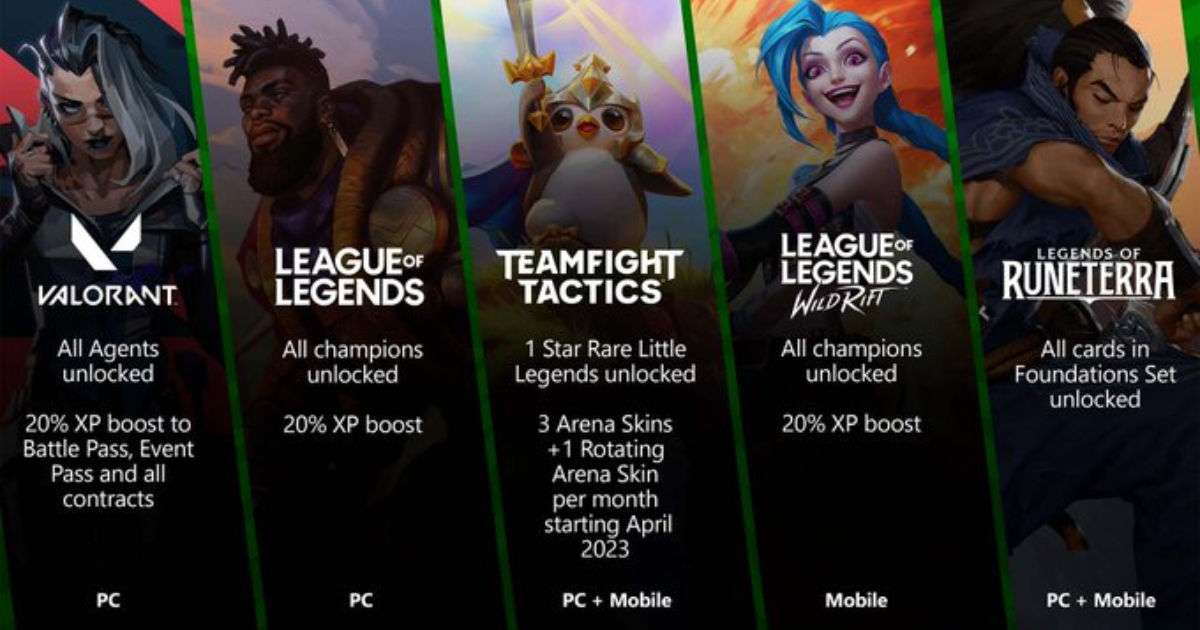 Xbox PC Game Pass has a pretty solid partnership with Riot Games, giving players access to a bunch of bonuses and boosts. These bonuses are available in games on both PC and Mobile such as Valorant, League of Legends, League of Legends: Wild Rift, Teamfight Tactics, and Legends of Runeterra.
Valorant – All Agents Unlocked, 20% XP boost to Battle Pass, Event Pass, and all Contracts. (PC)
League of Legends – All Champions unlocked, 20% XP boost. (PC)
Teamfight Tactics – 1 Star Rare Little Legends Unlocked, 3 Arena Skins + 1 Rotating Arena Skin per month starting April 2023.
League of Legends: Wild Rift – All champions unlocked, 20% XP boost.
Legends of Runeterra – All cards in Foundations Set unlocked.
To get these bonuses, simply play the game through the Xbox Game Pass app on your PC, which is available for download from the Microsoft Store. Game Pass is currently available for purchase at Rs 349 per month. Additionally, if you are a new subscriber, you will get the first month for Rs 50.
Also Read: High on Life is Xbox's Biggest Game Pass Launch of 2022
Xbox Game Pass for PC Looks Like a Pretty Solid Offering Right Now
Xbox's Game Pass for PC has been one of the integral components to Microsoft's success during this particular console generation. As opposed to focusing on advancing the appeal of a singular platform, Xbox has chosen to maximize its audience by providing its games and services on any platform possible.
Game Pass for PC has been massively instrumental in drawing in new subscribers to the platform and keeping them hooked with several great offerings, including great upcoming releases. This multi-platform approach appears to be a smart move as Sony and PlayStation have begun to make their presence felt on PC.
Following Microsoft's suit, PlayStation has released plenty of first-party, console exclusives on PC, including the likes of Death Stranding, Horizon Zero Dawn, Days Gone, and God of War. Xbox has brought down console exclusivity to a bare minimum, with only a handful of releases being locked down to the Series X/S.
These titles include Starfield, which is one of the most highly anticipated games of all time and is being positioned as a major system seller for Xbox. Whether the game performs well commercially or critically remains to be seen but it would appear that Xbox is betting big on Bethesda to deliver.
Even though certain games might not make it to PC, Game Pass for PC is a solid offering for gamers and one of the most high-value propositions currently in the business. Services like Ubisoft+ and EA Play have been folded into the service, which really maximizes the value that players get from Game Pass.