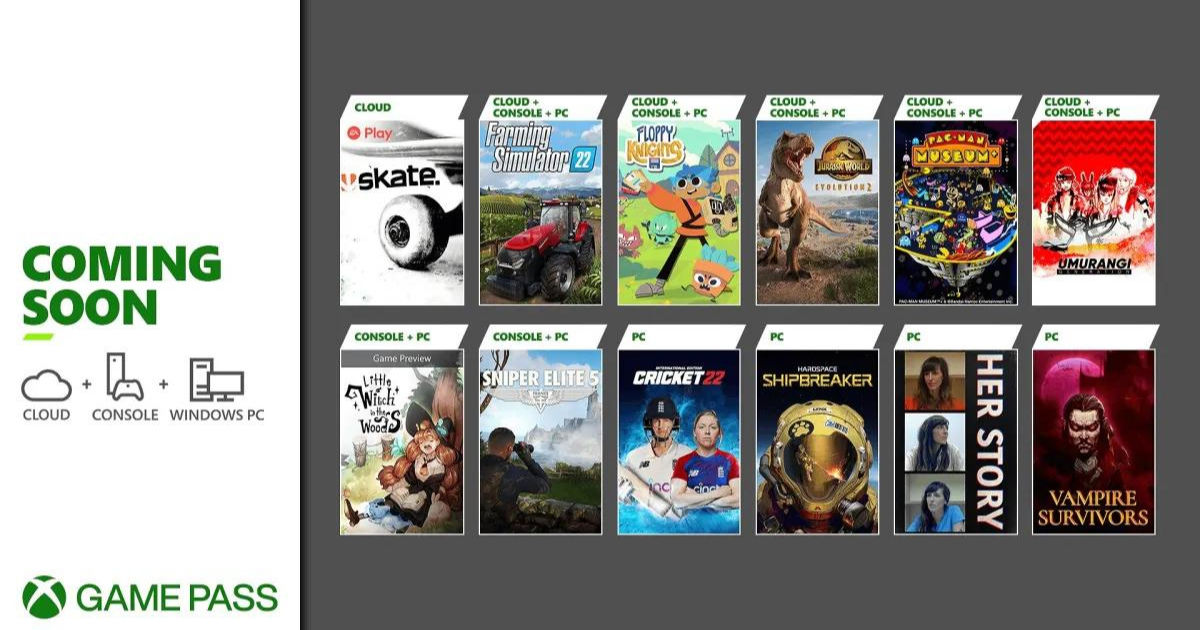 Xbox has revealed the Xbox Game Pass additions for the second half of May and it includes some pretty major heavy-hitters. One of the surprise additions to the roster is Jurrasic World Evolution 2, a highly-underrated follow-up to Frontier's 2018 original.
Other notable additions include Her Story, an innovative interactive FMV, from Sam Barlow, who has previously worked on acclaim titles such as Telling Lies and Silent Hill: Shattered Memories. For cricket fans, Xbox has in store Cricket 22 for PC, the newest entry in the Cricket series by Big Ant Studios.
Sniper Elite 5 will be a Day One release for Game Pass when the game launches on May 26. Players on Console and PC will be able to play the game on launch day through the Game Pass.
Also Read: Microsoft Xbox and Bethesda Showcase Officially Confirmed for June 12
Xbox Game Pass Additions for the Second Half of May
Many of these games, including Her Story and Jurrasic World Evolution 2, are currently available on the Game Pass on their respective platforms.
Her Story (PC) ID@Xbox – Available Now
Jurassic World Evolution 2 (Cloud, Console, and PC) – Available Now
Little Witch in the Woods (Game Preview) (Console and PC) ID@Xbox – Available Now, Day One Game Pass Release
Skate (Cloud) EA Play – Available Now
Farming Simulator 22 (Cloud, Console, and PC) – May 19
Vampire Survivors (PC) ID@Xbox – May 19
Floppy Knights (Cloud, Console, and PC) ID@Xbox – May 24 (Available Day on Game Pass)
Hardspace: Shipbreaker (PC) ID@Xbox – May 24 (Available Day on Game Pass)
Sniper Elite 5 (Console and PC) ID@Xbox – May 26 (Available Day on Game Pass)
Cricket 22 (PC) ID@Xbox – May 27
Pac-Man Museum+ (Cloud, Console, and PC) – May 27 (Available Day on Game Pass)
Games Leaving Game Pass May 31
EA Sports NHL 20 (Console)
Farming Simulator 19 (Cloud, Console, and PC)
Knockout City (Console and PC) EA Play
Resident Evil 7 Biohazard (Cloud, Console, and PC)
Spellforce 3: Soul Harvest (PC)
Superhot Mind Control Delete (Cloud, Console, and PC)
Yes Your Grace (Cloud, Console, and PC)