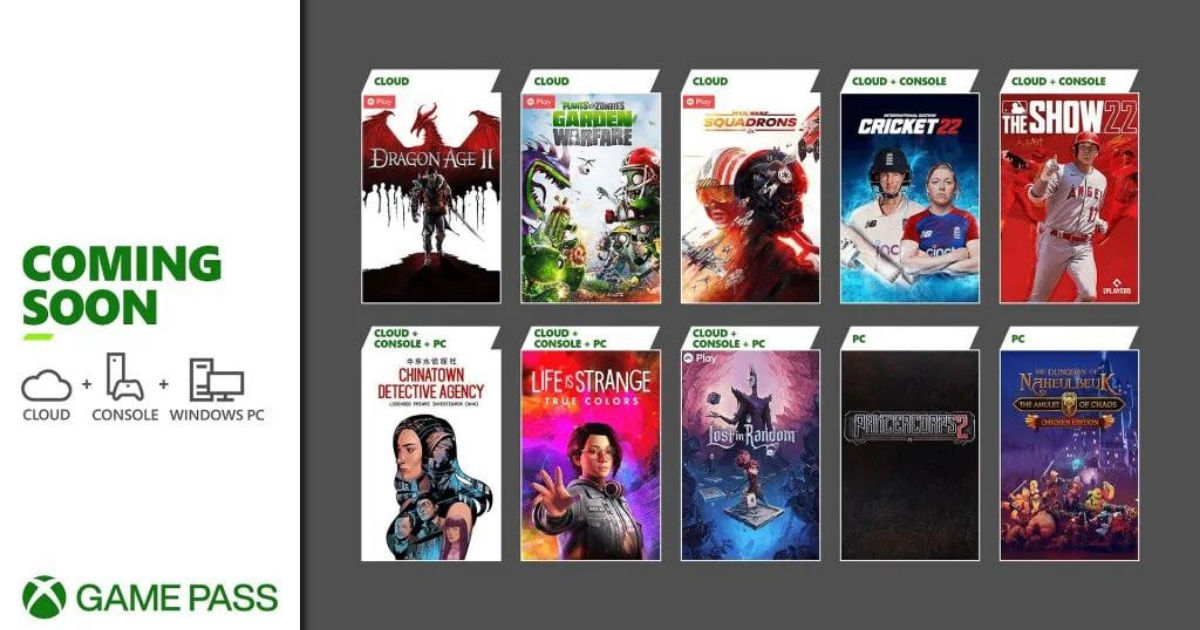 It seems like the Xbox Game Pass lineup for the first half of April has been leaked and it includes the likes of Life is Strange: True Colour as well as Cricket 2022. The latest cricket game offering from BigAnt Studios was received relatively well and its inclusion in the Game Pass lineup is sure to be a big hit with Indian audiences.
The complete lineup looks like this:
Life is Strange: True Colours
Cricket 22
MLB The Show 2022
Panzercorps 2
Lost in Random
Although the leak hasn't yet been confirmed by Xbox, the leak has been corroborated by multiple sources, including users on Dealabs. Dealabs, as players might remember, has had an uncanny consistency with leaks regarding the Game Pass and PlayStation Plus games lineup. The 'Coming Soon' image was also found on the Xbox news page, which adds further credibility to the leak.
Also Read: Microsoft India Announces Price Drop of Xbox Game Pass, PC Game Pass, and Xbox Live Gold in India
Xbox Game Pass April Game Lineups Leaked
Game Pass lineup for the 1st half of April has been uncovered by XGP

– Life Is Strange: True Colors
– Lost in Random
– MLB The Show 2022
– Cricket 2022
– Panzercorps 2
– Chinatown Detective Agency
– Dungeon Of Naheulbeuk

+ Some EA games coming to cloudhttps://t.co/xtbunxAwam pic.twitter.com/3XfXWo5xE8

— Nibel (@Nibellion) April 5, 2022
The games leaving the platform are Star Wars Squadrons (Cloud), The Dungeon of Naheulbeuk: The Amulet of Chaos (Cloud), Dragon Age II (Cloud), and Plants vs Zombies: Garden Warfare (Cloud).
The Game Pass lineup for April does appear to be sports-heavy with the inclusion of both MLB The Show 22 and Cricket 22. To perhaps balance out things, also included is Life is Strange: True Colours is one of the most critically acclaimed story-driven games of the past few years.
It looks like Cricket 22 will be available on Cloud and Console, but not PC. If that changes in the future remains to be seen, but for now, Indian players with Xbox consoles might be able to play the game once it arrives on the platform.
The Game Pass will now have competition in the form of the newly revamped PlayStation Plus which looks like it will be launched in June in certain regions in Asia. Although, unlike the Game Pass, it has been confirmed that PlayStation Plus will not include Day One releases from Sony or any other third-party studios and publishers.