Highlights
Leica's new Summilux lens is designed specifically for smartphones.
The Xiaomi 14 series will be the first one to feature the new Leica Summilux lens.
The upcoming series will also mark the debut of the company's new HyperOS.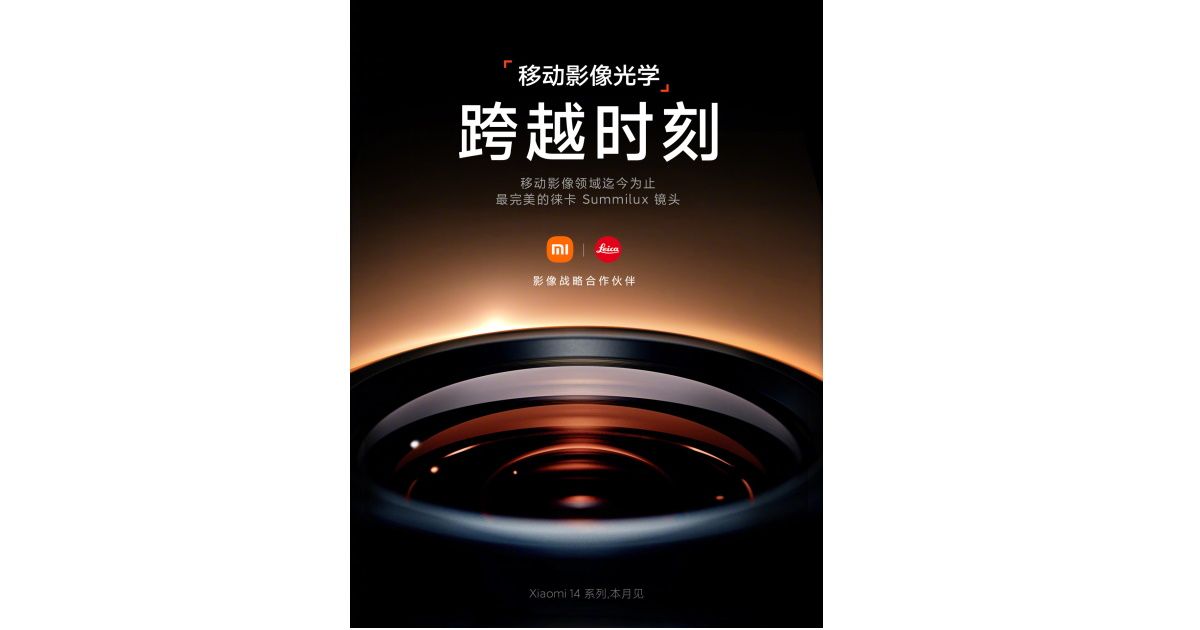 Xiaomi has made significant improvements in the camera performance of its flagship smartphones in recent times. It announced a strategic partnership with German camera maker Leica in 2022 which surely seemed to have benefitted the company. Since then, its flagships have featured camera sensors fine-tuned by Leica, and the upcoming Xiaomi 14 is no different. The company has officially confirmed the same and it has revealed that the series will feature a new Leica lens that has not been used in any other smartphone before.
Xiaomi 14 Leica Summilux Lens Teased
In an official post on Weibo, Xiaomi shared a teaser image to reveal the Xiaomi 14 series will launch with the Leica Summilux lens. It is a new camera lens system for smartphones by the German camera maker. It is being teased as the "best in the field" for smartphone photography.
Here is the Google-translated version of the post where Xiaomi explained what to expect from the new Leica Summilux lens, "Xiaomi and Leica jointly bring a new generation optical system solution composed of the most perfect Leica Summilux lens in the field of mobile imaging to date, and a new professional high-dynamic image sensor for mobile optics, allowing mobile devices to truly have full-time capabilities. Super strong instantaneous and accurate capture capabilities in all situations and scenarios."
Xiaomi has not shared the technical specifications of the camera lenses it will use in the series. It did confirm that the Xiaomi 14 series will be the first smartphone to feature the new Summilux lens. Leica responded to the post by describing it as the next generation of lenses specially designed for mobile devices.
The lineup is tipped to have at least two models – the Xiaomi 14 and Xiaomi 14 Pro. It could also have Xiaomi 14 Ultra, but it is unknown if it will launch at the same event or sometime later. The Xiaomi 14 series is confined to launch this month in China with rumours suggesting October 27 as the launch date.
Another key highlight of the Xiaomi 14 lineup is that it will be the first smartphone series from the brand to feature HyperOS. It is the new interface from Xiaomi that will eventually replace the iconic MIUI. It will also help the company offer more fluidity and connectivity across smartphones and AIoT to create a tight-knit ecosystem experience.
While Xiaomi fans are excited to see what HyperOS is all about and how it is different from MIUI, recently leaked HyperOS screenshots revealed only minor consmetic differences. They showed more lock screen customizations and a slightly redesigned control center but, unchanged app icons.