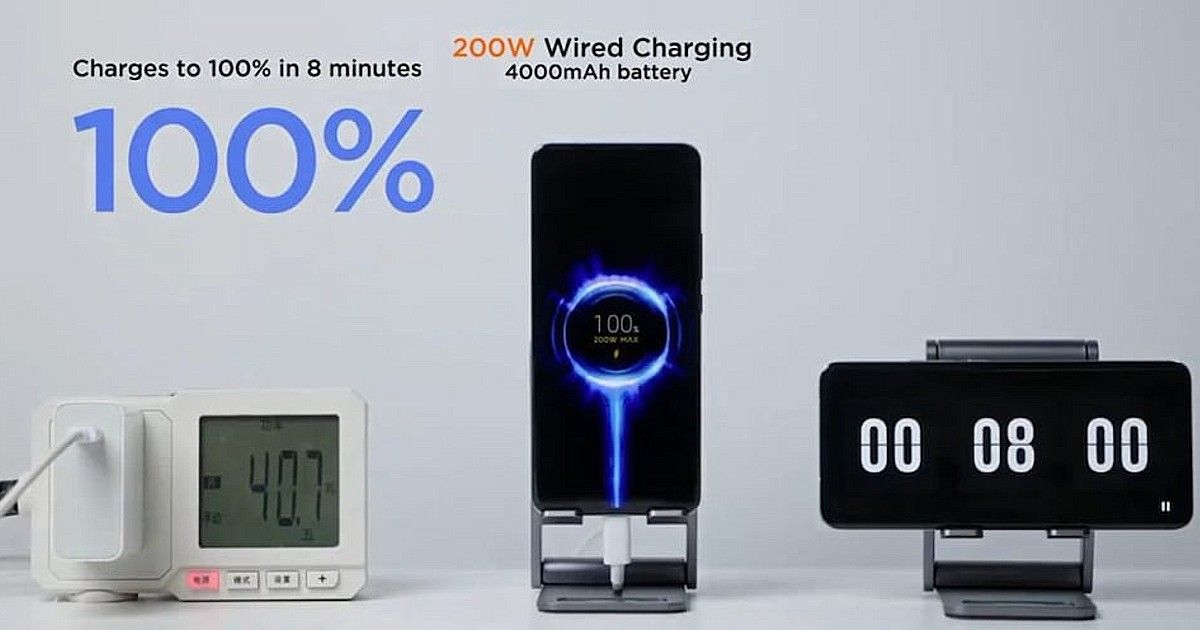 The Xiaomi 200W fast charging technology has potential to be one of the most substantial smartphone battery technologies in recent times, but questions have already been raised about its potential impact on the battery's life cycle. Answering this, Xiaomi took to Chinese social media platform Weibo, where it stated that its fast charging standard has a certain impact on the overall life cycle of a battery – but also claimed that the impact is well within the limits of the industry standard and recommended boundaries.
The Xiaomi 200W fast charging tech has claimed that a 4,000mAh battery will take only three minutes to charge to 50 percent, and eight minutes to reach 100 percent from zero, via wired connectivity. The same charging standard also apparently brings along 120W fast wireless charging. In this, Xiaomi claims 10 percent charge in a matter of a minute or two, seven minutes to 50 percent and 15 minutes to 100 percent power. Xiaomi has called this technology HyperCharge, and the latter is a follow-up to the 80W wireless charging technology that claimed to charge a 4,000mAh battery in 19 minutes.
However, all this speed will take a toll on the life cycle of a battery. Xiaomi has claimed that after 800 charging and discharging cycles, the overall battery life cycle will degrade to just over 80 percent of its peak capacity. To roughly sum things up, 800 charge cycles more or less equate to about two years of usage, so this is an effective admission that with the Xiaomi 200W fast charging tech, the battery capacity of a phone will reduce by about 20 percent of its peak prowess. Considering that the average smartphone with a 4,000mAh battery lasts for an average work day, this degradation may become apparent in two years' time. Even if a user continues to use their phone for another year with the reduced battery life, this would necessitate a change of phone in three years' time.
Defending this, Xiaomi has claimed that this is more or less in line with industry standards – and it is not entirely wrong, either. It says that the Chinese regulations state that a battery life cycle should not degrade to below 60 percent in 400 charge cycles. It is also in line with the Oppo 125W fast charging tech, which has a similar impact on battery life cycle. However, the case in point here is that even though the Xiaomi 200W fast charging tech can improve charge times, it would not do anything to improve battery longevity – an issue that has remained persistent without any innovative solutions in the consumer space so far.