Gaming, at one point in time, was considered to be confined either to consoles or computers. However, over the years, smartphones have become more and more powerful. While many smartphones support games, there are few which are oriented entirely towards gaming. Perhaps two of the first ones to start the trend were the Razer Phone and Xiaomi Black Shark. In fact, these devices did so well at what they were intended to do and sold like hot cakes that their successors have been released. The Xiaomi Black Shark Helo and the Razer Phone 2 have recently been announced. However, there is another smartphone which could give both of these ones a run for their money. That phone is none other than the Asus ROG Phone. Gaming requires a ton of resources on a smartphone. While all three devices have what it takes, which one does it better?
What Should A Gaming Smartphone Be Like?
A gaming smartphone is different from most other smartphones in the sense that its primary purpose is for games. In recent days, games have become extremely intense. For instance, PUBG or even Fortnite for example. Years back if a smartphone could generate half the graphics it does now, people would have been in awe. However, now it's almost expected of smartphones. For starters, having a fairly large screen is important. Added to this list of what a gamer would look for on a smartphone is a decent amount of RAM, internal storage, and of course a fast-performing CPU and GPU. RAM is important because having too less would hamper gameplay because of RAM being hogged up by background tasks. Internal storage is very important because most games nowadays are over a gigabyte.
While all the above are crucial components to a good smartphone gaming experience, there is, in fact, one more element which needs to be considered. The battery life of a smartphone could be a huge deal breaker when gaming on a smartphone. Having a large capacity battery with optimized software, ensuring long hours of gameplay is important.
Xiaomi Black Shark Helo VS Asus ROG Phone VS Razer Phone 2 Hardware And Specs: Clash Of The Titans
The Xiaomi Black Shark Helo is Xiaomi's second attempt at a gaming smartphone. So, what's under the hood? Well, the smartphone features an 6.01-inch AMOLED screen with a resolution of 1080×2160 and an aspect ratio of 18:9. The smartphone is driven by Qualcomm's latest chipset, the Snapdragon 845. Unfortunately, there aren't any special modifications done to the chipset for improving the gaming performance, like that on the Asus ROG Phone, but it still has an exceptional performance. The GPU paired with the octa-core CPU is the Adreno 630. One of the highlights of the smartphone is definitely its massive RAM capacity of 10GB. The device is also available in other memory and storage configurations of 6GB RAM and 8GB RAM, and 128GB and 256GB internal storage.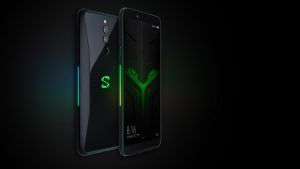 To ensure numerous hours of gaming, Xiaomi has equipped the smartphone with a 4000mAh battery. The Xiaomi Black Helo sports a dual rear-camera setup of 12MP + 20MP and a front-facing camera with a 20MP sensor. The smartphone doesn't feature a 3.5mm jack and has a rear-mounted fingerprint sensor. The Xiaomi Black Shark Helo comes with Quick Charge 3.0 through USB Type-C. The colour scheme of the smartphone along with its rugged looks, truly makes it look like a gaming smartphone to kill for!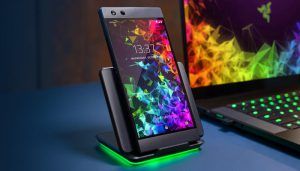 The Razer Phone 2 isn't far behind. It sports a slightly lower screen size of 5.71-inches but a higher resolution of 2560×1440. Like the Xiaomi Black Shark Helo smartphone, even the Razer Phone 2 features the Snapdragon 845 and Adreno 630. This is coupled with 8GB RAM and 64GB of internal storage. The smartphone also has a 4000mAh battery.
The smartphone features a dual-rear camera setup of 12MP + 12MP and a front-facing camera of 8MP. Some of its highlight features include a customizable RGB logo, a classy glass black, its 1P67 water resistance, and Vapor Chamber Cooling. The cooling system will ensure that temperatures are low even during long gaming sessions. There is even a glossy black variant of the device. While it does make it look flashy, it could be a fingerprint magnet as well.
Unfortunately, the Razer Phone 2 lacks a headphone jack but does support quick charging and wireless battery charging via a USB Type-C port. The phone really shines and moves ahead of the Asus ROG Phone when it comes to refresh rate. The Asus ROG smartphone boasts of a 120Hz refresh rate which is surprisingly high for a smartphone.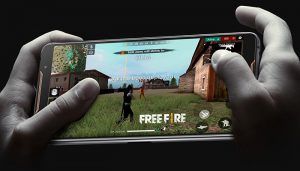 The Asus ROG smartphone has a 6.0-inch screen with a 2160×1080 resolution. Like the other two gaming smartphone, it is also powered by the Snapdragon 845 SoC, but this Snapdragon 845 is special; it has 2.96GHz clock frequency, as opposed to 2.8GHz on the Razer Phone 2 and the Black Shark Helo. The higher clock frequency, in theory, will give you a smoother gaming performance. The SoC is coupled with 8GB of RAM. The Asus ROG Phone is available in two storage variants; 256GB and 512GB. This device too has a 4000mAh battery.
The aesthetics of the Asus ROG Phone make it extremely gamer oriented. While the front of the device bears a sleek and stylish look owing to its copper-coloured grills, the back of the phone looks rugged with a futurist appeal. This is also where the fingerprint sensor is located. One of the highlight features of the smartphone is the optional AirTriggers which act as shoulder buttons while gaming. This is definitely one of the most distinctive features of the device.
The smartphone is equipped with a dual-rear camera setup of 12MP + 8MP and a front-facing camera of 8MP. The device supports Quick Charge 4.0 through USB Type-C and has an outstanding refresh rate of 90Hz. Having a high refresh rate ensures a more fluid flow from frame to when frame when processing a game. To top it off, the smartphone even supports HDR technology. So, which is the best gaming smartphone?
If price isn't a barrier for you, I think the Asus ROG Phone is currently the best gaming smartphone. It offers everything that a gamer would ever want. Its display refresh rate isn't as high as that of the Razer Phone 2, but it makes up for that with its additional gaming features. However, if you are on a tight budget, the Black Shark Helo should be your choice.