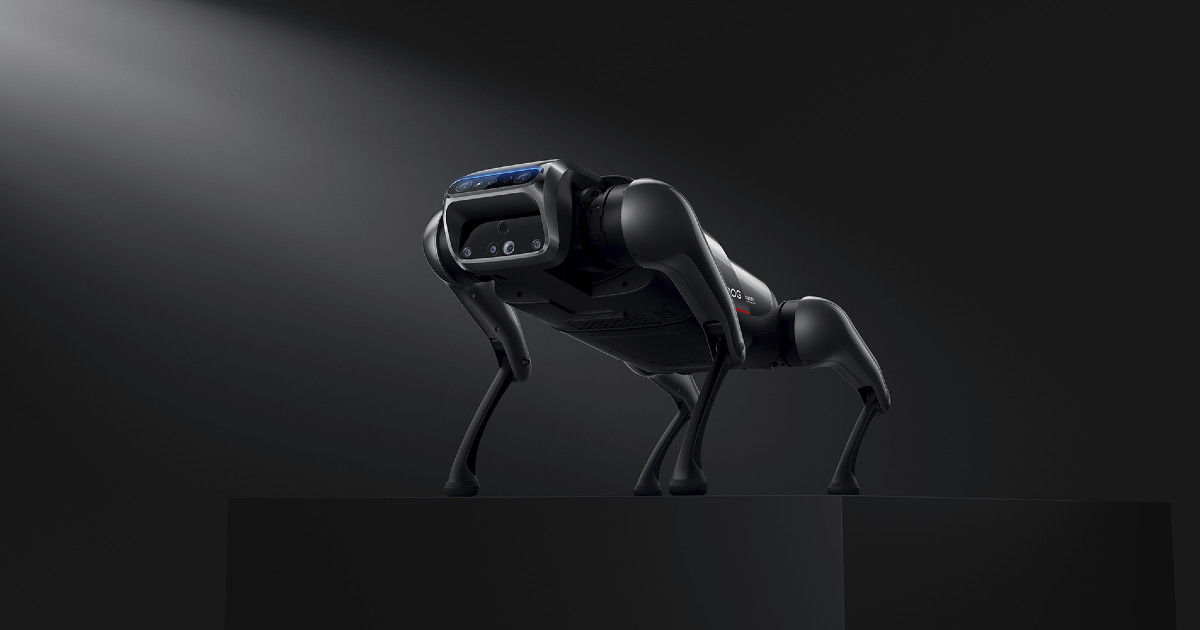 Years ago, when Xiaomi was still a fledgling smartphone company, it never hesitated to talk about its plans of setting up a smart things ecosystem. Come 2021, and most mainstream users may have stated that Xiaomi has already seen considerable success in expanding beyond smartphones. For the company, however, it has hardly hit its limit. Earlier today, the Chinese technology company announced the Xiaomi CyberDog. If you've guessed by its name, you're most likely right — it is a quadruped robot dog, indeed. What more — the company has open sourced it to help developers build on it, along with Xiaomi itself.
So, what exactly is the Xiaomi CyberDog? A more official sounding description of it by Xiaomi pegs it as a "bio inspired quadruped robot dog". To make it, Xiaomi claims that it designed its own servo motors that can enable a wide range of agile motion for the not so furry tailwag. The maximum torque output and rotation speed of the Xiaomi CyberDog is 32Nm and 220rpm respectively, and if you've never tried judging your actual dog for its torque output, you may want to take a shot at calculating that. Jokes aside, though, Xiaomi has claimed that such technology has allowed its robot dog to be able to execute complicated manoeuvres such as back flips, and move at up to 3.2m/s, or around 11.5km per hour.
Doing all of this is an Nvidia Jetson Xavier NX AI computing platform that's specifically designed for embedded and edge computing setups, which seemingly produces 21 TOPS performance to serve as the dog's brain. Further cloning actual dogs are "11 high precision sensors that provide instant feedback to guide its movements." Xiaomi says that the range of movements would include responding to touch via sensors, sight via embedded cameras, ultrasonic sensors, and geolocation modules as well. The Intel RealSense D450 depth module powers the CyberDog's sense of depth, paired with interactive AI operated cameras, ultra-wide angle fisheye cameras with binocular vision and compatibility with computer vision algorithm training.
All of this will seemingly enable the Xiaomi CyberDog to move swiftly and naturally, alongside gauging an area and creating a map to avoid obstacles. The cameras are also trained with human posture recognition and face recognition, so that your robot dog can also recognise a friendly pat and even your smile, to kinda react the way you'd hope your real dog would. Amusingly, even with all the emotion cloning, the CyberDog's abilities sound best flaunted with features such as three USB-C and one HDMI ports, which would apparently allow those willing to experiment with it to try new tech on it.
Xiaomi has open sourced CyberDog, and is looking to sell 1,000 units of it at CNY 9,999 (approx. Rs 1.15 lakh). It has also promised to create a 'Xiaomi Open Source Community', suggesting that it's hardly done doing more of such things in future. Whichever side of the debate you're on, there's no denying that CyberDog does look like a plausible foray into personal robotics for a brand that seeks to become a household name in China, India and beyond.