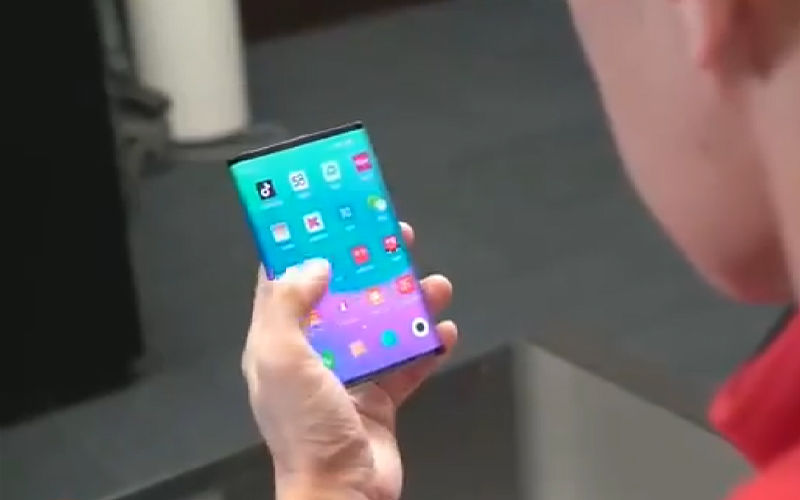 Xiaomi has officially showcased its foldable device for the first time in a video posted by the brand on Weibo. A minute-long video that Xiaomi has released showcases Lin Bin, the co-founder and president of Xiaomi, using the foldable device. As can be seen in the video, the device has a large screen that can be folded from both sides, which converts it from a small tablet to a compact smartphone.
Specifications Are Still Unknown
As of now, Xiaomi has not provided any details regarding this device. However, Lin Bin has mentioned in a post on Weibo that this foldable smartphone is an engineering model. According to him, if people show interest in their foldable device, the brand could think about launching it in the consumer market. He also mentioned that Xiaomi has incorporated a few technologies in its foldable device, such as a flexible folding screen, flexible cover technology, four-wheel drive folding shaft, and MIUI software. The same foldable device that Xiaomi has showcased in its official video, was leaked earlier this month in another video. Hopefully, Xiaomi will reveal more about the device during the MWC 2019 event.
Most Practical Foldable Smartphone Design We Have Seen So Far
In my opinion, Xiaomi's foldable device has a much more practical design than every other foldable device prototype we have seen so far. Xiaomi's foldable device can either be used as a tablet or a smartphone, giving the users functionality of two devices in one. We haven't seen such versatility on any other foldable smartphone prototype. According to Xiaomi, this device may be the world's first double folding smartphone.
Other Foldable Smartphones
So far, there is only one foldable smartphone in the world that is available to purchase, which is the Royole FlexPai. The Korean tech giant, Samsung, has also recently showcased its first foldable smartphone, and the rumor is, the device is production ready. Samsung might launch its foldable smartphone at the upcoming MWC event. Huawei is also said to be working on a foldable smartphone. The MWC 2019 is only a month away, and we expect to see a lot more foldable smartphones at this event.