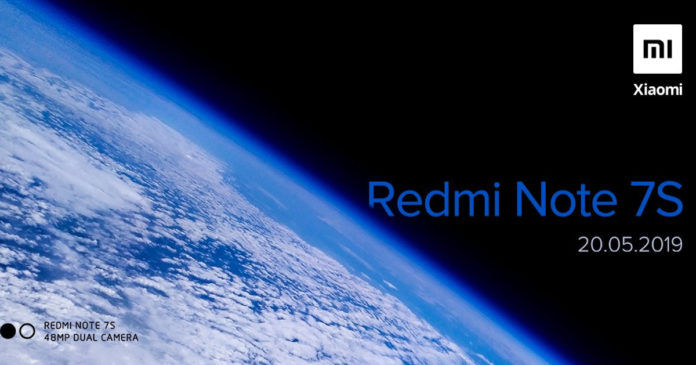 Following the footsteps of Realme and OnePlus, Xiaomi is now gearing up to launch another smartphone in India, the Redmi Note 7S. Xiaomi today confirmed that its upcoming 48MP camera smartphone would be called the Redmi Note 7S and it will be debuting in India on May 20, 2019. By the looks of it, the Redmi Note 7S would compliment the Redmi Note 7 Pro that was launched in February 2019 in India with a 48MP Sony IMX586 camera sensor on the rear.
Redmi Note 7S With 48MP Sensor in a Dual Camera Setup
Xiaomi has teased the upcoming phone with a dual camera setup on the rear featuring a 48MP sensor similar to the Redmi Note 7 Pro (review). Xiaomi will most likely position the phone between the Redmi Note 7 (review) and Redmi Note 7 Pro, which means that it will be superior to the Note 7 and slightly underpowered than the Note 7 Pro. In a tweet, Xiaomi's India chief Manu Kumar Jain confirmed that the phone would debut on May 20 in India with a 48MP sensor.
The Redmi Note 7 Pro price in India starts at INR 13,990 while the Redmi Note 7's starting price is INR 9,999. Xiaomi is launching the Redmi Note 7S to woo new customers who want more features than the Redmi Note 7 and lesser pricing than the Redmi Note 7 Pro. Interestingly, the image attached to the tweet bears the watermark that reads, "RedmiNote7S 48MP Dual camera." Although except for camera information we do not know much about the upcoming Redmi phone, we can, however, expect the phone to boast the same design as the Note 7 and Note 7 Pro with a dot notch, gradient back panel, and glass body.
Xiaomi's Big Plans For India
Ever since its debut in India, Xiaomi has always taken the Indian smartphone market seriously. The brand has always been conscious of the pricing strategy to keep its loyal consumer base intact. The recently launched Redmi Note 7 series has already touched success milestones, thanks to their pricing and features. Now, with the Redmi Note 7S, Xiaomi seems to be targeting the consumer base that wants better than Note 7 but without spending as much money as for the Note 7 Pro. Moreover, the company is also expected to launch a new 'K20' lineup of flagship phones with the triple rear camera setup.
As for its continual success in India, the brand sold more than two million Redmi Note 7 Pro and Redmi Note 7 handsets in India. We now expect the company to post a few more teasers about the Redmi Note 7S before it comes closer to the launch day. Stay tuned with us to keep getting updates about the Redmi Note 7S.