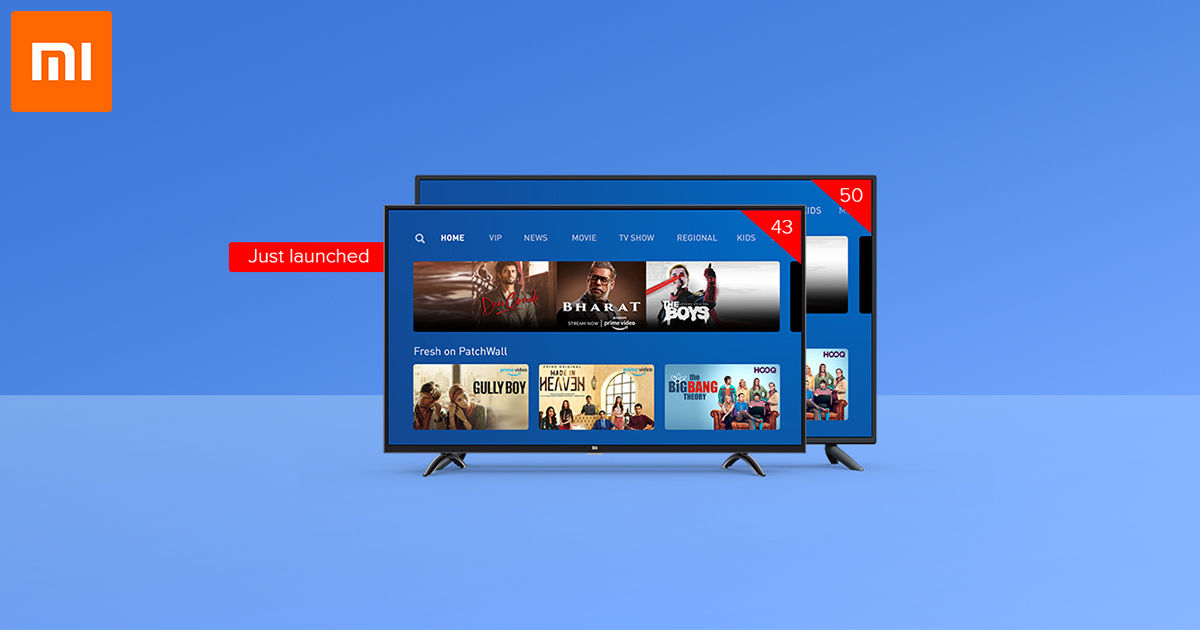 Xiaomi has launched a new TV line-up in India today at an event in Bangalore. This line-up brings four new TVs to the table – the Mi TV 4X (65-inch), Mi TV 4X (50-inch), Mi TV 4X (43-inch), and the Mi TV 4A (40-inch).  A few highlight features of these TVs include 4K HDR, 10-bit panel, WCG (Wide Color Gamut), and Bluetooth v5.0.
Up until now, Xiaomi offered 32-inch, 43-inch, 49-inch, and 55-inch TV sizes in India. This is the first time that the brand is offering 40-inch, 50-inch, and 65-inch TV sizes in India. As it is evident, the Mi TV 4X (43-inch) comes as the successor to the Mi TV 4A Pro (43-inch), whereas the other three TVs are all new entrants to the Indian market.
The issue with previous Xiaomi TVs in India was that they lacked the support for two major streaming services – Netflix and Amazon Prime Video. Well, Xiaomi has worked on the problem and is now offering support for both the streaming services with these new TVs.  The brand is also offering redesigned remotes with the new TV line up. Anyway, here are the specifications of all the TVs Xiaomi launched in India today, along with their pricing.
Mi TV 4X 65-inch, 50-inch, 43-inch, and Mi TV 4A 40-inch Price in India, Specifications
Model
Mi TV 4X (65-inch)
Mi TV 4X (50-inch)
Mi TV 4X (43-inch)
Mi TV 4A (40-inch)
Display size
65-inch
50-inch
43-inch
40-inch
Resolution
4K

(3840 x 2160)

4K

(3840 x 2160)

4K

(3840 x 2160)

Full HD

(1920 x 1080)

Display features
10-bit display

HDR

WCG

10-bit display

HDR

10-bit display

HDR

Speakers
20W (2 x 10W)

DOLBY AUDIO

DTS-HD

20W (2 x 10W)

DOLBY AUDIO

DTS-HD

20W (2 x 10W)

DOLBY AUDIO

DTS-HD

20W (2 x 10W)

DOLBY AUDIO

DTS-HD

Processor
Quad-core (Cortex-A55)
Quad-core (Cortex-A53)
Quad-core (Cortex-A53)
Quad-core (Cortex-A53)
RAM
2GB
2GB
2GB
1GB
Storage
16GB
8GB
8GB
8GB
OS
Android TV with PatchWall
Android TV with PatchWall
Android TV with PatchWall
Android TV with PatchWall
Connectivity
HDMI ports – 3

USB ports – 2 (3.0 standard)

Wi-Fi – 2.4GHz/5GHz

Bluetooth – 5.0

3.5mm out – Yes

LAN port – Yes

HDMI ports – 3

USB ports – 2 (2.0 standard)

Wi-Fi – 2.4GHz/5GHz

Bluetooth – 4.2

3.5mm out – Yes

LAN port – Yes

HDMI ports – 3

USB ports – 2 (2.0 standard)

Wi-Fi – 2.4GHz/5GHz

Bluetooth – 4.2

3.5mm out – Yes

LAN port – Yes

HDMI ports – 3

USB ports – 2 (2.0 standard)

Wi-Fi – Only 2.4GHz

Bluetooth – 4.2

3.5mm out – Yes

LAN port – Yes

Supported Streaming applications
Youtube

Netflix

Prime Video

Hotstar

Eros Now

Jio Cinema

YouTube

Netflix

Prime Video

Hotstar

Eros Now

Jio Cinema

YouTube

Netflix

Prime Video

Hotstar

Eros Now

Jio Cinema

YouTube

Netflix

Prime Video

Hotstar

Eros Now

Jio Cinema

Price
INR 54,999
INR 29,999
INR 24,999
INR 17,999
Availability
Starting 12 PM on 29th September 2019
Starting 12 PM on 29th September 2019
Starting 12 PM on 29th September 2019
Starting 12 PM on 29th September 2019