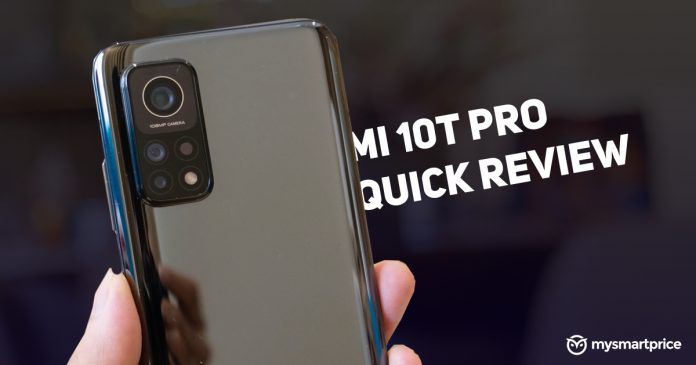 If you rewind back to the year 2014, chances are you would remember how a new company, which none of us had heard of, had launched a phone named – Mi 3 – in the Indian market. The phone had a Snapdragon 8-series chip and pretty much all other specs you would expect in a 2014 flagship. The kicker, however, was that the Mi 3 was launched at just 14,999. A price point which we had all assumed is meant for crappy, meagerly specced smartphones. That was the start of Xiaomi's journey in India, a brand that has now almost become synonymous with 'value-for-money' phones.
Cut to 2020, and Xiaomi —  after a three-year long hiatus — decided to give a new lease of life to the Mi brand in India with the launch of the top-of-the-line Mi 10 flagship. But, the price tag of Rs 49,999 for the Mi 10 failed to impress most Indians. But, being the belligerent brand that Xiaomi is, it decided to give it yet another shot in 2020. Thus, we have the Mi 10T series.
This was probably the first launch event I've seen in months, where the price drop wasn't followed by a barrage of "overpriced" comments. Let's take a closer look at the Mi 10T Pro, and check if it has what it takes to win over Indian consumers?
Mi 10T Pro – build and design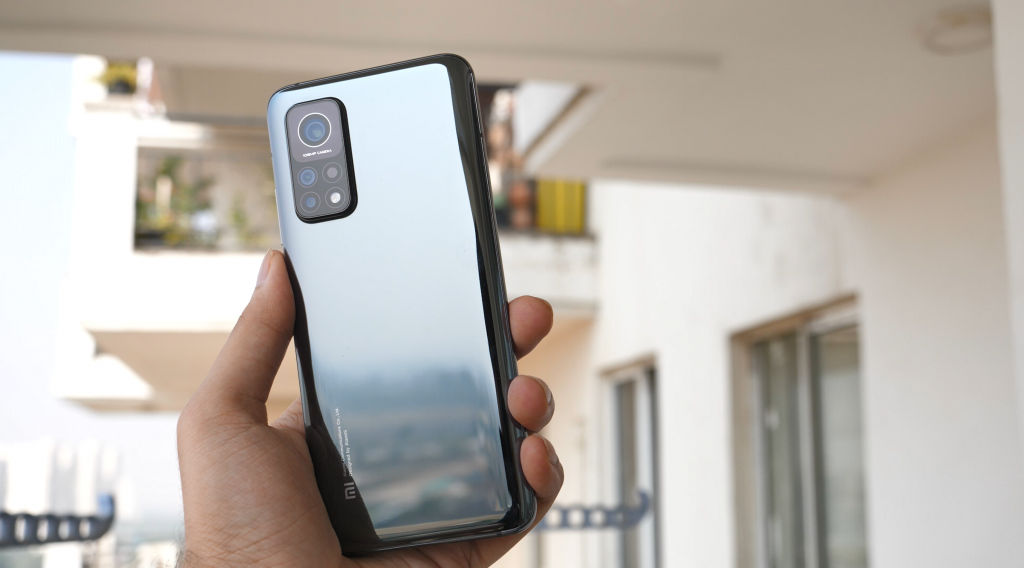 The Mi 10T series consists of the Mi 10T and the Mi 10T Pro, and except for the main camera sensors, they're basically identical in every other aspect. Both come with a Gorilla Glass 5 sandwich industrial design, being held together by a metal frame. The Mi 10T Pro I have came with a super glossy finish at the back, to the point where it almost looks like a proper pocketable mirror that you can use.
If you aren't the kind of person who needs a mirror 24×7, you would be concerned about how bad this glossy finish is in terms of keeping away fingerprints and smudges. This phone gets dirty faster than Indian politicians in power. I sorely miss having the option of a matte finish back here.
Another thing which caught my attention is that Mi 10T Pro is a chunky boi! Weighing in at 216 grams and measuring 9.3mm in thickness, the Mi 10T Pro feels heavy to hold and use. Couple this with the fact that I was using the Pixel 4a (review) just before this phone and it possibly drilled the final nail in the coffin of my burgeoning dislike for big phones.
But, if the heft doesn't bother you, the phone does feel premium in hand, and packs in an IR Blaster, a Type-C port at the bottom, and a side mounted fingerprint scanner. There's room for two SIM cards here, although you can't use a microSD card. And lastly, you don't get any IP rating with these phones.
Mi 10T Pro – display and multimedia
Coming to the front of the device, I immediately noticed the chin at the bottom and even the bezels on rest of the edges aren't as thin as we have seen on other flagship devices off late. That should be a side-effect of using an LCD instead of an AMOLED display. And about that, let's just address the most controversial spec on this phone.
Yes, it comes with a 6.67 inch IPS LCD. Yes, LCDs cost lower than AMOLED panels. But no, that doesn't make this a bad display by default. It's an FHD+ panel, with a typical brightness of about 500nits but it can touch peak levels of 650nits. There's Widevine L1 support as well, plus the display is HDR10 capable. Numbers aside though, it's a good display, I had no trouble in viewing it outdoors so brightness levels are sufficient. The colors look accurate enough, and even while viewing it side-by-side with an AMOLED display, I think it managed to hold up pretty well. You can see for yourself:
Coming to the multimedia aspect, you get stereo speakers on the Mi 10T series. However, the dedicated top speaker on the Mi 10 isn't present here, with the earpiece acting as a secondary speaker. Talking about things that aren't present here, there is no 3.5mm audio jack, so you'll have to rely on Bluetooth earphones or a Type-C to 3.5mm adapter. The speaker output is great though, it felt really loud and the quality isn't half bad either. I did notice a weird hollow feeling in its back and there were noticeable vibrations when you play sound via the speakers.
Mi 10T Pro – specs and performance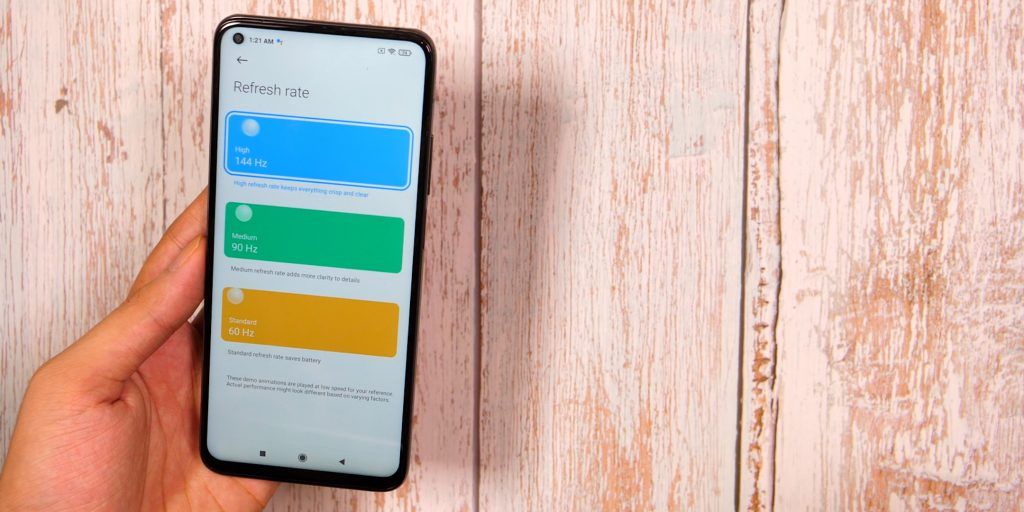 "But why did Xiaomi use an LCD here?"
Because, the single USP of the Mi 10T series is a staggering 144Hz Refresh Rate support!
That's almost 250% higher than the refresh rate you get on the latest iPhone 12 series. Shame, Apple! Now to power this high refresh rate experience, you get the right internals too. There's 8GB of LPDDR5 RAM (6GB on regular Mi 10T), 128gigs of the super-fast UFS 3.1 storage and Qualcomm Snapdragon 865 chipset providing the absolute best of power that Android has to offer yet.
Needless to say, this phone flies through everything. This is the fastest Xiaomi phone I've ever used and frankly, I never knew MiUI could feel this smooth. You get Xiaomi's latest MIUI 12 out of the box here, however I am a bit letdown by the fact that it's still running on Android 10. A couple of phones this month have already launched with Android 11, most prominent one being Oneplus 8T (review). Which btw, is also the Mi 10T Pro's biggest competitor. The software experience here is still quite good though, with very little third party bloat pre-installed. Also, I'm yet to see an ad in the system UI, but more on that in our full review. Meanwhile, here's a quick first impressions video of the Mi 10T Pro:
Mi 10T Pro – battery and charging
Now, a big feature that Xiaomi has been talking about is 'Adaptive Sync'. We've heard a lot of companies talk about variable refresh rates, but Xiaomi seems to have found the most clear solution to execute it. Basically refreshing a screen 144 times every second would eat a lot more battery than refreshing it 60 or 90 times a second. Plus, a lot of time we are doing something on our screen which doesn't even need the screen to refresh at 144Hz. For example, reading an article, or watching a regular 50fps video on YouTube.
The screen on the Mi 10T Pro can understand what content is being displayed on the screen and can adjust its refresh rate accordingly. And not just 60 or 144, it can choose to switch to 30Hz, 48Hz, 50Hz, 60Hz, 90Hz, 120Hz and 144Hz. Now why am I talking about all this in the battery section? Well, because all of this is being done to make sure the screen doesn't suck away on the battery too quickly.
Being an LCD panel, it's already at some disadvantage when it comes to the power efficiency that AMOLEDs bring. To offset all of this, Xiaomi has packed in a 5000mAh battery here, which should be enough to get you through a day of usage at least, if not more. For charging, we get Xiaomi's new 33 Watt charging brick in the box, which can charge the phone from 0-100 in just about an hour. Full battery drain and charging test of the Mi 10T Pro should be available on our YT channel sometime around 12pm on Friday, 29th October.
If you were wondering, the Mi 10T series gets a bigger battery (4780mAh on the Mi 10) and faster charging (30watt on the Mi 10) than its more expensive cousin. But, one thing it misses out on is wireless charging. Which honestly, isn't that big of a deal for me. I'd rather take a faster wired charging solution than inclusion of wireless charging. What about you?
Mi 10T Pro – cameras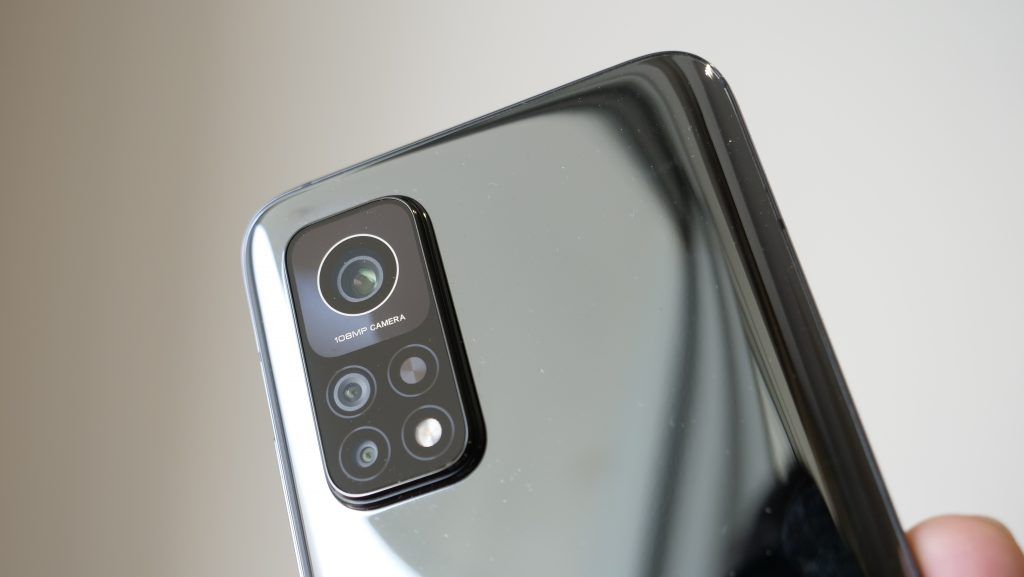 Everything that we've discussed so far is exactly the same on the regular Mi 10T and its Pro sibling. The only difference is the Mi 10T Pro sports a 108MP primary camera at the back. Whereas, the regular Mi 10T comes with a 64MP main camera (IMX682 sensor, same as the Poco X3). The rest of the camera specs are identical too. A 13MP ultrawide lens and a 5MP macro camera complete the triple camera setup at the back. Both the phones have a 20MP shooter for selfies in the punch-hole cutout at the front. Here are some camera samples that I've clicked so far:
On paper at least, the Mi 10T Pro seems to be very close to the Mi 10's camera setup. The Mi 10 came with an inferior 2MP macro and a 2MP depth sensor, which I'm really glad Xiaomi didn't bother with here. If you can't wait for our detailed camera tests of the Mi 10T Pro, you can watch the Mi 10's cameras in action in its full comparison video here:
Mi 10T Pro – the best budget flagship out there?
This was supposed to be a quick first impressions but there's just so much packed in here. The best part about the Mi 10 series however is the price at which Xiaomi launched these phones. The regular Mi 10T starts at Rs 35,999 (6/128GB) and the Mi 10T Pro can be yours for an unbelievable price tag of Rs 39,999 (8/128GB). To put this into context, the Mi 10 was launched at Rs 49,999. And, the closest competition to the Mi 10T series, the Oneplus 8 and 8T both start above 40K.
There's only one phone offering the SD865 at a cheaper price than the Mi 10T, the iQOO 3. Which is currently selling somewhere around 30K. But, I can already say that the both the Mi 10Ts are a much better package than that phone. And, this could very well be Xiaomi's strongest shot at ending Oneplus' dominance in VFM flagships. There's still a lot of content to come around the Mi 10T Pro, follow us on our YT channel and social handles if you haven't already. And watch this FAQ videos that should answer all the questions you have about this phone:
Thanks for reading till the end of this article. For more such informative and exclusive tech content, like our Facebook page