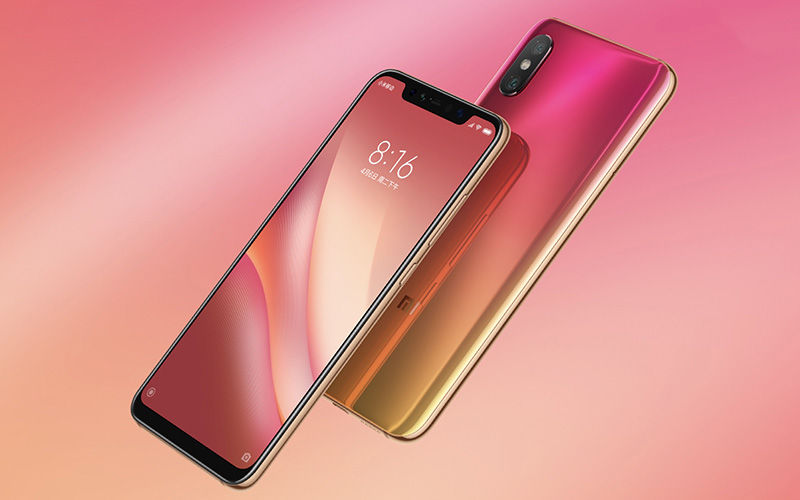 With 2018 nearing its end, rumors have started brewing up about the upcoming flagship smartphones already. The impending arrival of 5G and the maturity of nascent technologies such as in-display fingerprint sensor mean most of next year's phones will be feature packed. While the likes of Apple and Samsung will continue to charge jaw-dropping prices for their premium offerings, we can always count on Xiaomi to deliver us top-tier specs at a low price. For the same reason, the company is apparently pulling out all the stops for the successor of the Mi 8 and judging by a render, we can hope the phone will be quite a looker.
Mi 9 Concept
While Xiaomi is currently tight-lipped about its 2019 flagship smartphone, the concept designer Ben Geskin has whipped up an imaged based on the myriads of the rumors flying around. The envisioned Xiaomi Mi 9 has a high screen-to-body ratio and depicts an in-display fingerprint sensor using a thumb impression on the display. There is also a small notch at the front, and the volume rockers and the power buttons can be seen on the right-hand side of the device. The phone sports a triple camera system and per rumors, the main camera is a 48MP Sony IMX586 sensor.
Probable specs:

6.4" AMOLED Display
Snapdragon 8150
6/8/10GB RAM
3700mAh+ / Quick Charge 5.0
Triple Camera (Main: Sony IMX586 48MP)
In-Display Fingerprint Scanner
Wireless charging
5G

— Ben Geskin (@VenyaGeskin1) November 11, 2018
What's Under The Hood?
A couple of days ago, news had broken out that the upcoming Xiaomi Mi 9 would be the first phone to rock Qualcomm's 7nm chipset, the Snapdragon 8150. While we are almost certain that the Mi 9 would rock the Snapdragon 8150 SoC, we aren't so sure of it being the first phone to do so. Since the Mi 8 was announced in May, its successor is likely to follow suit. However, the Snapdragon 8150-fueled Galaxy S10 is likely to beat Mi 8 to the punch, as it will most likely be launched in March 2019. However, we wouldn't totally refute the claim, as the Xiaomi might be planning an earlier launch.
According to Geskin, the Mi 9 will sport a large 6.4-inch AMOLED display. It will presumably be available in three memory configurations: 6GB RAM, 8GB RAM, and 10GB RAM. The phone is expected to pack in a 3700mAh battery, which would be topped up in no time with Quick Charge 5.0. In addition to that, the Mi 9 will probably offer support for wireless charging as well. And lastly, the Xiaomi Mi 9 is expected to be 5G-ready.
Other than that, we can expect that phone to offer up to 512GB of internal memory and some sort of IP rating against dust and water. There are no words on pricing yet, and given that the phone is expected to be 5G-ready and come with an in-display sensor, it is a little difficult to speculate its price. However, given Xiaomi's penchant for keeping margins as low as possible, we can expect it to retail for INR 43,743 tops.
Stakes Are High
With Samsung gearing up to launch its folding smartphone and Huawei and OnePlus readying 5G-ready smartphones of their own, it will be a tough battle for the Xiaomi Mi 9. Although the specification sheet is pretty impressive, most 2019 flagships will come with something similar, so it remains to be seen how Xiaomi will differentiate the Mi 9.
As we wait for more reports about the Mi 9, why don't you check out our review of the Mi A2 below?