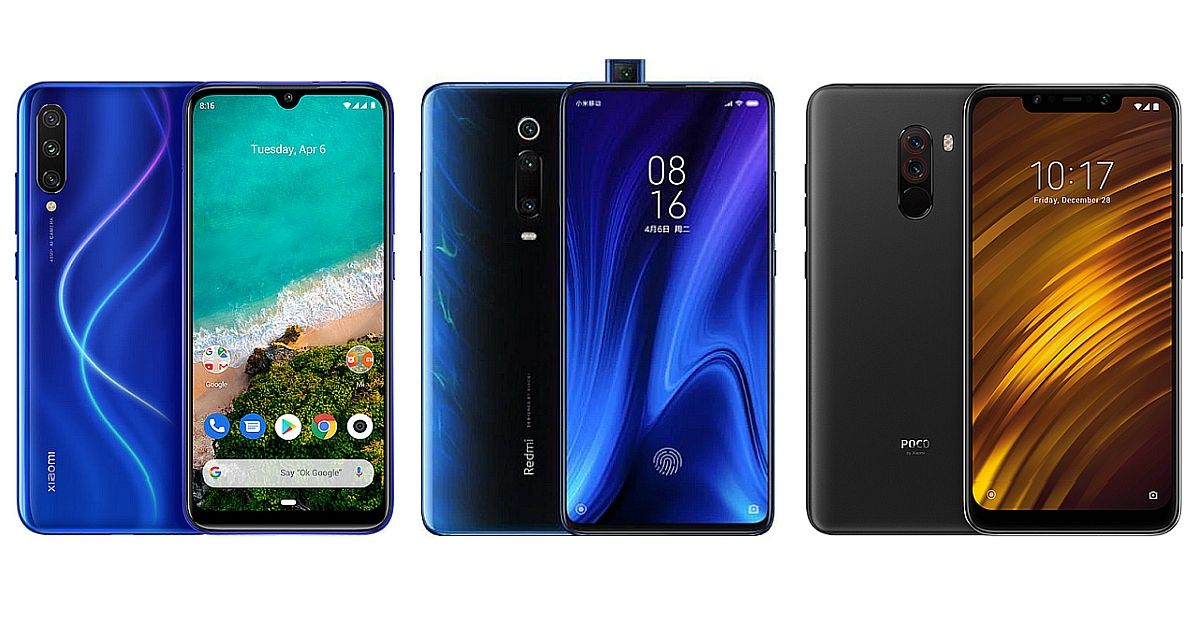 Xiaomi's Mi A3 has finally been unveiled over in Spain. While most of its specifications have certainly been upgraded over its predecessor, its price hike is substantially higher than what we expected. At roughly INR 20,000 for its base model, the Mi A3 faces tough competition from new as well as older smartphone offerings made by Xiaomi itself.  On the one hand, we have the Redmi K20 that just made its debut in India a couple of days ago, and on the other, we have the POCO F1 (review) that made its debut last year. The Redmi K20 has been priced at INR 21,999, while the POCO F1's retail price is now down to INR 17,999 from its launch price of INR 19,999.
Today we shall compare these three similarly priced Xiaomi smartphones to help you figure out which of them best suits your needs.
Xiaomi Mi A3
vs
Redmi K20
vs
POCO F1: Design, Build
Both the Mi A3 and Redmi K20 have impressive build qualities. The two phones feature glass-metal sandwich designs along with Gorilla Glass 5 protection. This is one of the few aspects where the POCO F1 feels lacking as it makes use of a plastic unibody design. The POCO F1 also misses out on the in-display fingerprint scanner, which is something both the other phones offer. With that said, the POCO F1 does somewhat redeem itself by offering IR face recognition.
Xiaomi Mi A3
vs
Redmi K20
vs
POCO F1: Display
The Redmi K20 has the best display by far. There is no notch as the phone makes use of a pop-up selfie camera design, and it makes use of a 6.39-inch AMOLED panel with a Full HD+ resolution. While the POCO F1 also gets a Full HD+ resolution screen, it makes of an LCD panel that bears a considerably wide notch up top. But we would say this is still better than the Mi A3 which, despite offering an AMOLED screen, only manages to push 720 x 1560 pixels. This is quite baffling as there are quite a few options out there that are much cheaper but still offer OLED FHD+ resolution displays.
Xiaomi Mi A3
vs
Redmi K20
vs
POCO F1: Performance, Features
There is still no other phone that has managed to offer the same level of price-to-performance as the POCO F1 with its flagship-grade Snapdragon 845. The Redmi K20 comes next with its new Snapdragon 730 chipset that comes with Kryo 470 CPU cores clocked as high as 2.2GHz along with an Adreno 618 GPU. Then we have the Mi A3 that runs on a Snapdragon 655 chipset that features Kryo 260 CPU cores that clock as high as 2.0GHz and an Adreno 610 GPU.
The Redmi K20 is a bit of let-down in the storage department as it does not offer microSD card support while the other two smartphones do. However, the K20 manages to offer Hi-Res audio via its 3.5mm headphone jack, and it is the only one to feature NFC support. The POCO F1's answer to this is its stereo front-firing speakers, while the MI A3's exclusive asset is its IR blaster.
Xiaomi Mi A3 vs Redmi K20 vs POCO F1: Software
As was the case on its predecessors, the Mi A3 offers an almost stock Android Pie experience and features the least amount of bloatware. While you can Enjoy MIUI 10 based on Android 9.0 Pie on both the Redmi K20 and POCO F1, the latter offers slight changes in its UI design in keeping with the theme of its branding. One such feature is the inclusion of an app drawer. But to be fair, you could install the POCO Launcher on any other Xiaomi smartphone to get the app drawer experience.
Xiaomi Mi A3
vs
Redmi K20
vs
POCO F1: Camera
The most versatile rear camera setup is offered by the Redmi K20 where we have a 48MP primary camera, an 8MP telephoto lens, and a 13MP ultra-wide shooter. Next comes the Mi A3 that also gets a 48MP primary shooter that is paired with an 8MP ultrawide lens and a 2MP depth sensor. The PCOC F1 falls behind with its 12MP + 5MP (depth) dual rear camera setup.
When it comes to selfies, however, the Redmi K20 and POCO F1 offer almost comparable performance with their 20MP front-facing shooters. From a pure image resolution standpoint, the Mi A3 manages to nudge ahead of its competition with its 32MP selfie camera.
Xiaomi Mi A3
vs
Redmi K20
vs
POCO F1: Battery Life
Battery life is one aspect where all three phones are pretty much tied, at least on paper. The Redmi K20 and POCO F1 feature 4000mAh batteries, while the MI A# comes with a 4030mAh cell. All three devices even feature the same 18W Quick Charge 3 support over USB Type-C. For those who argue that the POCO F1's processor would draw more power, keep in mind that the other two handsets feature AMOLED panels that also increase power draw.
Xiaomi Mi A3
vs
Redmi K20
vs
POCO F1: Which One Should You Choose?
Overall, the POCO F1 is still the best choice for power users who are looking for the best possible performance for the least amount of money. If you are willing to sacrifice a bit on that one front, then the Redmi K20 is the next best option with its superior cameras, exceptional design, notch-free AMOLED screen, in-display fingerprint sensor, and enhanced wired audio quality.
As for the Mi A3, there are indeed some impressive features here such as its high-resolution selfie camera, massive battery, in-screen fingerprint sensor, and even its IR blaster. But for how high the phone has been priced; the use of an HD+ resolution display is unforgivable despite it being an AMOLED panel.