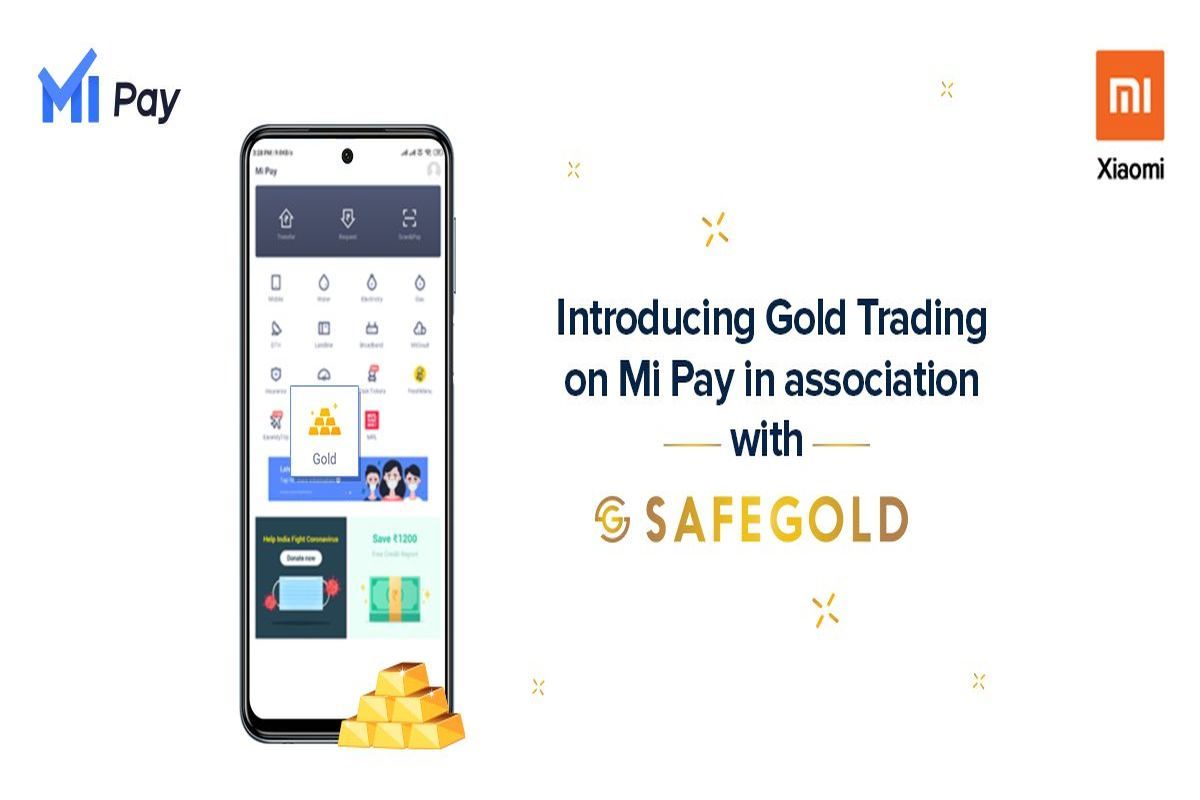 Last year, Xiaomi unveiled its Mi Pay app in India, which is primarily a UPI-based application deeply integrated within the company's MIUI ecosystem. The Mi Pay app has now started receiving a new update, which will allow its users to buy and sell gold in real time, just like the more traditional apps like Google Pay and PayTM in India. The Chinese smartphone manufacturer has joined hands with a gold investment startup company, dubbed SafeGold to bring about this new feature for its customers. Take a look at what the latest update for the Xiaomi Mi Pay app has in store for us and how one can sell and buy gold online using the Mi Pay app.
Xiaomi Mi Pay Receives a New Update; Users Can Sell and Buy Gold Online from Now on
The company's official Twitter handle (@MoneyWithMi) recently broke the news via a tweet, which confirmed the company's liaison with SafeGold India. Below is the tweet for your reference:
Now you can trade gold online on Mi Pay!
In association with @SafeGold_India, we present this feature whereby you can buy-sell gold anytime, anywhere.#GoldTrading #MiPayEveryDay pic.twitter.com/6AxPyBnebp

— Mi Money (@MoneyWithMi) April 21, 2020
If you buy gold via Mi Pay, the bought gold will be saved in a vault and users can either bring it home or maintain it digitally. If one does not want to keep it digitally, the bought gold will be delivered at one's doorstep without any hassle. If, however, one wants to keep it as an investment, the vault will be the interface for those interested. Plus, the user will have the right to sell the bought gold at any point of time. The money will be transferred to their registered bank account instantly.
How to Buy or Sell Gold Via Mi Pay
if you want to make use of the latest Mi Pay feature to buy or sell gold, you (of course) need to install the Mi Pay app, set it up, and find the new gold option from the interface. Readers must be made aware that the gold purchased from the Mi Pay app (24-karat) will be stored in Brink's Indian vault.
Also Read: [Update: On Geekbench] Xiaomi Mi 10 Youth Edition 5G Passes Through TENAA Certification, Key Specs and Images Revealed
There is no denying that the Mi Pay gold scheme is lucrative from an investment standpoint, but the company has intended to go beyond that. Users can also exchange the bought gold for jewellery, as the Mi Pay app has partnered with several jewellers.
Though Xiaomi's entry into the gold trading business has marked yet another accomplishment for the brand, we are not entirely sure as to whether or not it is the right move. After all, several existing services like Google Pay and PayTM have already been in this segment for quite some time now. The ongoing COVID-19 pandemic and the current financial situation in the country do not help the case either. Nevertheless, the feature is available on your device and if you want to make use of it, you can do it with the click of a button.
Also Read: JioMart: How to Order Online from Your Local Kirana Store Using WhatsApp
What are your thoughts on the gold trading option introduced in the Mi Pay app? Do let us know in the comments section below.