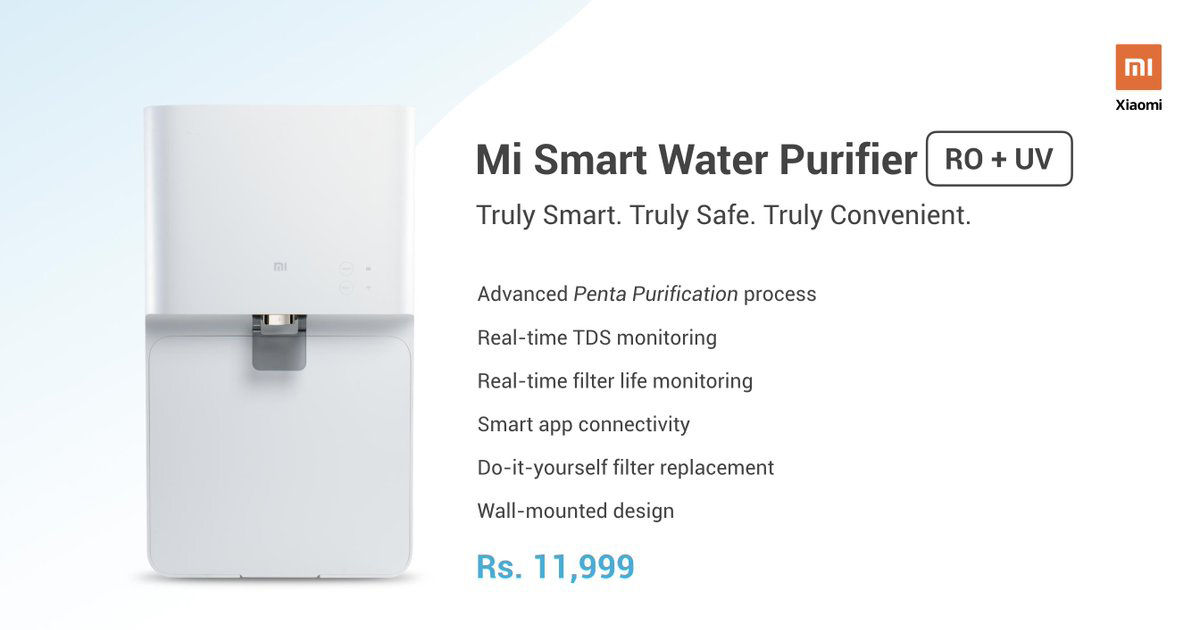 In India, Xiaomi is mostly known for its smartphones. However, the brand has recently been trying to diversify its product range in the country by betting big on home appliances. After the success of its air purifier and TDS meter in India, the Chinese manufacturer has today unveiled a new home appliance in the country – the Mi Smart Water Purifier.
Xiaomi Mi Smart Water Purifier Price in India
Xiaomi has priced the Mi Smart Water Purifier in India at INR 11,999. That's significantly lower than what other RO + UV water purifiers cost in India. And when you read about the specifications of the Mi Smart Water Purifier below, you'll appreciate the price even more.
Xiaomi Mi Smart Water Purifier Specifications
The Mi Smart Water Purifier, as its name suggests, is a connected device. In simpler terms, the water purifier has Wi-Fi to connect to the internet to offer cloud services. This includes the ability to monitor TDS levels and filter life of your Mi Smart Water Purifier on your smartphone. This is something that no other water purifier in India offers, at least in the budget segment.
With RO + UV systems built-in, the #MiSmartWaterPurifier features a 5 stage Penta Purification Process to ensure that you get to drink water that's not just pure, healthy but tasty too!
#SmarterLiving 2020 pic.twitter.com/IhHZEf91b6

— Mi India for #MiFans (@XiaomiIndia) September 17, 2019
As for the purification, the Mi Smart Water Purifier has a five-stage filtration system. In the first and the second stage, the water purifier uses polypropylene cotton and activated carbon to remove chlorine, organic matter, harmful substances, and odor. The third stage uses reverse osmosis to turn hard water into soft water by removing scales, heavy metals, virus, and bacteria. In the fourth stage, water is passed through the Post Activated Carbon filter that further removes odor and improves the taste of water. In the final stage, the water is sterilized in the tank with the help of UV, which, according to Xiaomi, kills 99.99% of bacteria.
#MiSmartWaterPurifier also features DIY filter replacement. Which means that when you do need to replace the filters, it's going to take you less than 30 seconds to do so.

Child's play isn't it? #SmarterLiving 2020. pic.twitter.com/ke5hsTM3X3

— Mi India for #MiFans (@XiaomiIndia) September 17, 2019
When these filters get clogged, you can change them yourself. Yes, you've heard that right. You don't need to appoint any technician to replace filters in the Mi Smart Water Purifier; you can change them yourself. This will be a boon in lesser developed areas of India where service agent availability is usually scarce.