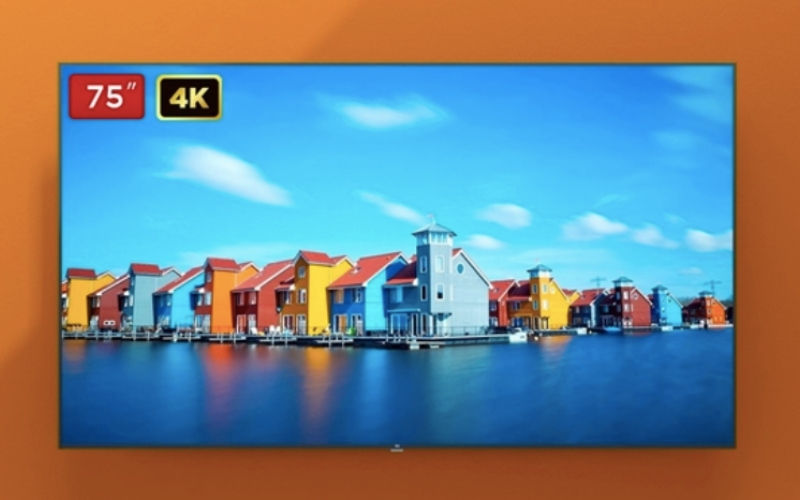 Xiaomi has launched a new Mi TV 4S in Mainland China and it is the biggest TV to come from the company. The China based manufacturer has had a lot of success with its Mi TV lineup. These television sets are slim, use A+ grade LED panels, include smart features, and won't leave a hole in your wallet. Until now, Xiaomi's largest TV came with a 65-inch 4K LED panel. However, its latest smart TV has an even larger 75-inch 4K LED panel and comes with plenty of features to provide an amazing home theatre experience.
Mi TV 4S 75-inch Launched in China
Earlier this month, Xiaomi launched the Mi TV 4 65-inch in China. This TV has a price tag of 5,999 Yuan and comes with a 4K HDR panel and other high-end features. Xiaomi's Mi TV sets are known for their impressive build quality, competitive pricing, and great features. The Mi TV 4 65-inch has all of those, but it still wasn't as big as some of the TVs from other big brands. Therefore, the company has now launched the Mi TV 4S 75-inch 4K LED TV in China.
Xiaomi's Mi TV 4S 75-inch features a premium metal body that is super slim and also has almost no bezels. The body is built using aviation-grade aluminum and are quite premium to look at. The TV comes in a silver-grey metallic color and has the coating resembles brushed metal. It is powered by an AmLogic quad-core 64-bit processor that is coupled with 2GB of RAM. As this is a smart TV, you get plenty of connectivity features such as Wi-Fi, DLNA, and Bluetooth. It has 8GB of internal storage, which can be used to store apps, photos and other files.
This is a true 4K TV and also supports HDR, which means that the colors are more vivid. The TV also has support for DTS-HD and Dolby Audio to provide an immersive experience for the viewers. It has dual 8W dolby speakers that provide stereo sound. Xiaomi has used its own custom UI for the TV, which is called PatchWall. With PatchWall, you can access all your apps, shows, and movies from one place. You can install Android apps on the TV via the provided store. The Mi TV 4S also has a built-in voice assistant that can be activated via the provided remote. The remote features a mic which is enabled with the press of a dedicated button. The features on the 75-inch version is pretty much similar to the one found on the 65-inch variant.
Mi TV 4S 75-inch Price and Availability
The Mi TV 4S 75-inch is priced at 7,999 Yuan, which is an amazing price for such a product. A similarly spec'd television from Samsung, LG or Sony, would cost twice or thrice as much as the Mi TV. Even in China, a 75-inch 4K ready TV will easily cost around 14,239 yuan, which is double of the Mi TV 4S. If you are interested in purchasing the TV, you can do so starting on November 23. It will be available via the official Xiaomi website.
We have reviewed the Mi TV 4 55-inch and found it to be very impressive with great picture quality and true HDR support. The Mi TV is a true game changer, sets the bar very high for other budget TV sets and makes things very competitive for big name brands.