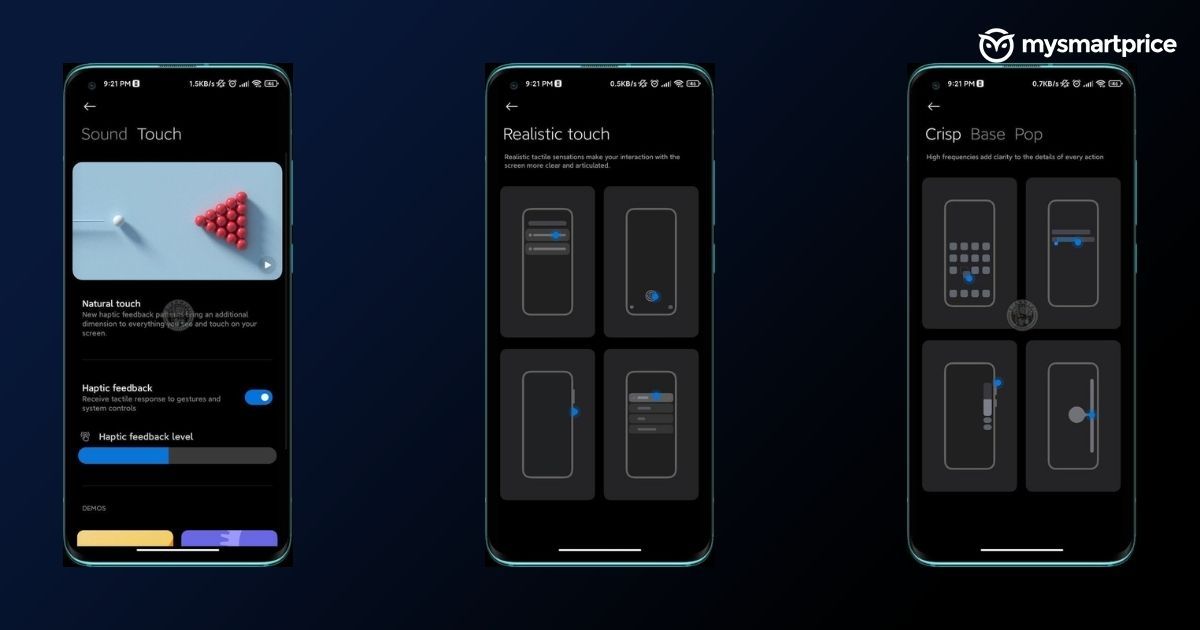 Xiaomi announced MIUI 12.5 along with Mi 11 last month at an event in China. Now, a new report suggests that Xiaomi is introducing another little nifty feature which it didn't showcase during the event. A new haptic feedback system is being introduced in the MIUI China Beta builds as reported by Xiaomiui telegram channel. Xiaomiui has also posted a demo video of the new Natural touch haptic feedback system. Going by the screenshots, and video recording, the natural touch will provide a more realistic feedback to users on swipes, touches, and gestures with different intensities.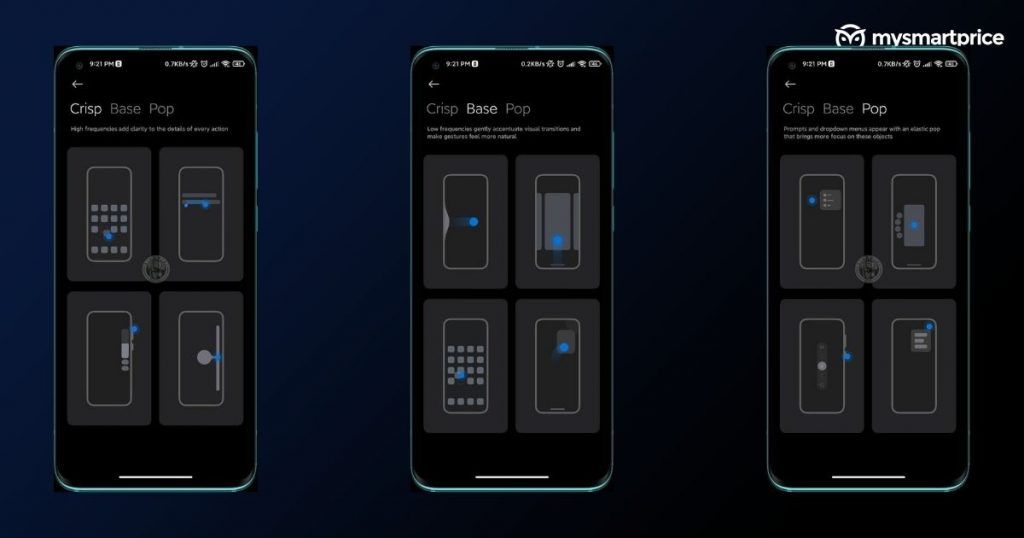 There are four different types of feedback types including Crisp, Pop, Base, and Realistic touch presets. Crisp includes high-frequency feedback while moving icons on the home screen, controlling the volume, and copying text. Pop feedback to be triggered when a user will open the context menu. The low-frequency Base haptic feedback will be experienced with swipe gestures. Realistic touch will provide feedback when one accesses the power button, unlock the device using the fingerprint scanner, or interacts with notifications.
The new leak also provides a video that tries to simulate Crisp, Pop, Base, and Realistic touches with billiard balls, arrows, dominos, and confetti. The new feature is available only for select flagship Xiaomi devices such as Mi 9 Pro 5G, Redmi K30S Ultra (Mi 10T/Pro), Mi 10 Ultra, Mi 10 Pro, Mi 10, and Mi 11. Xiaomi rolled out the feature quite recently in an MIUI China Closed Beta build, so it might take a while before MIUI China Stable ROM users will get the feature on their device.
As far as Global and India ROM is concerned, we see no reason as to why Xiaomi will not bring the feature to global ROM users, but as always expect to appear it on your device at least after a couple of months. We can expect Xiaomi to extend the feature to more devices in the future. What do you think of this new feature? Do let us know in the comments below.