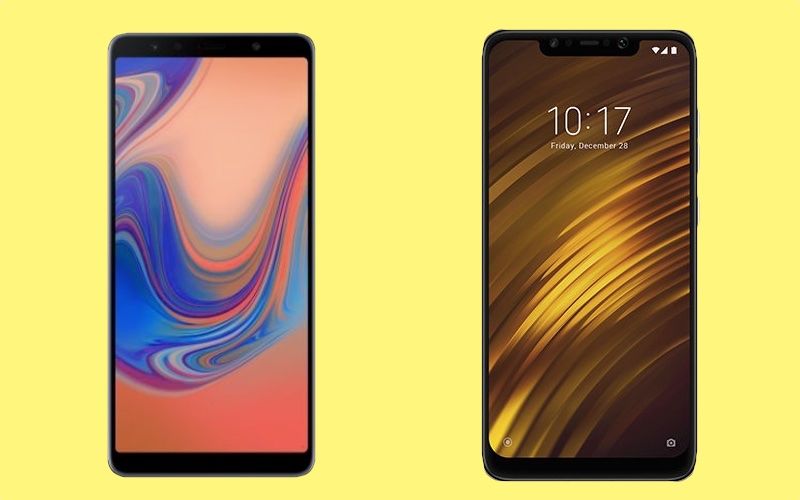 The mid-range smartphone segment in India is only getting crowded by the day, and that is good for the buyer. However, a bag full of options to choose from also leads to confusion, and with more and more smartphones offering essentially the same experience, one would be hard-pressed to filter down the many offerings to one 'best' smartphone in a given price range. In this post, we shall explore seven smartphones under INR 30,000 that provide great value for money. In the list are new and popular handsets such as the Xiaomi POCO F1 (review), Samsung Galaxy A7, and Oppo F9 Pro. Read on for details.
Best Camera Smartphones Below INR 30,000
We must admit that the newly launched Samsung Galaxy A7 might just be the most value-for-money camera smartphone under the INR 30,000 price range for mid-range smartphones. The handset offers an 8MP ultrawide (13mm) sensor in its triple rear camera setup of 24MP+8MP+5MP, and a solid 24MP selfie camera. No other device in this range offers a triple rear camera, and you will have to spend much more on the Huawei P20 Pro for a similar experience. That said, the Oppo F9 Pro and the Vivo V11 Pro also offer a massive 25MP front camera, so they are good camera smartphones too, although their dual rear camera setup is more conventional in comparison to the new Galaxy device.
The Oppo F9 Pro has a 16MP+2MP rear dual camera, and the Vivo V11 Pro sports a 12MP+5MP rear dual camera. The POCO F1 by Xiaomi comes with a 20MP front camera with large pixels, and a 12MP+5MP rear dual camera with large pixels and dual pixel phase detection autofocus, so it is no less of a good bet if camera prowess is what you are looking for. The Nokia 7 Plus (review) offers a 16MP front camera, but a brilliant 12MP+13MP rear dual camera with Zeiss optics, so low-light photography is likely to be better with this one. Also, the Nokia 7 Plus is the only device we can find in this price range that offers 2x optical zoom, a feature largely reserved for flagship handsets.
Smartphones with the Best Display below INR 30,000
In this price range, you mostly get IPS LCD displays, which are fine but no match for OLED displays. The Samsung Galaxy A7 and the Vivo V11 Pro are two excellent phones under INR 30,000 that sport a Super AMOLED display, which brings out deep colors and tackles sunlight very well. The Galaxy A7 has a 6-inch Super AMOLED display with a full bezel on top, 18.5:9 aspect ratio, Full HD+ screen resolution, and 411 ppi pixel density.
The Vivo V11 Pro offers better screen space with its waterdrop notch display spanning 6.41 inches. It has a lower pixel density of 402, but a similar Full HD+ screen resolution. While both these handsets have a glass back, the Vivo device gets a plastic frame, which is outdone by the aluminium frame of the Galaxy A7.
Slickest Handsets in the Mid-range Segment
When it comes to performance, there is no denying that the POCO F1 and the Asus Zenfone 5Z (review) offer the best in the mid-range price segment of up to INR 30,000. These are the only two handsets that will give you the Qualcomm Snapdragon 845 experience, reserved largely for flagship handsets. Other good handsets in this price range either employ a Snapdragon 600 series mid-range chipset, or a Mediatek Helio P60 processor, both of which are no competition for the flagship Snapdragon 845, which is clocked at speeds of up to 2.8GHz. The POCO F1 and the Asus Zenfone 5Z also come with 8GB of RAM, which, again, is rare for handsets in this price range.