Highlights
The Redmi K20 is its perfect sidekick.

There is a single loudspeaker on the Redmi K20, and it is quite loud compared to other phones.

The best combinations of audio-video performance in its price segment.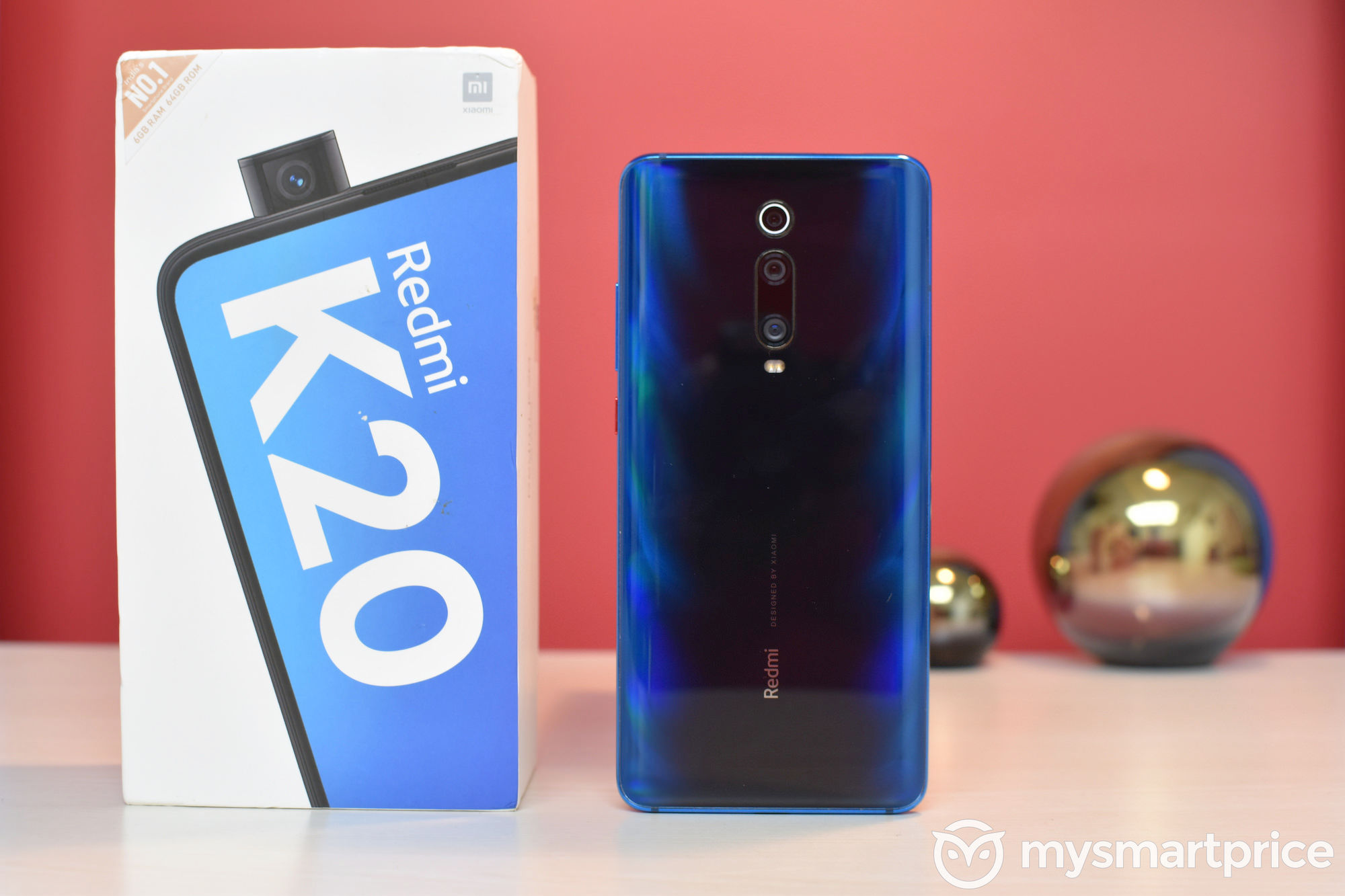 The Redmi K20 Pro (Review) will remain Xiaomi's flagship smartphone for the rest of the year, and the Redmi K20 is its perfect sidekick. The Redmi K20 was launched alongside the Redmi K20 Pro in India and it comes with only a few downgrades which won't likely affect most people, especially if they're looking for a mid-range phone.
Design and Build Quality
8.5/10
What Is Good?
Premium design with water splash resistance.
Excellent AMOLED screen with HDR10.
A good set of cameras.
Fast performance.
Long battery life.
There's still a dedicated 3.5mm headphone jack.
What Is Bad?
Fingerprint reader could've been faster.
Auto brightness and UI auto-rotate features are jumpy.
The Redmi K20 costs Rs 21,999, which is a good Rs 6,000 less than the Redmi K20 Pro's price. The only real downgrade is the processor, the Snapdragon 730 instead of the Snapdragon 855. Other things, including the design, screen, cameras, connectivity, and battery life remain exactly similar to the Redmi K20 Pro.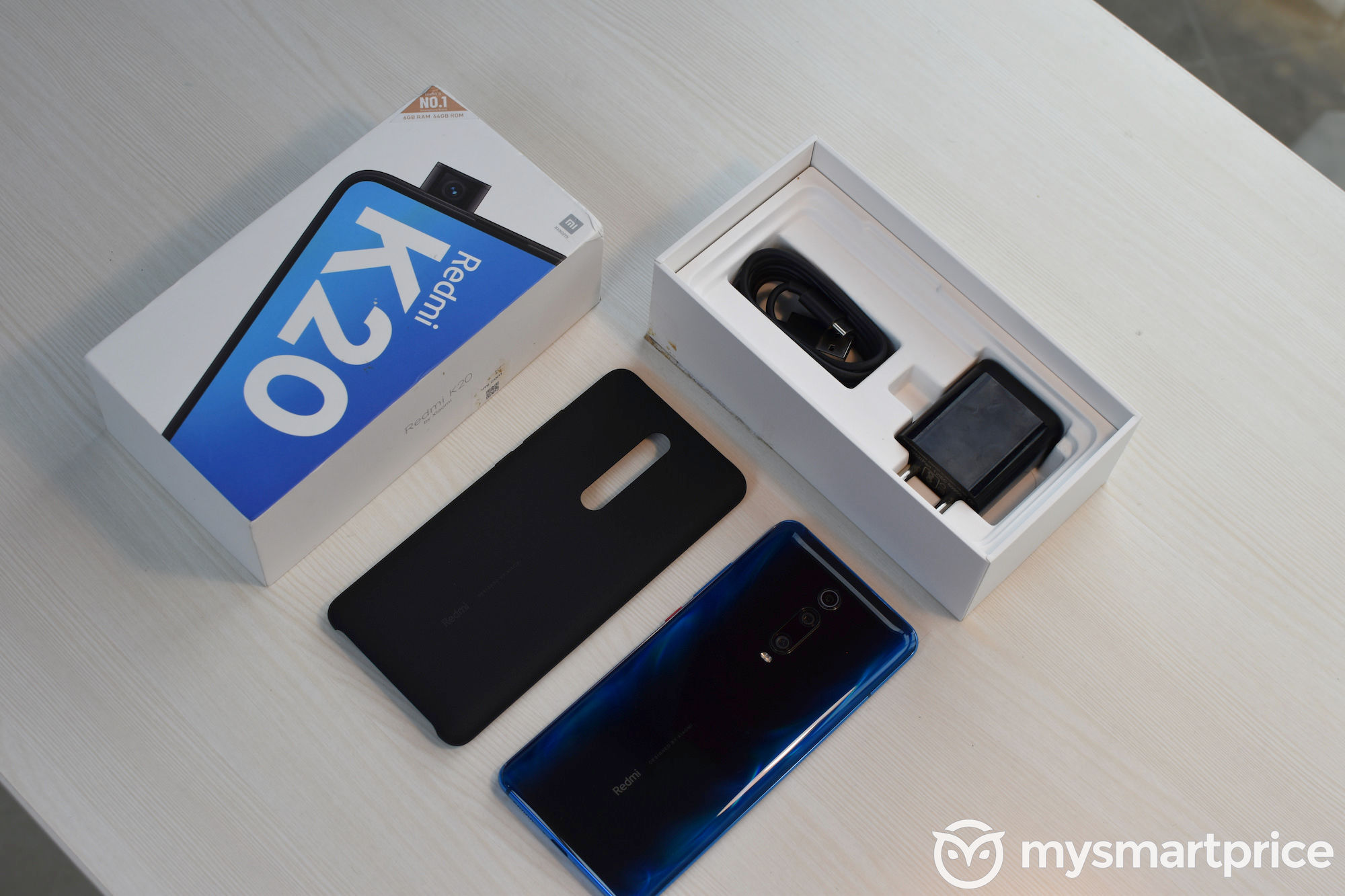 The Snapdragon 730 is not Qualcomm's flagship processing chipset, but it still very potent and it can get some real work done on the go. I have had a chance to use the Redmi K20 for over a month, and here's what I think of the device.
[P_REVIEW post_id=165809 visual='full']
Xiaomi Redmi K20 Design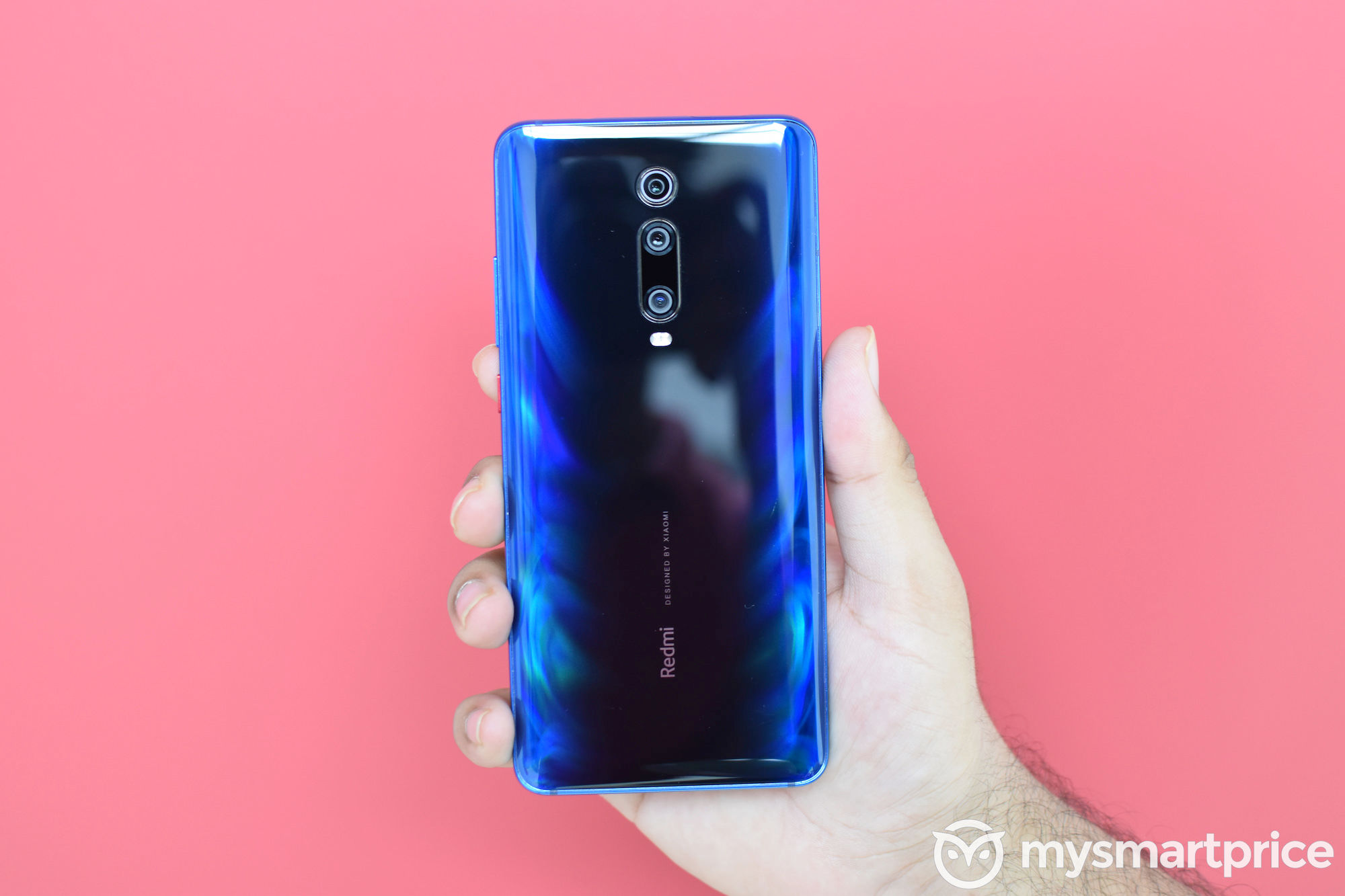 The phone looks and feels exactly like the Redmi K20 Pro, which means that it has a metal frame and Gorilla Glass 5 on the front and the rear. The phone looks stylish and feels sturdy.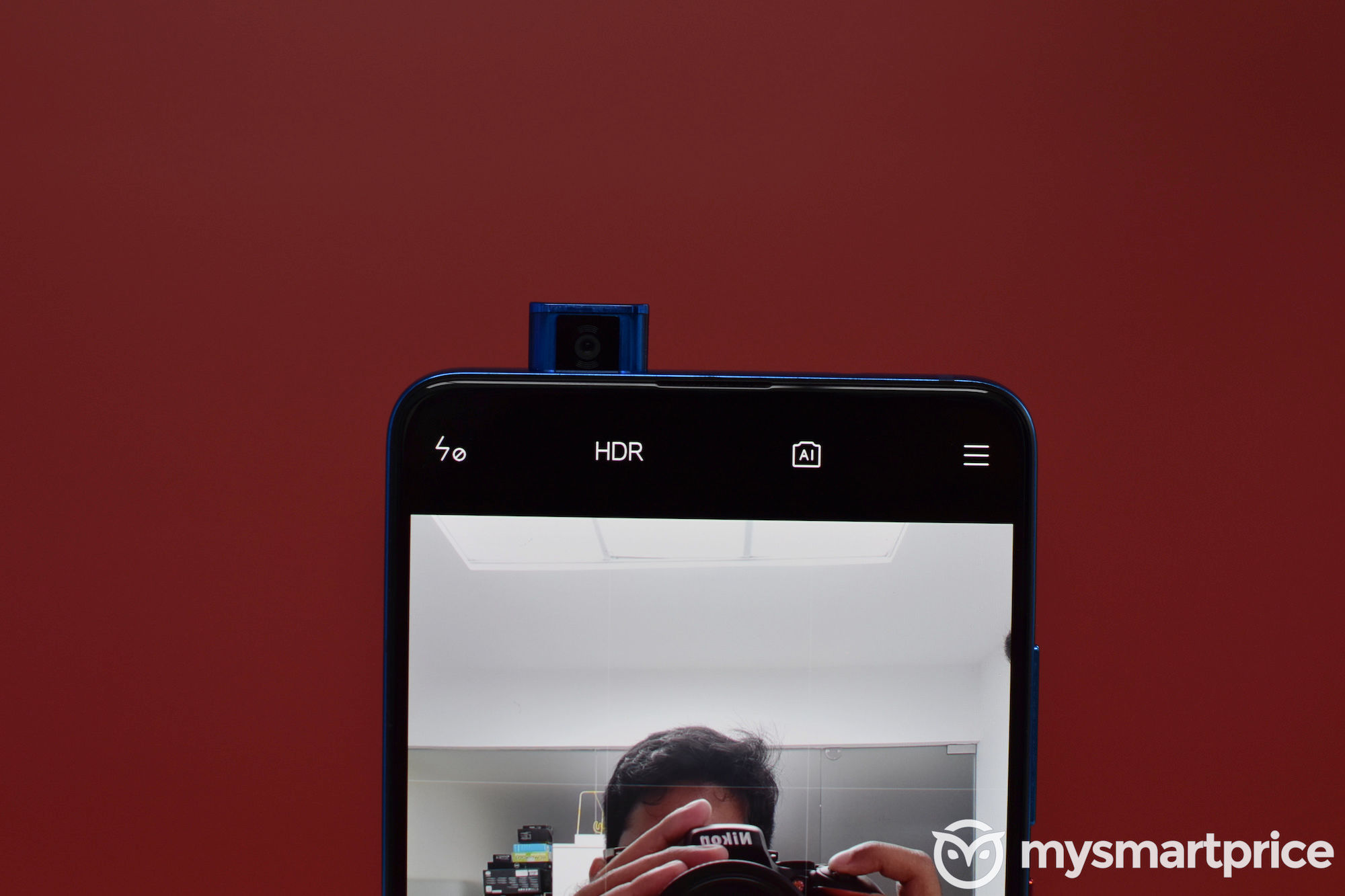 The 6.4-inch screen at the front has thin bezels all around. There's no notch on the screen as the company has used a pop-up selfie camera and an optical fingerprint reader. There is a centered triple-camera assembly on the rear along with curved sides. The rear of the phone has a flame-like pattern along the sides, which shines and shimmers under sunlight. Power and volume buttons are exactly where they should be and they are tactile.
Xiaomi Redmi K20 - Design
In spite of having a pop-up camera, a dual-SIM card slot, and a large battery, the Redmi K20 has a dedicated 3.5mm headphone jack, which proves that brands which remove a headphone jack from phones mention the lack of space in the device just as an excuse. Its weight is well distributed throughout the body. Xiaomi even managed to make this phone water splash-resistant, thanks to P2i coating inside all of the phone's ports and openings. Although the phone is covered by Gorilla Glass 5, I would still advise using a case on the device or buying an accidental damage cover plan.
Xiaomi Redmi K20
Screen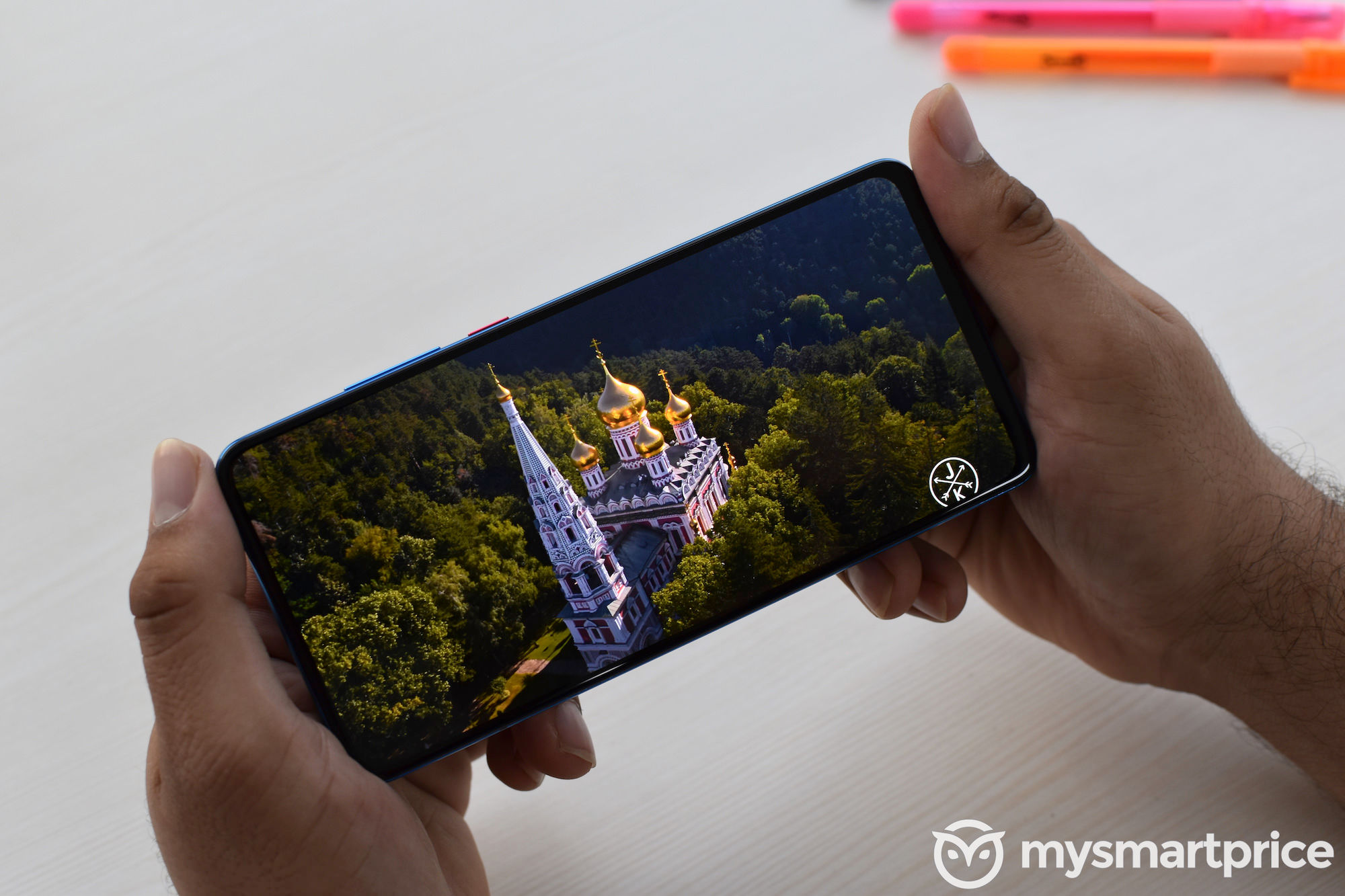 The Full HD+ Super AMOLED screen on the Redmi K20 can go as bright as 600 nits and supports HDR10 video playback. The screen is understandably colorful and has inky blacks, which makes watching videos on it a joy. I thoroughly enjoyed watching the entire second season of Netflix's Mindhunter on the Redmi K20. I did not experience any touchscreen accuracy or touch latency related issues.
The only issue I noticed on the Redmi K20's screen is black smearing while scrolling, but this issue persists even on top-of-the-line OLED phones like the Galaxy Note 10+ and the iPhone XS (Review), although by a smaller degree. When compared to true-blue flagship smartphones, the only missing feature is HDR10+ or Dolby Vision. The other issue is related to the phone's software tuning, wherein the auto-brightness is so jumpy that it irritated me a lot in certain lighting conditions. It swings from low to high so fast that it appears like a ping pong game. Even the auto-rotate feature is badly calibrated and the UI rotates wildly at certain angles where it shouldn't rotate.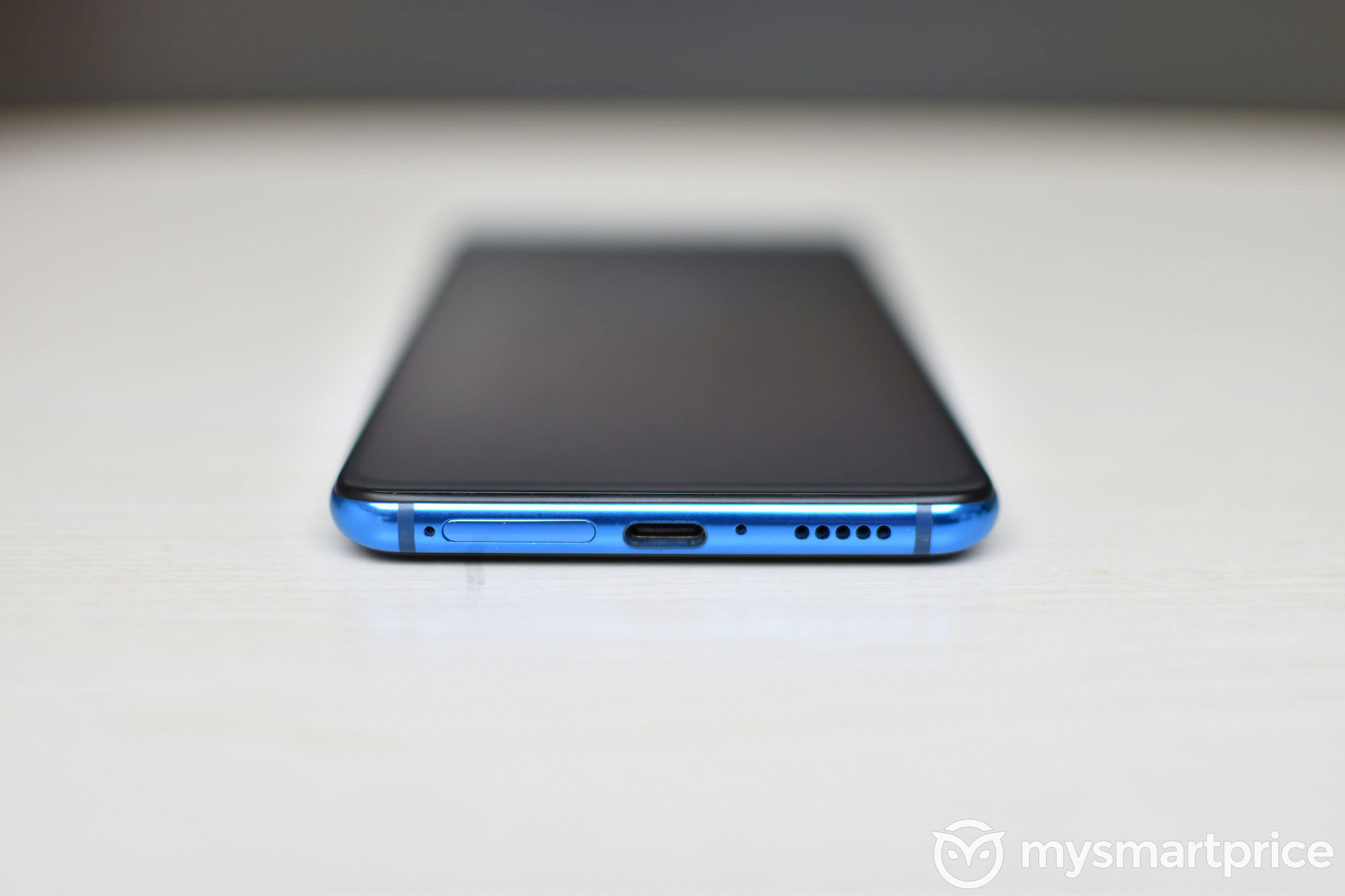 There is a single loudspeaker on the Redmi K20, and it is quite loud compared to other phones in its price range. You won't miss any calls with this loudspeaker. If you want to truly enjoy watching videos on the phone, I would suggest using earphones rather than the loudspeaker. Thankfully, there's a dedicated 3.5mm headphone jack, and it can drive headphones with higher than usual impedance. The phone is certified for Hi-Res Audio playback, too, so if you're someone who likes to play FLAC music files or stream Master audio through Tidal, you can do that using the Redmi K20. All in all, the Redmi K20 offers one of the best combinations of audio-video performance in its price segment, all thanks to a brilliant OLED screen with HDR10 certification, a quality loudspeaker, Hi-Res Audio certification, and a dedicated headphone jack.
Xiaomi Redmi K20
Cameras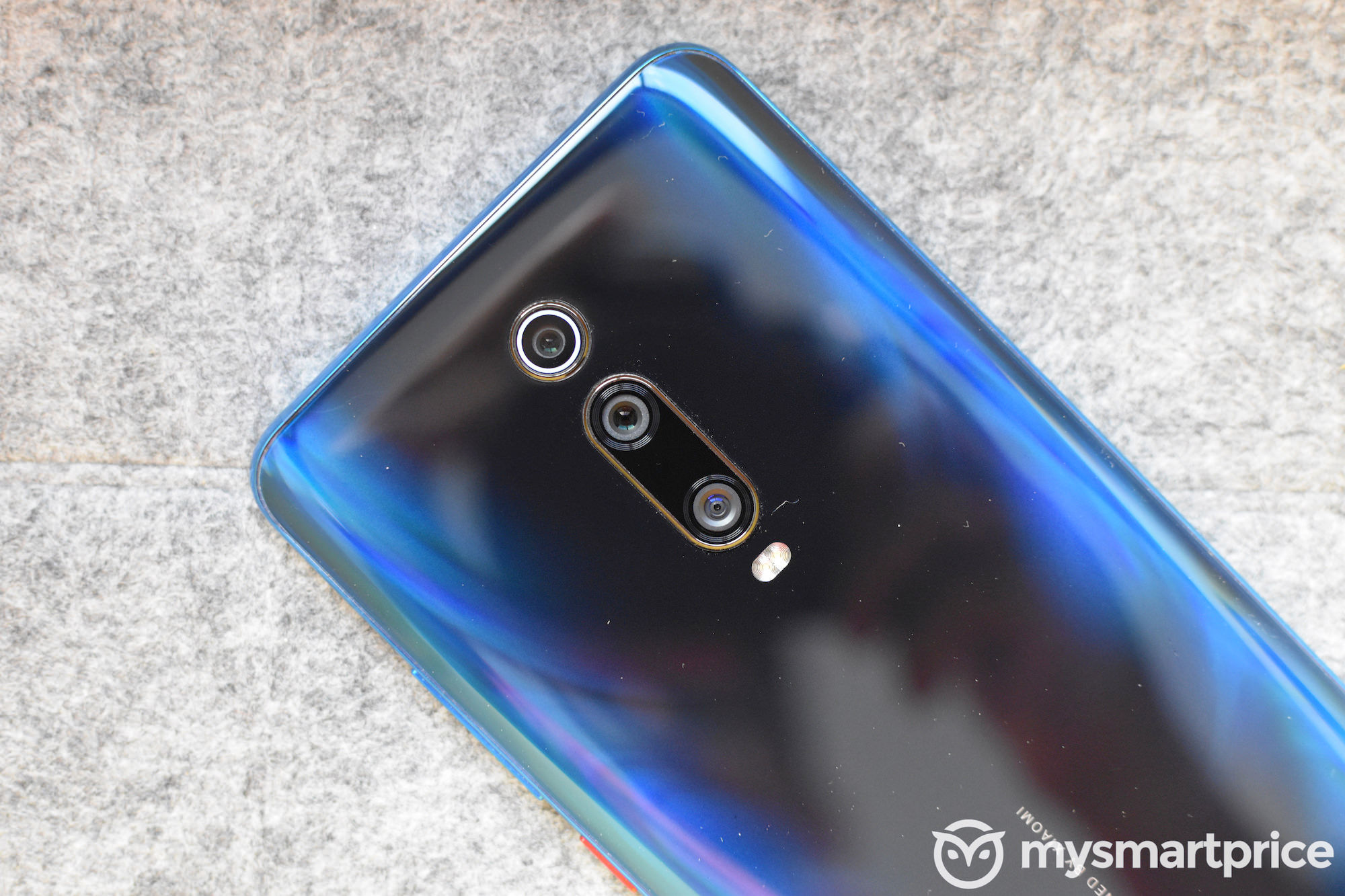 Even in imaging, the Redmi K20 gets the exact same camera setup that's found on the Redmi K20 Pro. There is a 20MP pop-up selfie camera on the front and three cameras on the rear: a 48MP sensor with a wide-angle lens, an 8MP sensor with a 2x optical zoom lens, and a 13MP sensor with an ultrawide-angle lens. All three rear cameras can record up to 4K 30fps videos, while the front-facing camera tops out at 1080p 30fps videos.
Xiaomi Redmi K20 - Camera Samples - Daylight
The Redmi K20 shoots well in daylight conditions, but you'll have to resort to the Night Mode when there isn't enough light. The still images shot in daylight conditions are sharp, colorful, and full of details. If you zoom 100%, you'll see that there isn't enough detail in foliage, and most of it appears like an oil painting. In the default Photo mode, images get saved in 12MP resolution due to 4-in-1 pixel binning. If you want true 48MP still images, there's a special mode that's conveniently named '48MP,' and it's just a swipe away in the easy-to-use camera interface. There's a very slight improvement in details, and that too, when there's enough light around.
When there isn't enough light, the Night Mode helps in capturing brighter images with wider dynamic range and lower noise. When you try pixel peeping, you can find that it doesn't particularly help in retaining more details.
As expected, telephoto and ultrawide-angle cameras falter in low-light conditions and you can't even use the Night Mode in such situations with these sensors.
Xiaomi Redmi K20 Camera Samples - Rear Camera In Low-Light Conditions
Higher-end phones like the Galaxy S10 (Review) and the Huawei P30 Pro capture more detailed images in low-light conditions as well as with their telephoto and ultrawide-angle cameras, but what the Redmi K20 achieves for its price is still kind of amazing.
Portrait images turn out good, and the only place where I think a good amount of improvement can be done is in terms of dynamic range. Even with HDR turned on, portrait images did not have the kind of dynamic range that I expected. Selfies have even narrower dynamic range, and the default setting leaves HDR turned off. Portrait images captured using the selfie camera have a layer of white haze, and the dynamic range is even lower. This is where Xiaomi needs to improve the Redmi K20's camera.
Video recording is where the Redmi K20 can't match the Redmi K20 Pro, and that's due to the chipset limit. The Snapdragon 730's Spectra 350 ISP can't quite reach the 4K 60fps capability of the Snapdragon 855's Spectra 380 ISP. Also, I noticed a bug (yes, it should definitely be a bug rather than performance issue on the hardware level) where 4K video recording starts with a stutter for the first 3-4 seconds after which it returns to 30fps smoothness. Coming to the video quality, they're perfectly fine. Colors are attractive, dynamic range is decently wide, and the noise is low. Obviously, they can't match the video quality of high-end phones like the OnePlus 7, Honor 20, Galaxy S10, and the iPhone XS. Videos recorded using these other phones are brighter, have higher dynamic range, and lower noise.
Xiaomi Redmi K20
Software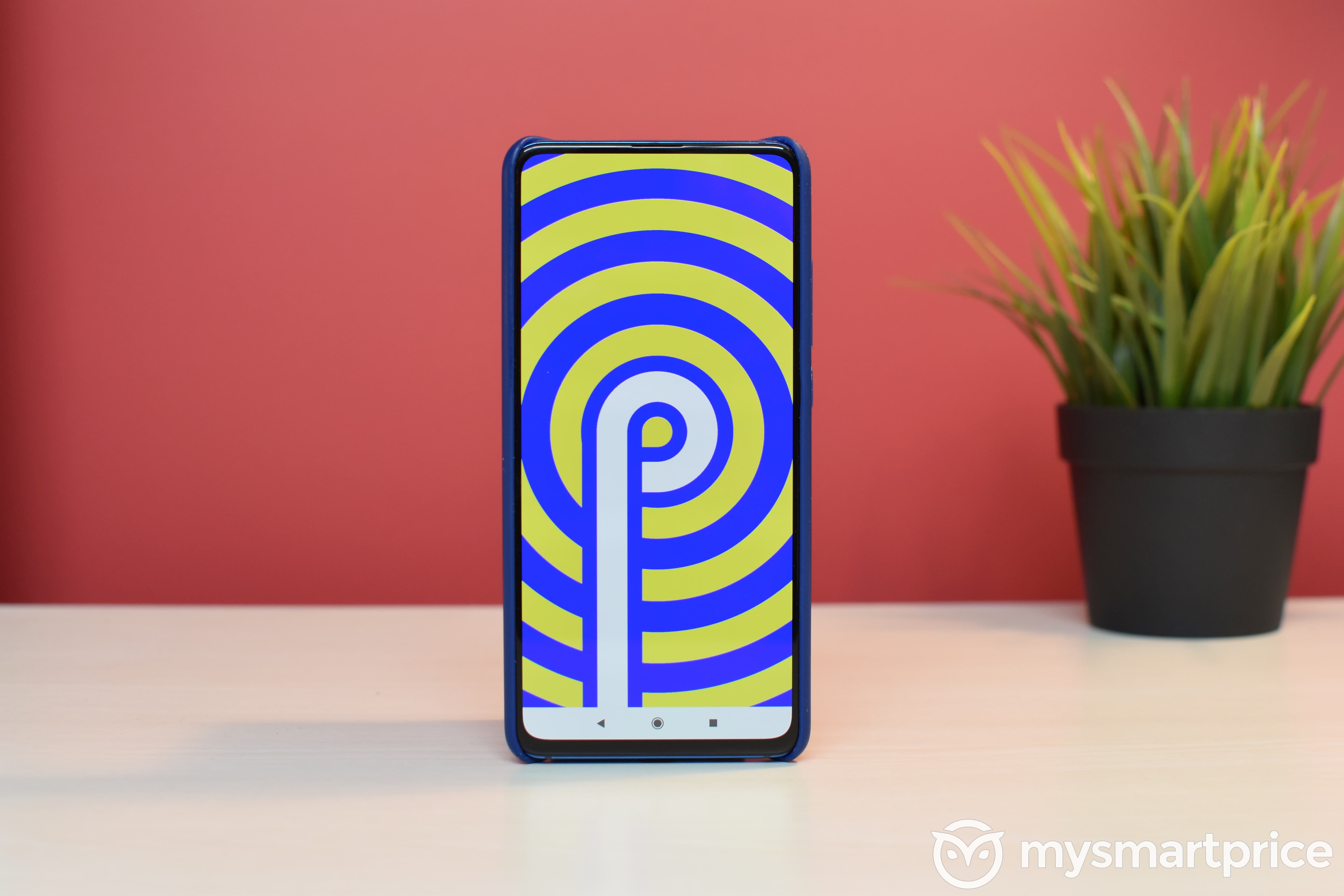 MIUI 10 (based on Android 9 Pie) comes preloaded on the Redmi K20, and it is feature-rich, almost at par with Samsung's One UI. However, Xiaomi still seems to be one or two steps behind Samsung in terms of UI design. Icons look slightly older and there are push notifications and ads from almost all of Xiaomi's pre-installed apps and services. I had to scan through all Xiaomi apps to disable "recommendations", and they were hidden in various menus, sections, and sub-sections of apps. Then there's the whole issue of app recommendations and app updates being pushed from Xiaomi's own 'GetApps' store. Sometimes you're forced by the GetApps service to update apps that are installed using the Play Store.
The POCO Launcher is set as the phone's default app launcher. Although the Redmi K20 doesn't run Android 10, Xiaomi has built its own Dark Mode, which turns most of the UI elements darker to make it easier on the eyes to use the phone in dimly-lit or dark environments. However, not all pre-installed apps from Xiaomi support the Dark Mode (yet). For instance, the themes and wallpapers section still shows a white interface even when the dark mode is activated.
Some of the useful software features that I found were advanced image editing using the built-in image editor, sharing Wi-Fi password with friends using a QR code, full-screen gesture navigation, Second Space, and App Lock. Customization features include an ability to use custom icon packs, wallpaper carousel, themes, Always On Display clock styles, selfie camera light effects, selfie camera sounds, and more.
For some reason, Android Auto didn't work properly on the Redmi K20 when connected to my Volkswagen Vento (2018). It is the first phone to have this problem. I tried disabling Dual Apps, an apparent reason to cause problems with Android Auto on most phones, but the issue persisted. That doesn't mean to say that the Dual Apps feature is not useful. I set up two instances of WhatsApp to work with both my SIM cards: Airtel and Reliance Jio.
MIUI 10 is extremely feature-rich, and one of the better UIs out there. However, there's some room to improve in terms of styling and reducing bloatware as well as ads. At least I would commend Xiaomi for offering an opt-out feature to stop push notifications and ads. There are certain companies that do not offer this opt-out feature.
Xiaomi Redmi K20
Performance
Thanks to the Snapdragon 730 chipset, 6GB RAM, and 128GB storage, the performance never dipped to a level when I considered it to be lacking my expectations. Qualcomm's Snapdragon 700 series of chipsets are bridging the gap between mid-range and high-end smartphone performance.
I can now comfortably say that I am a PUBG Mobile addict, and I played the game on the Redmi K20 countless times but never experienced any issue related to the CPU or the GPU performance. What I did notice is that I was frequently blocking the loudspeaker grill with my palm, so I had to rotate the phone 180 degrees as a solution. Yes, being a metal and glass phone, it did heat up a bit while gaming continuously, but that's the case with every other premium phone out there.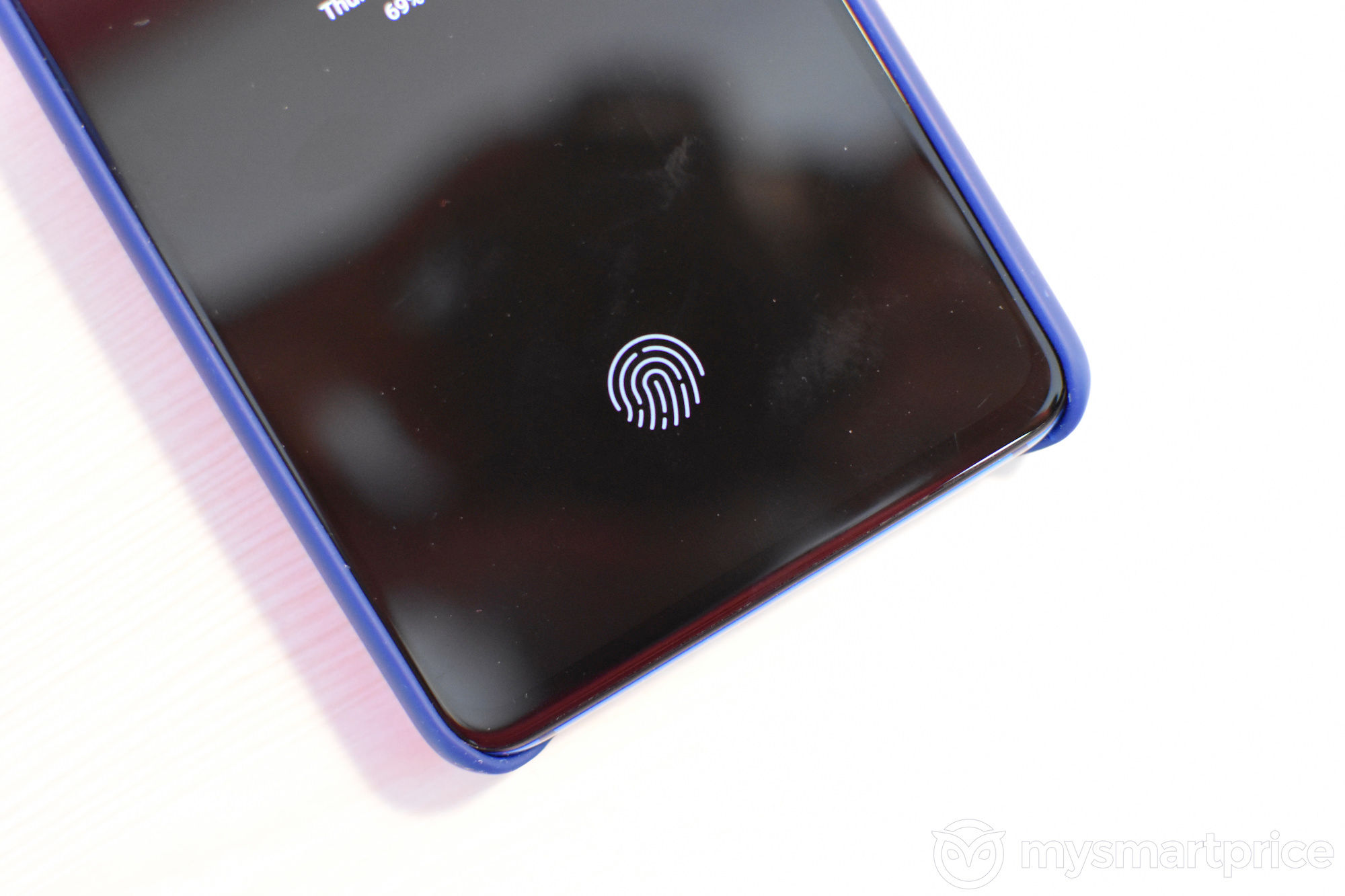 The fingerprint reader felt slightly slower, especially after using optical fingerprint readers on the OnePlus 7 series and the Realme X (Review). I am one of those people who get easily offended by a weak vibration motor inside a smartphone, but I wasn't disappointed by the Redmi K20 in that regard. Cellular reception was decent and so was call quality. I could definitely notice the difference between the earpiece quality of the Redmi K20 and the Galaxy Note 10+. The one on the Note 10+ was extremely clear and loud in comparison.
Xiaomi Redmi K20
Battery Life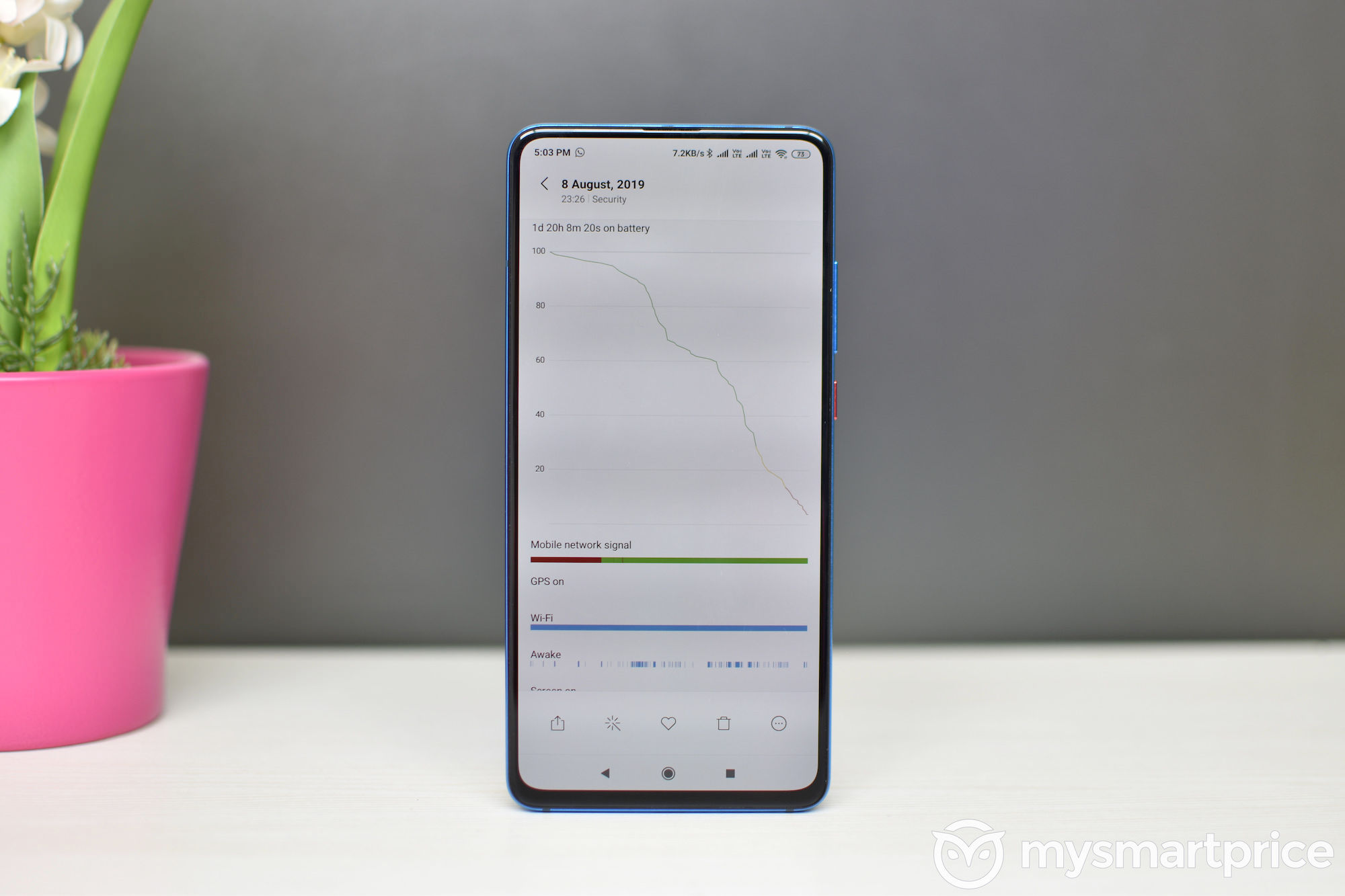 The 4000mAh battery inside the Redmi K20 charges from nil to 100% just under a couple of hours with the 18W Quick Charge 3 charger that comes bundled with the phone. There's no wireless charging on the phone, but it is almost criminal to expect in a phone in this price segment.
On a single charge, the Redmi K20 lasts close to a day and a half with screen-on time reaching close to 8 hours. It even managed a screen-on time of close to 10 hours on one occasion. That's impressive! You can achieve even better results with the Dark Theme turned on all the time. If you were thinking about even faster charging with Xiaomi's 27W fast charger, the Redmi K20 does not support it.
Should You Buy The
Xiaomi Redmi K20?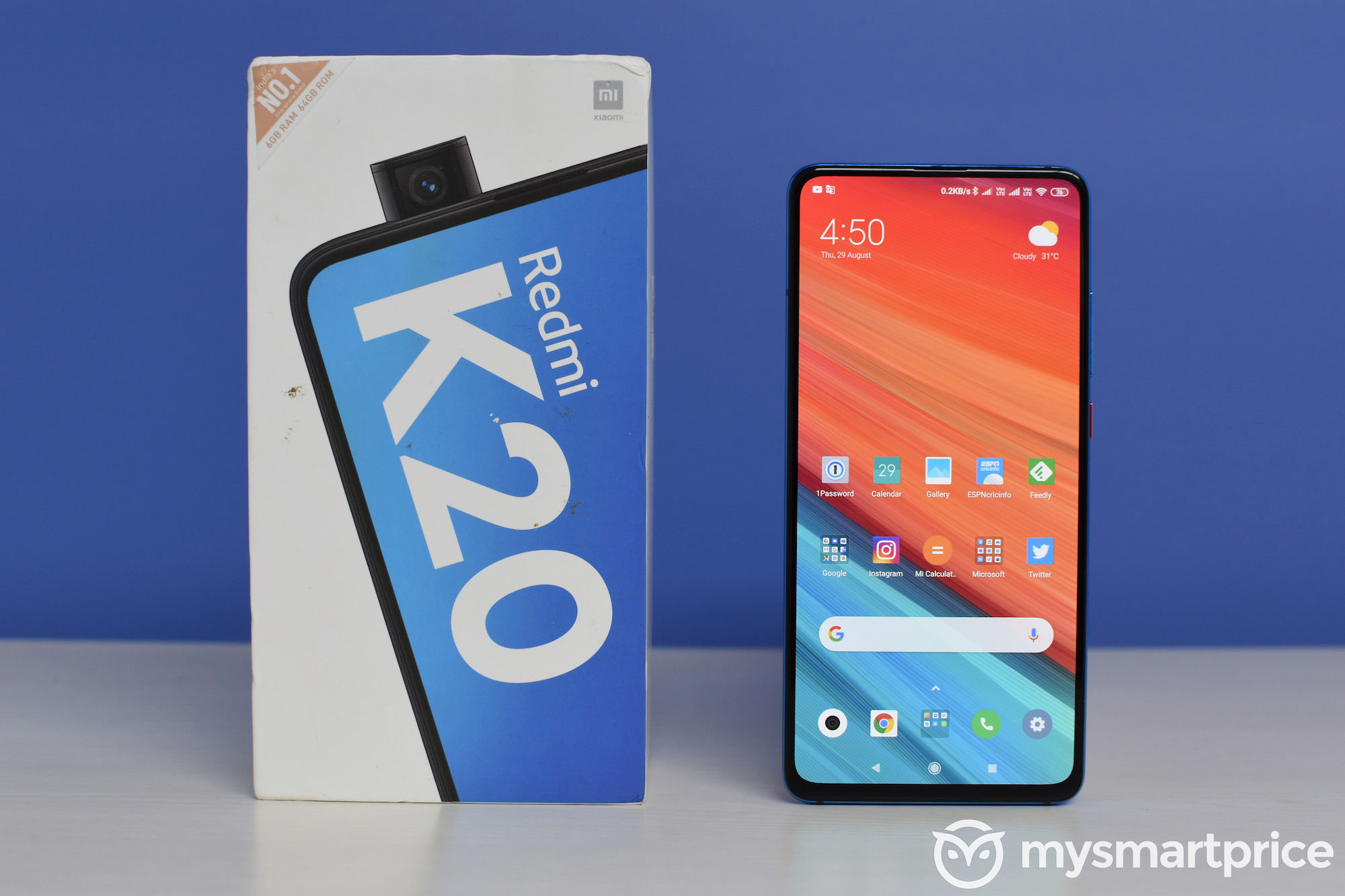 The Redmi K20 is an extremely likable phone. It has impressive styling, especially for its price tag. It performs almost everything smoothly, has a good set of cameras, and an excellent screen. I would even go on to say that it has the best screen on any phone that's priced below Rs 30,000. The multimedia consumption experience is excellent, thanks to the HDR10 OLED screen, a quality loudspeaker, and a dedicated headphone port. Even the battery life is really long. The only issue I could find in the phone is its slightly slower fingerprint reader and awfully calibrated auto screen brightness and auto UI rotate features.
You might find phones that have better performance or long-lasting battery, but it is hard to find a phone that has a combination of features that the Redmi K20 offers, at least in the sub Rs 25,000 price segment. It is commendable to see Xiaomi making the perfect sidekick to its excellent flagship smartphone, the Redmi K20 Pro. If you can spend a little extra, I would recommend you to buy the Redmi K20 Pro, but if your budget is strictly below Rs 25,000, the Redmi K20 is your best bet right now.