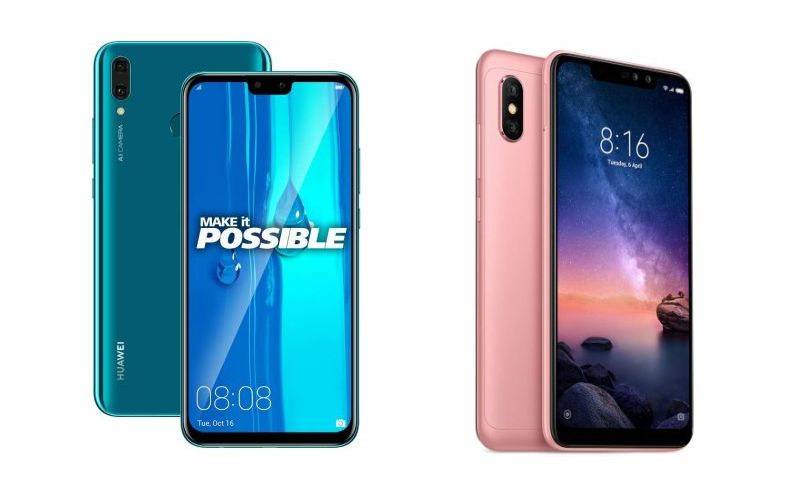 The Huawei Y9 (2019) went on sale in India earlier this month. It offers an impressive set of internals for a surprisingly low price. With that said, the competition in the mid-range smartphone segment is fierce, and it stands to reason that the Y9 (2019) would have to really impress if it wants to survive. Therefore, one of the most prominent competitors it has to go up against would be the Redmi Note 6 Pro from Xiaomi. Le'ts pit these smartphones head to head to see which of them emerges victorious.
Xiaomi Redmi Note 6 Pro vs Huawei Y9 (2019): Price in India
As far as pricing is concerned, the Redmi Note 6 pro is the more affordable option at a starting price of INR 13,999 for its 4GB RAM + 64GB storage model. Upgrading to 6GB of RAM costs INR 17,999. Meanwhile, the Huawei Y9 (2019) gets a single storage configuration with 4GB of RAM and 64GB of memory that is priced at INR 15,990.
Xiaomi Redmi Note 6 Pro vs Huawei Y9 (2019): Design, Display
Both the Redmi Note 6 Pro and Huawei Y9 (2019) comes with notched LCD screens that measure 6.26-inches and 6.5-inches respectively. The difference between the notch size and screen to body ratio is negligible, so the viewing experience on both the phones should be comparable. However, the exterior design is where the Y9 (2019) trumps the Note 6 Pro thanks to its glossy rear panel that also offers a gradient color option. Then again, if more functionality is something you prefer over aesthetics, the Note 6 Pro's IR sensor might be more appealing to you.
Xiaomi Redmi Note 6 Pro vs Huawei Y9 (2019): Performance, Storage
The Redmi Note 6 Pro is powered by a Snapdragon 636 SoC while the Huawei Y9 (2019) comes with a HiSilicon Kirin 970 SoC. Both real world and synthetic tests have proven the Kirin chipset to perform noticeably better than its rival. The most significant margin is in their respective GPU performances.
As for storage, both these phones indeed offer microSD card expandability, but only the Huawei smartphone provides a dedicated slot for it. Meanwhile, the SIM2 has to be sacrificed if you want to add a microSD card on the Note 6 Pro.
Xiaomi Redmi Note 6 Pro vs Huawei Y9 (2019): Camera
The camera is one department where it is difficult to pick out a clear winner. On the Note 6 Pro, you get a 12MP + 5MP setup on the back, with a 20MP + 2MP setup at its front. Conversely, the Y9 (2019) gets a 16MP + 2MP setup on its back, while the front houses a 13MP + 2MP setup. If selfies are your primary concern, then the Note 6 Pro is likely to offer a better experience, while a more stable overall experience should be possible with the Y9 (2019)'s cameras.
Xiaomi Redmi Note 6 Pro vs Huawei Y9 (2019): Battery
The battery showdown of these two phones ends up in a draw since both feature 4000mAh cells with 10W charging.
Xiaomi Redmi Note 6 Pro vs Huawei Y9 (2019): Verdict
When it comes down to raw performance, the Y9 (2019) is certainly the better option of the two. There is also the fact that you get vastly superior aesthetics, along with a dedicated slot for microSD cards. The INR 2,000 extra you have to pay for these features is absolutely justified in this case. However, if your primary use case doesn't demand the best possible performance, and features such as an IR blaster and superior selfie shooter are more important to you, then sticking with the Redmi Note 6 Pro will be a wiser choice.