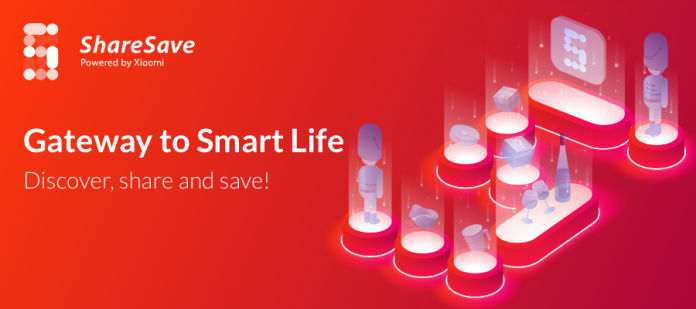 Ever wanted a reliable service to buy interesting Xiaomi ecosystem products from China and get them delivered to your doorstep? Well, AliExpress, BangGood and GearBest, are good options, but Xiaomi's new service is even better. Yes, Xiaomi has launched its own cross-border e-commerce service that lets users in India buy Xiaomi ecosystem products such as Bluetooth wireless keyboards, mouse pads, mechanical wrist watches, shavers, toothbrushes, vacuum cleaners, and Yeelight smart home lighting from Mainland China. ShareSave can now be used in India to import products from China. Xiaomi plans to launch it in other countries worldwide very soon.
Xiaomi claims that it has a community-based culture and the company takes inputs from consumers and Mi Fans while developing any product. The community-driven brand that also believes in connecting and sharing with friends, hence the name of the app: ShareSave. Users will be able to claim discounts on products listed in the ShareSave app by pairing up with friends when ordering products, joining drops (similar to MassDrop), and contributing in kick-starting funds for upcoming products. Here's how you can order Xiaomi ecosystem products from China and import them in India using the ShareSave app.
Use ShareSave To Get Discounts When Importing Xiaomi Ecosystem Products From China
ShareSave not only offers users a chance to legally import Xiaomi ecosystem products from Mainland China to India and get them delivered at your doorstep, but also offers a chance to get massive discounts in three ways. You can either pair up with your family and friends to get discounts, join price drops (with up to 100% price drop when enough people join the drop), or contribute USD 0.02 to fund kickstarter projects and get up to 10x rewards.
If you didn't know already, Xiaomi has invested in and partnered with more than 100 companies such as 1More, BlackShark, Ciga Design, Huami/Amazfit, Mijia, Ninebot, POCO, RoidMi, Viomi, Yeelight, Yi, Yunmai, and others who make mobile accessories, smart home products, and lifestyle products. As of now, you can find products from at least some of these brands listed on Xiaomi's ShareSave app. Here are the 30 products that are listed on the Xiaomi ShareSave app:
17PIN Portable Blender 400ml: $34.99
bcase TUP-Cable Collector: $6.99
bcase TUP2-Cable Collector: $6.49
Car Air Freshner Cotton Linen: $9.99
Car Air Freshner Metal: $10.99
CIGA X Series Watch: $59.99
Dr.Bei Soft Bristle Bass Toothbrush: $2.99
Dr.Bei Electric Toothbrush: $22.49
Fun Home Lightweight Tritan Water Bottle: $9.99
Fun Home Travel Water Bottle: $11.99
Fun Home Tritan Sport Water Bottle: $11.99
LeFan Massage Neck Pillow: $22.99
MIIIQ Bluetooth Dual Mode Keyboard: $49.99
MIIIW Intelligent Mouse Pad: $49.99
SMATE Hair Care Massage Comb: $11.99
SMATE Smart Hair Dryer: $33.99
SMATE Turbine Shaver: $20.99
Soocas Electric Sonic Toothbrush Lite: $27.99
Soocas Electric Sonic Toothbrush Pro: $40.99
SWDK Wireless Handheld Dust Mite Vacuum Cleaner: $89.99
SWDK Handheld Electric Mop: $139.99
VH Portable Handheld Fan: $10.99
VH Quiet USB Fan: $14.99
Wicue 10 Inch LCD Writing Tablet: $21.99
Yeelight Smart LED Bulb (Tunable White): $18.99
Yeelight Smart LED Bulb (Color): $19.99
Yeelight Motion Sensor Rechargeable Nightlight: $13.99
Yeelight Candela: $39.99
Yeelight Aurora Light Strip Plus: $7.99
Yeumi Selfie Light: $6.99
Download ShareSave App on Android
The ShareSave app is available for Android smartphones right now and can be downloaded from the Play Store. The app shows all the products, images, description of the product, an option to buy the product or pair-up with a friend to save on the cost. Right now, Xiaomi is offering free shipping on products, which is applicable till March 21, 2019. The app also has a wishlist where you can save products. In the Account tab, you can find the orders you placed and their status and an option to send feedback.
Thanks for reading till the end of this article. For more such informative and exclusive tech content, like our Facebook page