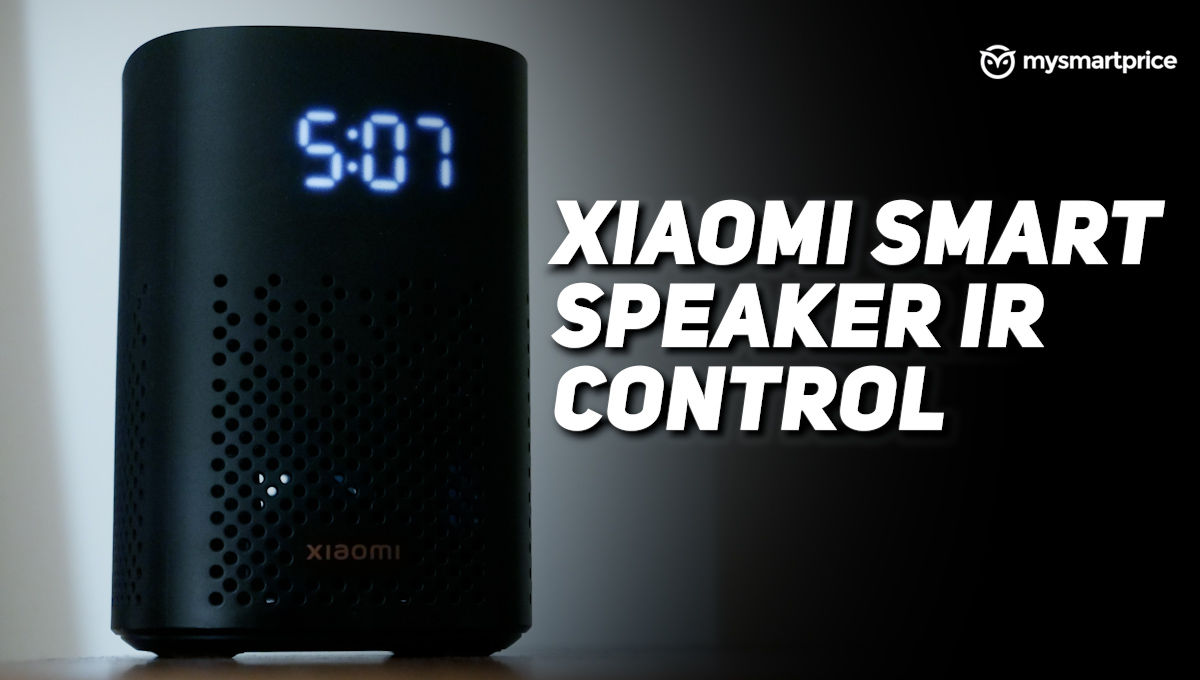 The Xiaomi Smart Speaker IR Control is a bit of a paradox – it's inherently a smart speaker, but it's got an IR blaster that lets you control your dumb remote-control appliances. That's it. That's the sales pitch of the speaker. Oh, and it can also show you the time on its good old segmented LCD display.
Xiaomi Smart Speaker IR Control
₹4,999
It has Google Assistant at its heart and is driven by a 1.5-inch, 360-degree speaker module.
While the selling point is kind of enough, Xiaomi has decided to bundle this Rs 4,999 smart speaker with the Redmi K50i. This may be a move to improve the device's adoption rate because Xiaomi hasn't brought a smart speaker to India in quite a long time. So, whether you've received this as a freebie or are planning to buy one, here's our month-long review.
Xiaomi Smart Speaker IR Control Review: Design
Smart speakers from various companies have started looking alike with mesh fabric coverings and touch-sensitive controls. Perhaps that's why Xiaomi has gone for a rather old-fashioned approach. The Xiaomi Smart Speaker IR Control is made entirely of ABS plastic – so there's no mesh fabric around here. Instead, physical holes on the bottom two-thirds of the taller sides dissipate the sound evenly. Xiaomi says the speaker has 360-degree sound, and we'll get to that in just a moment.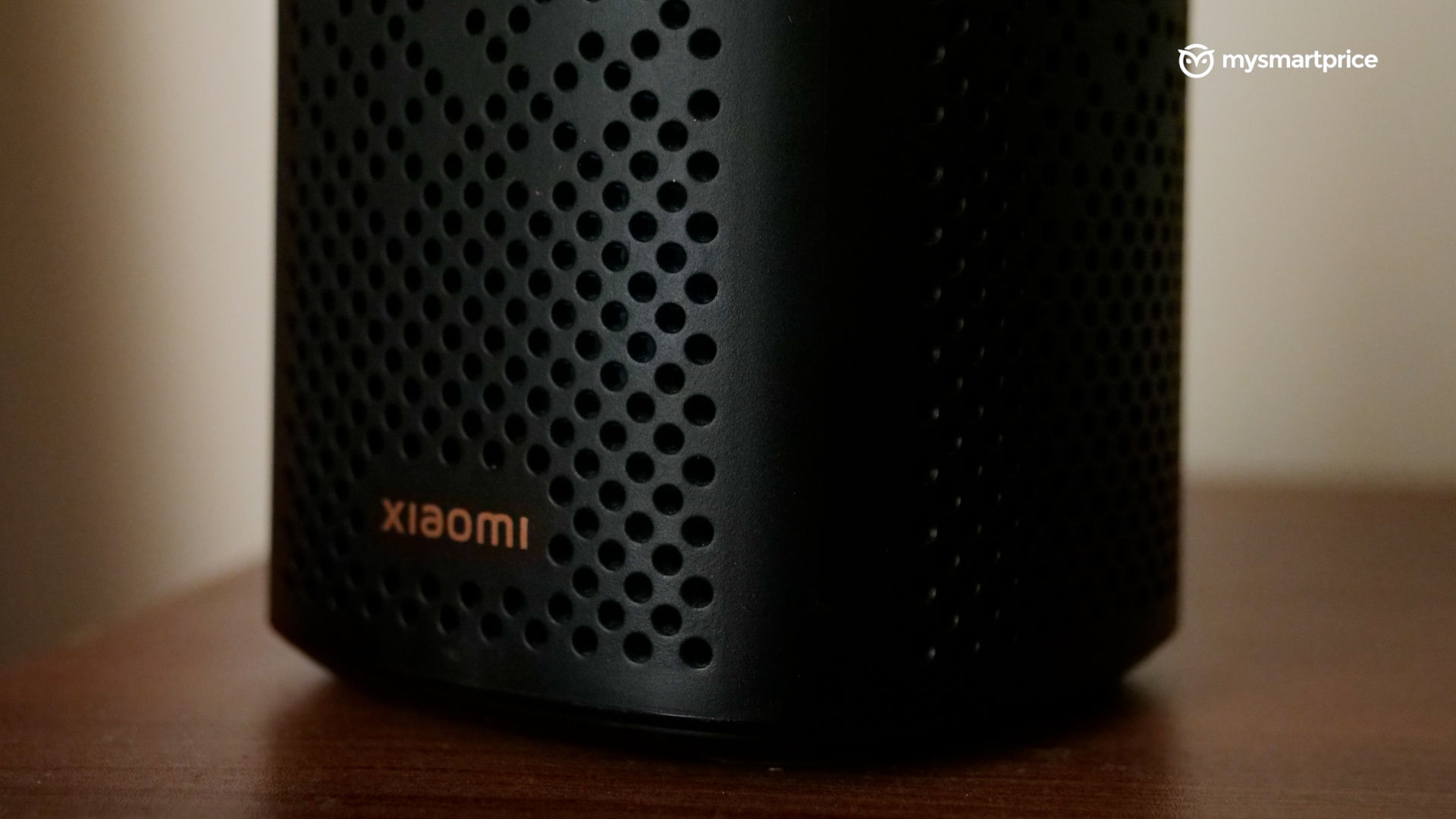 In terms of dimensions, it's about 14 cm tall, about the height of a small ruler, and 9.5 cm wide or about as wide as a regular desk Bonsai plant pot. However, it is a little dense at 628g and can only work with a proprietary 12V/1A cable attached at its rear end.
The front of the speaker has a backlit segmented LCD display that will remind you of the old-fashioned bedside speaker alarms of the 90s. Because the surface through which the light emits has a matte texture, the LCD always appears a bit hazy. It's unique, but it takes time to get used to it. A few of our guests tried cleaning the display, thinking it was smudged. The top of the speaker has four mic holes placed symmetrically, but in reality, it houses only two physical microphones. The top also hosts four physical buttons for muting the mic, changing the volume and for pausing and playing tracks. This button array on the top also has a little light in the middle that lets you know when the voice assistant is active.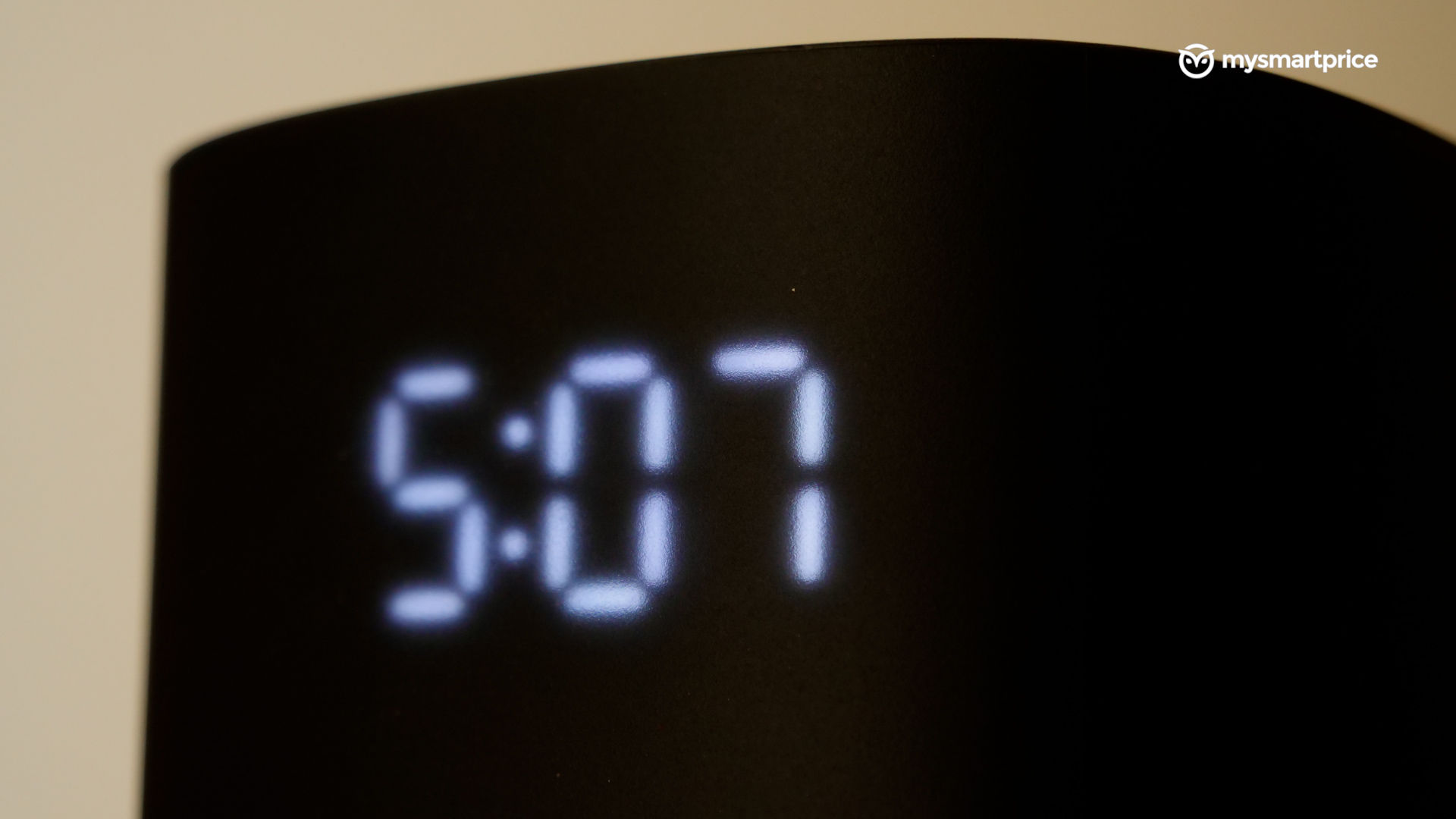 While physical buttons look dated, and their tactile feed isn't exactly premium, they are reliable – you know exactly when a button is pressed, and the guesswork of finding the touch-sensitive area is eliminated.
The Xiaomi Smart Speaker IR Control looks understated and generally blends in much easier in a living room or desk compared to a brighter coloured smart speaker. The choice of materials could have been better, in our opinion, though.
Xiaomi Smart Speaker IR Control Review: Sound & smart features
Xiaomi hasn't given many details about its new smart speaker's wattage and sound output. All we know is that it is Bluetooth 5.0 and Chromecast-enabled with support for the 5GHz WiFi band. You can use it as a regular Bluetooth speaker or throw some casted music content on it. Of course, you can also do all the smart things you'd do with a voice-assisted speaker – play music, know the weather outside, get recipes and control other smart devices. Getting started requires the Google Home app, and the setup is fairly straightforward – select a home and room, name the speaker and then tweak around a few settings to your liking.
We tried voice commands in a medium-sized bedroom, and for the most part, it was able to recognise our commands correctly, even early in the morning while we were half asleep. We recommend placing the speaker near a wall for better mic and speaker acoustics.
The built-in IR blaster seems like a signature Xiaomi move, but it was more practical than we assumed it to be. Setting it up takes some effort – you have to install and login to the Xiaomi Home app, pair the speaker, add a new remote and pair it with the appliance of your choice. We did this with an AC and a TV. The process can be a cakewalk or a chore, depending on how rare your appliance is. Once done, you can use your phone as a remote control that relays the speaker's command to get stuff done. To control your appliances with voice commands, you'll have to connect the Xiaomi Home app to the Google Home app. It's confusing to explain and figure out, and we really wish there was at least a booklet of sorts to inform the average consumer how to get this done.
But once you're set, you can turn your AC on or off, increase or decrease its temperature and even set automated timers to turn it on or off, which is useful if you have a set work routine. So we figured we would stop using the AC remote altogether after we paired it to the speaker.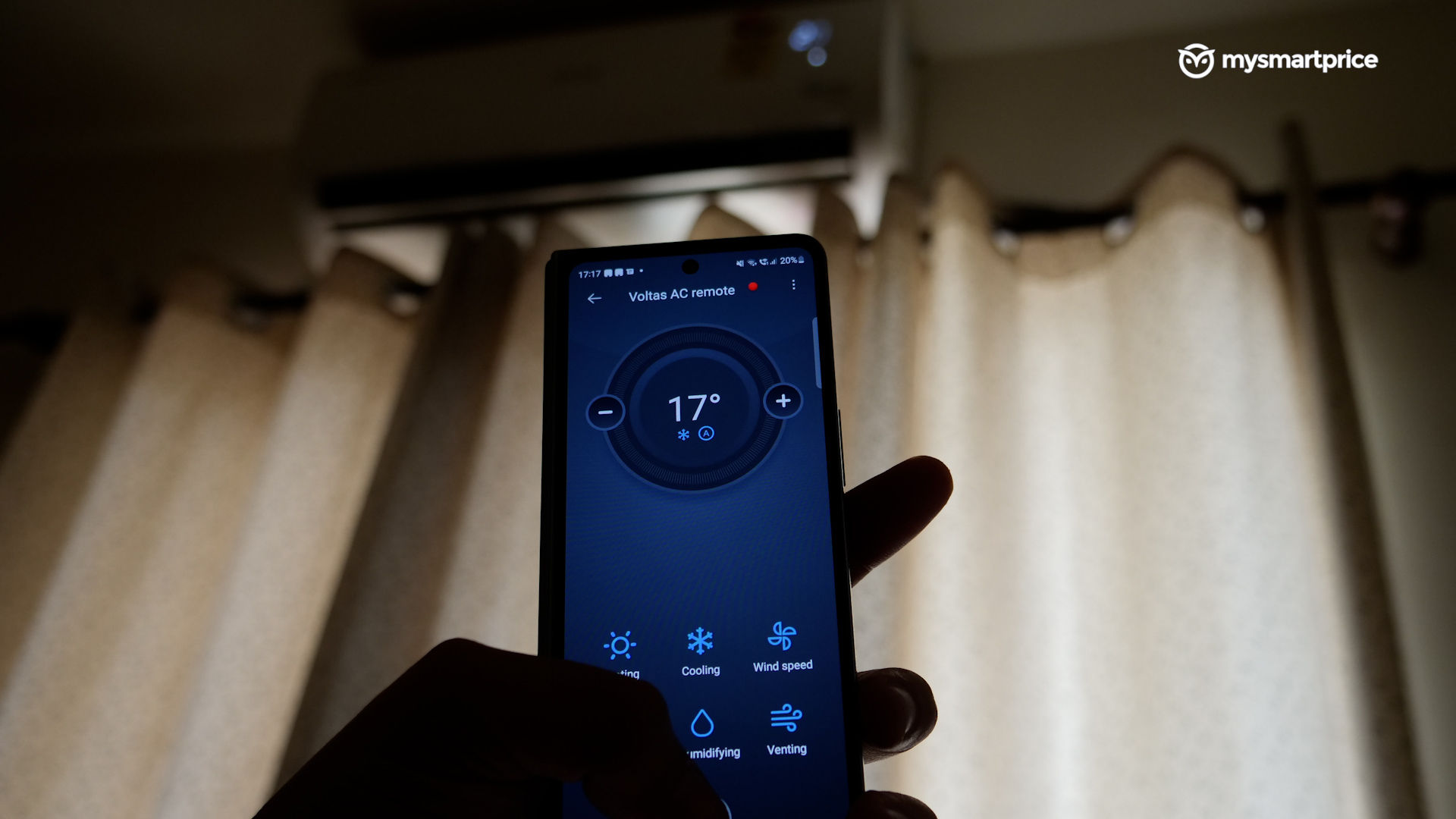 This also paves the way for pulling off some awesome pranks on your friends who are unaware of the speaker's capabilities.
We absolutely love the IR functionality for its practicality and potential for pranking and wish more smart speakers had it, just in a more elegant fashion.
The output of the speaker is just enough to fill up a small room – just don't expect window-shattering bass. The sound can crackle at loud volumes, but it's better than your smartphone or laptop's speaker any day. It's not a party speaker, you'll need to either pair a couple of these in a stereo arrangement to get the most out of them. Speaking about the frequency response and the sonic signature of the Xiaomi Smart Speaker IR Control wouldn't really do justice – all we can say is the claims of 360-degree audio are absolutely true, and the dispersion of sound is uniform on all sides of the speaker. We have played songs of varying genres at nearly all times of the day, and for a bedside speaker, it's perfect.
Xiaomi Smart Speaker IR Control Review: Verdict
The Xiaomi Smart Speaker IR Control is a great speaker for its price. The IR capabilities and the LCD watch display add some flair to the package. Sure, the sound isn't soul-hitting, but the 360-degree throw more than makes up for it.
At the same price, you can get a Google Nest Mini or an Amazon Echo Dot (4th Gen) With LED Clock, with slightly better sound quality and looks, but none of these has an IR blaster.