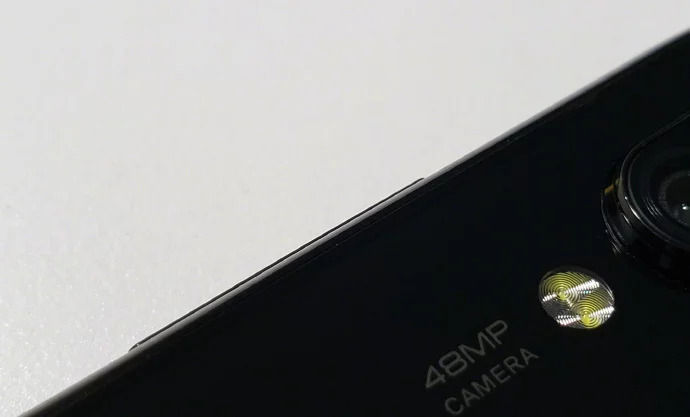 Xiaomi has been the king of the hill in the Indian market for quite some time now. However, it still hasn't been able to crack the premium smartphone market because consumers have associated Xiaomi to cost-effective smartphones over the time and they are not fully open to spend money on high-end phones from the company. To solve this problem, Xiaomi launched a completely new smartphone sub-brand: POCO. Now, it looks like Xiaomi isn't stopping there. The company appears to have decided to spin off Redmi into a separate brand and launch more exciting smartphones in the future.
The company is also launching a new Redmi branded phone with a 48MP rear-facing camera this month. However, considering that it's a Redmi smartphone, it could be priced very competitively.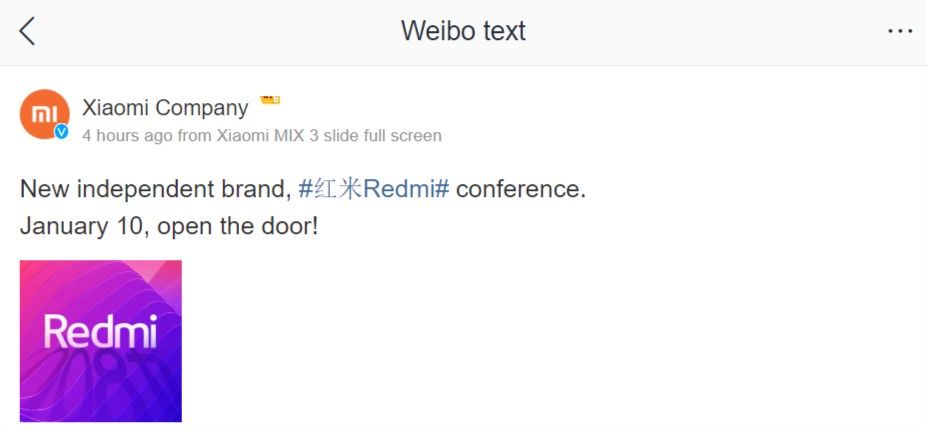 Why Spin Off Redmi Into A New Brand?
According to the company's official update on Chinese social networking website Weibo, Xiaomi will hold an international press conference on January 10 and launch a new smartphone. When Xiaomi fans inquired about the need for spinning off Redmi into a new brand, the company stated that separating off the Redmi brand will give the company independence in moving into different directions and can make the Redmi brand even better. The company will continue releasing cost-effective smartphones in the Redmi brand and focus on the e-commerce market, while phones released under Xiaomi's Mi brand will be targeted at high-end price segment and retail stores.
Currently, the company has smartphones like the Mi 8 and the Mi MIX 3 under the Mi lineup, both of which feature high-end specifications and innovative features like a mechanical slider and 3D face scanning. There's also the Mi A2 which comes with premium camera experience and stock Android UI. Phones like the Redmi 6A and the Redmi Note 6 Pro have been the best-sellers in various countries worldwide, and with Redmi as a separate brand that is focussed on e-commerce, Xiaomi will have a better idea as to how to market these phones in a better way.
Xiaomi Redmi Brand To Feature 48MP Camera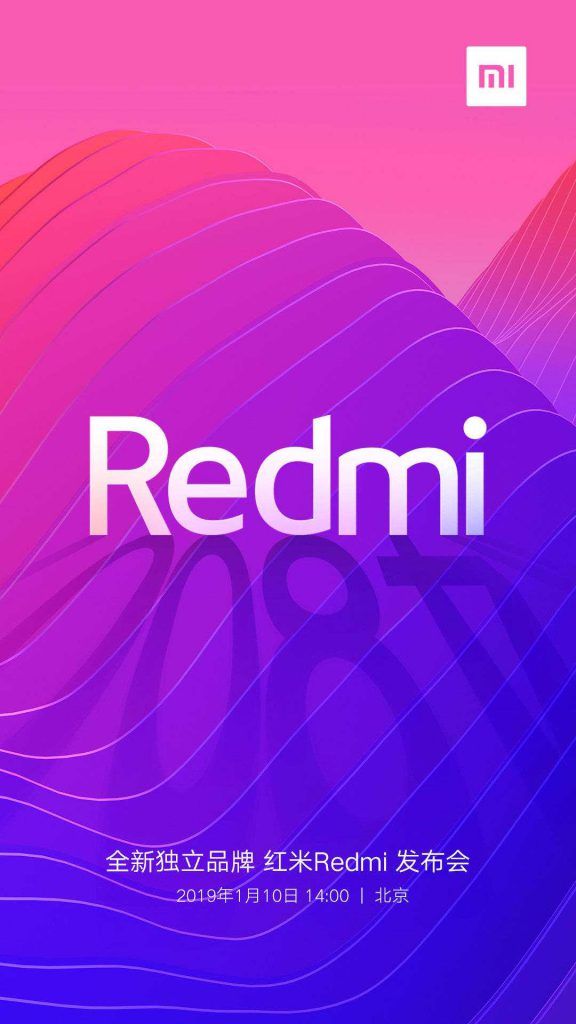 Even since Xiaomi's higher officials started teasing a phone's teaser with a 48MP camera, there have been rumors that it would be the next Mi-branded smartphone. However, Xiaomi has now shared a poster which clearly mentions the Redmi branding and its shadow creating "4800", which points towards a 48MP camera. While no one knows the smartphone's name, we expect it to be called the Redmi Pro 2 and it could be the priciest Redmi phone from the company.
The 48MP camera sensor used in the Redmi Pro 2 could either be a Sony IMX586 or a Samsung ISOCELL Bright GM1. While not much is known about this phone apart from its rear-facing camera resolution, we expect the phone to come with an octa-core smartphone, a Full HD+ resolution screen, dual-SIM card slot, and a large battery. It is also being reported that the company could also launch the Redmi Go—company's first Android Go smartphone—and the Redmi 7 at this event.