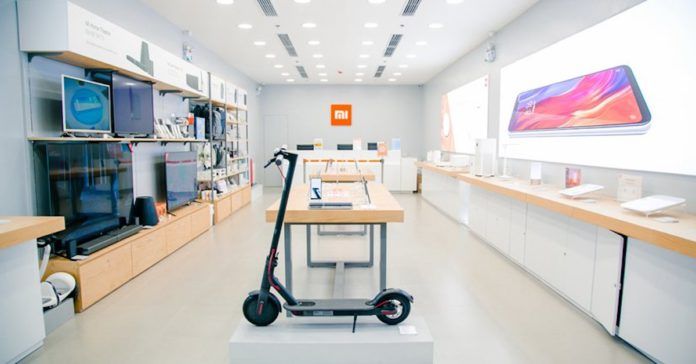 One of the major complaints that Xiaomi faces in India is the rather limited availability of its popular smartphones. The flash sales method adopted by the company and the ever increasing popularity of its products almost certainly mean that users often end up disappointed attempting to buy these devices. To counter this problem, Xiaomi has been on a mission to enhance its offline presence in the Indian market with its own Mi Stores in major cities and retail partners in smaller towns. While that effort continues unabated, Xiaomi recently also announced another plan to make its products somewhat more accessible to consumers.
Mi Express Kiosk: How does it work?
Xiaomi refers to this new initiative as Mi Express Kiosk and as you might have assumed from the images, this is a high-tech vending machine that lets you purchase a Xiaomi product placed inside it by paying with cash, credit/debit cards, and UPI. The first of these Mi Express Kiosks was placed at a popular location in Bengaluru where Mi India has its office. The company has also invited people to take a look at an additional Mi Express Kiosk placed at their office premises. Xiaomi adds that the Express Kiosk will provide an additional avenue for prospective Mi customers to buy their favorite products from.
Mi fans, we've introduced an innovative way to buy your favourite #Xiaomi products with #MiExpressKiosk. It's simple! Just choose a product & pay with your debit/credit card, cash, or UPI.

Experience it at Manyata Tech Park & our office in ETV. 50 more kiosks coming your way. pic.twitter.com/uqjjKkbb2b

— Mi India (@XiaomiIndia) May 13, 2019
While vending machines are not a new concept in India, they have traditionally been used to dispense low-value goods like soft drinks and eatables. The Mi Express Kiosk, however, takes things to a whole new level. Xiaomi goes on to add that they initially plan to install 50 such kiosks across the country – mostly in cities – in what we assume would be a pilot project of sorts to gauge the response. Xiaomi will continue to expand its network of Mi Stores across the country along with this effort.
Mi Express Kiosk: Where to Find Them?
The Mi Express Kiosk is one more initiative from Xiaomi to maintain its hold in the Indian market where it has been on the number one spot since the last quarter of 2018. Xiaomi, however, faces stiff competition in the INR 5K to INR 20K segment from several brands like Realme, ASUS, and Motorola. Among these brands, OPPO-backed Realme has fast risen to become of the most popular smartphone brands in the country in just over a year – which we must add – is an incredible achievement.
Anyway, if you happen to live in a metro city in India, chances are high you might bump into a Mi Express Kiosk at the most popular mall in your area.