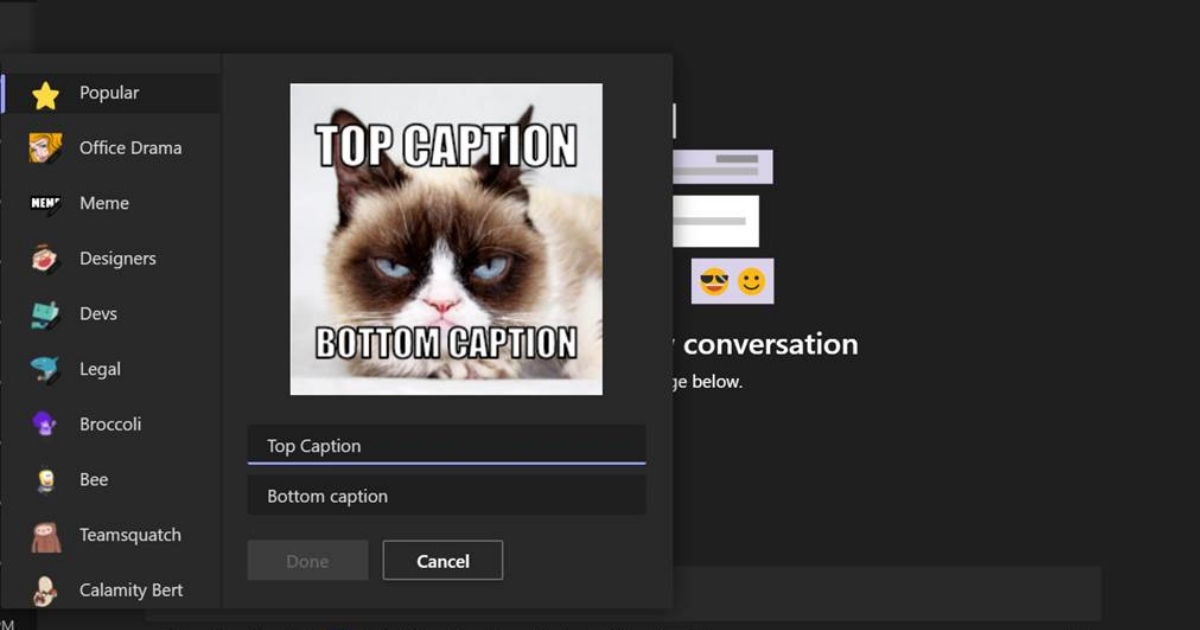 Microsoft is giving users the ability to create their own memes on Microsoft Teams. The feature, according to Microsoft, has been present for a while but the company hadn't highlighted it so far. That's perhaps because no one really uses Microsoft Teams to chat informally with each other, but it's likely why the company is highlighting it now. After all, there are few means better for increasing engagement on the Internet than memes, right? Microsoft is also bent on making Teams the most popular video calling app following the proliferation of such apps during the pandemic.
How to create memes on Microsoft Teams
Microsoft was kind enough to outline the steps for generating memes on Teams. The process is pretty similar to how you do it on WhatsApp or other chat messengers. Here's how you do it.
Go to the message bar on Microsoft Teams and open the chat you want to put memes in.

Below the message bar, you will notice some buttons.

These buttons include a "Sticker" option, which is where the memes reside.

You can click on the sticker button and search from a full library of memes. Tap or click the one you want.

After you have selected the meme you want, there are "Top Caption" and "Bottom Caption" options where you can enter your captions and click 'done'.

You press send when you're done creating your own memes.
The primary difference between Microsoft's implementation of memes and those on chat messengers like WhatsApp is that you can actually generate a meme here. The option to set your own captions on the top and bottom of the meme essentially allows you to customise the memes you choose. It's a small feature, but many might find it useful, although one wonders how many people use memes in their work conversations, which is where Microsoft Teams is the most popular.
On the other hand, the feature could be popular for people looking for video communications tools outside of work. With the pandemic's second wind growing stronger by the day, the need for video chat apps and virtual communications tools is only expected to grow going forward. After all, what's better to offset a second lockdown that memes, right?
Thanks for reading till the end of this article. For more such informative and exclusive tech content, like our Facebook page