Highlights
YouTube Create is a free-to-use application with various video editing tools and features.
YouTube Create is currently available in beta in select markets.
Dream Screen is an experimental feature that will undergo testing later this year.
Made on YouTube event took place yesterday where the biggest video sharing platform announced a new app and a few new AI-powered features. It released the YouTube Create app for mobile creators to edit videos on the go. There is a new experimental feature Dream Screen that will help Shorts creators generate video backgrounds with the help of AI. The company is leveraging AI to offer a few more features including insights to creators.
YouTube Create Features and Download
Starting with YouTube Create, it is YouTube's own video-editing app for mobile creators. The app was first spotted last month and has now been announced officially. It is a free-to-use app that will help users edit long-form videos and Shorts directly from their smartphone.
It is packed with various video editing features that one would expect. There is precision editing and trimming, automatic captioning, and voiceover capabilities. It further offers access to a library of royalty-free music, filters, effects, and transitions. There is beat-matching technology that will automatically sync the music with the video clip.
The app can be used by anyone but primarily targets mobile creators who do not have access to or are uncomfortable using full-fledged PC video editing software. YouTube Create is currently in the beta stage. It is available on Android in eight countries including India as of now.
YouTube Dream Screen Features
Dream Screen is a new experimental AI-powered feature for Shorts creators. It will let users generate image and video backgrounds for shorts with the help of AI. All they will need to do is enter an idea prompt in the text field and let the AI do its magic. You can check the results for "Panda drinking coffee" in the screenshot below.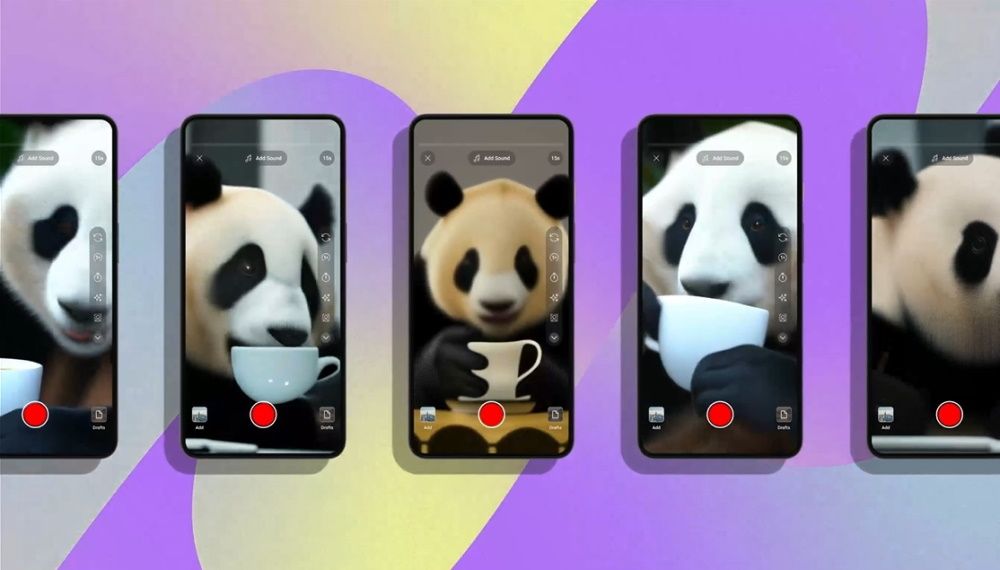 YouTube says Dream Screen will undergo testing later this year. It will be made available to select creators in the beginning. The feature will expand to more creators early next year followed by a wider public release in the future.
The company wrapped up the event by announcing a few more AI-powered features for creators. The first one is AI-powered insights which will be available through the YouTube Studio app. These will be personalized insights for each creator based on what their audience is watching. They will help creators get video ideas and draft outlines.
Creator Music will get Assistive Search next year. It will help creators find the right track for their video by simply describing the video content. The team is also working on an AI-powered dubbing feature for creators. It will take the help of Aloud to offer a dubbing tool that will make videos accessible to a wider audience across different languages.