Highlights
YouTube Music users can sort comments on the basis of popularity or time.
The redesign further adds a larger album art and a row of options right about the song progress bar.
The YouTube Music design is available for both Android and iOS.
YouTube Music has undergone numerous changes since its debut about eight years ago. These changes have mostly received positive feedback but the team is rolling out a new feature that will surely divide opinions. The latest YouTube Music redesign update has added a comments section to the application. Yes, you read that right. The music streaming app now has comments.
How to Add and Read Comments on YouTube Music?
YouTube Music is receiving a new update on Android and iOS that brings a redesign. The biggest change is the addition of a comments section to the Now Playing screen. The newly added comments icon is visible right above the song progress bar. You should not miss it as it is identical to the one you get on the main YouTube app.
Tapping the icon opens the comments section, again the same as you see while watching YouTube videos. This is because the team has simply integrated the YouTube comments section with the music streaming app. It is the reason you will see comments and replies that were posted years ago. You can also sort comments as either Top or Newest.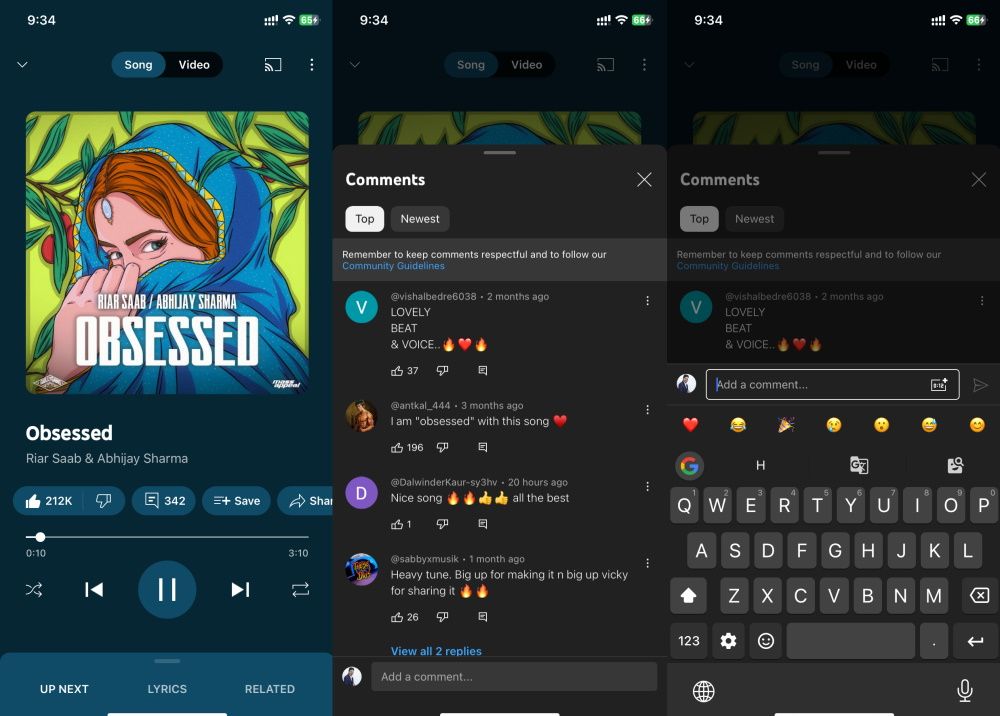 Since the YouTube Music comments section is linked with the main YouTube, you will see comments only for those songs that have it enabled. It also means if a song has been uploaded only on the Music app and does not have a video, it will not have comments either.
This change adds a social media aspect to the music streaming app. It will surely be received with mixed responses as different people feel differently about the involvement of social media in our daily lives. While it is a good addition for those who love to share their opinion online, it will be seen as an added distraction by those who simply want to enjoy their favourite music.
The YouTube Music redesign further introduces a couple of minor changes to the app. The first one is that the album art for the currently playing song is now relatively bigger than before. The second change is that options like share, download, add to list, and start a radio have been added just above the song progress bar.
These options were previously available by tapping on the album art. Their new placement makes it easier to reach out to them, especially with one-hand usage. All these changes are available with the latest YouTube Music app update. You can download it by visiting the Google Play Store on Android and the App Store on iOS. If it is unavailable to you even after the update, you should wait for a while as it may take some time for the change to appear on your device.