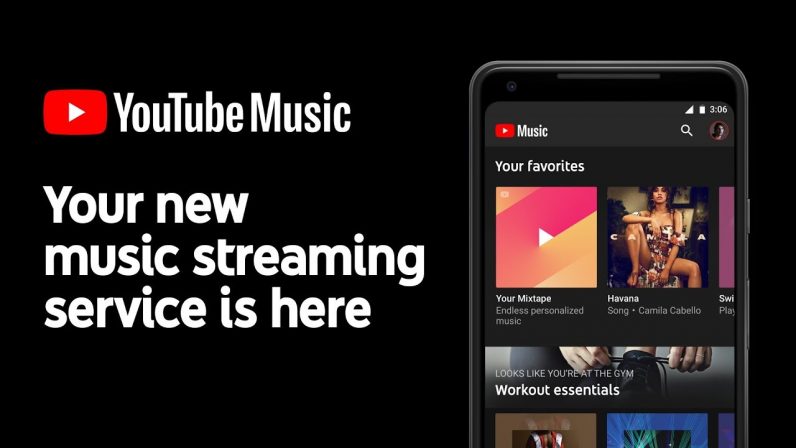 Hot on the heels of Spotify's launch in India a few weeks ago, Google has launched two new music and video streaming services—YouTube Music and YouTube Premium—in India late last night. While YouTube Music is a combination of music audio and videos, YouTube Premium offers an ad-free YouTube experience, including exclusive movies and TV shows.
YouTube is already one of the biggest music streaming services in the world, and with the launch of ad-free plans, the company wants to compete directly with Apple Music and Spotify. In India, other music streaming services that compete with YouTube Music include Airtel Wynk, Gaana, JioSaavn, and Prime Music. YouTube Premium can be seen as a competitor to video streaming services such as Hotstar, Netflix, Prime Video, Sony LIV, and Apple's upcoming video streaming service.
YouTube Music App For Android
YouTube Music has apps for Android and iOS. It is also available on desktop computers through the web. YouTube Premium can be used in the same YouTube app that's available on almost every platform in the world, including Android, Android TV, Apple TV, Chromecast, iOS, PS4, various smart TV platforms, VR, the web, and Xbox.
Let us have a look at the pricing of YouTube Premium and YouTube Music in India and if it makes sense to subscribe to these services.
YouTube Music, YouTube Premium Plans & Pricing in India
YouTube Music is available in free and premium tiers. Free users will get to listen with advertisements, and premium users will get to stream high-quality, ad-free music and offline listening at INR 99 per month. Google Play Music subscribers will automatically get access to the premium tier of YouTube Music.
At INR 129 per month, YouTube users can subscribe to YouTube Premium as well as YouTube Music. Google is also offering a family plan at INR 189 per month, where up to six users in a family can rake the benefits of the service.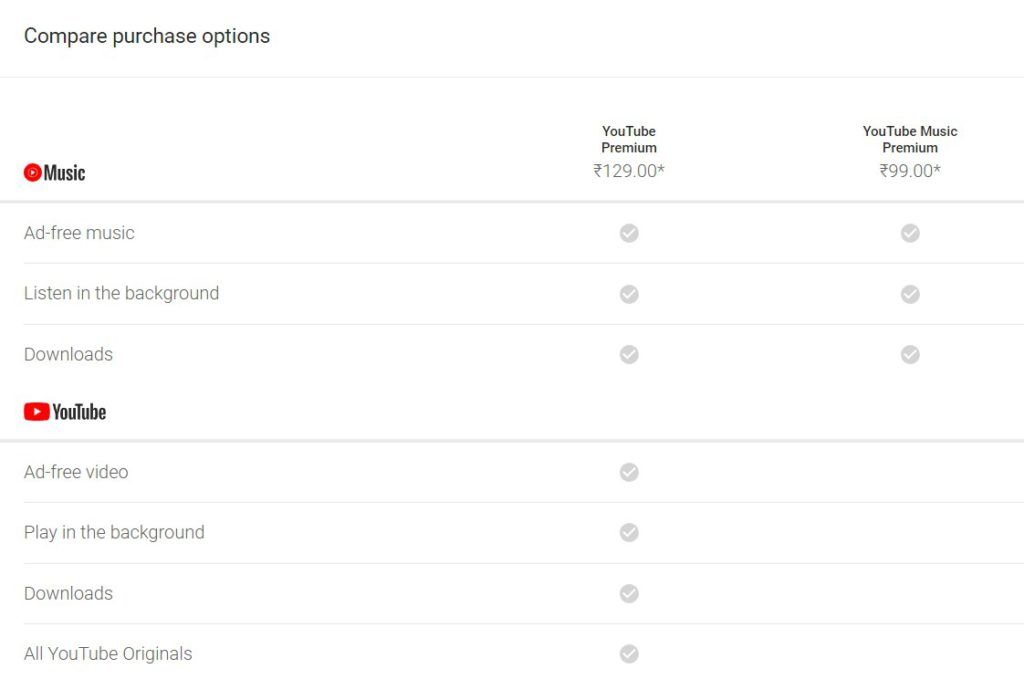 Can YouTube Music & YouTube Premium Attract Consumers?
Competing music streaming services such as Apple Music, Gaana, Spotify, and JioSaavn list just official versions of a music track but YouTube Music also features additional versions of the song in the form of live performances, concert versions, remixes, and covers. At INR 99, YouTube Music is also cheaper than both Apple Music and Spotify, attracting consumers who are already familiar with YouTube over the course of the past few years. This makes YouTube Music an attractive solution for people's music problems.
YouTube Premium offers all the benefits of YouTube Music such as ad-free music playback, background listening, and offline saving, as well as watching all the videos on YouTube without any advertisement, background playback, video downloads for offline playback, and YouTube Originals. YouTube Originals consist of movies like Burn The Stage, Cobra Kai, Museo, and Viper Club. It also has exclusive video series such as Ryan Hansen, Solves Crimes on Television, Sherwood, and Weird City. However, YouTube still lacks content that's specially made for the Indian market, something Hotstar, Netflix and Prime Video currently excel at.
Most people might not be satisfied by YouTube Premium, due to the lack of Indian original content, but many could subscribe to YouTube Music, at least the ad-supported version. If YouTube needs paying customers, it needs to focus on making quality content that attracts local consumers. I personally think that Hotstar offers the most value for money (for INR 999 per year), at least for Indian consumers, as it can be used to stream not only live international cricket matches, IPL T20 matches but also hit shows like Game of Thrones, Homeland, Modern Family, and True Detective.