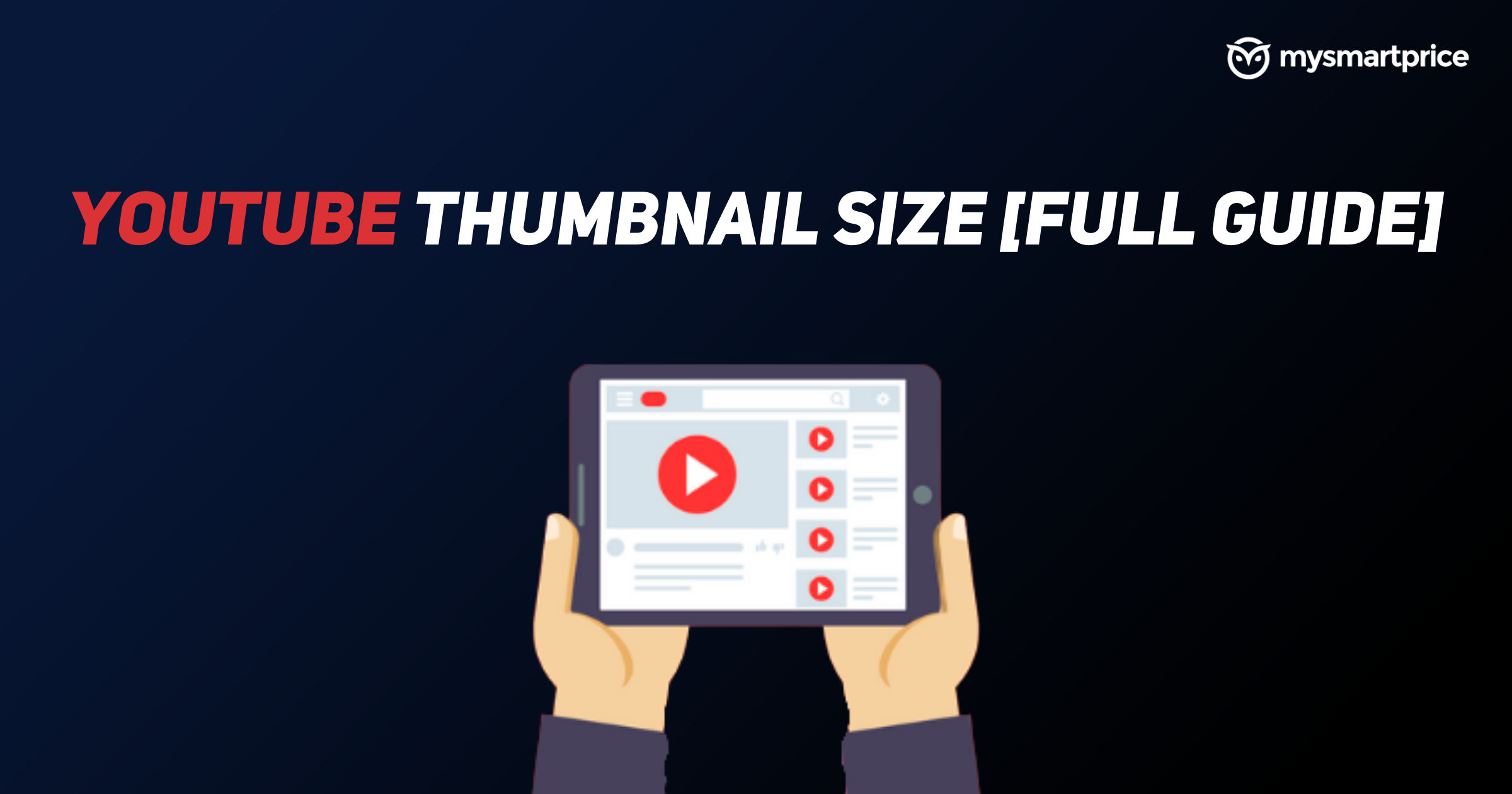 A YouTube thumbnail is the first thing a viewer sees on the YouTube app. Most of the audience clicks on the video based on the thumbnail that is present on the video. So, it is safe to say that YouTube thumbnails are the most crucial thing for any YouTube video. This is why it is of utter importance that one needs to add an attention-grabbing YouTube thumbnail to get the most views.
That said, how can we make some great YouTube thumbnails for the videos? What is the right size of the thumbnail for YouTube? Is there any specific guideline for creating a thumbnail for YouTube videos? In this article, we will show you how to create an attention-grabbing thumbnail so that you can get more views on your video. So, without any further ado, let's start with this guide.
Also Read: YouTube: How to Upload Video on YouTube from Mobile and Computer.
What Are YouTube Thumbnails?
YouTube thumbnails are the preview images for a YouTube video. It is a picture that describes what the video is about and what it includes. Below are examples of thumbnails.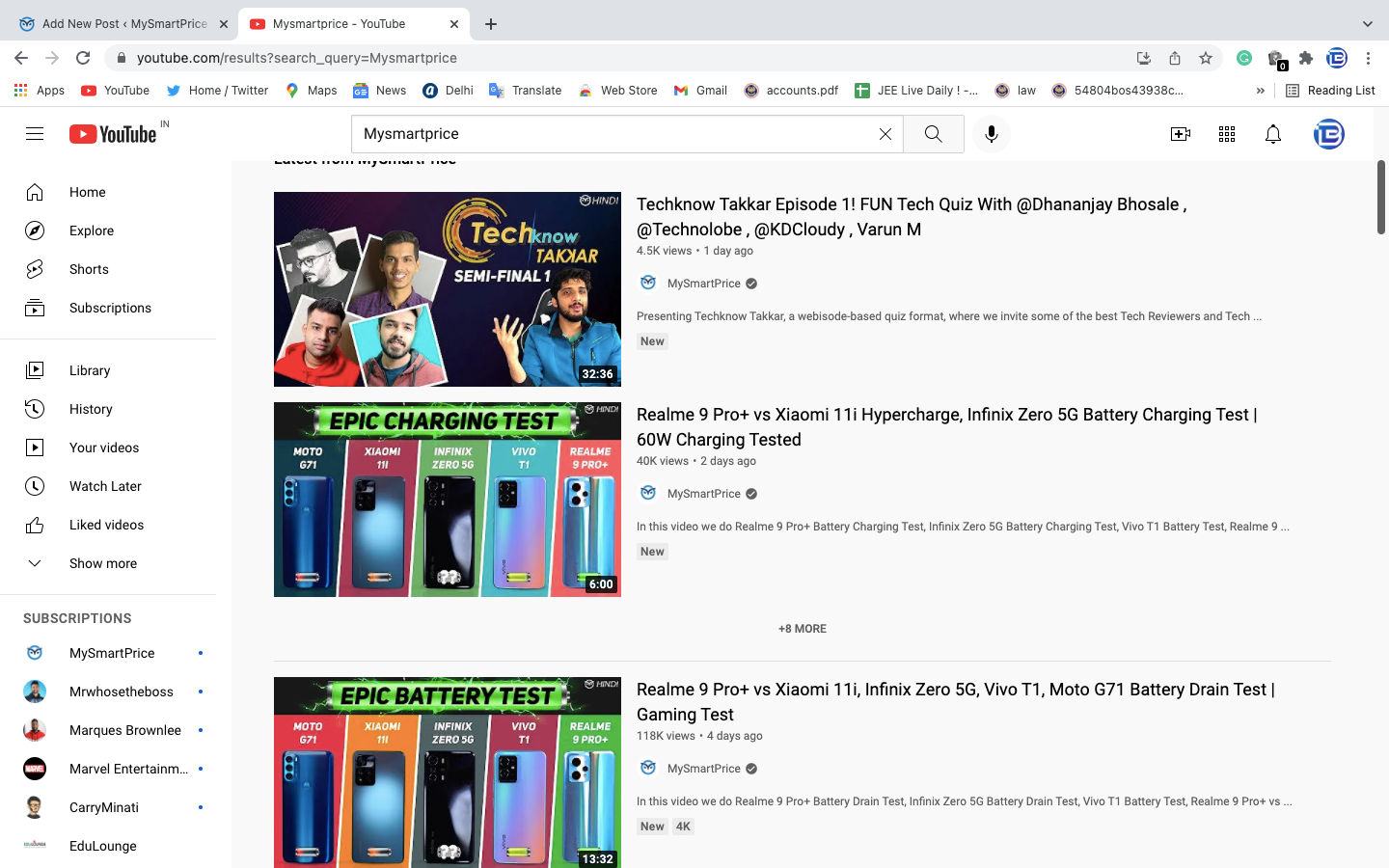 A video with an attention-grabbing custom thumbnail is expected to get more clicks than a random screengrab from a video. Apart from the title, description, tags, channel name – YouTube thumbnails play an important role in a YouTube video. Therefore, a thumbnail should stand out from the others. Let's see what's an ideal YouTube thumbnail size.
Also Read: Gaming Channel Name List for YouTube: 100+ Best Gaming Names for Your YouTube Channel
Ideal YouTube Thumbnail Dimensions
To get the most out of a thumbnail, it needs to be created in the perfect size. Google has mentioned the details about a YouTube thumbnail including its dimensions. Following are the guidelines to make an ideal thumbnail with perfect dimensions.
The thumbnail should have a resolution of 1280×720 (with a minimum width of 640 pixels).

It should be uploaded in image formats such as JPG, GIF, or PNG.

Its size should remain under the 2MB limit.

Users can try to use a 16:9 aspect ratio as it's the most used in YouTube players and previews.
How to Make a Custom YouTube Thumbnail as per the Dimensions
There are many online tools and apps available on the internet that help you in making a thumbnail. This list includes Canva, Snappa, Visme, etc. All these apps load a bunch of fonts, graphics, icons, images, and more that one needs to create a thumbnail. Plus, these apps have multiple templates for a thumbnail that you can use. We will use the Canva tool to show you how you can make a YouTube thumbnail as per its perfect dimensions.
Follow the steps below to know how you can use a tool to create a thumbnail.
Download the Canva app on your mobile or go to

https://www.canva.com/

. Search for Youtube thumbnails and it will show you a variety of thumbnails.

Choose a thumbnail and it will open. Now, you can make multiple changes in the creative.

Now, on the left side of the blue screen, you can see a variety of options:




Photos – for stock images


Elements – for graphics and icons
Text – to add texts to your creative
Uploads – to upload an image

Now, you can customise the thumbnail image according to your choice and make it the best.
Also read: YouTube Shorts Download: How to Download YouTube Shorts Videos Online and Save in Phone Gallery
Best Practices for YouTube Thumbnail
Also Read: YouTube Video Download: How to Download MP4 Video from YouTube Using Online Download and Converter Apps
Here're the best methods you can use while creating a YouTube thumbnail.
Show your face
Putting your face on the thumbnail is considered good practice for creating an ideal image for YouTube videos. Putting a face on your thumbnail will create a more familiar relationship with your viewers and will gain more views. Thumbnails with a face are expected to get more clicks and likes.
Add Texts & Graphics
If you are a creator who makes videos on how-to, science, philosophy, or any explanation topic, you should insert an interesting text with a question to give the crux of the video. A text related to the video topic will explain what the viewer can know about, in your videos. Similarly, a graphic image on your thumbnail will gain more attention.
A creator should choose a readable font and the text should be aptly sized so that it is visible on the thumbnail. Both the graphics and texts should be related to the video only and should not be misleading. Make sure that you don't add much text or graphics, otherwise, the thumbnail will become more crowded.
Use Contrasting Colours
When you add some colour effects, make sure that it perfectly stands out in the image. Many creators either add white text on a light background or black text on a dark background which looks very awkward. If a user can read what your video is about, they will likely skip the video. You can blend your thumbnail with YouTube UI. We recommend you create a thumbnail in either of the four colours – Blue, orange, green, and yellow.
Also Read: Best Free Online Photo Editors to Change Background Colour to White, How to Use Them
Take a Still from Your Video
This is the very basic form of a YouTube thumbnail. If your face value is important on your channel or you have collaborated with someone, you can take a screenshot of the interesting part of your thumbnail and add some text over it. This will make your thumbnail one of the best and will stand it out from the crowd. To take a screenshot of your video, go to the section you liked and pause the video, click on full screen and take a screenshot.