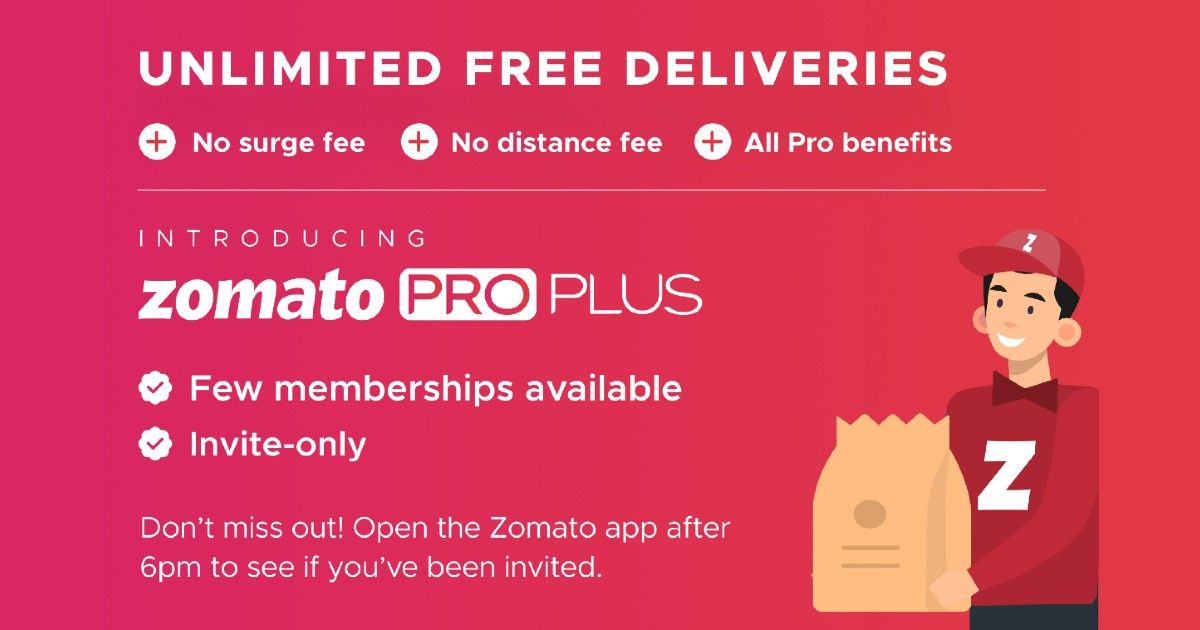 Zomato Pro Plus is set to launch later today, at 6PM on Monday, August 2. The new membership tier of the food delivery app is a premium offering by the company to a select few users, and promises unlimited free food deliveries to all those who subscribe to it. The new plan is likely being tested by the company as a way to offset additional delivery charges in exchange of providing an enhanced customer service experience.
What will Zomato Pro Plus offer?
As stated by company founder and chief executive, Deepinder Goyal on Twitter, Zomato Pro Plus will offer users an unlimited number of free food deliveries in the same way that Amazon Prime offers free deliveries to all paying users. As a result, users will not be required to pay any surge fee or any distance charges for deliveries, and will also get all the previous benefits that were a part of Zomato Pro's offering.
A report on the matter by News18 also quotes Goyal as stating that Zomato Pro Plus will not affect the delivery commissions that Zomato's riders get for completing deliveries. This suggests that the company may be looking at the Zomato Pro Plus membership tier as a plan where subscription costs offset the delivery charges incurred by Zomato. In a way, additional delivery charges may put off potential customers from ordering, while a fixed, monthly cost may not do so.
Why might you not get it?
As per clarifications, Zomato Pro Plus will only be available to existing Zomato Pro members. However, Goyal has further claimed that even among the 18 lakh Zomato Pro subscribers, only a select few would get the invite to join the membership tier. As a result, even existing Pro members may not be able to join it if they do not get the invite as determined by Zomato. Invitation prompts for eligible users would roll out as notifications at 6PM on Monday, August 2.
Goyal has stated that existing holders of the RBL Bank Zomato Edition Black credit card would get an automatic upgrade to the new membership tier. However, others who get the invite will be required to pay for it. Zomato has further claimed that only a select few of these memberships would be offered for now, and neither the number of memberships on offer and nor future expansion plans have been detailed yet — suggesting that it may not be the easiest to get right now.