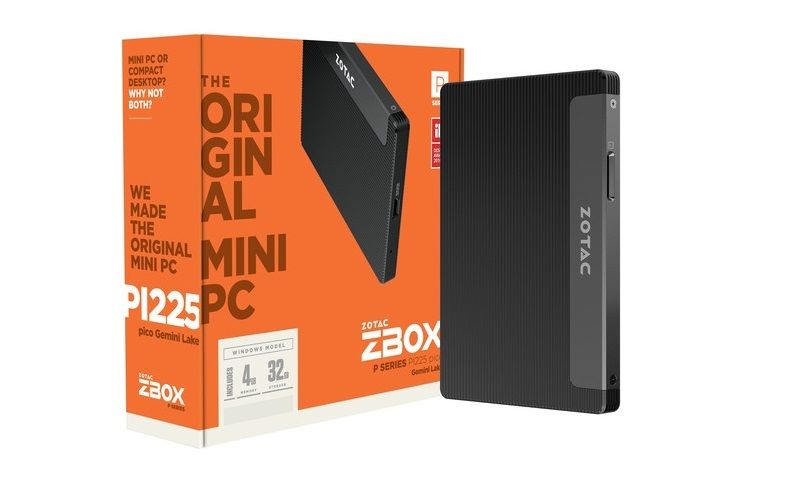 Zotac has launched an interesting and surprisingly capable miniaturized PC. The Zotac ZBOX Pico PI225-GK is much smaller than a Mini PC, but can comfortably handle 4K video playback. The 'Pico PC' lineup sports highly shrunken footprint and could be very useful for outdoor signage, kiosks or personal media centers with a severe space constraint.
Zotac's PI225 line of devices manages to offer a Windows 10 Personal Computer (PC) in a remarkably small form-factor. In fact, the PCs are smaller than a lot of modern-day smartphones. Still, they are full-fledged PCs capable of running Windows 10 OS. Enthusiasts can also successfully boot and operate other operating systems like a GNU/Linux distribution. Let's look at the important aspects like the specifications, features, price, and availability of Zotac ZBOX Pico PI225-GK PC.
Zotac ZBOX Pico PI225-GK PC Specifications, Features
The main highlight of the Zotac ZBOX Pico PI225-GK PC is undeniably its impressively small footprint. The entire Pico PC measures just 3.8? x 2.5? x 0.8? (96.52 x 63.5 X 20.32 mm). These dimensions are quite similar, if not exactly equal, to a standard Hard Disk Drive (HDD). But Zotac has managed to fit an entire desktop PC in this miniature frame.
The Zotac ZBOX Pico PI225-GK PC comes with an Intel Celeron N4000 dual-core "Gemini Lake" processor. Essentially, the computer has Intel's 6 watts, dual-core processor with Intel UHD 600 graphics. The CPU, which needless to add sports an ultra-low TDP, works with 4GB RAM and 32GB internal storage. The PC boots a full copy of Windows 10 OS.
If the onboard storage seems low, users can insert a microSD card in a dedicated slot to expand available storage. Despite the miniature form factor, the Zotac Pico PC sports 2 USB 3.1 Gen 1 Type-C ports. These versatile USB Type-C ports can support a display, keyboard, storage, or other peripherals. There's also a micro USB port. However, Zotac has reserved the same for power delivery. Interestingly, given the power requirements, the Zotac Pico PC could run on a wall charger that charges most modern-day smartphones. Other connectivity options on the Zotac ZBOX Pico PI225-GK PC include 802.11ac WiFi and Bluetooth 5.0.
Despite the rather humble specifications and seemingly limiting storage, the PI225-GK can still confidently output 4K video. In other words, the Zotac PC could be an ideal device to drive dynamic digital signage displays, kiosks, or even a personal or at-home media centers.
Zotac ZBOX Pico PI225-GK PC Price Availability
Zotac has launched the Zotac ZBOX Pico PI225-GK PC. The Pico PC retails for around $230 (INR 16,000 approx.). Zotac PCs are easily available on several online retailers. The retail package comes with a VESA Mount, power adapter, OS recovery flash drive, guides and manuals, and country-specific power connector.