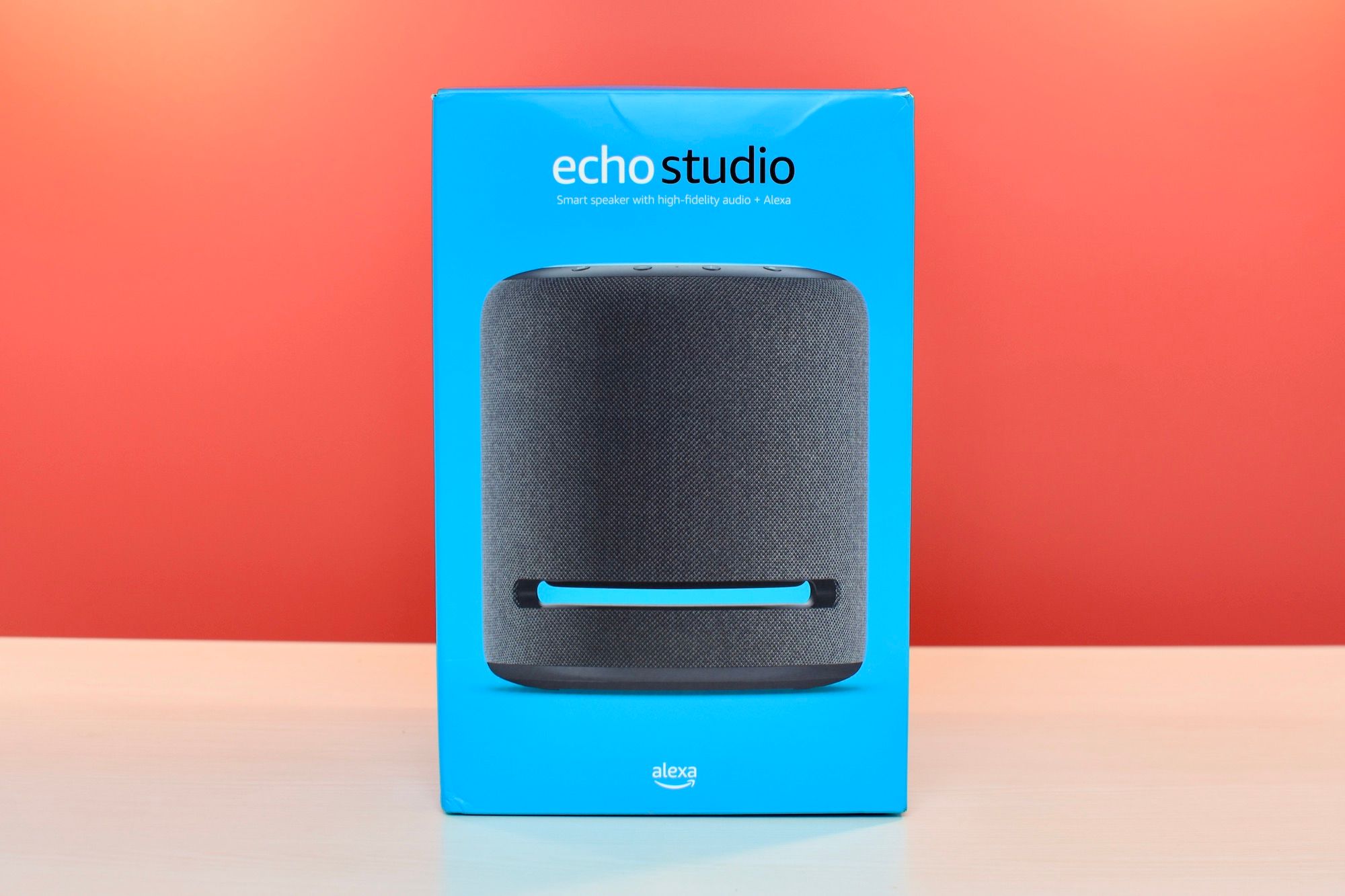 Amazon's lineup of smart speakers, which originally started with the Echo, quickly expanded to various form factors and usage scenarios. The company released various generations of the Echo Dot, Echo Plus, Echo Spot, and the Echo Show. A few weeks ago, the company added a bunch of new Alexa-powered smart products to its already wide lineup. The Echo Studio, Amazon's best-sounding Alexa-powered smart speaker yet, was a part of the lineup as well. It made its way to the Indian market a few days ago with a price tag of Rs 22,999.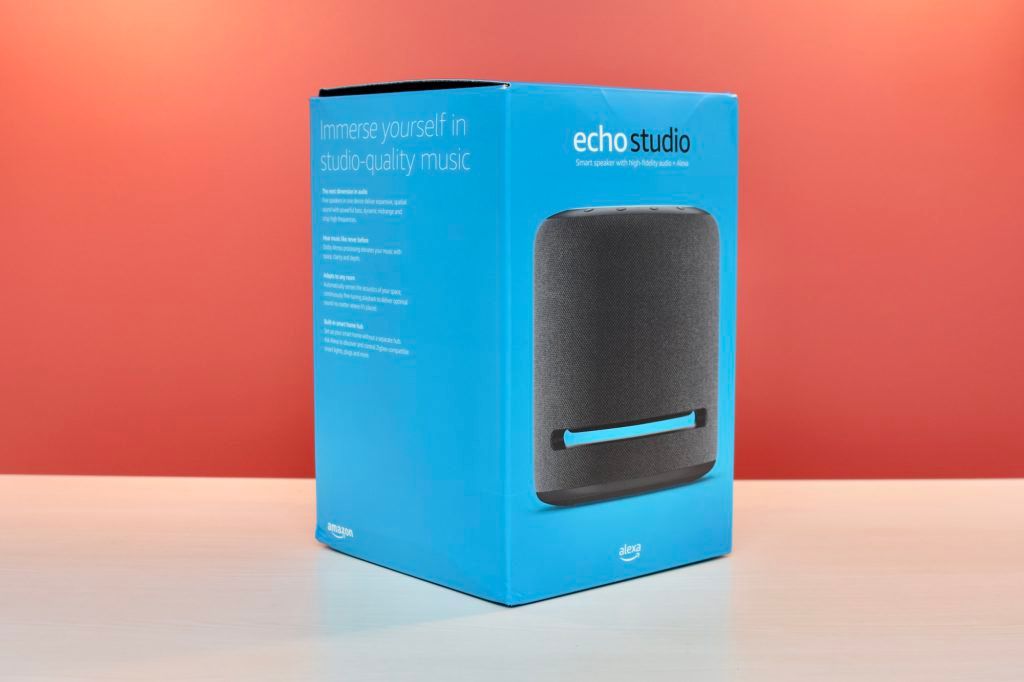 Amazon seems pretty confident about its highest-end smart speaker's studio-quality audio, hence the name Echo Studio. Moreover, none of the Echo Studio's competitors—Apple HomePod, Google Nest Hub Max, and the Sonos One—are available in the Indian market yet. Can Amazon capitalize on this chance? Can it satisfy the audiophile in you? Let's find out in my review.
[P_REVIEW post_id=170262 visual='full']
Amazon Echo Studio Box Contents
Amazon Echo Studio
Power Adapter
Quick Start Guides
Amazon Echo Studio Design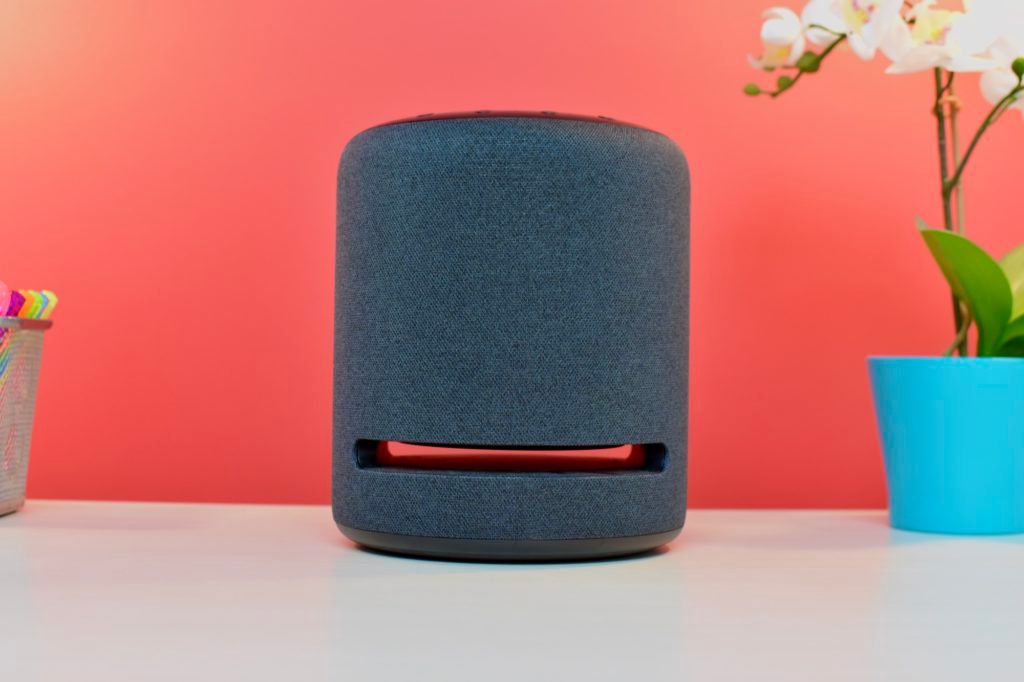 The Echo Studio follows the same design theme as that of second-generation Echo and Echo Plus, featuring a fabric-like cover. However, the Echo Studio is much bigger (8.1 inches x 6.9 inches) and bulkier (3.86kg). It looks more like a sub-woofer in a home theatre system than an independent speaker. It weighs three times as much as the 3rd Gen. Echo (1.3kg). Due to its sheer size, it can be a chore to find a suitable place for the Echo Studio in your home. While I found a place for it besides my TV in the dining-cum-living room (20x15ft), I am sure there will be homes without enough space on the tables for the Echo Studio. And, don't ever think of placing it on bedside tables. It won't fit in many kitchens, too, unless you own a huge apartment or a villa.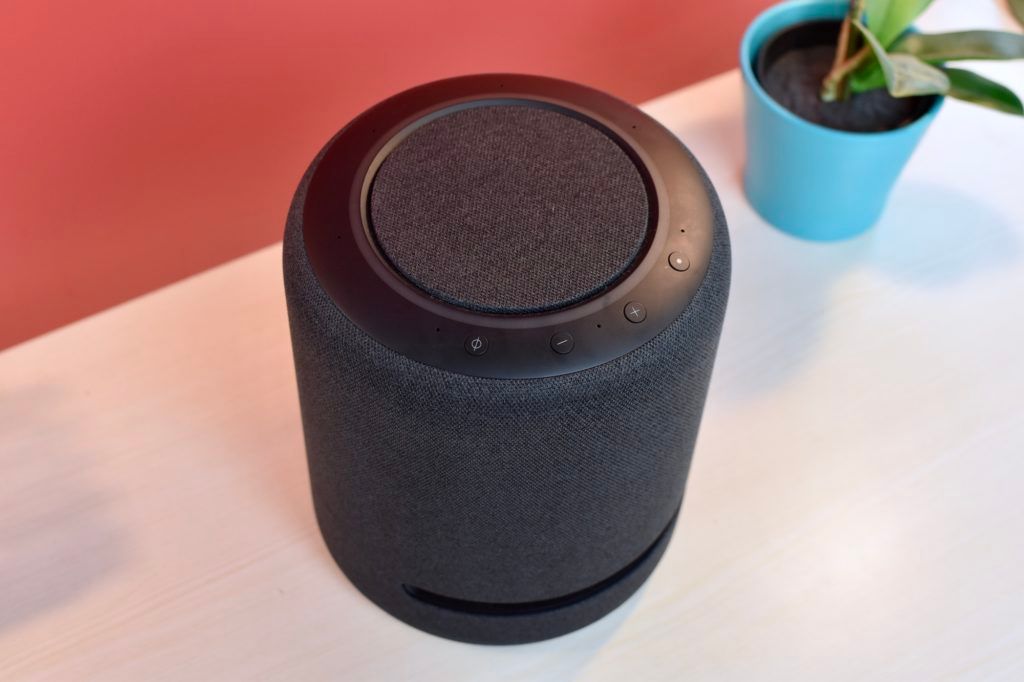 There's a halo-shaped LED light ring at the top of the speaker that shows the speaker's status. Along with the light ring, the top of the speaker also houses four buttons: Mute, Volume Up, Volume Down, and Action Button. At the rear, there's a power port, a 3.5mm audio jack, and a micro USB port (used only for servicing). In the bottom half of the speaker, there's a slit-like bass port, something you find on many subwoofers. And that's because it acts as an opening for the built-in 5.25-inch downward-firing woofer. On the inside, there's a forward-firing 1-inch tweeter, a 2-inch right-firing midrange speaker, a 2-inch left-firing midrange speaker, and a 2-inch upward-firing midrange speaker. This speaker driver arrangement makes it possible for the Echo Studio to offer 360-degree and "multi-dimensional" audio.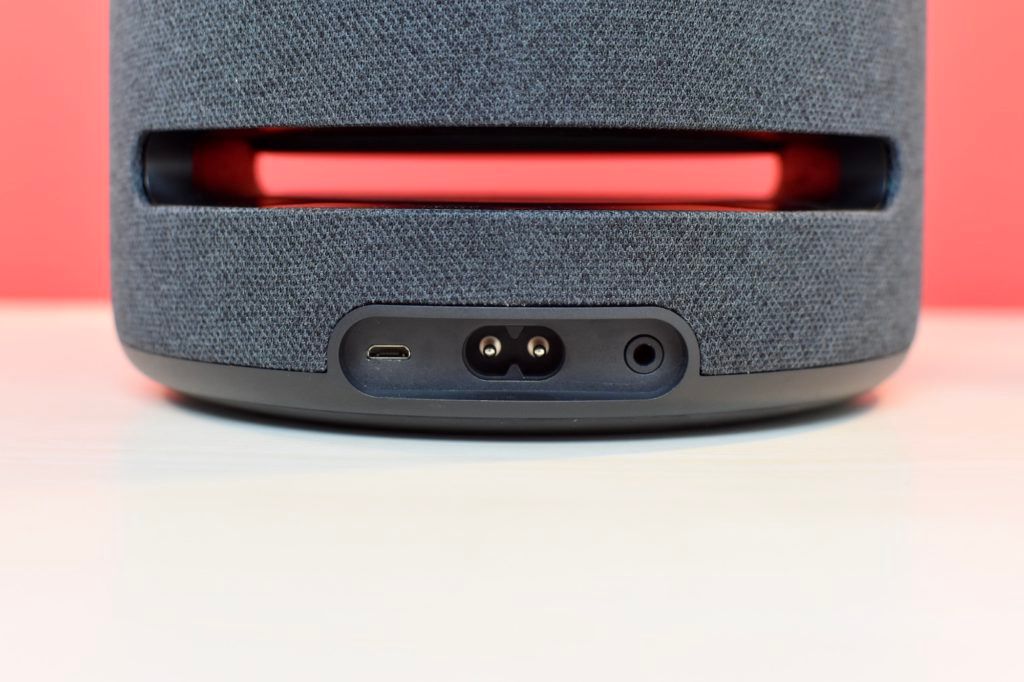 The smart speaker blends in well with the rest of the home, especially if you have a modern and minimalistic theme setup. Right now, the Echo Studio is available only in Black (more of Dark Gray, actually), and I hope that Amazon launches it in at least two more colors to go with various home setups.
Amazon Echo Studio Features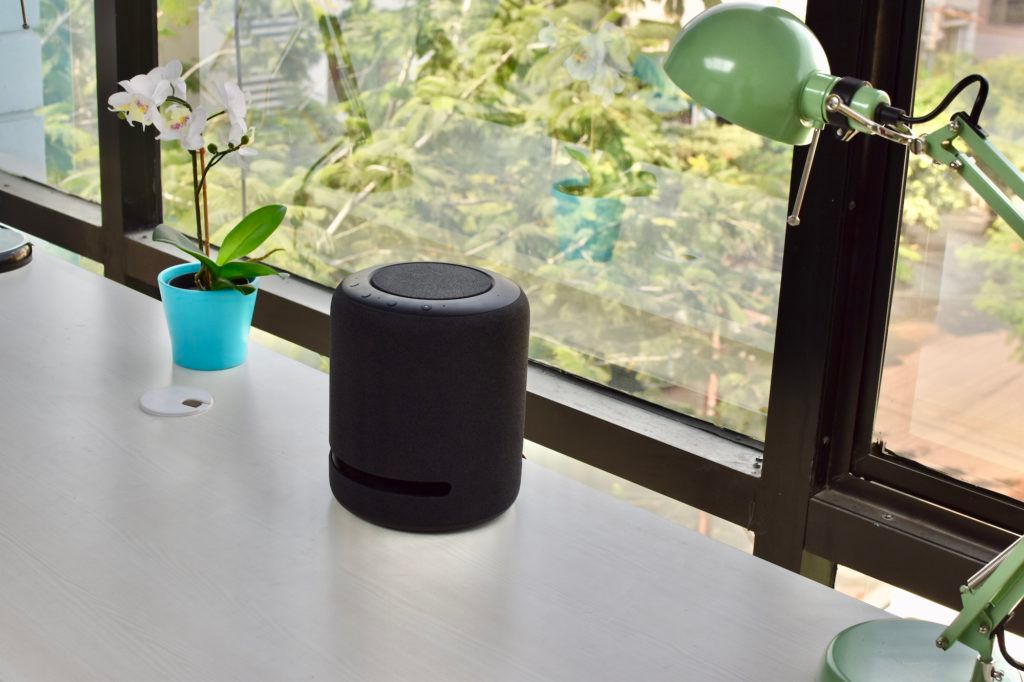 As usual, the Echo Studio can do all those tasks that other non-display Echos can: gathering information from the web, answering questions, streaming music (from the internet as well as from Bluetooth-connected devices and the Fire TV), setting up alarms and timers, controlling Alexa-compatible smart home devices, taking voice calls, activating various Alexa skills, and much more. Additionally, it can also control Zigbee-based products. You just need to say "Alexa," and your life will seem easier. If you're a privacy-conscious person, just press the mute button when you don't want Alexa overhearing you.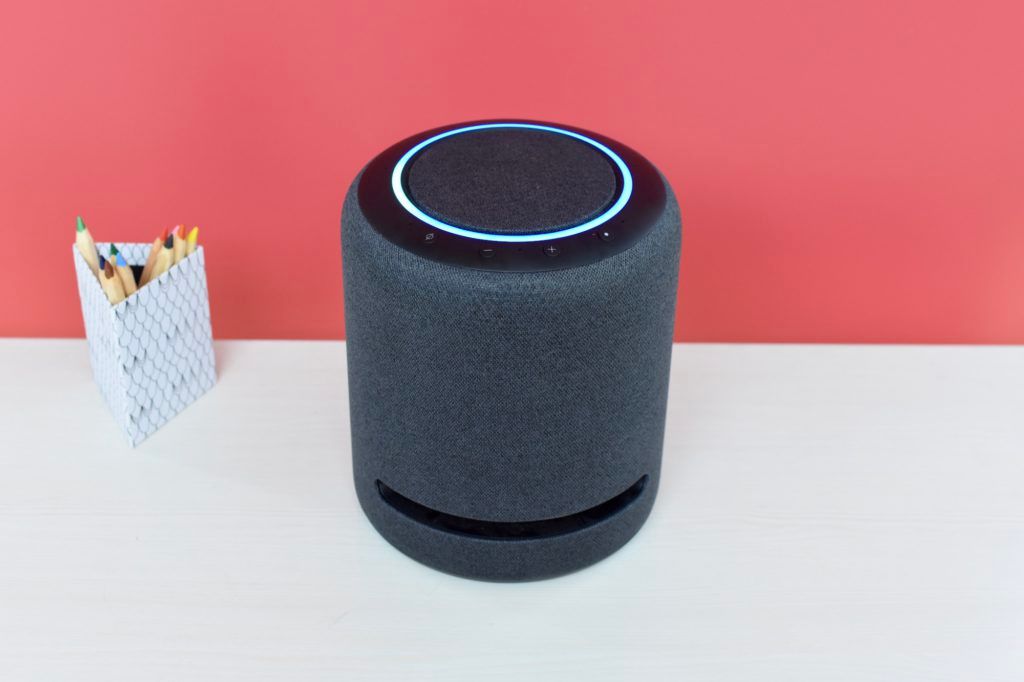 Amazon and various other developers have been building hundreds of Alexa Skills over the past few years, and all the skills that don't need a display to work can be used with the Echo Studio. Dozens of new Skills debut every day. I was able to turn on or off both my smart TVs (TCL P8S and OnePlus TV Q1 Pro) as well as change inputs, channels, and control the volume through voice commands using the Echo Studio. I could also find my keys (using the Tile Bluetooth tracker), control my Mi LED light bulb, check the remaining time for my laundry (using the LG ThinQ-enabled washing machine). I could also stream music from various services, including Apple Music and Prime Music. The only services I found missing from Echo Studio's compatibility list were YouTube and YouTube Music. You can even make Skype audio calls via Alexa.
The Echo Studio can be paired with another Echo Studio for a stereo speaker setup. You can also link it with an Echo Sub for a more powerful audio setup for movies or if you want to enjoy EDM tracks in a more immersive way. Since the Echo Studio is compatible with Dolby Atmos, you can pair it with a Fire TV Stick 4K to enjoy surround sound audio when compatible music or videos are played. You can also stream audio via Bluetooth or a wired connection when you find yourself with broken internet. Speaking of things you can do without an internet connection, Alexa can control smart home products and tell you the time.
Amazon Echo Studio Audio Quality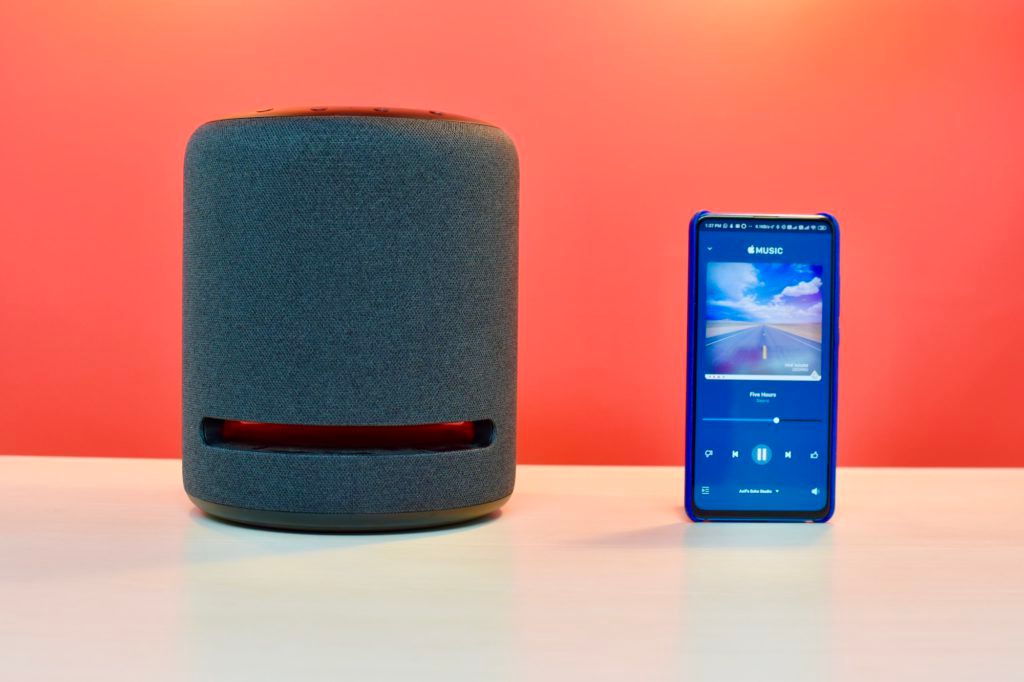 If you have ever considered buying the Echo Studio, I know you skipped directly to this part of the review. The Echo Studio sounds amazing, at least for a smart speaker. I've used various smart speakers over the past couple of years, including the Google Home (Review), Google Home Mini, Google Nest Hub (Review), Echo Spot, Echo Dot, and the Echo Show 5, and I think the Echo Studio sounds significantly better than the rest. Going by international reviews, smart speakers from Apple and Sonos seem to sound better, but none of them are officially available in India as of writing this review.
The combination of multi-directional mid-range speakers, a dedicated woofer, and a dedicated tweeter is a recipe for success. Plus, the Echo Studio learns its placement in a room, runs a series of audio sampling tests, and optimizes its audio output accordingly. There's also an option to adjust audio output via a three-band equalizer. Mid-range sounds were crisp and the high-end was sparkly, too. Bass was quite punchy, and sometimes I felt that it was overpowering other frequencies. Amazon says that it is Dolby Atmos compatible even though there are no dedicated speakers for rear sounds. I did not have a Fire TV Stick 4K handy during the review, so I couldn't test the Echo Studio's audio quality with Dolby Atmos videos.
Regarding the speaker's ability to create a wider soundstage and offer multi-channel audio, the Echo Studio does create a bubble of sound where audio seems to have a wider soundstage. Audio sounds spacious, but the quality is nowhere close to an actual home theatre or a pair of studio monitors (like my KRK Rokit 5). To be fair, I shouldn't expect a home theatre-like sounding smart speaker for the price. For music, though, the Echo Studio can satisfy a lot of people, at least after disabling the Stereo Spatial Enhancement feature and adjust the 3-way equalizer a bit. The sound did not distort even at the max volume setting.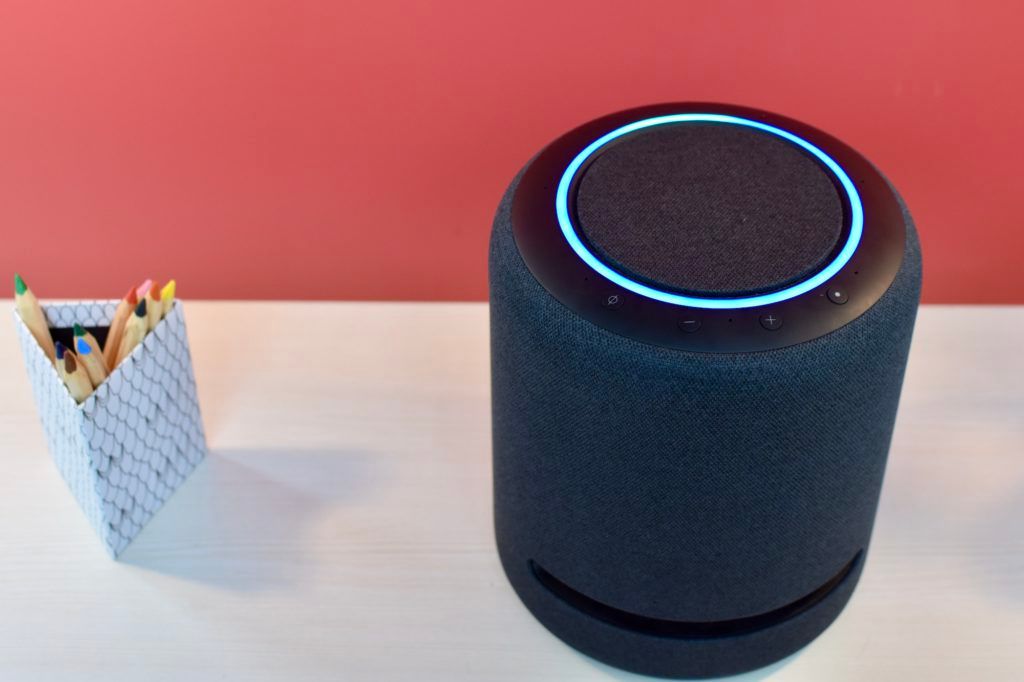 In terms of voice recognition, the Echo Studio could easily recognize Alexa voice commands in my large room. It could recognize voice commands even from nearby rooms, thanks to its seven-microphone setup. In comparison, the Google Home couldn't recognize "Okay Google" voice commands from as far, and it got even worse when the volume was maxed out.
Should You Buy Amazon Echo Studio In India?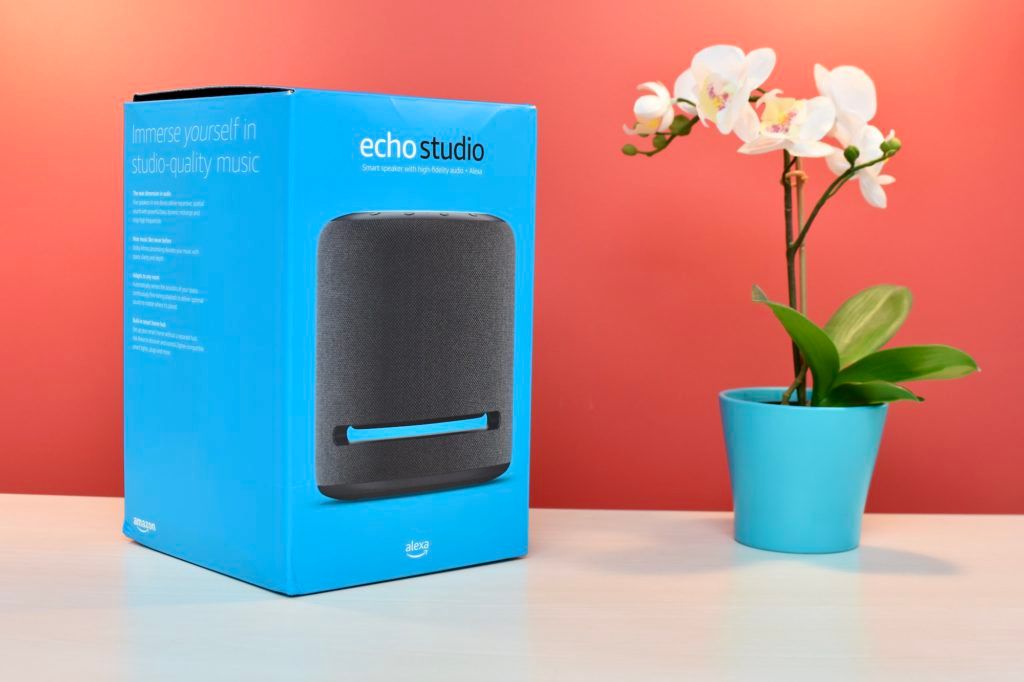 If you want to buy a smart speaker in India that sounds better than most run-of-the-mill smart speakers, the Echo Studio is your answer. It might not actually create studio-like audio, it offers a convenient combination of a speaker that has Alexa smarts and can sound really well. It sounds pretty powerful, can play Dolby Atmos and 360 Reality Audio streams, works with a bunch of smart home products, and can answer queries.
Amazon Echo Studio
₹22,999
What Is Good?
Powerful sound.
Excellent voice recognition and microphones.
Dolby Atmos & 3D Audio.
It can work as a home theatre when paired with Fire TV devices.
Alexa smarts.
What Is Bad?
Slightly bass-heavy audio tuning by default.
Very bulky.