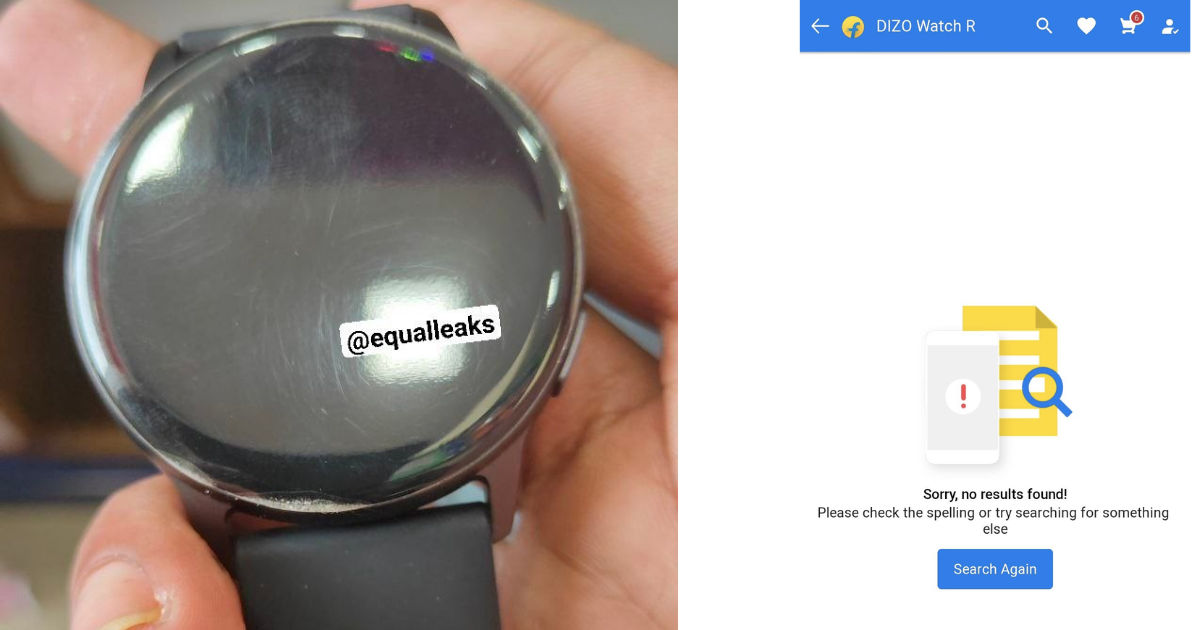 UPDATE [17 January 2022, 19:50]: Dizo has reached out to MySmartPrice with a statement. The company says that it is closely monitoring consumer concerns. For now, the percentage is minuscule and their services centers are looking into resolving them.
[Original story follows]
Dizo, a couple of days ago launched its Dizo Watch R and Dizo Buds Z Pro in India. The watch offers a 1.3-inch AMOLED display, a metal frame, up to 12 days battery life, 110+ sports mode, and more in under Rs 3,500 which is a good deal.
The Watch R received an overwhelming response from the consumers as per a tweet shared by Dizo CEO, Abhilash Panda. According to him, Dizo managed to sell 10,000 units of Watch R in just 5 minutes. But things are not going well for the Watch R users it seems.
Multiple buyers of the Dizo Watch R took it to Twitter to share their sour experience with the smartwatch. The users seem to have a common complaint of their smartwatch dying while the only thing they can feel is the continuous vibration of the watch. This is highly unusual for a smartwatch that launched only recently.
Dizo Watch R Dying While Setting Up
Many users of Dizo Watch R took it to social platforms to share their experience of their watch dying. Below are some tweets that you can check out.
@DIZOTech hii @DIZOTech i have just purchased your dizo watch r and o used it today and charged it but after vharge it show nothing completely dead just vibrating pls do let me what to do thanks pic.twitter.com/MevYgEl6S1

— Hitesh Bhakodiya (@bhakodiya) January 14, 2022
@DIZOSupport my dizo watch r is not turning on and keeps on vibrating .Also the sensors are blinking continuously. Please help me resolving the issue

— Lithin Mudduluru (@LithinMudduluru) January 17, 2022
@DIZOTech I've purchased dizo watch r ,and the experience was very bad,watch is going on & off automatically,it is vibrating continuously , battery is draining too fast

— Abhishek valicharla (@urabhishek96) January 17, 2022
@DIZOSupport my dizo watch r not starting only vibration happen while charging and without changing #DIZOWatchR @MadhavSheth1 @DIZOTech @realmeTechLife @DIZOSupport @panda_abhilash

— PatelHumza@003 (@JChapti) January 17, 2022
@DIZOSupport my dizo watch r is hanging and screen goes black and when I am pressing any button it is vibrating, even when I plug in for charge, it's continuously vibrating and not turning on. What kind of service is this?😡 @realmecareIN @DIZOTech @MadhavSheth1 @panda_abhilash

— Partha Sarathi (@psmbitw) January 16, 2022
As mentioned by the above users, their Dizo Watch R turns off on its own a while after turning it on all the time vibrating continuously. Some users have also complained about the quick battery drain. The message further alleges that this could be because of a bug during the setup of watch that is resulting in dead software.
MySmartPrice reached out to Dizo for a statement on this, and will update the story accordingly. Popular telegram channel, Equaleaks shared the information first that Dizo Watch R product listing page has been removed from Flipkart as well.
Do you own a Dizo Watch R? If yes, let us know if you are facing any issues in the comment section.