Highlights
The HP Pavilion x360 (2023) retails for Rs 79,990 on Amazon

It features an Intel 13th Gen CPU

The laptop managed to score 7.9 out of 10 in our review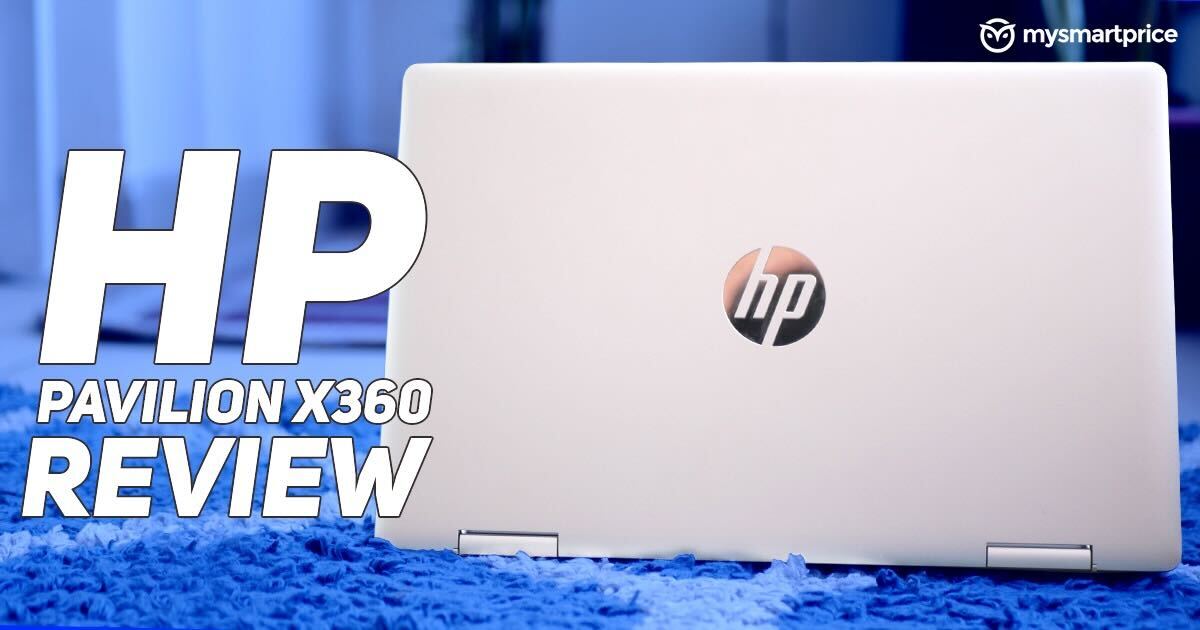 The 2-in-1 laptop bandwagon has been widely accepted in the market. Now, we can see manufacturers like Dell, Lenovo, Asus, HP, and more bringing them out like hotcakes. 2-in-1 laptops can be a bit polarising, as in an attempt to cater to a mass audience to extract multiple use cases. These laptops are designed to provide a mix of productivity, entertainment, and practicality — partially thanks to the different positions you can set them in.
HP recently made their portfolio stronger with the HP Pavilion x360 (2023), a premium offering from the company that boasts of an outer shell made of recycled materials, a good keyboard, and a touch-enabled high-resolution display paired with Intel's latest 13th generation 'U' series processor. The entire package retails for a price of Rs 79,990.
How does the HP Pavilion x360 perform in our day-to-day usage, and should you consider buying it for work? Find out in our review.
HP Pavilion x360 (2023) Review: Design and build quality
With more companies focussing on making the environment greener, HP is also doing its part with the outer shell made using recycled materials. This only affects some of the look of the laptop. While it won't turn many heads, it gets the basics right by going for a more professional look — perfect for its target market. The 14-inch chassis is made out of good quality aluminium and has no flex. It feels quite sturdy and should easily withstand a few blows in your backpack.
The all-silver colourway is perfect for a meeting room, with a glossy HP logo in the centre that gathers fingerprints at the drop of a hat. If you prefer something different, HP also sells a variant painted in Rose colour. The hinges are quite prominent on the laptop, and this is more visible when opening up the lid. Speaking of which, the laptop lid is rather chunky and opening it single-handedly is a tough job. Nevertheless, the laptop tips the scales at 1.51kg with the weight decently balanced. Once opened, the Pavilion x360 sports a well-spaced keyboard layout with a reasonably large trackpad.
We spent most of our time writing reviews on the laptop, and we found the keys to be very responsive, with good tactile feedback. Remember, given the compact chassis, it's not a full-size keyboard, but you get individual page up and down buttons – super handy for writers. The Home and Backspace buttons are crammed together, though, and we often mistook the former for the latter.
The keys have a white backlight with two brightness levels. When kept at an angle on our laps in the dark, we noticed the backlight leaking a bit, which was annoying. However, the light bleed didn't bother us as much when we worked on a desk in a dim room. The trackpad is spacious and invites you to perform gesture acrobatics. The click buttons also have good feedback.
A very subtle 'Pavilion' branding beneath the left rubber padding looks quite aesthetic, while the right rubber padding showcases the 'Bang and Olufsen' logo. Additionally, you can also find a fingerprint sensor placed at the bottom in a typical HP way, and it works flawlessly. Finally, the underside of the laptop has a bunch of vents and two bottom-firing speakers on either side.
For a 14-inch laptop, the Pavilion x360 has a decent amount of ports. The laptop's right side features a charging port, two USB-Type A ports, and a micro SD card slot. The left side showcases a full-size HDMI port, a USB Type-C port which supports DisplayPort 1.4, a vent grille, and a 3.5mm audio jack. Unfortunately, it misses out on an RJ45 port.
The top of the HP Pavilion x360 has a 5-megapixel front camera with a physical shutter for video conferences. The camera quality was excellent, even in challenging lighting conditions.
HP Pavilion x360 (2023) Review: Display and performance
The Pavilion x360 sports a 14-inch touch-enabled IPS display with a resolution of 1920×1080 pixels that refreshes at 60Hz. It has relatively thick bezels, with the bottom chin being more prominent.
We did not face any issues using the laptop indoors, but the peak brightness of 250 nits is not enough under daylight. The display has a traditional 16:9 aspect ratio and covers 45% of the NTSC colour gamut. The viewing angles of the panel are decent, and the touch response is excellent.
Since the Pavilion x360's target audience is spreadsheet-filling professionals, there's no major emphasis on the display's colour accuracy. Still, it can handle a quick, lonesome Netflix session at the cafeteria fairly well, as it consumes less space in tent mode.
The Pavilion x360 can also be used as a tablet, but because the display itself weighs north of a kilo, it can also be used to sculpt your biceps without hitting the gym. Nevertheless, HP also bundles a stylus in case you need to bring out your artistic side.
As for the bottom-firing speakers on the Pavilion x360, we found them to be quite average. They lack bass and clarity and are best optimised for the tent mode.
The Intel i5-1335U processor in the HP Pavilion x360 has 10 CPU cores, including two performance cores and eight efficiency cores. It has a total of 12 threads, with the processor reaching a maximum frequency of 4.6GHz.
The 'U' in i5-1335U indicates that this is a power-efficient chip, sipping only 15W of power under regular workloads. However, it can be turbo-ed up to 55W if you want. No discrete GPU here, only the integrated Iris XE graphics.
HP has opted for previous-gen 16GB DDR4 RAM instead of beefier DDR5 to save up on costs. Given the use case, this shouldn't be a deal breaker as it comes with 1TB of NVMe M.2 SSD storage to save face. It also has support for WiFi 6E and Bluetooth 5.3.
With that foundation, it can manage day-to-day tasks fairly well without stuttering or lags, such as juggling multiple Chrome tabs. In addition, despite the compact form factor, there were no heating issues, with its fans whirring well below uncomfortable decibel levels.
The Pavilion x360 scored 1558 and 6115 points in single-core and multi-core tests on Cinebench R23. While it's not an apples-to-apples comparison, here are a few figures to put things into perspective. First, the Infinix Zero Book Ultra (Review) with an i9-12900H processor returned a score of 1721 and 11924 in single-core and multi-core tests, respectively.
3DMark's CPU profile returned a max thread score of 3837, and it managed an overall score of 4759 on PC Mark 10. In Geekbench 6 GPU tests, it returned an OpenCL score of 11146.
CrystalDiskMark put the SSD through its paces, and we got sequential read and write speeds of 3357 MB/s and 2783 MB/s, respectively — which is good for its price range.
It's not intended for gaming, but to blow steam, you can play Counter-Strike: Global Offensive at low graphic settings, but do not expect good and consistent performance. However, if you are more into gaming, there are an ample amount of options in this same price range that would better suit your needs.
HP Pavilion x360 (2023) Review: Battery and charging
Tucked inside the rear shroud is a 43Wh battery which can be charged using the bundled 65W proprietary barrel charger. Intel's 'U' series of processors are more focused on providing a long battery life and combined with the 60Hz display. As a result, the Pavilion X360 has a screen-on time of six and a half hours. Our usage consisted of watching videos on YouTube, creating documents, and casually browsing the internet.
The included charger takes the laptop about two hours to charge from dead completely. This data was captured while using the laptop simultaneously. The USB-Type C port can also be used to charge the laptop in case you forget the charger back home.
HP Pavilion x360 (2023) Review: Verdict
While the Pavilion x360 retails for Rs 83,999 on the HP store, you can get it for Rs 79,990 on Amazon. For this price, the 2-in-1 laptop provides good value for money. Moreover, the sturdy build quality, along with a spacious keyboard and trackpad layout, should be fruitful for office-goers who spend most of their time on Excel sheets.
Additionally, the slim form factor and the ability to use it in multiple different positions make it great for productivity and entertainment. However, it can be heavy for some users in tablet mode.
Ideally, DDR5 RAM would've been preferred in this price segment, especially considering Intel's 13th gen makes good use of it. While this is done to save costs, we did not face any major issues in our daily usage. The 14-inch display has excellent touch response and is decent for work purposes, but the low brightness levels can be of issue for some. Battery life on the Pavilion x360 is also good with regular usage.
Overall, if you are looking for a laptop that serves various purposes and can perform consistently well, the Pavilion x360 can be a good option.
HP Pavilion x360 (2023)
Rs 79,990
KEYBOARD AND TRACKPAD
8.0/10
What Is Good?
Well-built laptop
Spacious keyboard and trackpad layout
Multiple use cases
Responsive display
Power-efficient processor
Good battery life
What Is Bad?
Can be heavy
Low brightness levels
No DDR5 RAM
Weak speaker