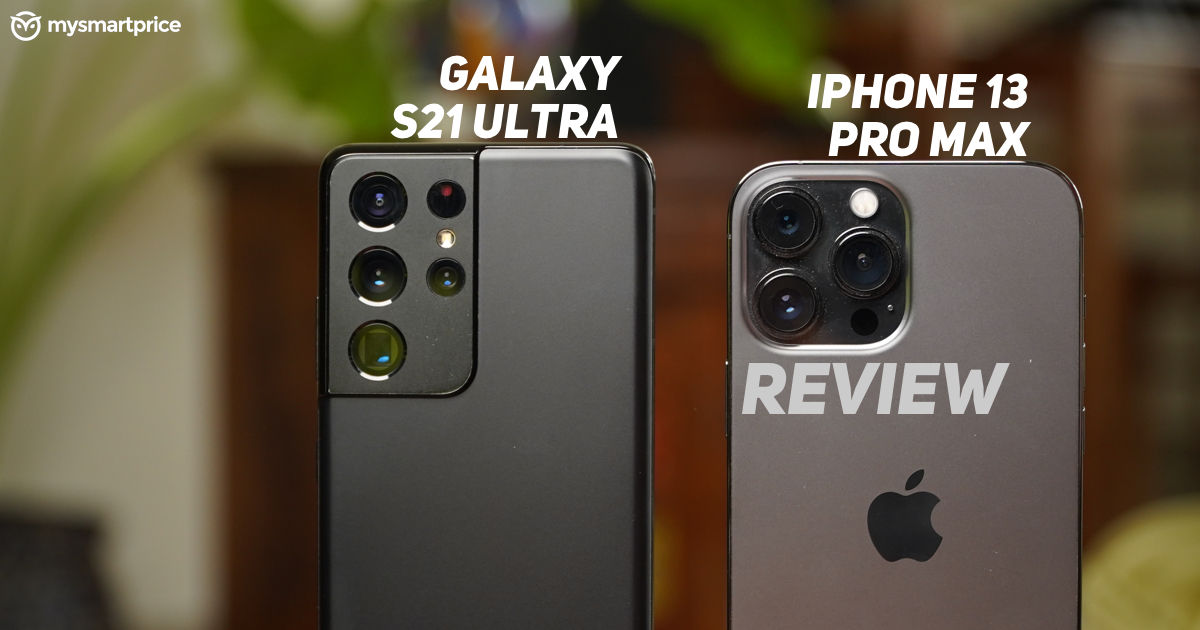 The iPhone 13 Pro and Pro Max might seem like incremental updates to many folks but there's more than what meets the eyes. Let's get down to our in-depth, detailed review of the iPhone 13 Pro Max and I will also be comparing it against the Samsung Galaxy S21 Ultra.
iPhone 13 Pro Max
Rs, 1,29,990
Battery Performance
5.8/10
Network Performance
8.1/10
What Is Good?
Stupendous battery life
Fantastic camera performance
World's most powerful A15 Bionic chip
Useful new software features
5G support for most bands
What Is Bad?
Too bulky
Notch is still an eyesore
Lightning port with USB 2.0 speed
Design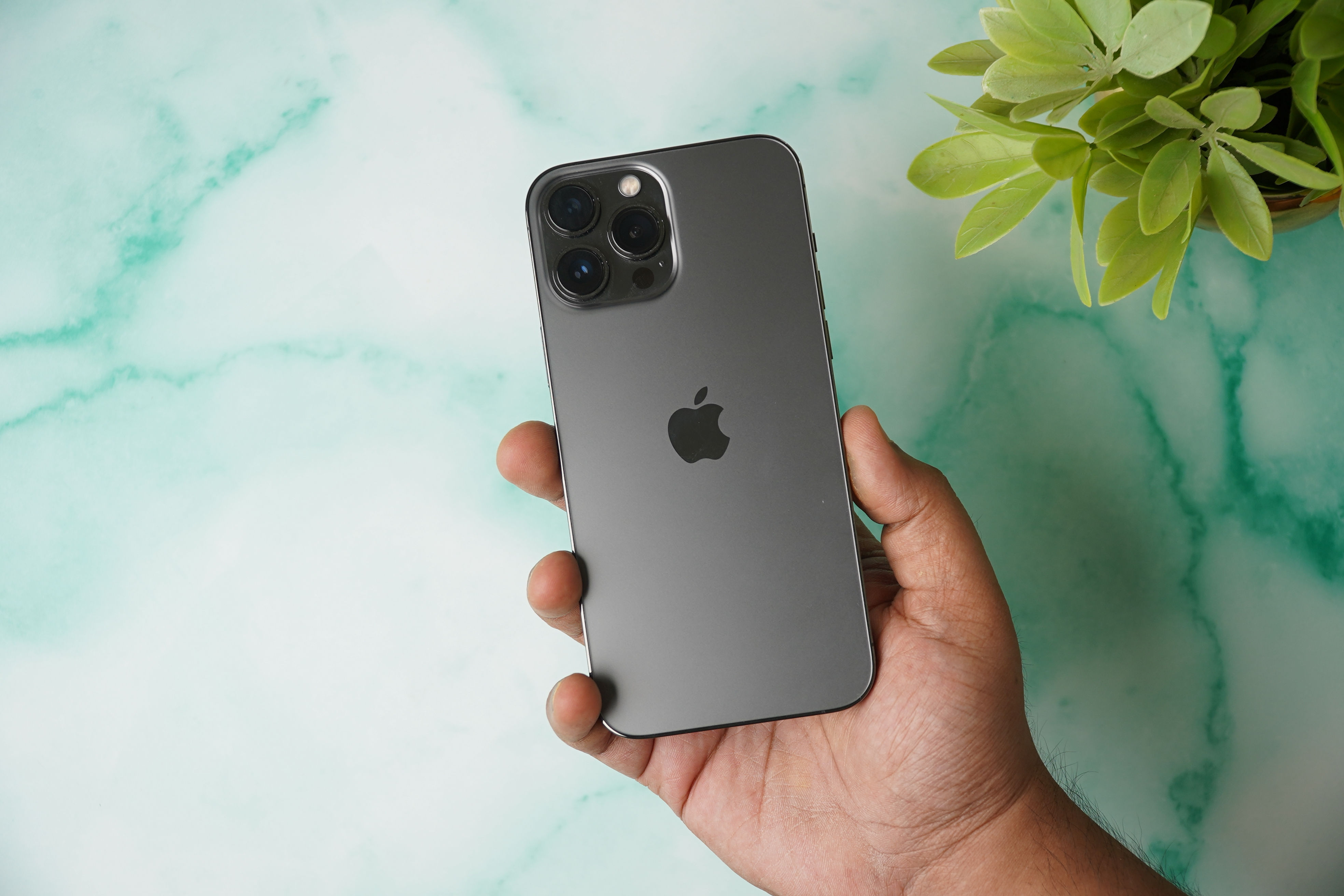 The 13 Pro Max is nearly identical in design compared to the 12 Pro Max. You get the same glass sandwich design with a flashy, smudge-magnet stainless steel rail. And, there's a new Sierra Blue colour which looks really nice. Although ours is the graphite variant, which is a classic and will probably find more takers.
However, there are three distinctive changes:
The camera rings are considerably larger in size to accommodate the larger sensors. It is slightly thicker too, making it wobble quite a bit on a flat surface. A case, like this official Sequoia Green leather case I have here, is vital.
The notch has been redesigned. It is now 20% smaller than before. One of the ways Apple has achieved this is by pushing the earpiece from the centre to the top. Plus, the placement of the selfie camera lens has moved to the left instead of the right. Basically, just a whole lot of rearranging components. Considering there are no functional advantages to a smaller notch — for example, you still cannot add the battery percentage indicator despite the extra space — I am mostly indifferent to this change. Furthermore, there are strong rumours that suggest the iPhone 14 Pro series will come with a Hole Punch cut-out next year. So, folks who absolutely detest the notch should probably skip the 13 series this year.
Considering there is a larger battery and bigger camera sensors inside the 13 Pro Max compared to 12 Pro Max, it is also 12g heavier now. In fact, the iPhone 13 Pro Max is heavier than the Samsung Galaxy S21 Ultra as well. And, the flat sides don't help with the in-hand feel, which I firmly believe is better on the S21 Ultra. I find it more comfortable to hold and use Samsung's phone thanks to the rounded edges. Now, if I had to pick one iPhone from the Pro lineup, I'd go with the iPhone 13 Pro for its more manageable size. And, to top it off, apart from the battery life and the size, almost everything else is identical on the Pro and the Pro Max variants this time.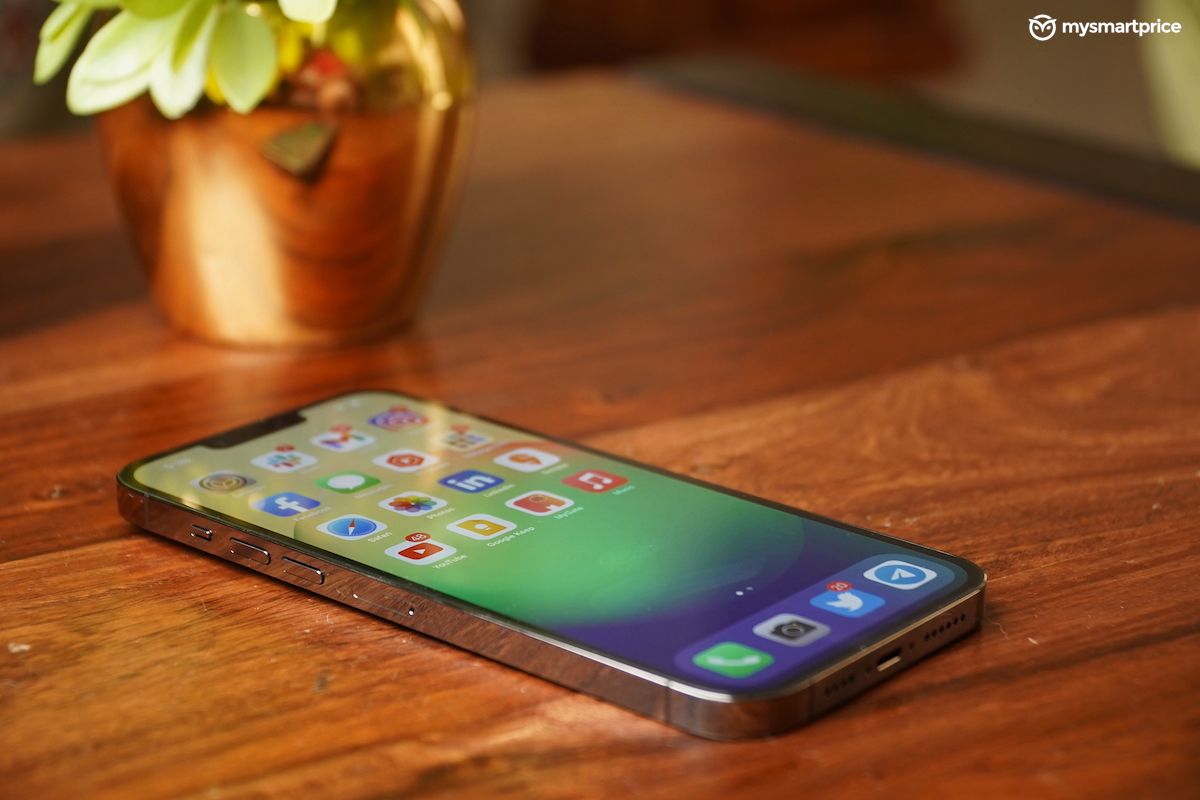 Another design element that I want to bring your attention to is the lightning port. With the European Union (EU) rule proposing that all smartphones should be sold with USB-C chargers, there is a high possibility that Apple might have to make the shift to Type-C or go for a completely portless design in the next two years — which, by the way, is the time EU has given brands to comply.
I completely support that move, not just for the sake of uniformity but for one other reason. The lightning port on the iPhone 13 Pro Max continues to max out at USB 2.0 speeds. This is going to be a huge problem when ProRes hits by the end of the year. Apparently, a 1-minute ProRes video takes up, up to 6GB of space! Which is why you have a 1TB variant this year. That said, for proper professional work, even that might not suffice. So, filmmakers using the iPhone will need to transfer footage to an external storage. And, that won't happen real time because of slow transfer speeds. So yeah, USB-C on iPhones can't come soon enough. And considering it already exists on other products like the iPad Pros and new iPad Mini, it makes even more sense to actually pull the trigger.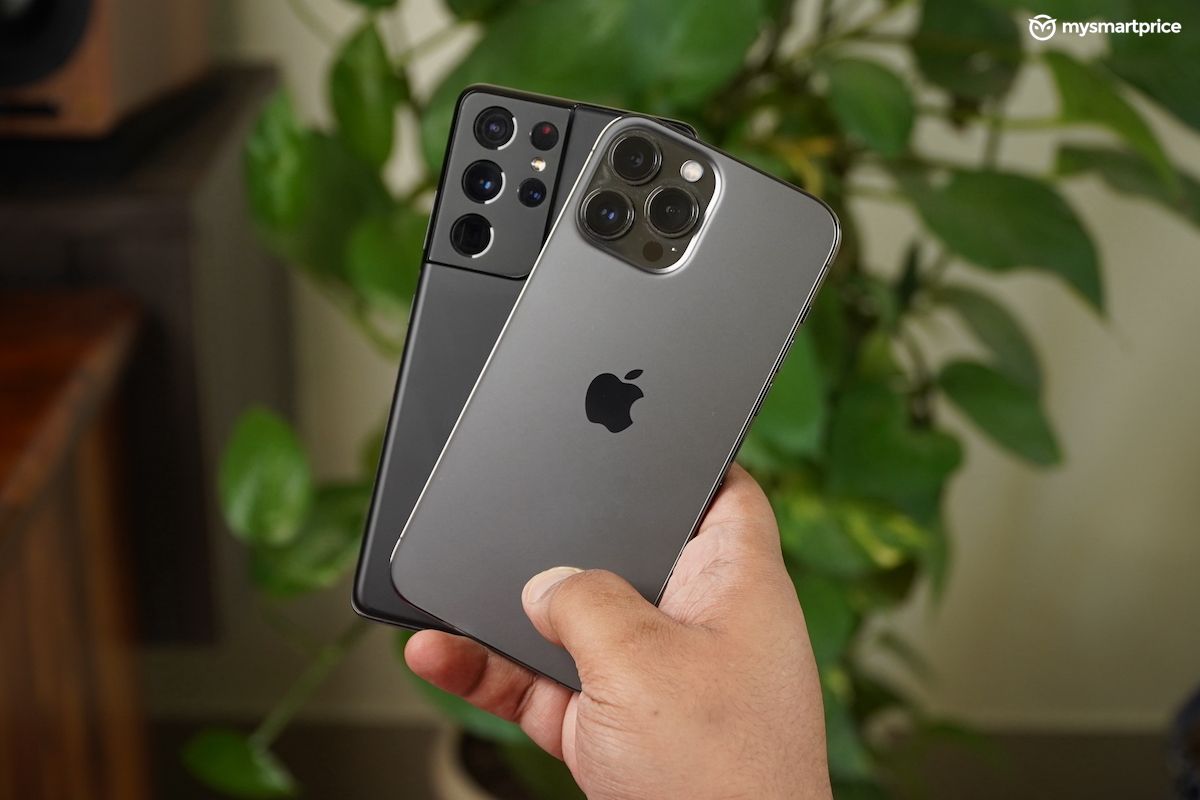 So overall, when you look at the design, the iPhone 13 Pro Max is an exquisitely designed, polished piece of hardware that screams premium. But, so is the Galaxy S21 Ultra. And, Samsung's phone has better ergonomics to boot.
Display
The biggest upgrade to the Pro lineup of iPhones this year is the 120Hz LTPO adaptive refresh rate OLED Panel. To my eyes, the jump from a 60Hz iPhone 12 display to 120Hz on 13 Pro Max was not very huge. That's because iOS' animations are tuned smoothly, by default. Despite that, the same finely tuned scrolling inertia setting is a treat to experience with the new 120Hz panel. However, I do also really like the way Galaxy S21 Ultra also tunes its 120Hz LTPO panel. So, I don't think anyone can tell one is better than the other.
Anyway, there's been a debacle about how a few third-party apps cannot display animations at 120fps yet. Apple has confirmed it is a bug and will be fixed in a future update. In any case, let me also explain the nuances. What is actually happening is that in affected third-party apps, scrolling and full screen transitions happen at 120fps but other animations do not. By the way, certain apps such as Zomato – which currently runs at 60fps – will need to 'unlock' 120Hz support by adding a key to a .plist file.
But, my bigger concern is gaming at 120fps. Because that is where things will change drastically. I tried nearly 15 odd games that currently offer the 120fps gaming on the iPad Pro. And, I can only confirm one game, Project RIP, to be working at 120fps. It has an option to adjust frame-rates in the settings. On the flipside, a game like Grid, which offers 120fps in its Performance+ mode on the iPad Pro, doesn't offer that setting on the iPhone…yet. But yeah, I am guessing this situation will change soon as well. So, let's wait and watch.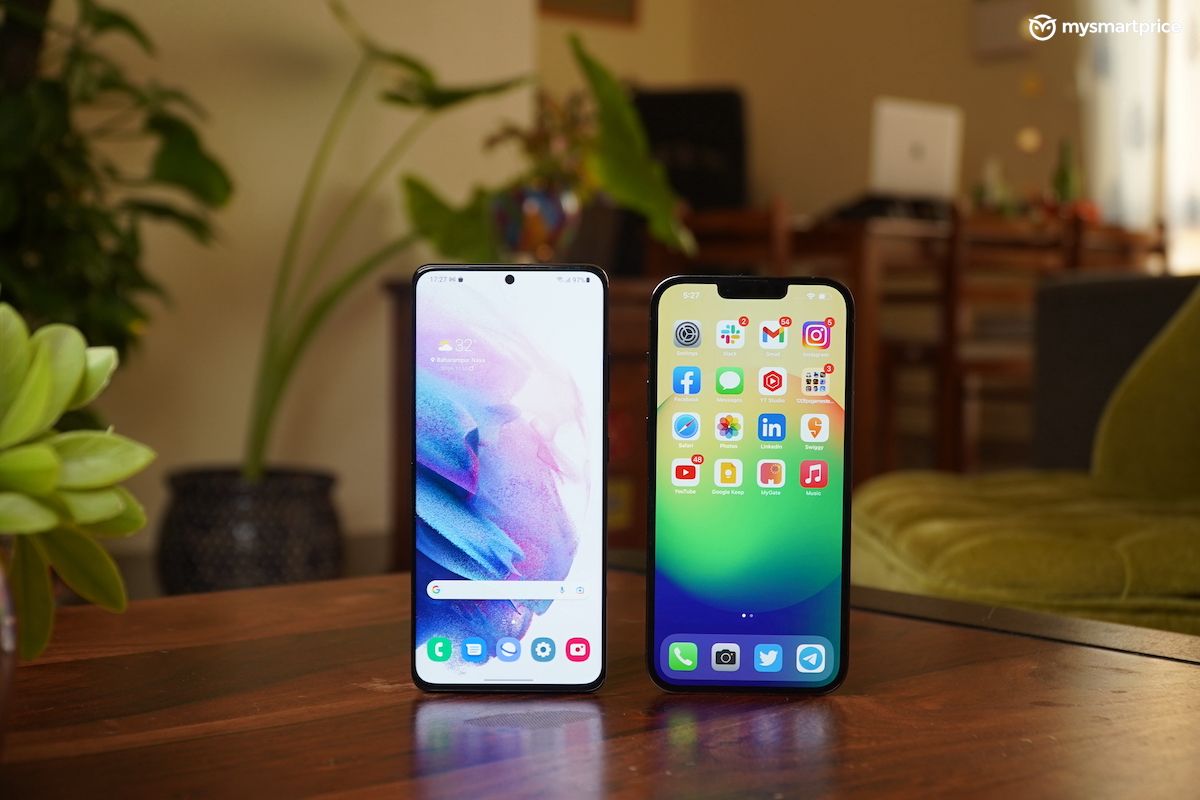 As for the colour accuracy, I don't even have to say it – the iPhone 13 Pro Max is just fantastic. So, is the Galaxy S21 Ultra for that matter. In fact, the S21 Ultra has one advantage. It could achieve a higher peak brightness in our HDR test pattern inside a 9% window. Although, I did measure a higher brightness on the iPhone 13 Pro Max when I pushed the brightness slider to the maximum on both the phones. In fact, in daily usage, I can tell the iPhone 13 Pro Max is a tad bit brighter.
While the iPhone 13 Pro Max has a fantastic LTPO display, the Galaxy S21 Ultra is equally good if not better. Honestly, you cannot go wrong with either phone's display.
Camera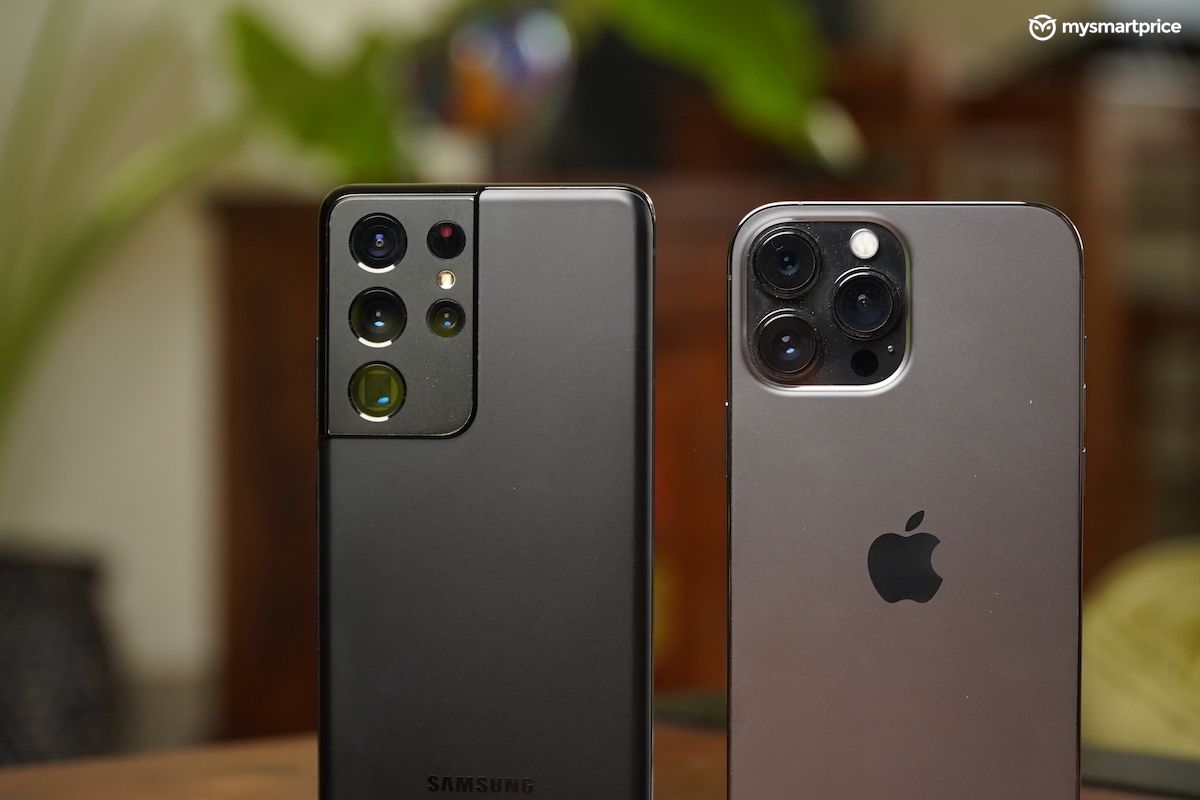 The biggest upgrade on the iPhone 13 Pro Max are the cameras on the phone. For this portion of my review I am going to direct you to my extremely detailed camera test and comparison versus the previous generation iPhone 12 Pro Max and the Samsung Galaxy S21 Ultra. Pause this article and go check it right now. For those who don't want to do that, well here's a quick summary of the findings:
Photographic Styles are a legit useful feature that lets you shoot by pre-determining the look that you generally prefer. It's like setting Picture Profiles on your Mirrorless/DSLR camera. It can replicate the contrasty look of a Pixel or a cool look of a Samsung as per your preference. But yes, you cannot do it post capturing an image because that would then destroy the details in the image. Plus, Apple does a very good job of maintaining facial tones across different Styles but sometimes there are issues with Indian face tones.
Cinematic mode is super fun to use. Yes, the algorithm needs to improve over time especially when it comes to getting Focus Racking right. But, I am a believer!
The 13 Pro Max's biggest advantage is its clean low light performance with extremely noise-free readouts.
Daylight shots offer close to accurate colours while shooting landscape photos in the Standard Photographic style.
However, sometimes I did notice that human subject shots offer a warm facial tone especially when shooting in against the light. But, generally the facial tones were true to source. Portrait shots and edge cutout were great too.
The selfies on the S21 Ultra are better. Whether in daylight or low light.
Smart HDR 4 algorithm works very well to improve High Dynamic Range performance on the main camera.
The ultrawide definitely performs really well in low light. Plus, it doubles up as a macro shooter as well. Something the iPhone has never had. I just wished we had a way to switch it off. Thankfully, Apple has promised an update for the same. But otherwise, Samsung has a better ultrawide setup with sharper details and better dynamic range.
Upgraded telephoto zoom crops in closer now at 3x optical zoom and offers good low light shots thanks to the support for Night Mode.
iPhone 13 Pro Max continues to be the king of smartphones when capturing videos.
And, let's not forget ProRAW is possibly the most friendly RAW capture mechanism on a phone. I've managed to achieve some fantastic final edits from ProRAW captures because it was convenient to use. And, I was using it more often too.
I am sure that professional photographers are going to absolutely appreciate the iPhone 13 Pro Max's camera upgrades. And, It is definitely a better camera system than the iPhone 12 Pro Max, technically.
iPhone 13 Pro Max Camera Samples
As for the Galaxy S21 Ultra, you do get slightly better ultrawide pictures in daylight from Samsung's phone plus the telephoto performance is just leagues better. And, there is still no match for Samsung's 40MP selfie camera on the Galaxy S21 Ultra. Furthermore, pictures from the main camera in daylight condition are pretty comparable to the iPhone 13 Pro Max as well. Samsung does lose out to the iPhone 13 Pro Max when it comes to video recording and colour accuracy, though.
Overall, most regular users will be perfectly happy with both the camera systems. But, I reiterate, professional photographers are bound to appreciate the improvements Apple has made to the camera setup on the iPhone 13 Pro Max.
Software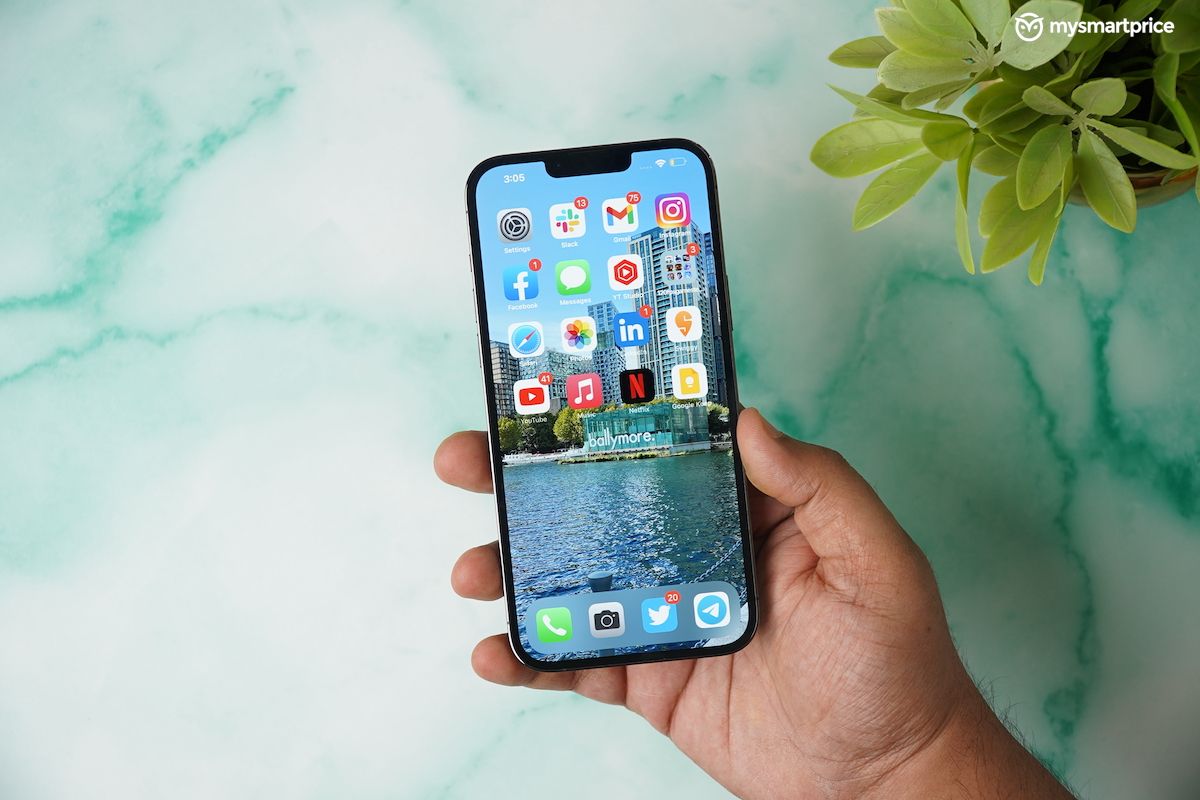 Goes without saying that the iPhone 13 Pro Max comes with iOS 15 out of the box. It is not a visual overhaul, so you might not see too many immediate changes. But, there are a few upgrades that enhance user experience by leaps and bounds.
Siri now offers on-device processing and can work offline with certain commands too. It is blazing fast to respond to these commands. I have now graduated from using Siri from just setting alarms to actually performing system level changes like switching off the dark mode, Wi-Fi, mobile data, or opening apps.
The new Live Text feature is a fantastic new way to directly copy paste text in the live world and paste it into your digital world – the iPhone. I find a lot of real world use for it.
The new Focus Modes offers more control over your phone and lets you create customised modes depending on your phone usage. For example, in the Work mode – only a couple of apps can send me a notification, all the distracting apps are removed from the homescreen, and only one contact can call me. You can also set Shortcuts and Automations to trigger it based on time of day, and other complex configurations.
Safari has been redesigned now to show the tabs at the bottom. It is quite a bit of a learning curve but it is more intuitive. Plus you can go back to the old style if you don't like it. But, more importantly, I am glad that one can search between tabs now.
There's Portrait mode in Facetime now and a new feature called Shareplay, which lets you watch a show or listen to music with your friends together while you are on the same call. But, the feature is not here yet.
Notifications have been cleaned up slightly. You now have Notification Summaries, which are a good way to see a bunch of notifications together at a time that you like.
While Apple continues to bolster the privacy features on iOS, I particularly like the new feature where you can mask your Apple ID's email address to ensure that you don't share your actual email ID to any service that you don't actually want to.
That said, there are still a few pain points.
I still think iOS is limited in terms of customizability. At least widget sizes should be freely editable on the grid. It'd be really useful.
And, while notification stacking is better now, there is still a lot of scope for improvement and it is still no match for Android.
Now, as for the fork of Android running on the Galaxy S21 Ultra – also known as OneUI – I really don't want to get into the discussion if it is better than iOS or not. It is seriously a matter of personal preference now. Let me know which one you like, and why, in the comments below.
Performance and Network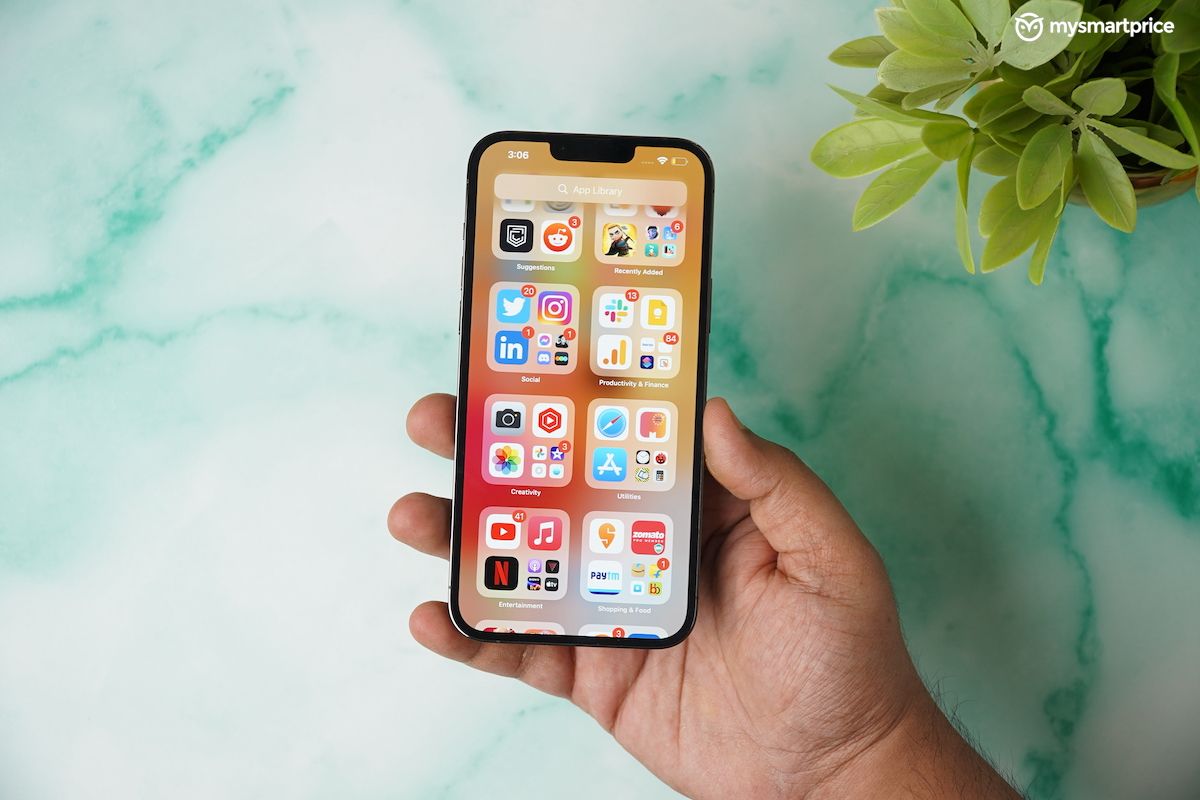 Now, let me get the basics out of the way, when it comes to performance. The call quality and 4G network performance is spotless, you get support for Wi-Fi 6 speeds and multiple 5G bands, the dual stereo speaker setup sounds as rich and loud as usual, and you can do Hi-Res lossless audio streaming from Apple Music using the lightning port using the right tools. Oh, and let's not forget, with iOS 15 you can also upscale your regular stream of stereo audio to Spatial audio. It's all just aces.
Coming to the A15 Bionic. I ran a few benchmark tests and the lead that Apple has over the Qualcomm's latest Snapdragon chip just keeps extending. There are two cross platform benchmarking apps that clearly showcase this lead. Take a look at our Geekbench and 3DMark Wild Life tests. The numbers just speak for themselves. Especially the GPU scores on the 13 Pro Max are just bonkers. In fact, the 5-core GPU on the 13 Pro Max legit scores more points in 3DMark compared to the four core GPU inside the iPhone 13! Did you notice that I didn't even add the Samsung Galaxy S21 Ultra with Exynos 2100 in here for comparison? Because the benchmark scores are really not up to the mark.
And, when I play any game on the iPhone 13 Pro Max all those performance gains are clearly visible. For example, I have Grid on Android as well but not a single Android phone offers the level of graphical fidelity that the iPhone 13 Pro Max can achieve. Plus, playing Project RIP at 120fps makes me really want Call of Duty: Mobile to be updated to support 120fps. Fun fact: the Mi 11 Ultra can already play the game at 120fps. I hope, by Christmas, we'll have a much larger roster of games that can do 120 frames, considering that now devs have the incentive to push an update since the install base is going to be much larger.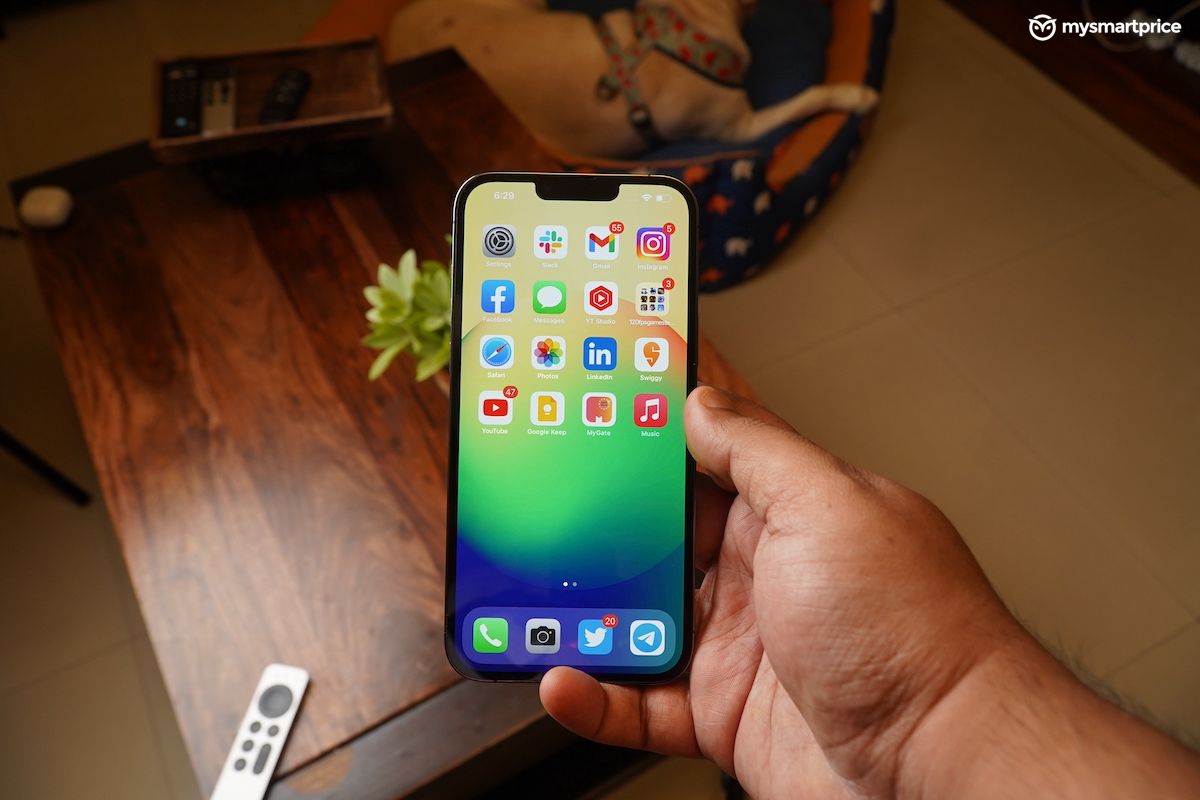 I also tried playing for longer durations on the phone to see the sustained performance. Well, it was pretty good. It takes two hours of continuously playing Genshin Impact for the iPhone to reduce the brightness, but that's not too bad. But, if you do stress the processor, it gets warm around the camera region. However, it is not as bad as it was on the iPhone 12 Pro Max. The 13 Pro Max does run cooler.
I am going out on a limb and saying this. The iPhone 13 Pro Max is the best gaming phone out there. Even more so than the ASUS ROG Phone 5 (Review).
Battery Life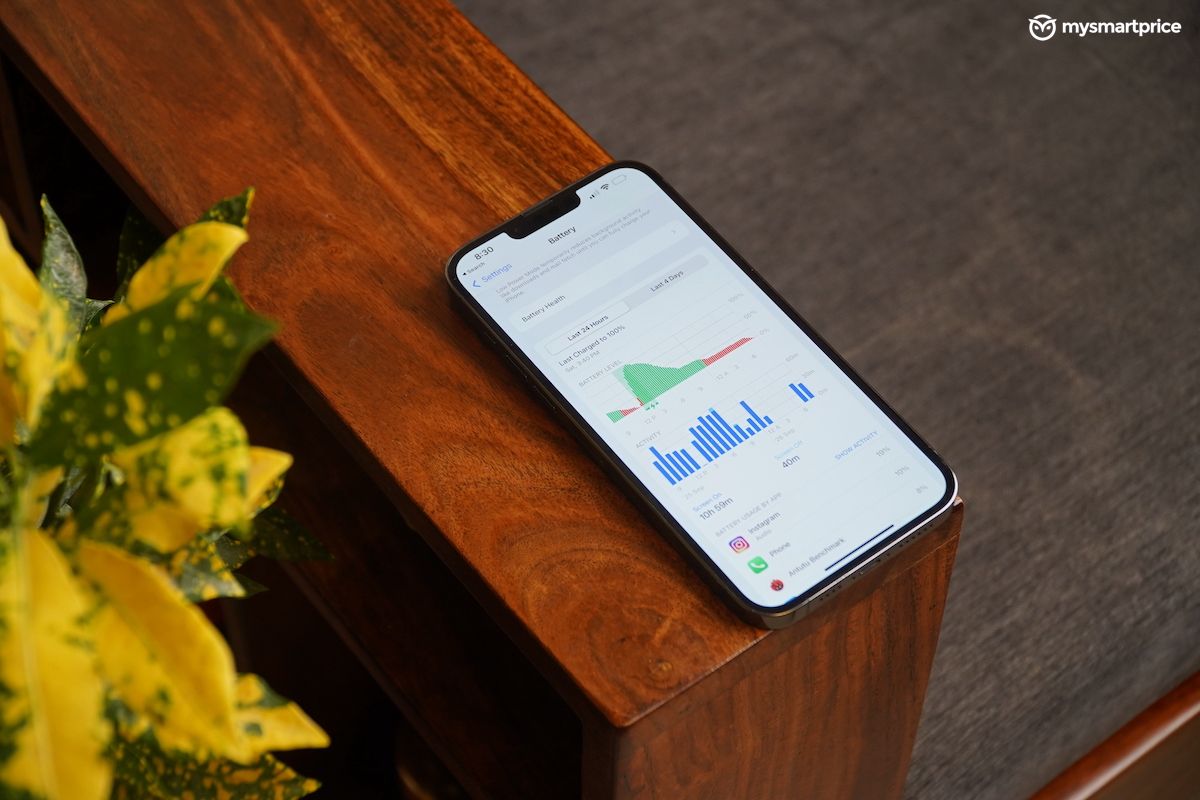 If there's one reason why I am going to recommend an iPhone 13 Pro Max to a lot of folks, it has to be for the fantastic battery life. I've been chronicling my experience in tweets and let me put it out there – you can easily get 9hrs 30mins to 10hrs of screen on time on this beast, on moderate usage. The only concern is that standard wired charging speeds are still very slow. It took me 2 hours and 10 minutes to charge the battery from 0% to 100%. Goes without saying that MagSafe is going to be even slower. Which begs the question, will Apple actually compromise on wireless charging's speed limitations to go for an all portless iPhone? Considering they had a 5W charger bundled with their iPhones for the longest time, I don't think we can put it past them.
(P.S. Apparently, the 13 Pro Max can touch up to 27W charging speeds and can charge much faster — 0% to 100% in under an hour and 30 minutes. I haven't had a chance to test that theory out, yet. I shall update the review once I run the test.)
Should You Buy the iPhone 13 Pro Max?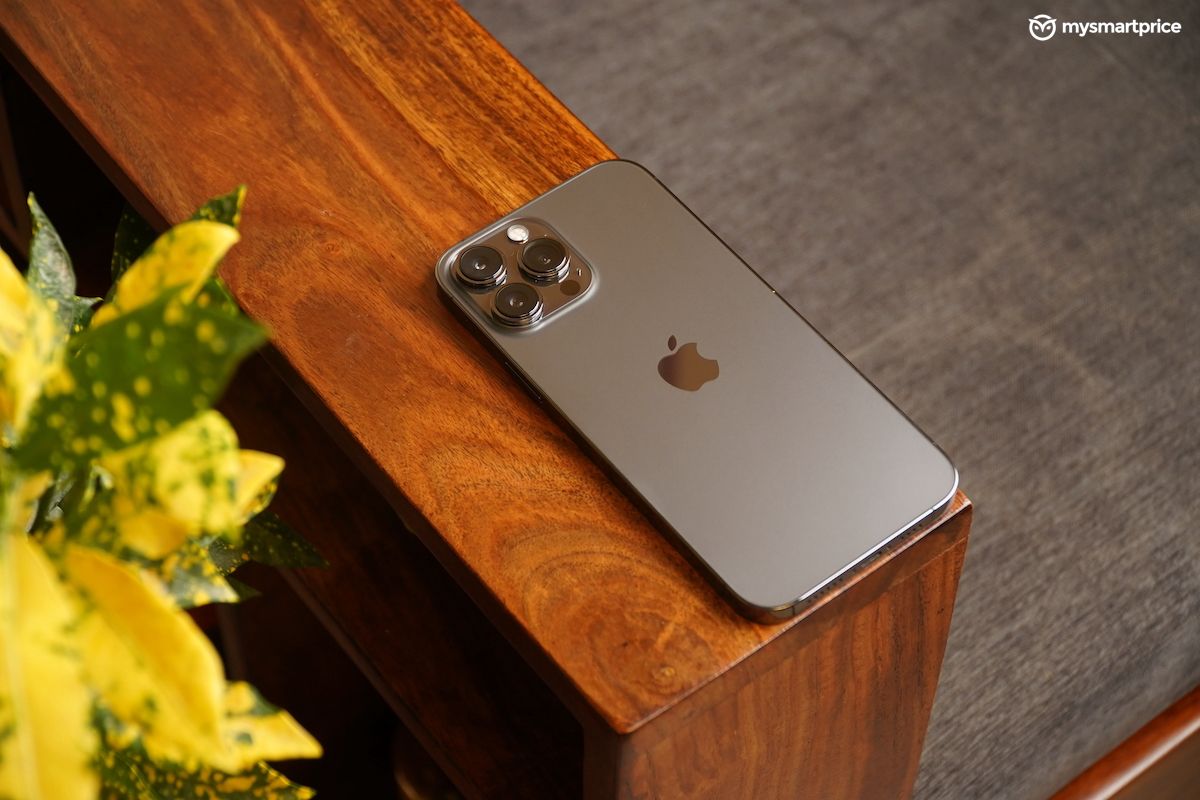 See, one thing's for certain. The iPhone 13 Pro Max is super expensive. It starts at Rs 1,29,900. So, if you are buying a Pro variant of the iPhone you need to be absolutely sure you want to spend that kind of money. Unless you are Hrithik Roshan, then you can proudly buy one for yourself, your entire family, and your staff.
Let's presume you have made up your mind. In that case, if you can live with a lower battery life and a smaller size, then it makes absolute sense to save 10k and pick up the 13 Pro instead. In fact, I would've done that. As for the Galaxy S21 Ultra, it is definitely more affordable but my sincere suggestion is, find the Snapdragon variant somehow. It will offer better camera performance and, while Exynos 2100 has hugely improved, the Snapdragon variant will be more powerful overall.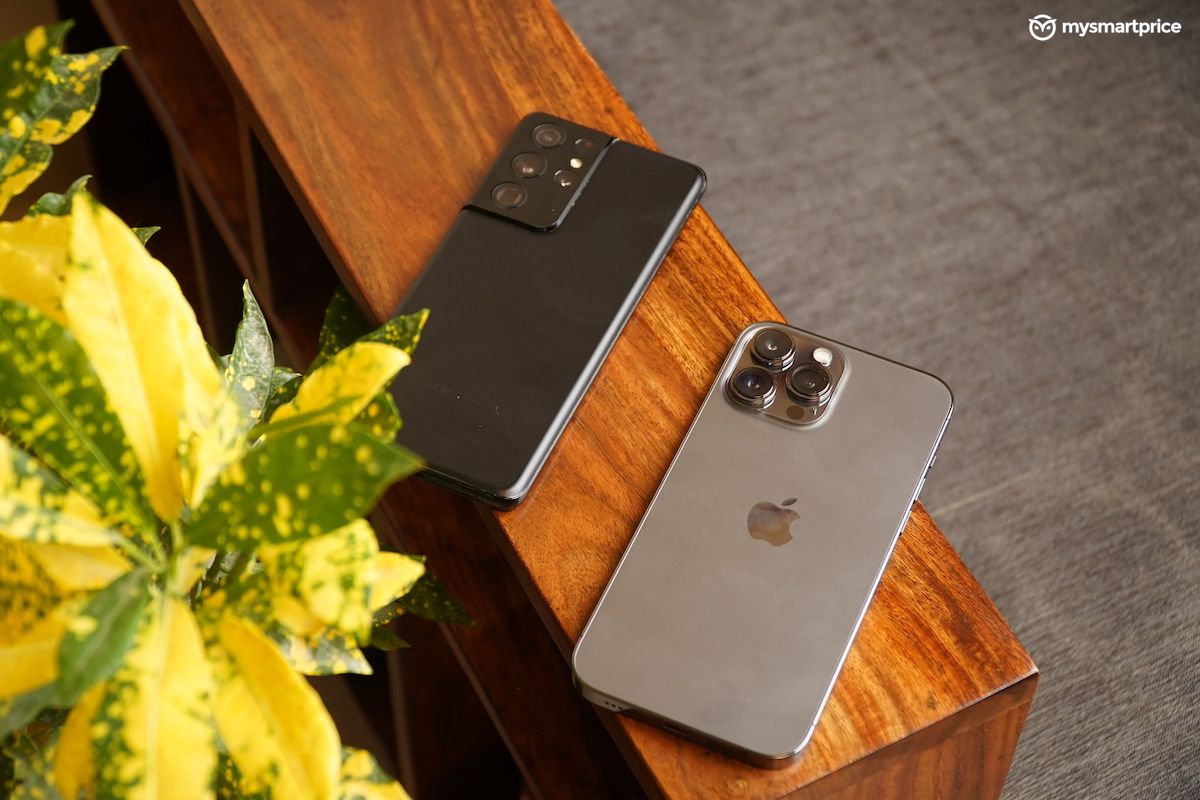 Or, just wait for the S22 Ultra – the AMD partnership for better GPU performance is really looking interesting now. You can also spend more and get the Galaxy Z Fold 3 (review) instead. That phone is definitely at the forefront of cutting edge innovation. It can turn into a tablet in an instant for God's sake. You can flex it, literally and figuratively, in front of your friends with the phone.
Whereas, the iPhone 13 Pro Max continues to play it safe and keeps it simple. But, this time around, with all the upgrades, it really lives up to its Pro moniker. Which is why, unless you are not a hardcore user who loves tweaking every single camera setting or pushing the limits of the A15 Bionic, and thereby stressing the battery, I'd say you'd be perfectly alright with an iPhone 13. A review for which is dropping soon. So, stay tuned for that.
Hope that helps you make a decision. And, hope you liked our review.