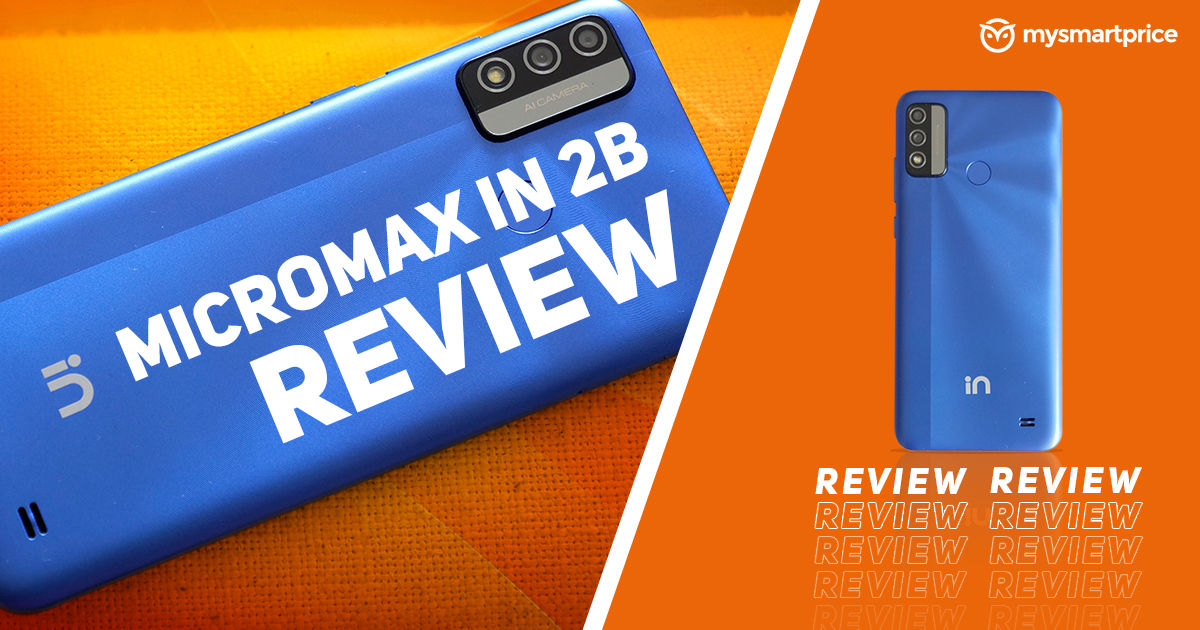 Micromax made their grand comeback riding on the Anti-China sentiment last year, urging Indians to say no to Chinese products and go all 'In for India'. If you too felt like this pitch really spoke to the patriot in you, you'll be really pleased to know that Micromax has launched their latest phone with a processor from a 100% Chinese company (details here). Now I don't see anything wrong with that, since this must be done to provide the best value to the end consumer at a competitive price point, but why were the people who are just trying to buy a good phone in their limited budgets made to feel bad just because they wanted to buy a Chinese phone instead of going for an underwhelming non-Chinese option? Why did all of us tech journalists have to listen to abuses and threats for doing our job? Just because a company thought that it's good "marketing". That's all it was. That's all it always is. Remember that.
Coming to today's product, the IN 2b is the 4th Micromax smartphone since their comeback last year, and it's a direct successor to the 1b, which turned out to be surprisingly good. With the 2b, all the basics stay the same, the only big change coming in the form of a brand new chipset. After spending about a week testing this phone and comparing it to its competition in the sub-10K price segment, I have a lot to say about this phone.
Micromax IN 2b Build & Design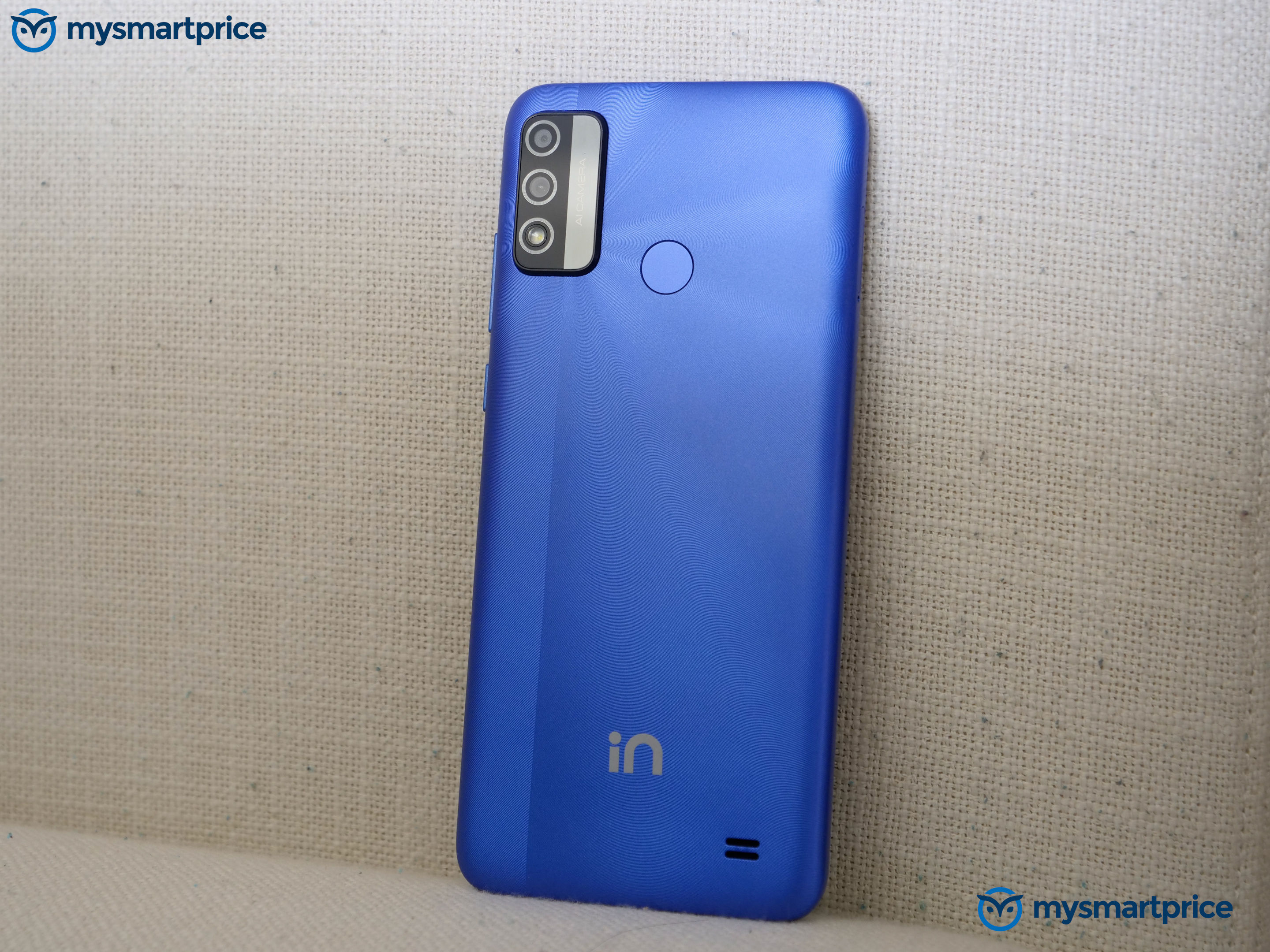 Micromax has really improved the box packaging quality since the last time out, and we get a TPU case and screen protector bundled in with the phone. The charger and type-C charging cable do feel slightly sub-standard though and feel as though they were sourced from a third party and put in this box. Let's get to the phone now, we have the Blue color variant with us and at first glance it looked eerily similar to the Redmi 9 Power from last year.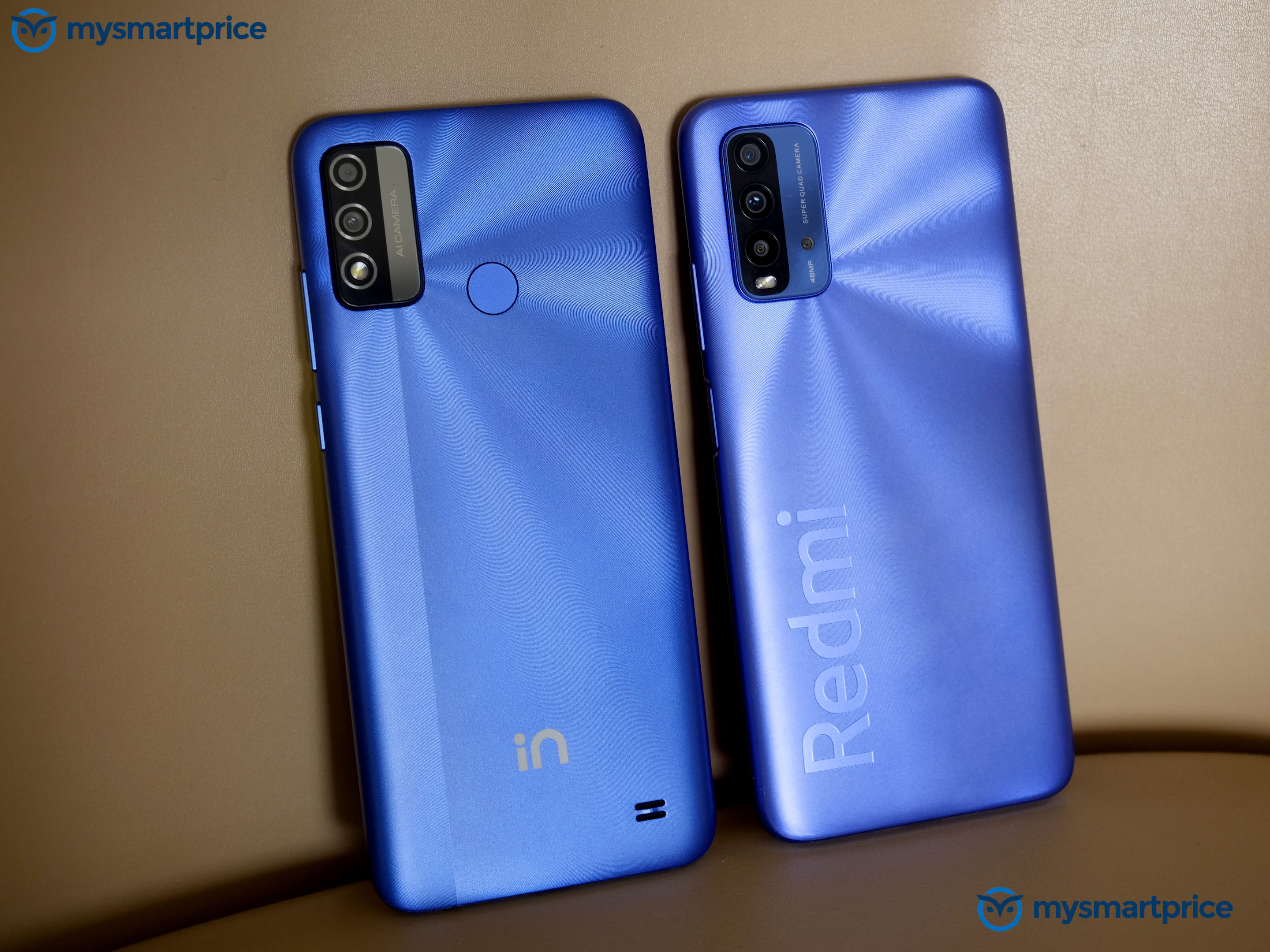 The build quality feels slightly better from the IN 1b too, with no creaking or flexing of the plastic body. It's a textured finish back, so it won't get scratched or smudged easily. The camera module is now considerably raised from the back, so the phone wobbles quite a bit when laid flat. The fingerprint scanner is still on the back, and so is the single speaker.
We get a type-C port, 3.5mm headphone jack and the sole microphone on the bottom edge, and all these ports feel like they were punched in in a hurry, missing the central alignment completely. On the left edge is the triple slot SIM tray, and both the power and volume buttons are placed on the right edge. The dedicated Google Assistant button from IN 1b is absent this time.
The phone weighs about 190grams and at 8.5mm thickness, isn't too bulky to hold or use. Overall, except for the inspired aesthetics, it's a well designed phone with pretty much everything you'd expect in this segment.
Micromax IN 2b Display & Multimedia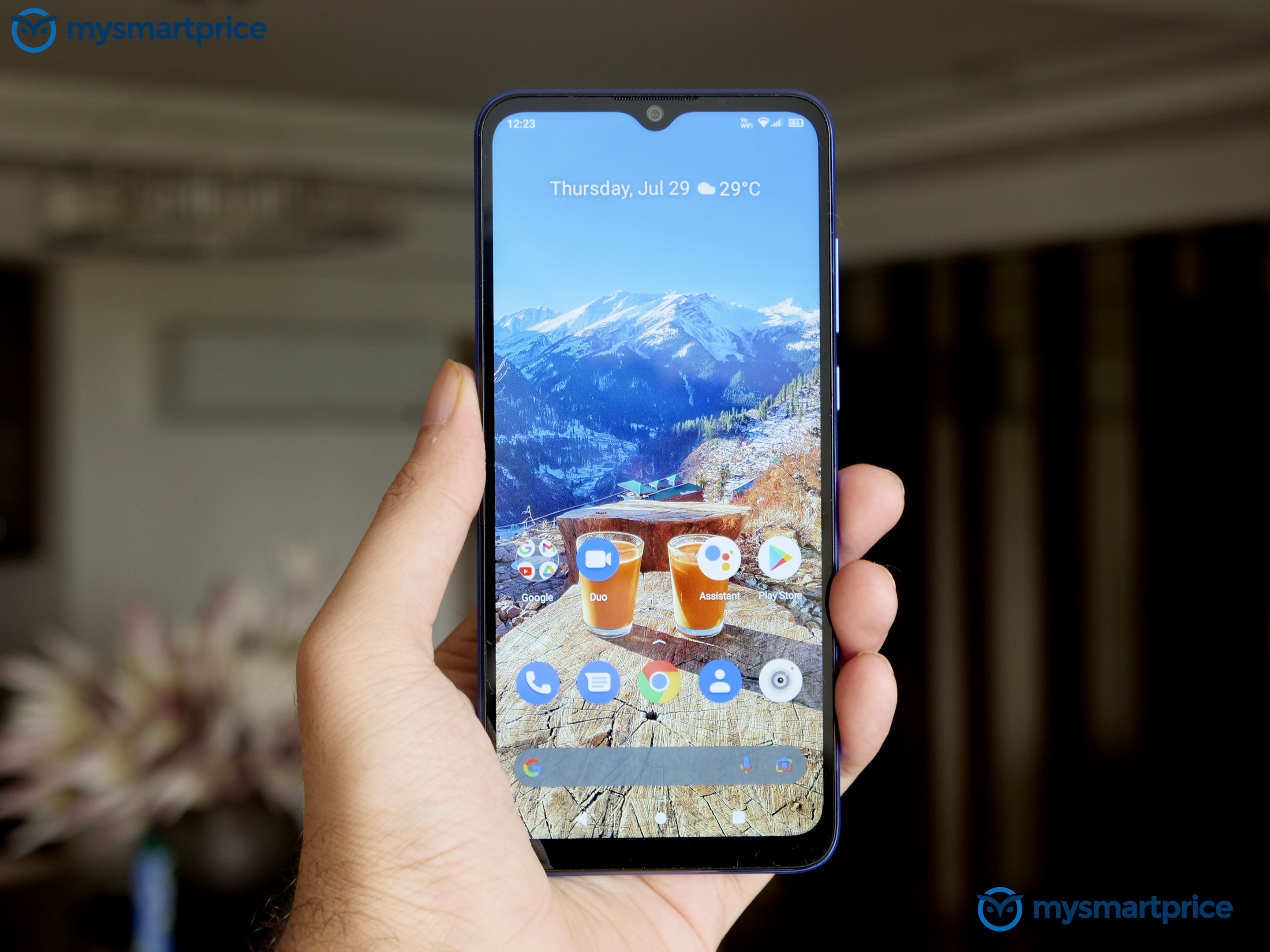 The front of the device is practically unchanged from the 1b, with a 6.5 inch LCD packed between a thick lower chin and a water-drop notch up top. Credit where it's due, Micromax hasn't skimped on the oleophobic coating, making the screen glass mostly smudge free. The screen itself is a 720p panel, with a claimed peak brightness of 400 nits. In our testing, I could measure about 300 nits of brightness in indoor conditions.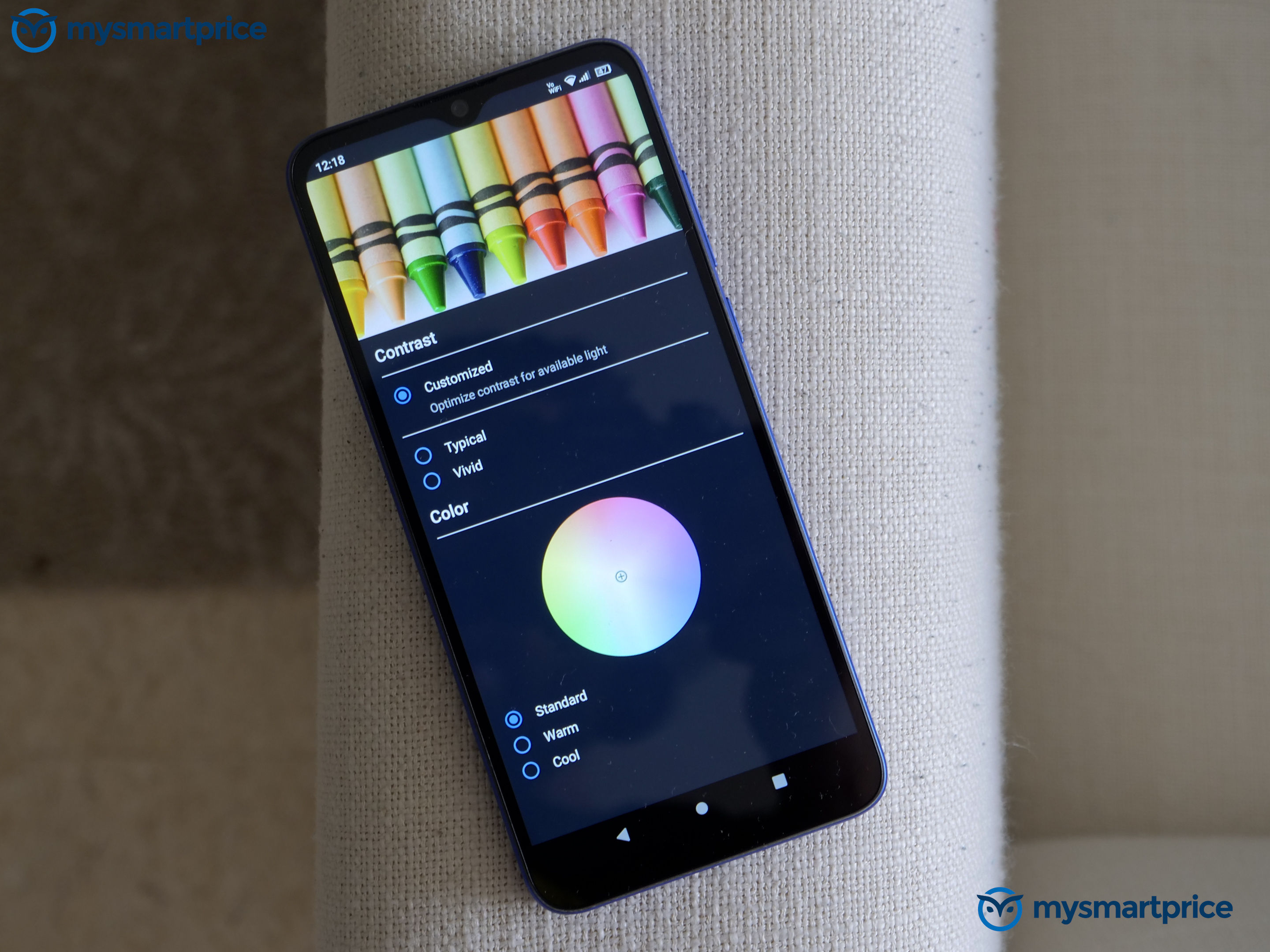 The screen feels sufficiently bright indoors, however the outdoor visibility is just about enough. For context, the Narzo 30A packs in a much brighter screen. The viewing angles are just about average too, but that's not a problem as long as you're looking at your phone head on. The screen otherwise is quite good for the price. Micromax has added some new color tuning options and I was satisfied with the video watching experience on the 2b. Of Course a 1080p screen would have been much better for text and stuff, but that's just how this segment is right now.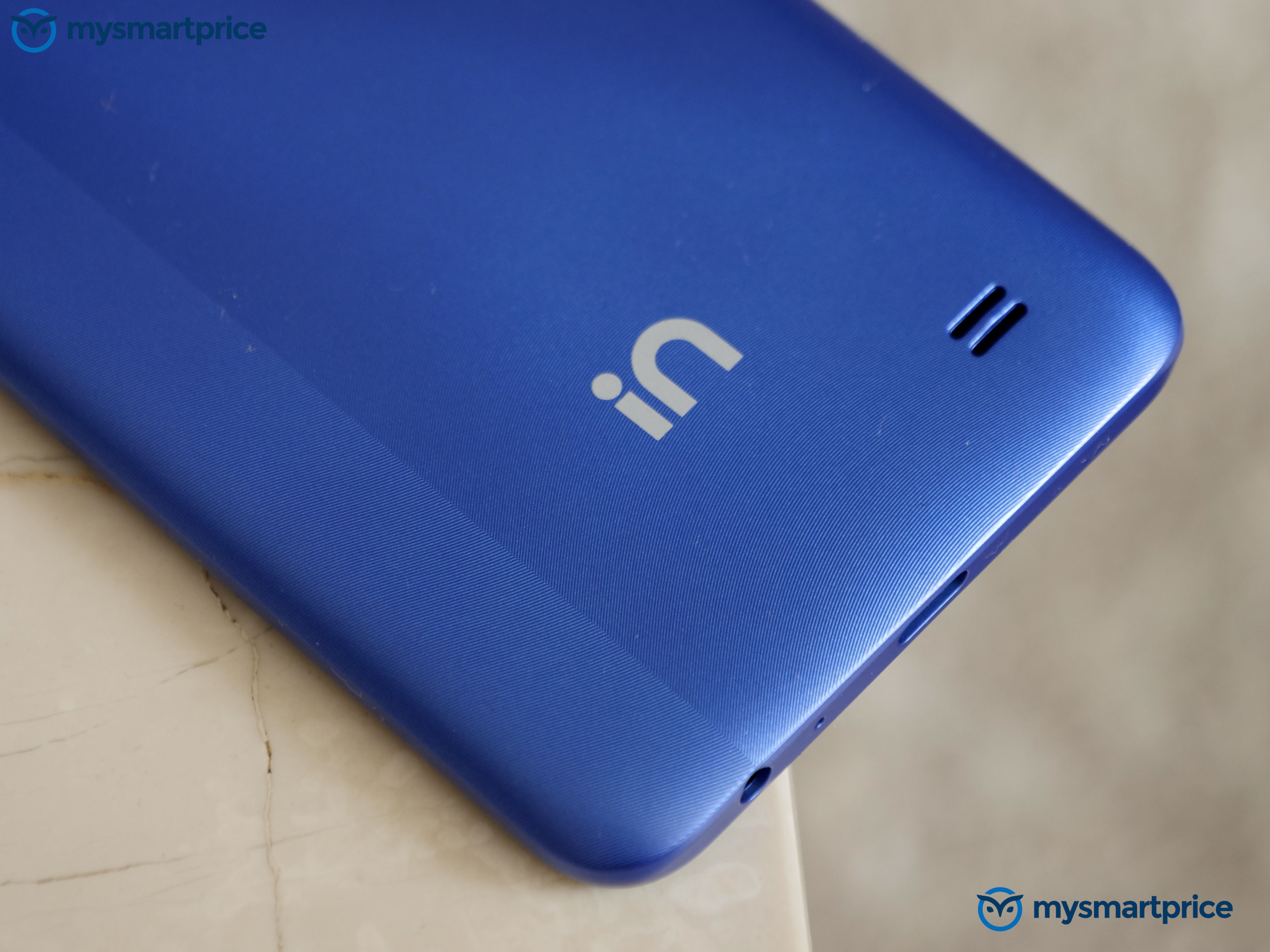 What doesn't feel satisfactory is the single speaker that is still placed at the back of the phone. It's always firing away from you, taking away from the already tiny sound. Whatever is the reason for this decision, I hope they move the speaker to the bottom edge in the next iteration.
Micromax IN 2b Performance & Software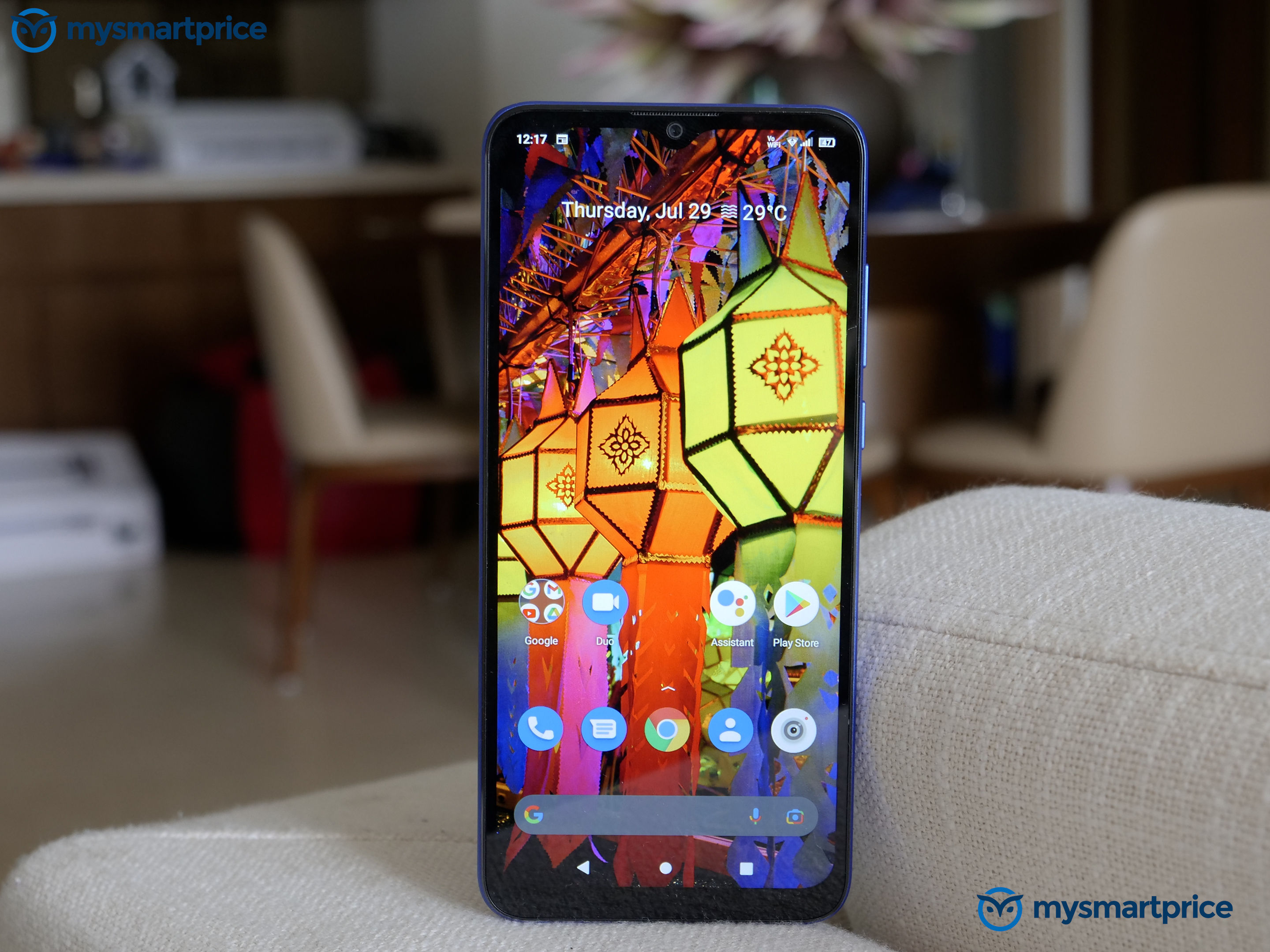 Micromax has done well to offer the In 2b directly in a 4/64GB model, instead of the 2/32GB like its predecessor. There's also a 6GB RAM variant, but I don't think that'll make any difference in your usage. The main talking point of the phone is the brand-new Unisoc T610 processor that this phone uses. It's a 12nm chip, with two A75 cores and 6 A55 cores, very similar to the Helio G70/G80/G85 lineup. It also shares the same GPU – a Mali G52. Micromax is talking about the T610 ditching the traditional big.LITTLE cluster design in favor of a single cluster, however I couldn't notice any difference in terms of real life performance You can check out the benchmarks scores in the charts below.
Case in point, this is definitely a good step up from the G35 of the IN 1b, but still a few steps behind the Helio G85 that we can now find on phones like the Narzo 30A and Infinix Hot 10s. It's still a good performer though, I didn't really face any major performance issues on the phone during my usage.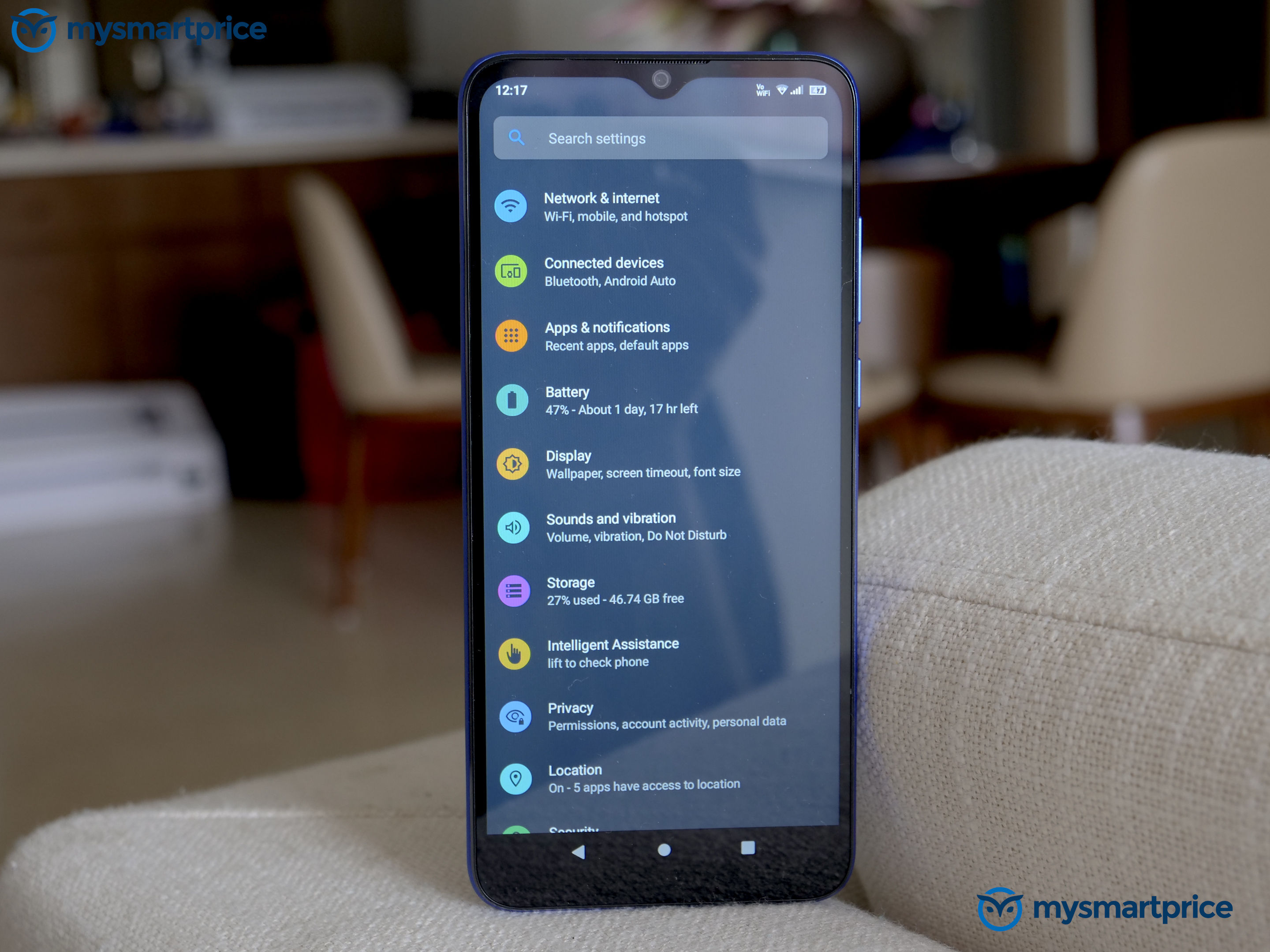 This could also be due to the fact that the software here is as light as it gets, an almost stock Android 11, with a few Micromax things sprinkled here and there. It's such a refreshing feeling to find a phone in this price range that doesn't bombard you with random notifications, and doesn't even come with any sort of bloatware or third party apps pre-installed. Great Job, Micromax.
There's a nice suite of 'Intelligent Assistance' features that Micromax has added, such as shortcuts for toggling the flashlight, launching camera and you can even long press the fingerprint scanner to take a screenshot, click a picture etc. Super useful stuff.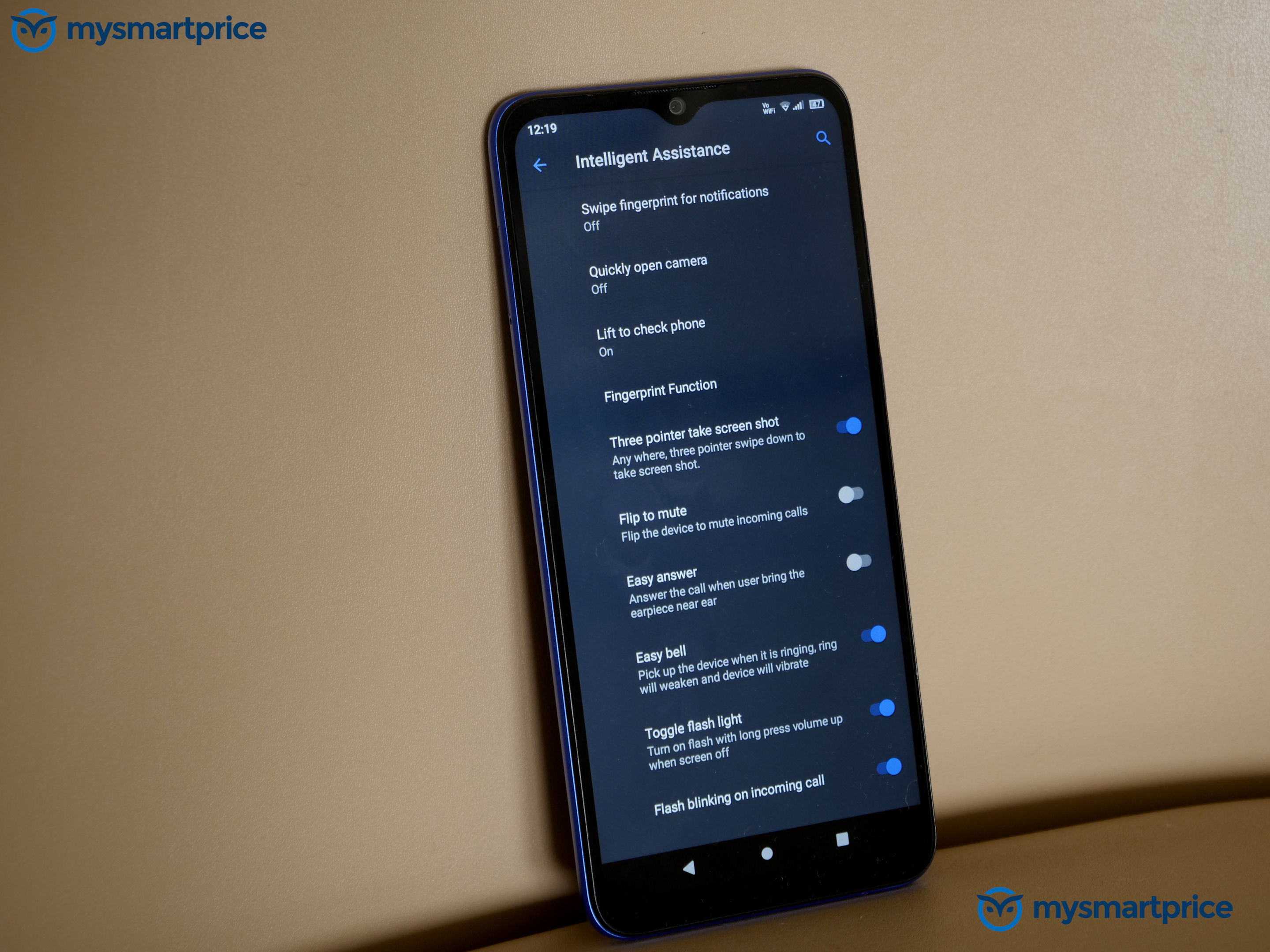 Coming to the gaming performance, the IN 2b can run BGMI on High Graphics at 30fps or Smooth graphics at 40fps. This is the best setting you can find for gaming under Rs 10K, and the gaming performance is on par with what you'd expect from other phones in this price range. That being said, I did notice that the T610 throttles a bit faster than the Helio G85 on the Narzo 30A, so if you're looking to run heavy games for 1.5-2 hours at a stretch, the Narzo 30A might just be a better choice.
Micromax In 2b Battery & Network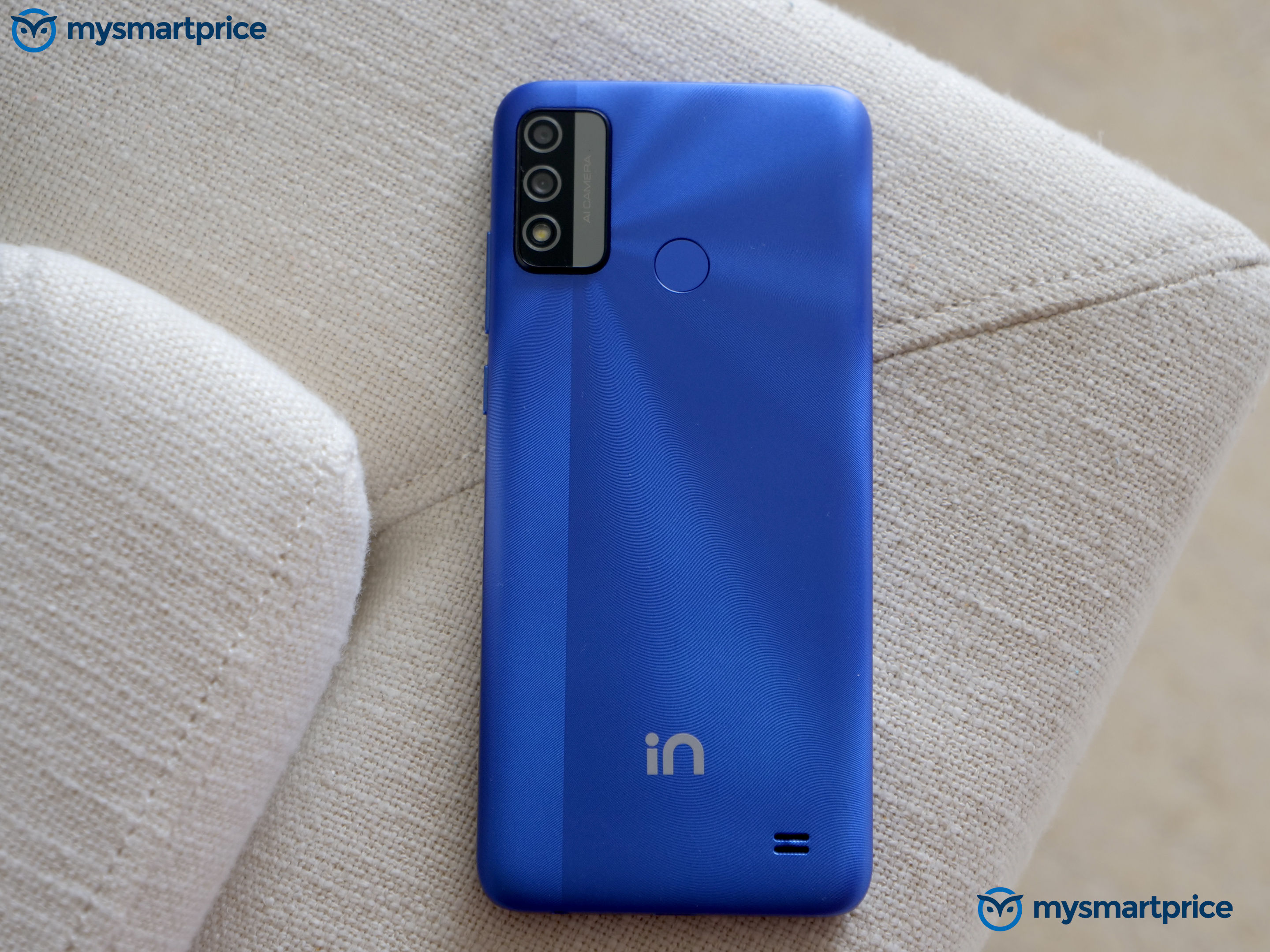 Battery department hasn't seen any real upgrade, with the phone still packing in a 5000mAh battery with support for upto 10W charging. Battery life is good of course, with about 7-8 hours of SoT spread across 1-1.5 days of usage. Obviously phones like the Narzo 30A and Infinix Hot 10s will give you slightly longer battery life with their 6000mAh cells, but I don't think battery life is an issue here. The 10W charger takes about 3-3.5 hours to charge the battery, so you're better off leaving the phone on charge overnight.
As far as network performance goes, Micromax has cut no corners here, with the phone supporting Dual Band Wifi, VoWiFi and VoLTE on both SIMs. I used the phone with an Airtel SIM in Gurugram during my usage, and the network performance, call quality etc was at par with the competition. For those wondering, the phone can't do 4G carrier aggregation. The rear fingerprint scanner works really well most of the time and so does the 2D face unlock option. No complaints here.
Micromax In 2b Cameras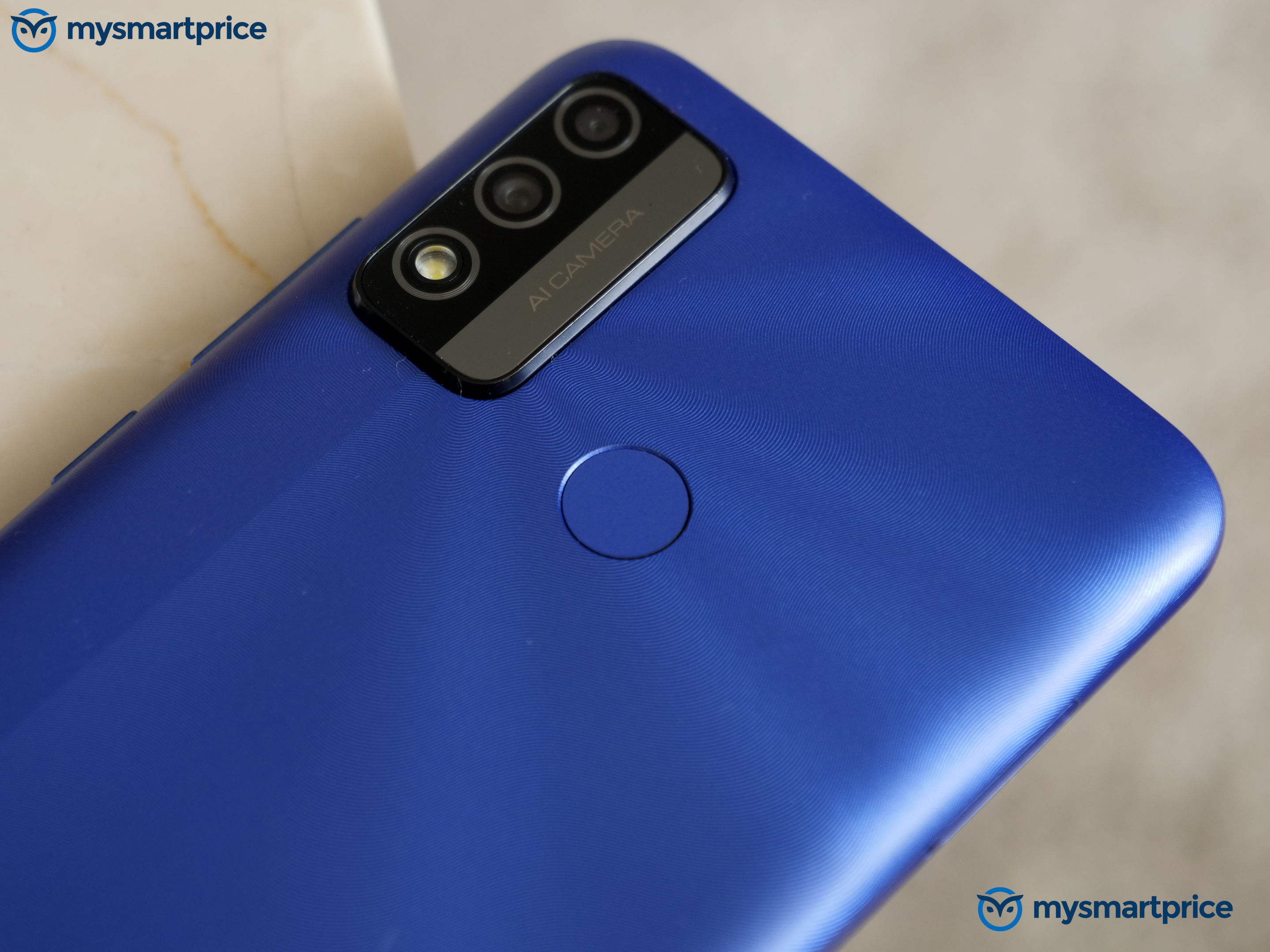 Camera hardware on the IN 2b has seen a downgrade from the 1b. The rear camera is still a 13+2MP setup. The front camera however is now a 5MP one, while the In 1b sported an 8MP selfie camera. I have done a detailed camera review and comparison with the Narzo 30A in my video review here.
To give you a quick summary, the cameras perform decently well for a phone of this price range. But the software tuning still has scope for improvement. Micromax has cleaned up the camera app from last time out, with the HDR toggle now available in normal photos, instead of being a separate mode. It does control the highlights well, although it takes about 2-3 seconds to click an HDR shot so you need to keep your hands really still. Portrait mode is still a hit-or-miss, with very soft facial textures and inconsistent background blur.
Micromax IN 2b Rear Camera Samples
There's night mode present here but that hardly makes any difference. Surprisingly, the night mode shots get clicked in an instant, so even the software doesn't have a lot of info to work on. Selfies, as expected, are a huge downgrade, thanks to the 5MP shooter. There's hardly any details and don't expect to get usable selfies in anything but the best lighting conditions.
Video recording from front and back cameras is limited to 1080p at 30fps. There's no stabilization available here and the video quality is again nothing to write home about. There's a lot of focus hunting, and the colors feel mostly muted. To be fair though, it's not like any other phone in this segment delivers much better camera performance than here. But in case cameras are super important to you, you might want to take a look at phones like the Redmi 9 Prime, Realme C25 etc.
Micromax IN 2b Pricing & Verdict
The most significant upgrade that the IN 2b brings over the 1b is the more powerful processor, truly enabling users to enjoy casual gaming on a budget. Everything else mostly stays the same, with the selfie camera being a downgrade. The cameras, battery and display work exactly how you'd expect from a phone in this segment, but this phone takes the cake when it comes to the software experience. Plus the fact that Micromax offers it directly in a 4GB/64GB configuration, which is a huge advantage over other phones that are still packing 32 gigs of internal storage.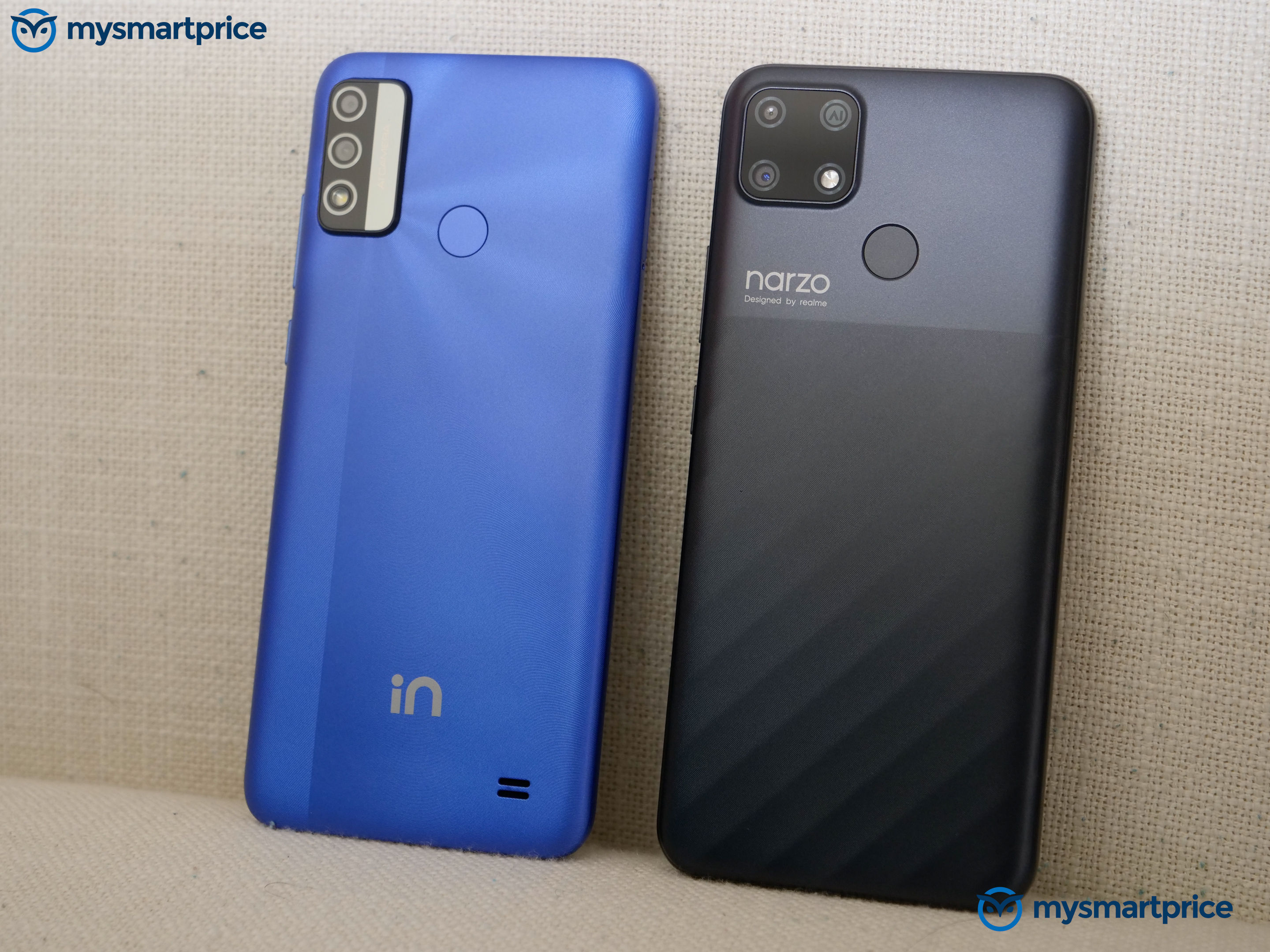 At its starting price, it's an easy recommendation for people who're looking to buy a phone with hassle-free software experience, regular daily usage and don't care too much about selfies. If you're looking for something more powerful, or for heavy gaming, try out the Infinix Hot 10s (review). If you're looking for better cameras and/or better selfies, something like the Narzo 30A or Moto G10 Power might suit you better. Although you'll have to pay upto Rs 9,999 for them. For what it costs, the IN 2b comes across as a great package for people looking for a phone under a strickt budget. Just make sure you remember, when you go 'IN for INdia', you're also partially going 'IN for ChINa'.
Battery Performance
8.0/10
Network Performance
8.5/10
What Is Good?
Stock Android Experience
64GB Base Storage
T610 is a Capable Performer
What Is Bad?
Really Weak Selfies
Inconsistent Image Processing
Weak Speaker