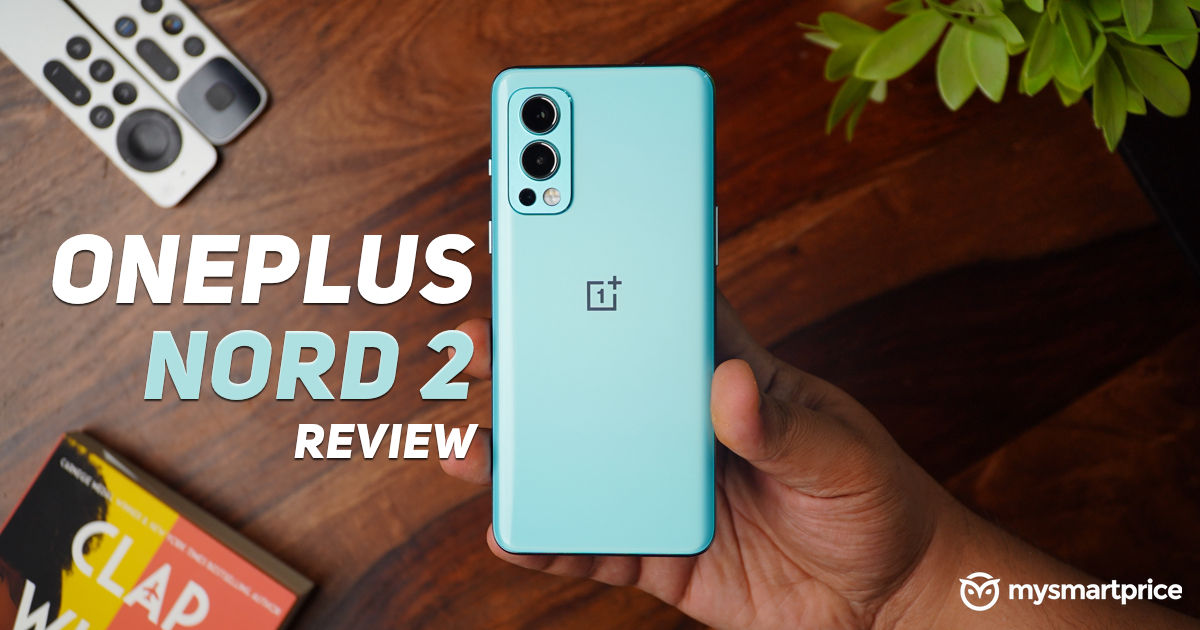 The Nord CE might not have impressed the critics and tech enthusiasts. But, it is truly flying off the shelves as per my industry sources. The Nord lineup is clearly the money spinner for OnePlus. Which is why, there's some anticipation and hype for the Nord 2 5G — the real successor to the hugely popular OnePlus Nord.
Battery Performance
6.8/10
Network Performance
9.5/10
What Is Good?
Attractive, premium design
Alert Slider
Rear camera takes good low light pictures
Selfie camera quality upgrade
Good quality stereo speakers
Great haptic feedback
What Is Bad?
Inconsistent software design
GPU throttling
Peak brightness is lower than competition
Picture processing issues in HDR
It is important to understand a couple of things that happened in the interim period between the Nord CE's launch and the Nord 2's introduction.
OnePlus formally announced that it is going to deeply integrate with OPPO. Not too much of a surprise there, really.

And, Oxygen OS will now share some codebase with Color OS as a result of this integration.
With that in mind, let's thoroughly evaluate the Nord 2 and find out how it fares against some of its immediate competition.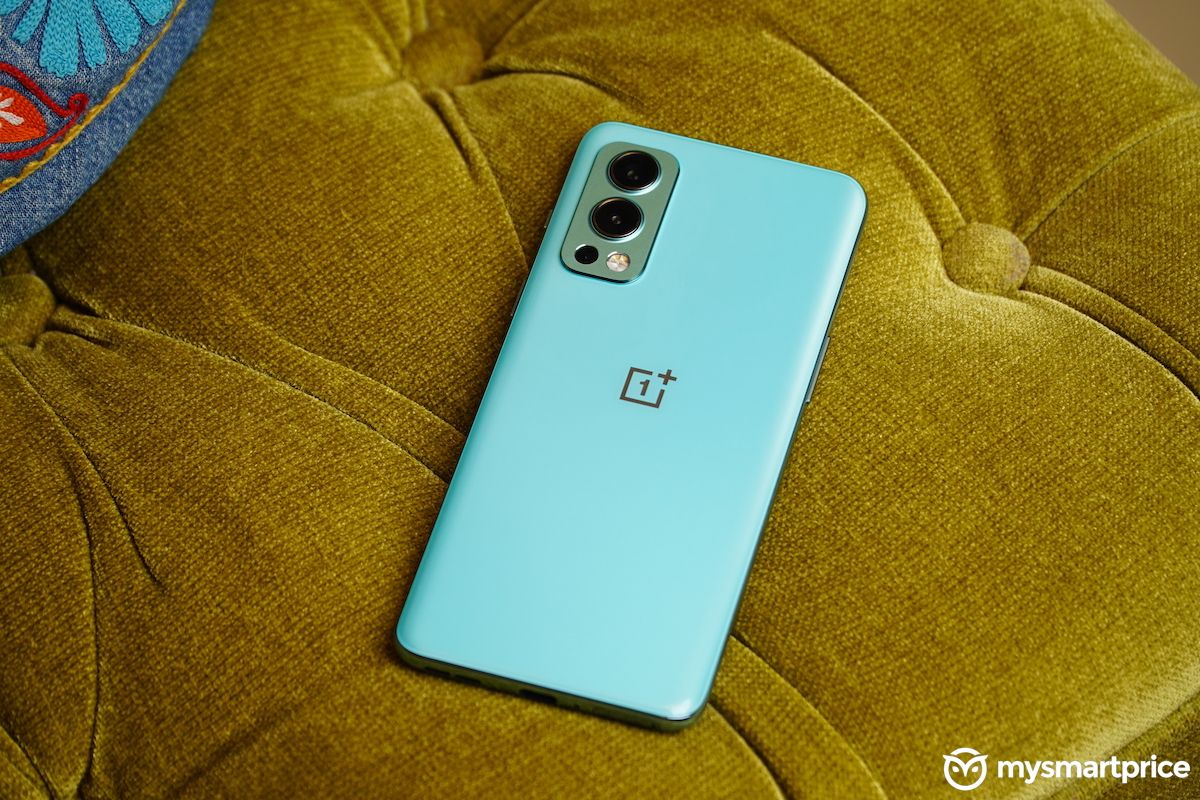 Software
I have never done this before in my previous reviews, but let's talk about software on the Nord 2 first. Because, there are some changes that might piss off long time OnePlus fans.
Essentially, the Nord 2 now runs on Oxygen OS 11.3 based on Android 11 but it also shares Color OS 11.3's codebase. So, what does this mean? Let me break down what I noticed in my testing process: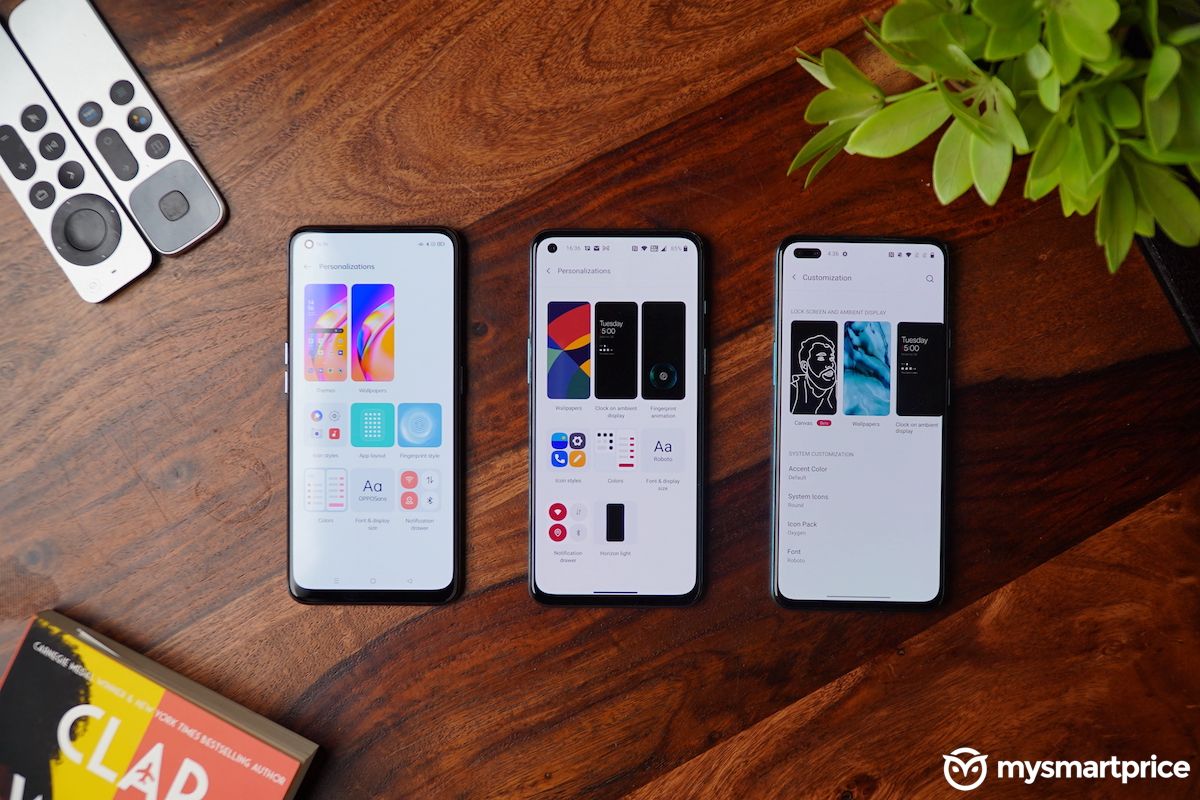 Most of the design, which includes the fonts, the icons and the animations are the same as previous Oxygen OS versions.

Thankfully, there are no bloatware apps that you find on OPPO phones, such as Soloop. OnePlus continues to keep it clean.

The first similarity is very clearly the camera app. OnePlus has completely ported OPPO's camera app and some features too. Which is why the brand is so bullish on the 'AI' pitch. You'll see AI Beautification, AI Photo Enhancement, AI Color Portrait, Dual Video View and more similar OPPO features in this app. It is not offensive or anything. But, I feel OnePlus should've made the design more cohesive instead of just slapping the app without any customisations to match Oxygen OS' design language. Seriously, this feels like a shoddy patch job instead of a clean execution. Anyway, I am more interested in how the camera performs without all of these embellishments, of course. Let me know what you think of this decision by OnePlus?

Here's another example of the inconsistent design. Oxygen OS has borrowed the Floating Messages windows from Color OS now. So, if you get a WhatsApp text while using the camera app or watching a video, you can reply to the text in a floating bubble. But, say you want to enable or disable the feature and you search for "Floating" anything inside the Settings app, nothing pops up. Because, it is called Picture-in-Picture and the feature is inside the App Info for WhatsApp.

Apart from this, OnePlus has overhauled the Settings app to look a lot like Color OS. The individual settings are now laid out like it is on OPPOs interpretation of Android, with the explanation line wiped out. So, it does look clean but a little too threadbare. Anyway, Customisations have changed to Personalisations for example. And, the layout is similar to what we have on Color OS. Notifications, Network settings, and more are now very similar to Color OS' layout. Most importantly, OnePlus now uses OPPO's battery optimisation. Which includes a manual toggle for an Always On High Performance mode. There's just a whole lot more with Settings. I am just scratching the surface here. Again, are you okay with this? Let me know in the comments section below and qualify if you are a OnePlus fan or not with the comment.

You know what, if OnePlus was integrating the codebase, I would want the engineers to let me bulk remove apps from the homescreen. Also, if we are sharing requests, I'd love it if we could search widgets too.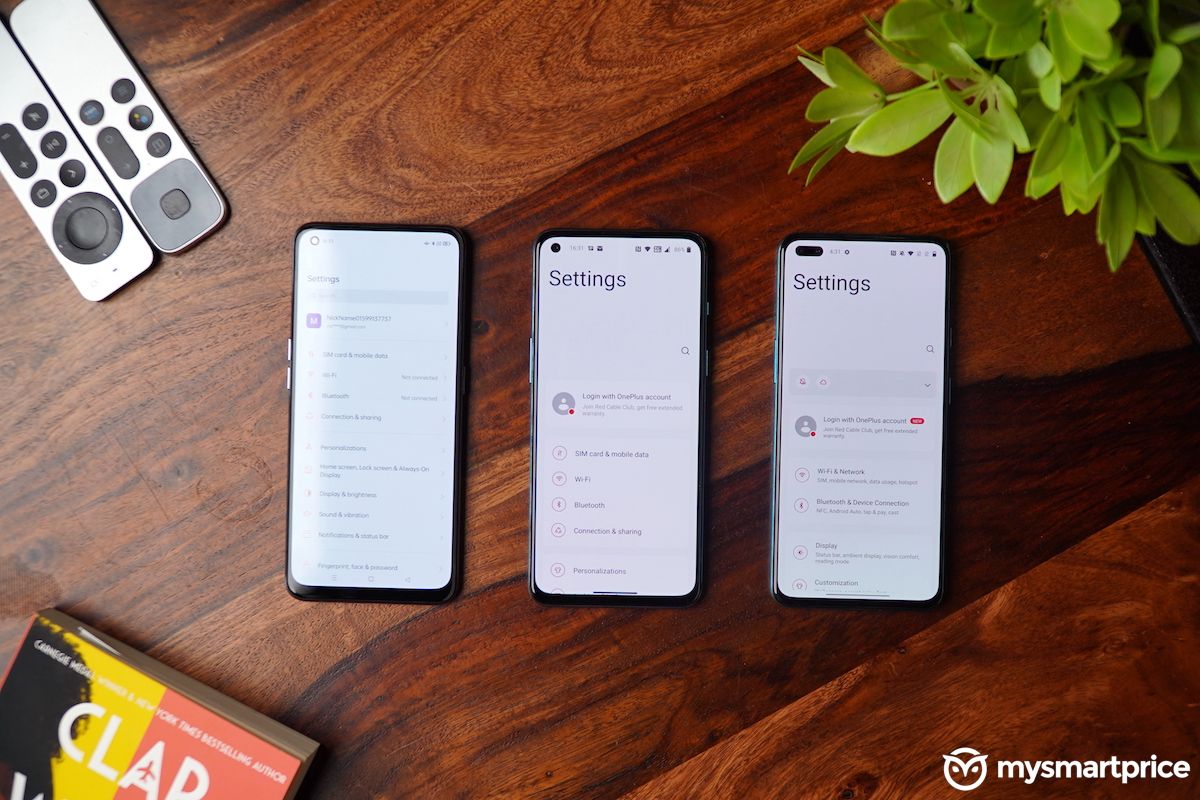 As for the rest of the software, it continues to be extremely well optimised. And, I didn't notice any bugs either. That WhatsApp bug of delayed notifications doesn't exist anymore. If integrating the Color OS codebase will fix Oxygen OS' inherent flaws and introduce faster updates, I am okay with that.
Also read: OnePlus Nord CE 5G Review – Changing Tides
In any case, after experiencing the new software approach on the Nord 2, I am fairly certain that we should brace ourselves for Color OS on future OnePlus phones. In fact, I'd be better if OnePlus just ripped the band aid entirely instead of giving us hope and offering a "neither here, nor there" approach.
Design
Coming to the design, it's nothing fancy. From the rear it looks very similar to the OnePlus 9 series thanks mainly to the design of the camera module. This platform-type design has a base rectangular plate with camera rings on top of it. This entire module is slightly raised from the rear causing it to wobble on a table.
What's interesting is OnePlus' approach of using different textures for different colours. For example, my Blue Haze unit uses a Glossy Glass texture with a coating that keeps fingerprint smudges at bay. But, the camera module has a matte finish texture. In comparison, the Green Wood has a faux leather finish. Anyway, the Blue colour is similar to the OnePlus 8T's Aquamarine Green and not the OnePlus Nord's Blue Marble.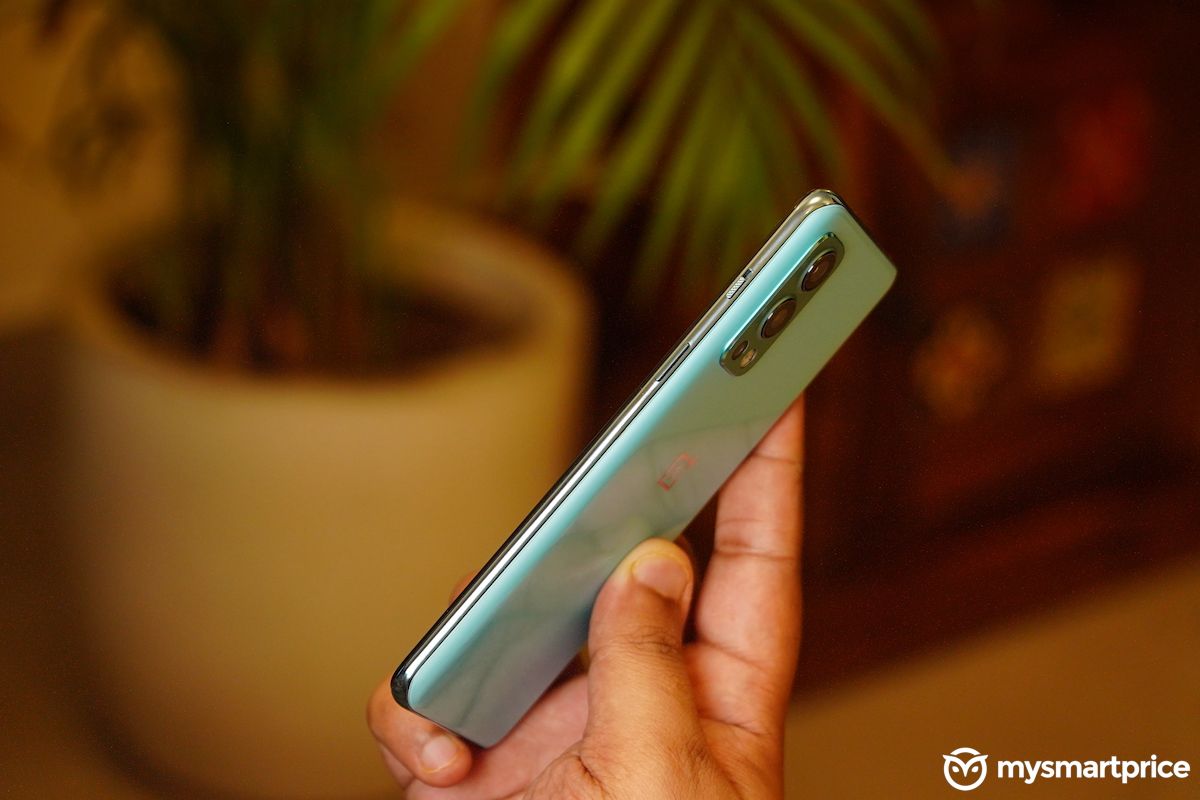 The Nord 2 has a Glass sandwich design with Gorilla Glass 5 on the front and the rear for protection. The frame's outer layer is made of plastic with a fake metal finish, which I am not a fan of. But, the actual frame on the internal portion of the device is made of metal.
After missing out on the Alert Slider on the OnePlus Nord CE, it is refreshing to see that it exists here, albeit in a tinier footprint. I am not complaining about that though, because the convenience is unparalleled. On the flipside, I did also miss the headphone jack that made a comeback on the Nord CE. You do get a set of stereo speakers and it sounds clean and crisp.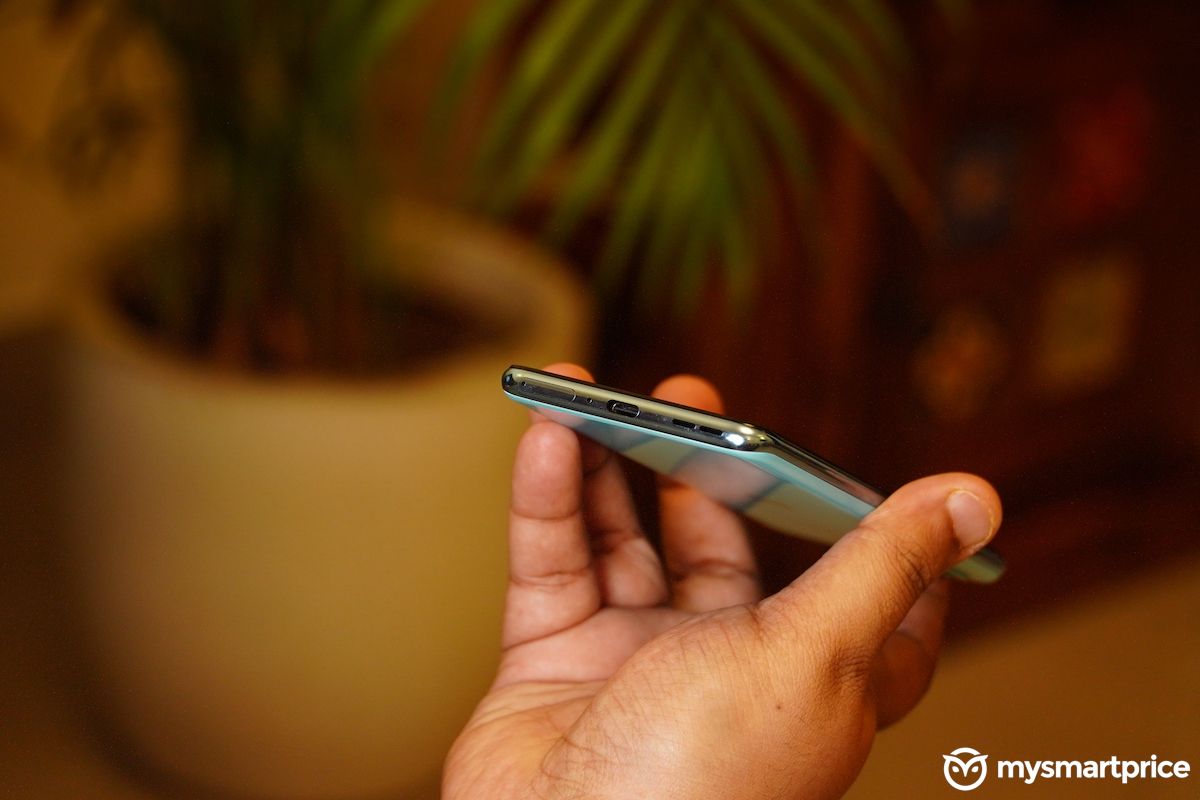 As for the in-hand feel, the Nord 2 feels good, and has a nice heft owing to its 8.25mm thickness and 185g weight. But, I did feel it was slightly top heavy, which affects the ergonomics.
Display
The one area where the OnePlus Nord 2 takes a hit is in its display quality. I was genuinely taken aback by the quality of the panel. OnePlus has definitely made some cutbacks here to save costs, so much so that it is objectively worse than the panel used on the Nord CE. You get a similarly sized 6.43-inch Fluid AMOLED panel with 90Hz refresh rate. It does support up to Display P3 as well. So, what went wrong? Well, two things to be precise: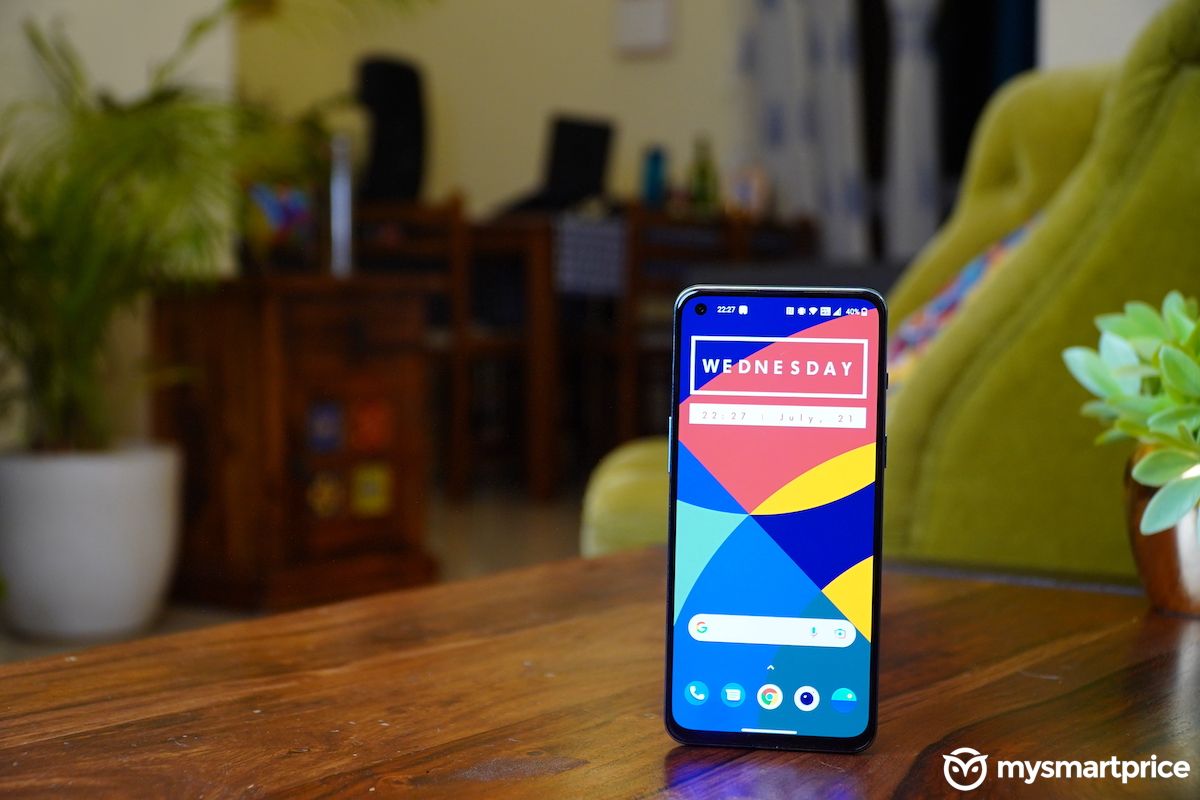 OnePlus' new Screen Color Mode, borrowed from OPPO, offers only a couple of settings, both of which don't offer a natural tuning. The white point is completely off and you can't rely on this display to show you the true-to-source colours.

Secondly, I measured a peak brightness of lower than 800 nits in HDR mode in my standard test video. This is lower than that of the OnePlus Nord CE. And, of course the other competition in this price range.
While, this won't matter for most normal folks and only enthusiasts will sweat over the small stuff, the difference cannot be brushed aside when you are evaluating a product. And, especially when there are other far better displays in the same price range: the iQOO 7 for example.
Also read: OnePlus Nord CE 5G vs iQOO Z3 5G vs Mi 10i Camera Comparison
By the way, while there is support for Widevine L1, OnePlus doesn't offer HDR playback in Netflix on the Nord 2 before launch as per Netflix policy, according to OnePlus. I will leave a comment below if that changes any time soon.
Anyway, OnePlus does add a couple of AI-related enhancements that boosts resolution and colours. And, it truly feels like a pointless gimmick instead of a genuinely useful feature. Please refrain, OnePlus. Please.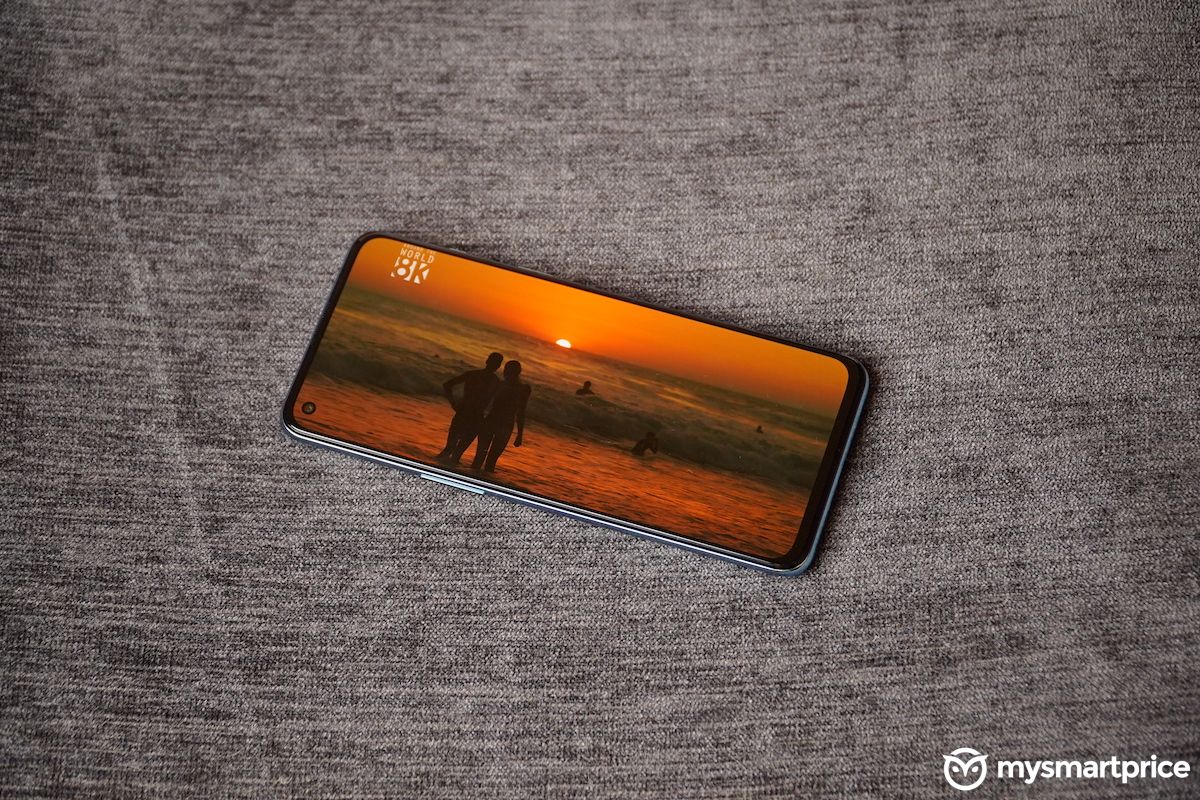 But, there are a couple of redeeming points about the display. The in-display fingerprint scanner is insanely fast at unlocking the phone. And, there's the new haptic 2.0 tuning done by OnePlus on the vibration motor. It offers a genuinely tight response and a sublime feedback as well. I quite enjoyed using the upgraded haptics. In fact, it is as good as the one used by OnePlus 9 Pro, if not better.
Camera
By adding the Sony IMX766 sensor to the Nord 2, OnePlus has definitely piqued a lot of interest in terms of camera performance. This IMX766 sensor is paired to a lens with an aperture of f/1.88. This is a very powerful sensor and was used by the Find X3 Pro's main camera and the OnePlus 9 Pro's ultrawide angle sensor. It has a sensor size of 1/1.56-inches and a pixel size of 1.0μm. There's OIS too.
The rest of the setup includes an 8MP ultrawide angle camera, 2MP mono-lens, and an upgraded 32MP selfie shooter. To test the performance I compared the camera performance to the iQOO 7 and the Mi 11X to find out how it fares. Check it out in our dedicated camera comparison article.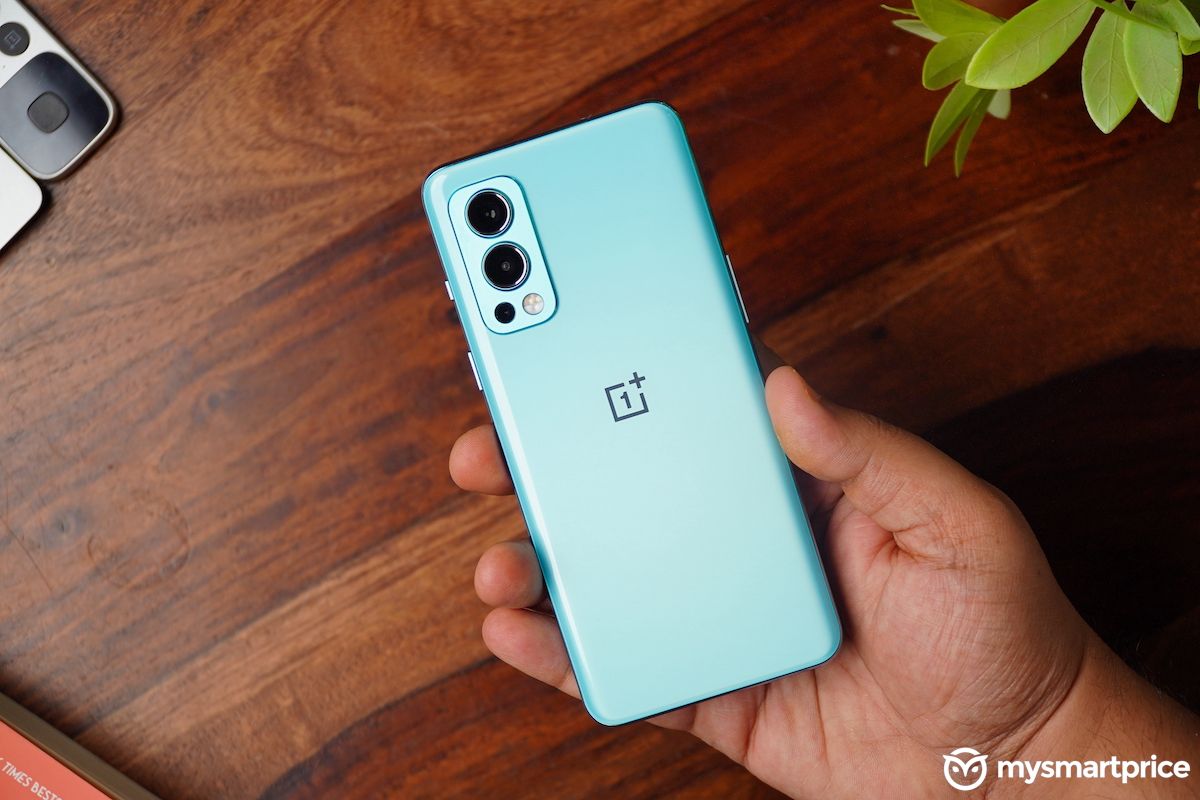 Essentially, the Nord 2's primary shooter is supremely capable. One that can easily take extremely detailed pictures with no noise and an attractive colour science. Plus, the low light performance is aces. But, it is totally undone by Mediatek Dimensity 1200's ISP and the OPPO algorithm. Whenever there is background processing involved – like stacking pictures in HDR, Night Mode, or Portrait shots – you get oversharpened images and color science inconsistencies.
Having said that, I am impressed by some of the photos I managed to capture. Humans, close ups, low light, and just the sheer set of features makes this an enticing proposition. Now imagine, if the OnePlus Nord 2 had a Snapdragon ISP to work with. But, is it the best camera in this price range? I mean…it could've been if it didn't have these inherent processing-related issues. I am just glad, OnePlus made a good camera phone.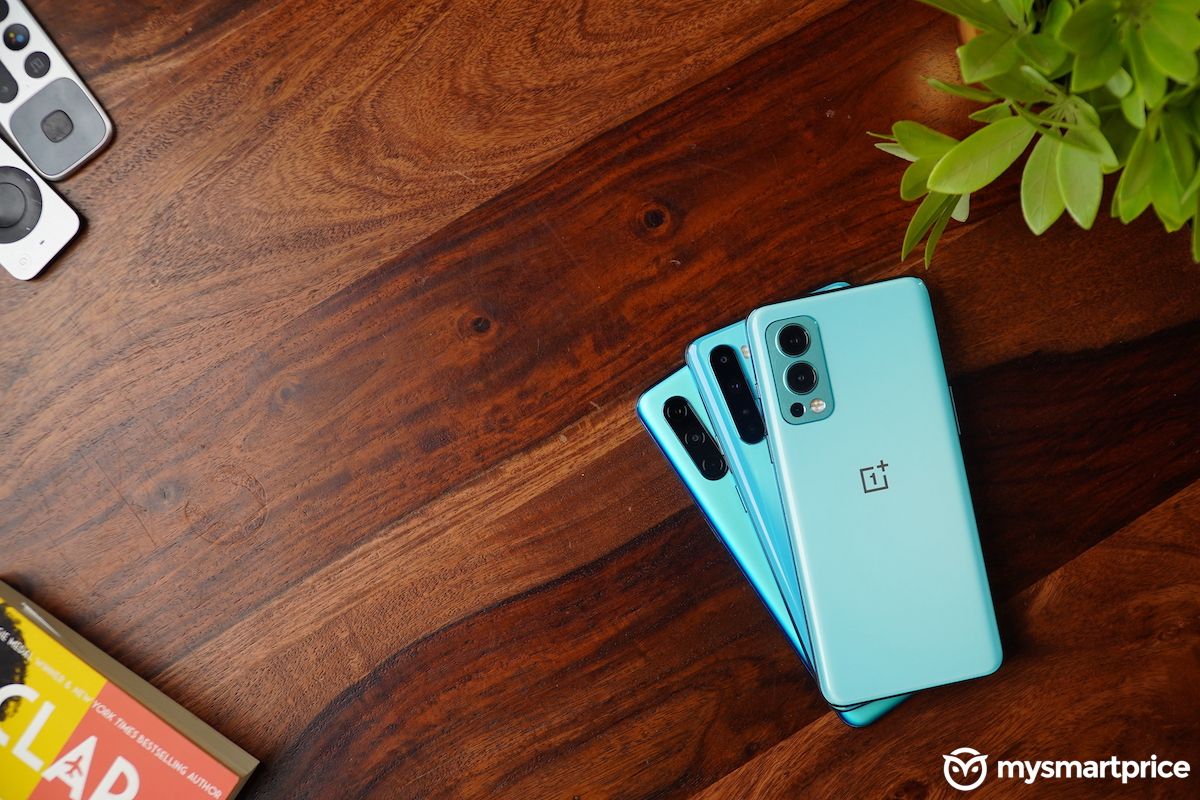 Performance and Network
This the first time OnePlus has used a MediaTek processor on one of its phones. Evidently, it is the most powerful one – the Dimensity 1200. I have already tested the Dimensity 1200 extensively, first on the Redmi K40 Gaming Edition, which is expected to be the Poco F3 GT in India, and second on the Realme X7 Max. And, the common thread is that it is a powerful SoC, no doubt. But, it throttles the GPU performance. As is evident from this chart comparing the Dimensity 1200 phones to the ones with Snapdragon 870. In most benchmark scores, the iQOO 7 definitely leads the race. And, the OnePlus Nord 2 does get slightly warmer to the touch than Snapdragon 870 phones.
Anyway, the Nord 2 can play Call of Duty at Very High graphics and Very High frame rates (FPS) or High graphics and Max FPS. The game has still not been optimised for Dimensity 1200. It can actually hit Very High graphics and Max FPS on Snapdragon 870-toting phones such as the iQOO 7. As for BGMI, you can go up to HDR graphics and Ultra FPS. If you want Extreme or 60 frames per second gameplay, you will have to drop the graphics to Smooth. The iQOO 7 can do HDR graphics and Extreme framerates. In fact, it even offers you UHD graphics, for which you have to download the pack separately. Fun fact: I actually use the iQOO 7 as the gaming phone for its excellent touch response rate as it helps me with twitch responses in COD: Mobile. By the way, BGMI on the Realme X7 Max was updated to achieve 90fps gameplay. So, there may be hope for Nord 2.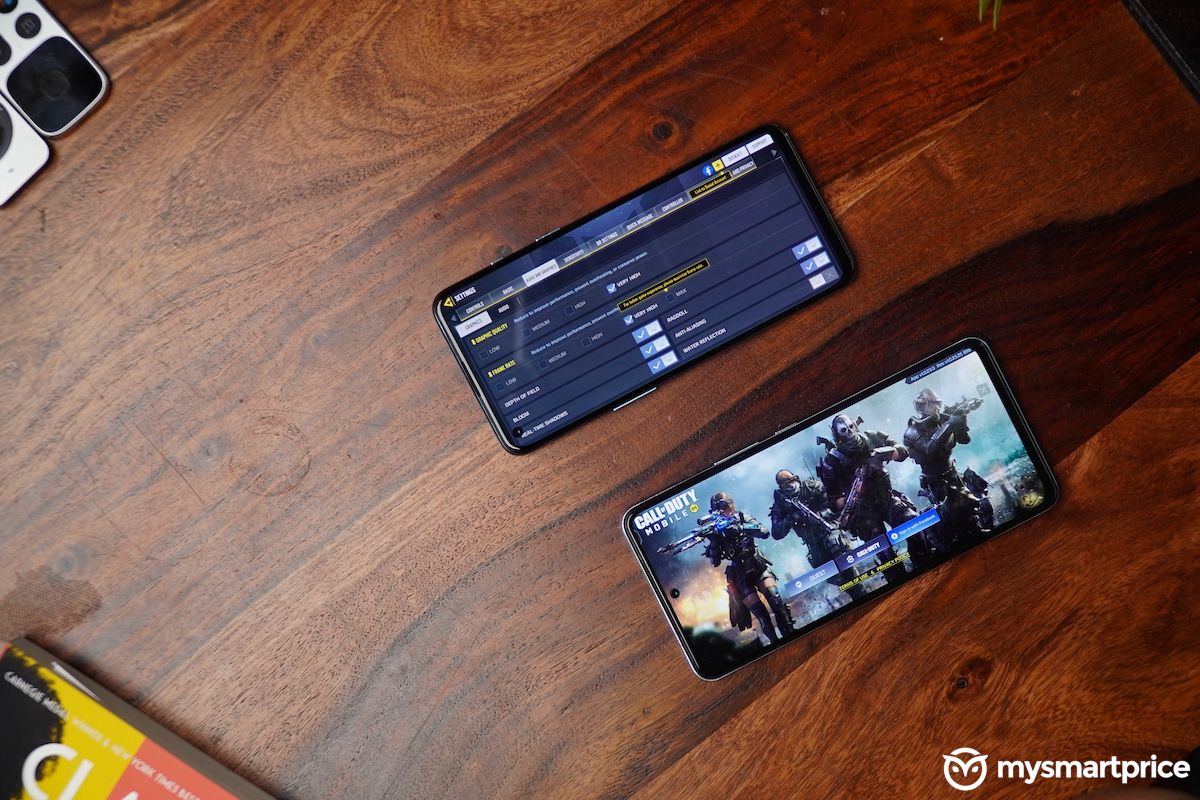 Regardless, if you ask me, if you are a gamer go for a phone with a Snapdragon 870 instead. Or, pick up the Poco F3 GT which launches tomorrow. At least, in that phone you have extra triggers for an elevated gaming experience. I am not saying the Nord 2 is a bad gaming phone, but the competition is far too intense now. And, OnePlus is not doing much to stay ahead of the curve. And, as far as the daily performance goes, all phones in this price range are equally good for the most part. So, there's no advantage there either.
As for the network performance, the Nord 2 does support 4G carrier aggregation and sounds great in calls too. No complaints whatsoever. As for the 5G band support, the Nord 2 offers 4 NSA bands and 7 SA bands, which is a huge upgrade from the OnePlus 9 series, for what it is worth. But, no point now, considering we have no way to even test it. One good thing about going with the top end MediaTek flagship SoC is: you get Wi-Fi 6 support too.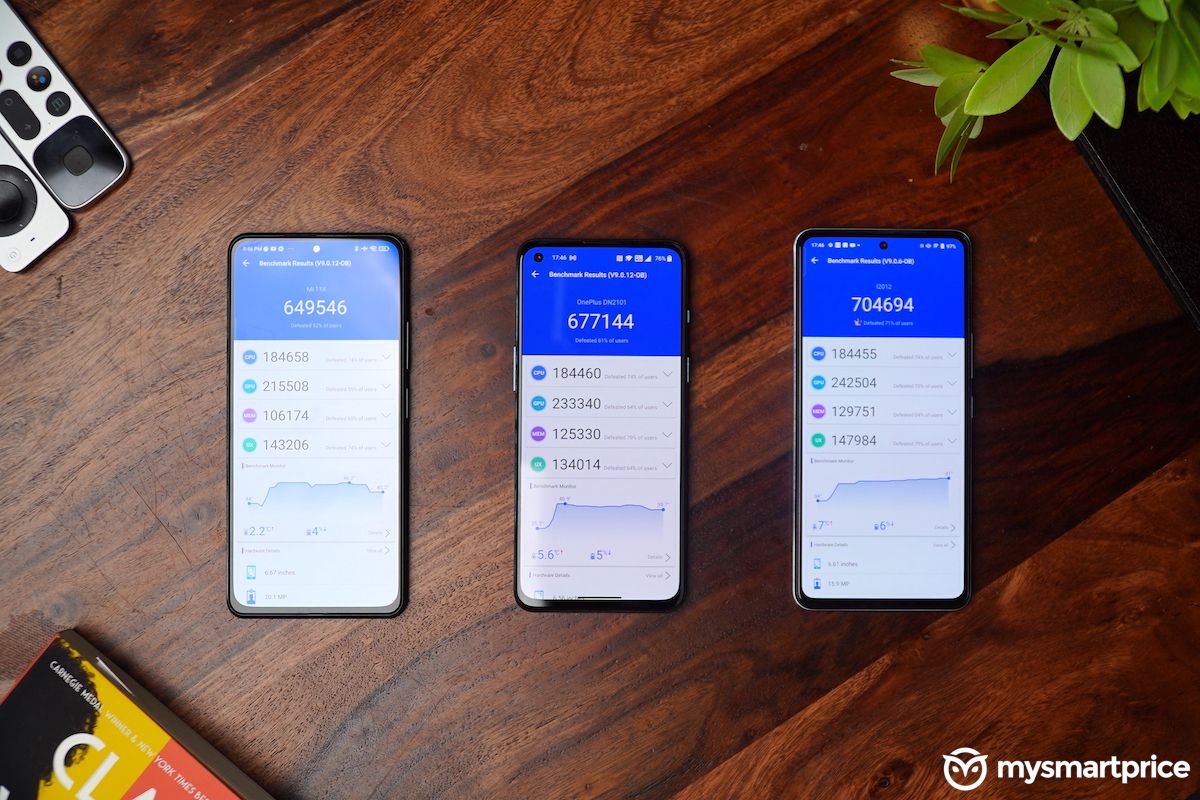 Battery Life
For the first time, OnePlus has introduced its Warp Charge 65 solution to the Nord series. It goes without saying that this is a beastly charging solution that can top up your phone's battery from 0 to 100 in under 35 minutes. But, the iQOO 7 can charge equally fast. So, there's not much of an advantage here. As for the 4500mAh battery, it can last a day's worth of usage and it can give you a Screen on Time of a little under 6 hours. Which is par for the course in this price range.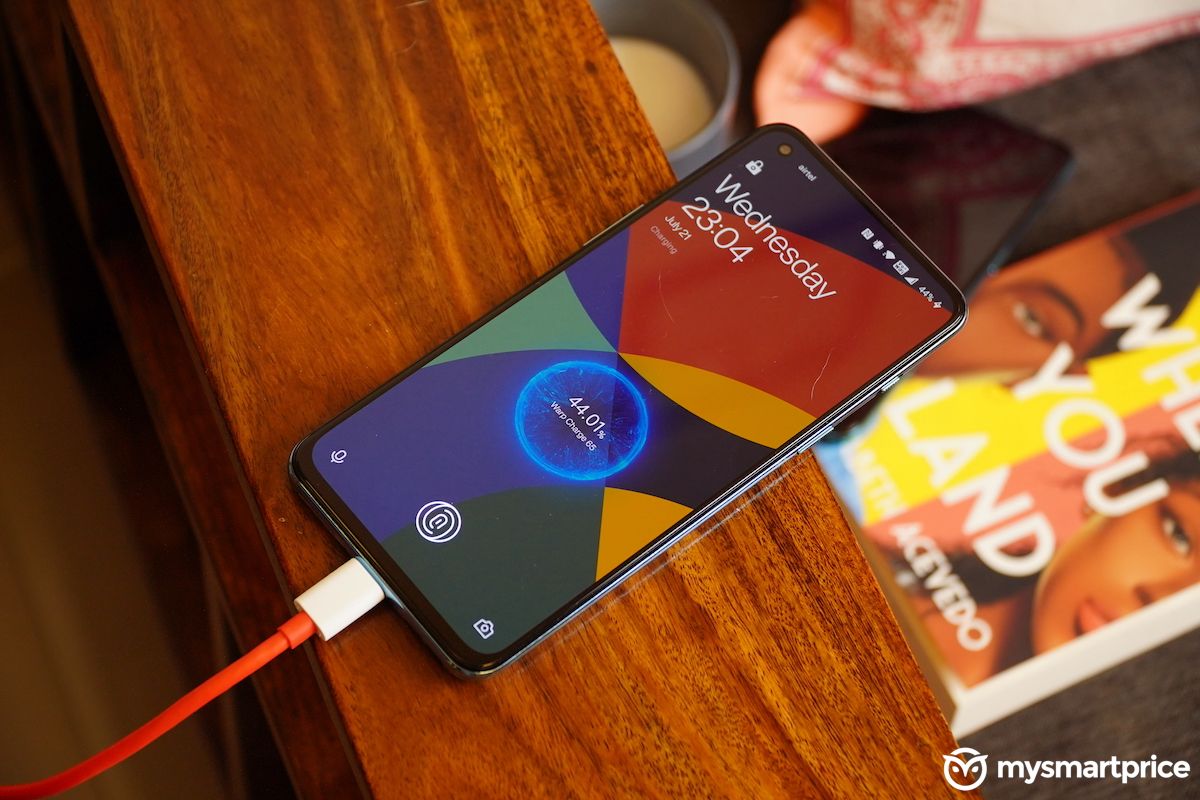 Should You Buy the OnePlus Nord 2 5G?
Evaluating phones in the 25-40k price range is slowly becoming a confusing affair with all the variables in place.
Now, with the Nord 2, you get a perfectly good phone. One that will appeal to a wider audience set. Evidently, OnePlus is going for a more premium experience that can match with its number series. Compared to the original Nord, this is definitely a big upgrade. In specs and in price.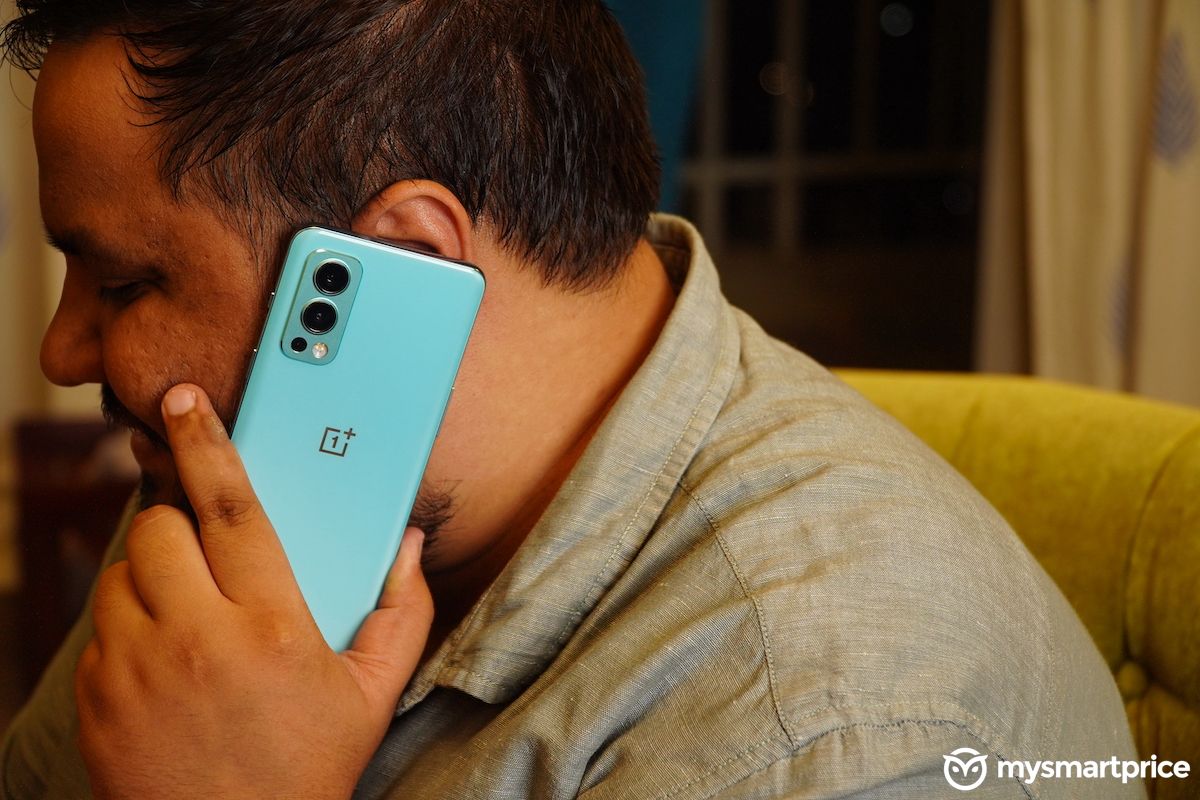 But…but…the Nord was introduced at a time when the price segment was dry. Super dry. Which is why it had a landslide victory. On the contrary, now you have very many phones that can do all that the Nord 2 can do, and sometimes even beat it handsomely. What are these phones, you ask?
Well, I am still firmly in the iQOO 7 camp, despite the use of Funtouch. The hardware is seriously unmatched in this price range. Then we have the upcoming Poco F3 GT, which is definitely looking pretty potent. Another option is the Realme X7 Max, which has its low price tag working in its favour. Finally, the Mi 11X is a good alternative too with a great display and Snapdragon 870.
So, with so many great options, where does that slot the Nord 2? Frankly, in an intense skirmish for upper mid-range supremacy with no clear winner in sight. Basically, it all boils down to brand preference and use case now.
What do you folks think of the Nord 2? Do let me know in the comments below.