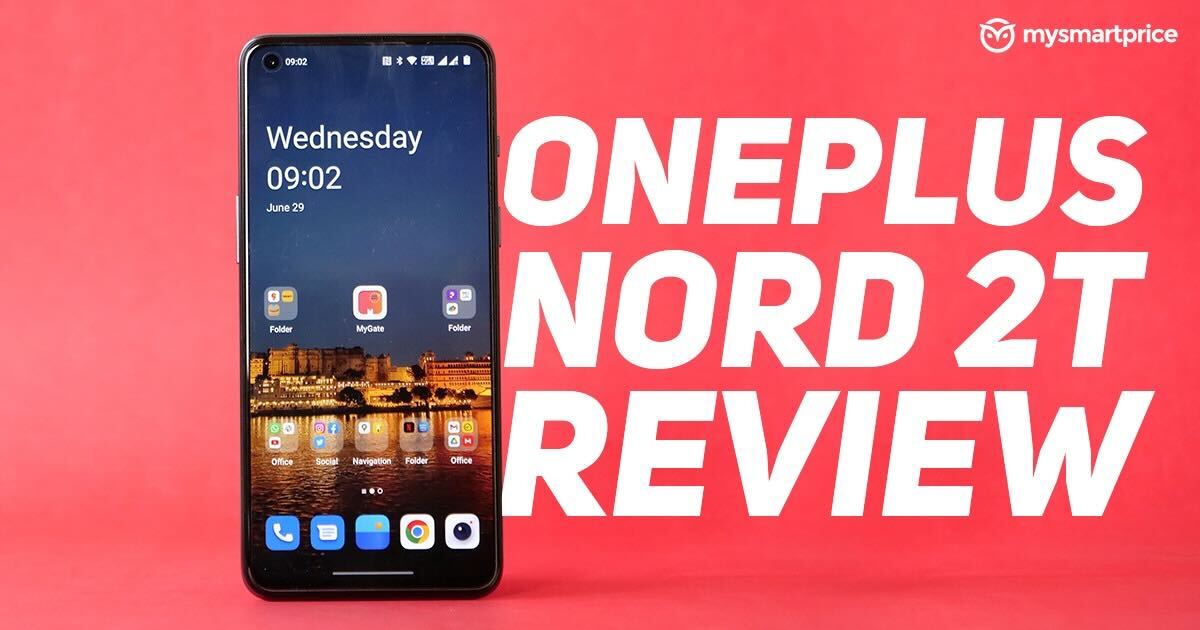 Starting at ₹28,999, the OnePlus Nord 2T is placed in the same category as the Poco F4 5G (review) and iQOO Neo 6 (review) and it poses some unique challenges for itself. One is whether it is a worthy upgrade for those clinging on to their Nord 2 for a year. The second is why would customers go for a non-performance centric smartphone that doesn't go all-out on specifications unlike its competitors. And finally, how will it manage to carve its own niche in such a scenario?
Turns out, it is a good recommendation for those whose priorities are beyond gaming. Find out how in our review.
OnePlus Nord 2T Review: A tasteful design
Donning some interesting design and material choices, the OnePlus Nord 2T is easy on the eye. It is available in two colour variants – Gray Shadow and Jade Fog. We received the former, and it has a nice, smoothened-out sandpaper texture to it which is reminiscent of the earlier OnePlus smartphones. It is near-impossible to smudge it with fingerprints and has this ability to self-heal small scratches. The Jade Fog variant is a pale hue of olive green, with a glossy finish. So this time around, the Nord series has skipped the characteristic teal colour.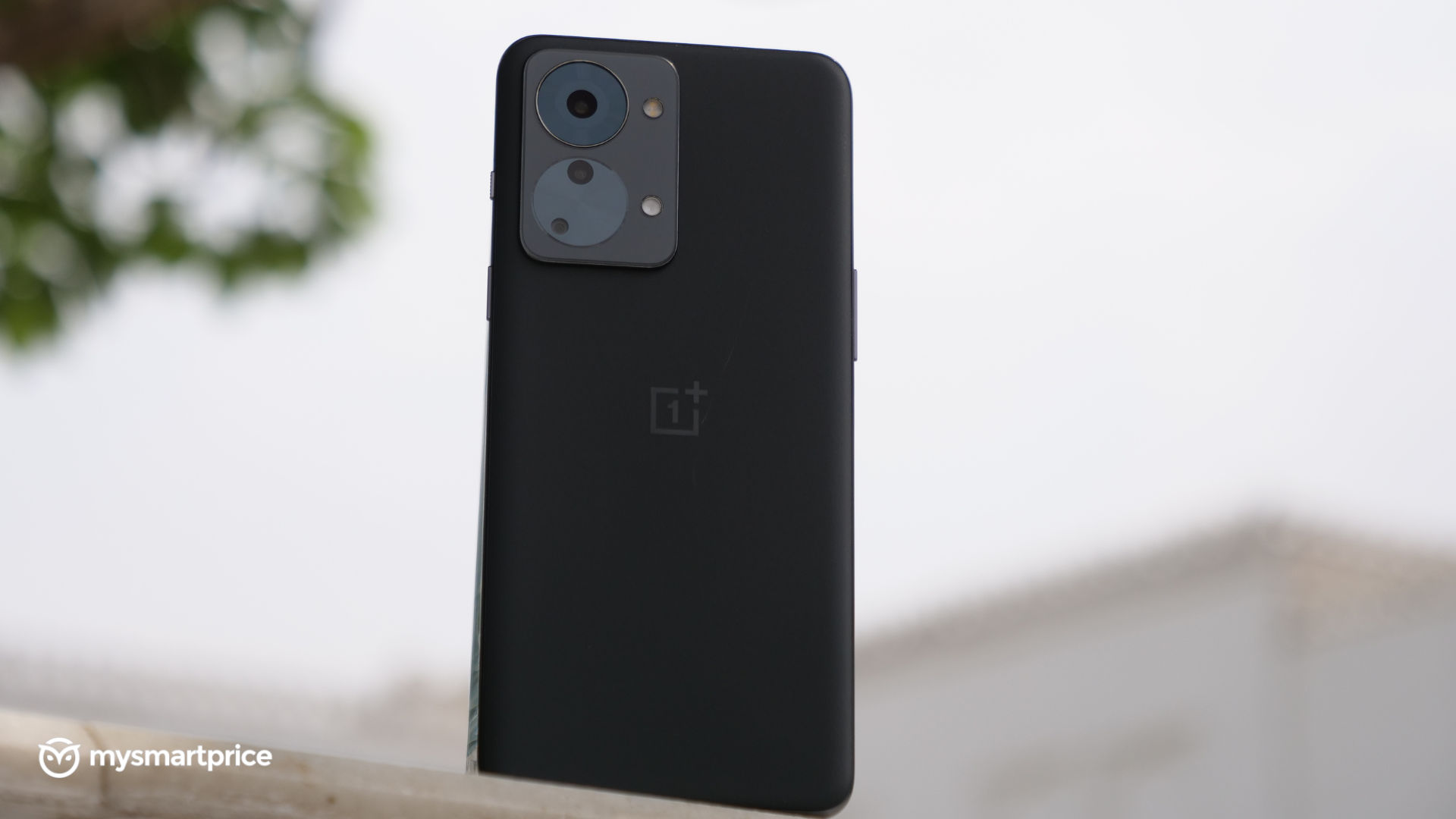 The frame of the phone is made of plastic, but has a glossy metal finish which is slippery to hold. The right side of the frame hosts the power button and the much-loved alert slider and the left has the volume buttons. The bottom of the frame has a speaker grille, a mic hole, dual-SIM tray and a USB Type-C port whereas the top is nearly clean, only having a mic hole.
The tactile feedback of the buttons is very satisfying, every click is resounding and deliberate. Since the phone is comparatively smaller than the competition, the reachability of buttons is much better and the curved rear panel also helps in providing a more comfortable grip. One-handed use of the phone was very much possible.
There's no official rating of sorts here, you're by yourself if you drop your phone underwater.
OnePlus Nord 2T Review: A display that's just adequate
The Nord 2T's display is plucked straight from the Nord 2, without any major changes. So, you have a 6.4-inch Fluid AMOLED display with a Full HD+ resolution and 90Hz refresh rate. Further, it has HDR10+ credentials for a better content consumption experience. The only new addition is an ambient sensor at the rear of the phone that helps tune the display brightness quicker automatically according to ambient lighting behind the phone.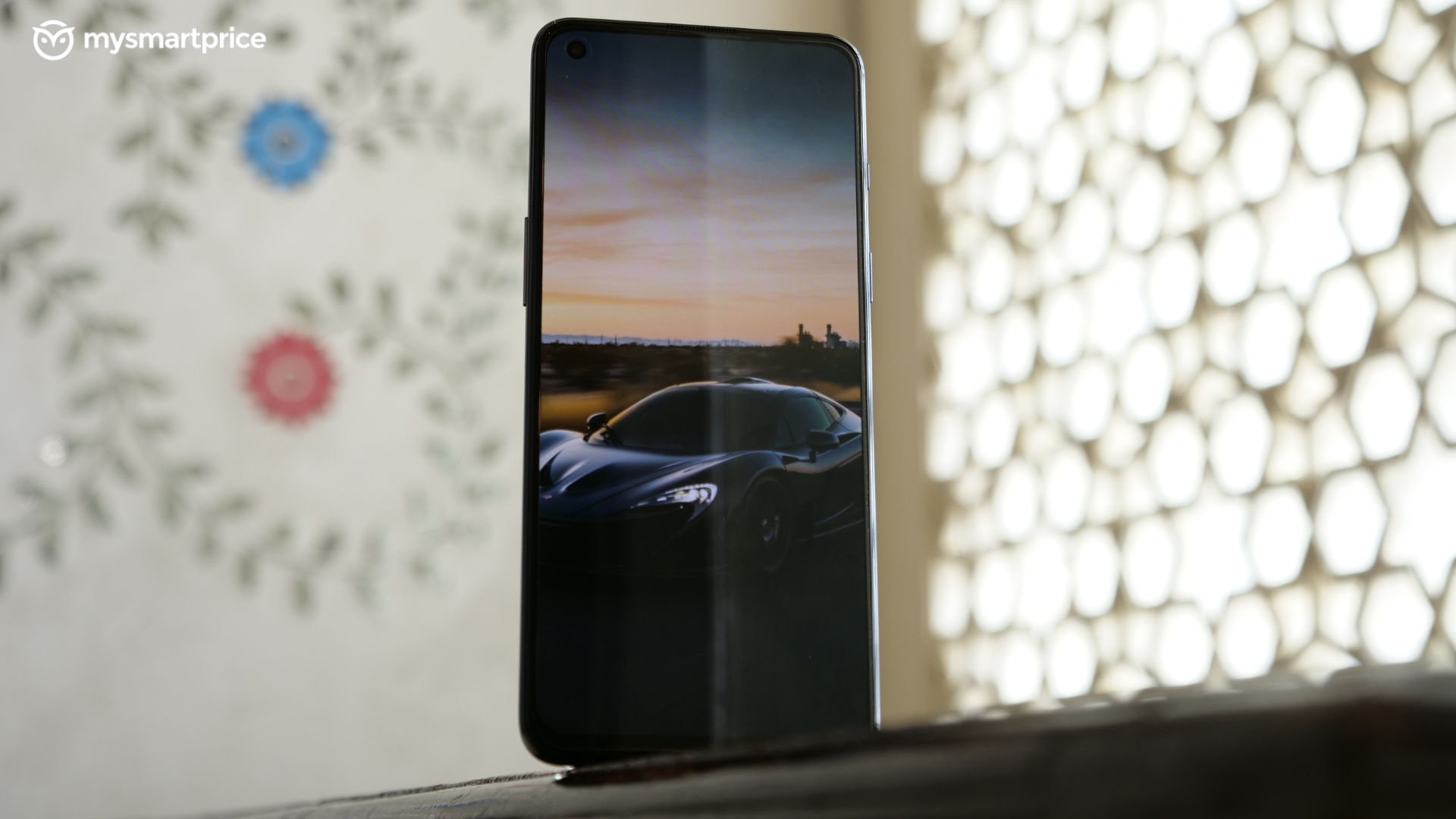 The display was good – for a phone this price launched in early 2021. Now, it seems a little dated. For day-to-day use, it is fine, you can easily get through the apps, scroll webpages and social media feeds. But for serious gaming, this is not it. The inputs aren't registered as quickly as they would on the Poco F4 5G or iQOO Neo 6. You can still game on it, but you'll sorely miss high refresh rates.
The phone has Widevine L1 certification, but HDR playback was only possible on YouTube at 2160p. Netflix and Prime Video still play HD videos at most, but we expect this to change with a software update soon.
It's not the brightest display at this price. We felt it could be brighter even on an overcast day, whereas the competition could easily breeze through such situations. The display has a neutral colour tone. Even at Vivid settings, the saturation of the display wasn't crazy high. This is good for somebody who does photo editing on a regular basis, as it supports sRGB and DCI-P3 colour gamuts.
Accompanying the display are stereo speakers. The bottom firing one is more prominent than the one on the top, so it's not exactly balanced. Also, there's no Dolby Atmos support here. The speakers are plenty loud but lack depth because the bass isn't as pronounced. They are fine for watching reels or YouTube videos, but for gaming, you'd better use earphones.
OnePlus Nord 2T Review: No major leaps in performance
There's a distinction without a difference in terms of performance between the Nord 2 and Nord 2T. Sure, there's a new SoC employed, the MediaTek Dimensity 1300 up from Dimensity 1200, but in terms of benchmarks, the OnePlus Nord 2T performs slightly worse.
The Nord 2T secured a score of 623289 on AnTuTu v9, whereas the Nord 2, which we reviewed last year, managed 677144. On GeekBench 5, the Nord 2T posted a single-core score of 497 and multi-core score of 2799.
This lack of performance headroom only presents itself while gaming. The Nord 2T is capable of mid-tier mobile gaming at best – medium to very high graphics at high frame rates in most games. We tried Call of Duty Mobile, Apex Mobile and BGMI, and we were most comfortable in the aforementioned settings. The phone does heat up after 40 minutes of use, and our in-house gaming expert Hrithik observed some throttling a well. Do check out his extreme gaming test where he really pushes the Nord 2T to its limits.
The phone comes in two RAM and storage variants, the baseline 8GB/128GB configuration starting at ₹ 28,999 and the top tier 12GB/256GB version priced at ₹33,999.
But, in day-to-day use comprising texting, scrolling through the web and social media, navigating and shooting emails, the Nord 2T gives you top tier performance, sometimes even better, as it seldom heats up even when using apps that use GPS in the background. Background task management is also excellent, we never saw apps shutting down to conserve memory. We took this to extreme lengths, and tried multitasking between Apex Mobile, Call of Duty Mobile and BGMI, and it performed beautifully.
The Nord 2T features one of the best custom UI experiences in the business, thanks to OxygenOS 12.1 running Android 12. Yes, it does give you ColorOS flashbacks every now and then, especially when displaying floating notifications and customising themes, otherwise it's an ironed-out, well-refined interface with minimal bloat. The only 'extra' app you get is Netflix, which is also useful. The animations and transitions are cohesive and the UI extremely intuitive to use.
The promised update cycle is also decent – two guaranteed major Android updates, and three years of security updates from OxygenOS 12.1 onwards.
The software is another strong selling point of the Nord 2T, because the Poco F4 5G and iQOO Neo 6 are both packed to the gills with bloatware.
OnePlus Nord 2T Review: Unchanged cameras
A year ago, the Nord 2 earned a reputation for its camera performance. An optically stabilised 50-megapixel Sony IMX 766 primary sensor led the way and punched above its weight and was supported by an 8-megapixel ultrawide and 2-megapixel mono (read depth) cameras.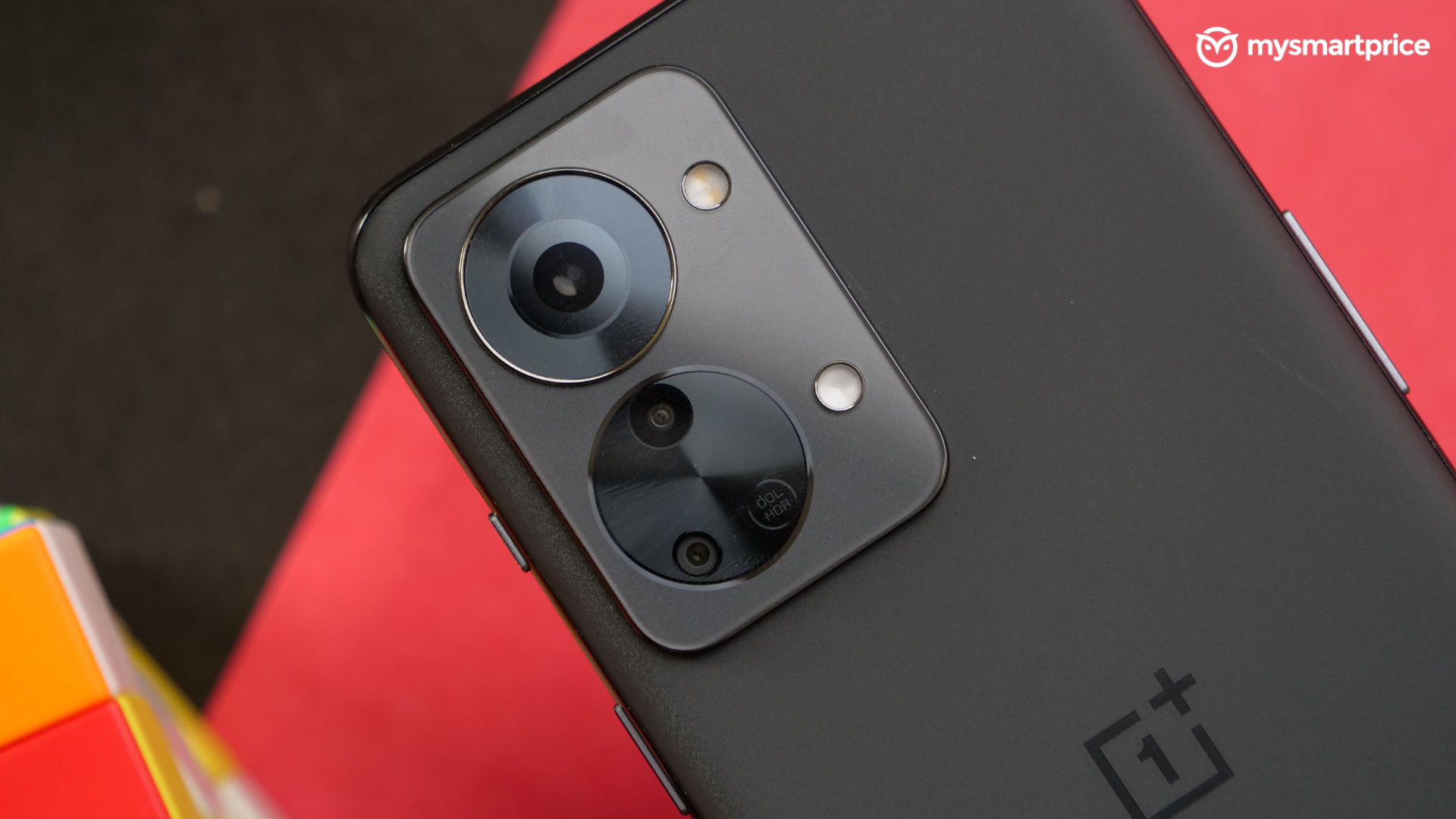 The Nord 2T comes with unchanged hardware – it's just that the cameras are arranged a little differently and are powered by an enhanced layer of software for slightly better performance. Even the selfie camera has the same 32-megapixel sensor as before.
Cosmetically, the camera module at the back now protrudes out in a rounded rectangular shape with two rings. The ring on the top houses the lonely primary camera, whereas the bottom has the ultrawide and the mono sensors in a triangular arrangement. The third corner of this triangle is filled by not a sensor or flash, but by an insignia that reads 'DOL HDR', which means 'depth of light, high dynamic range'. It looks a little strange, because the text is not shiny enough and the arrangement looks asymmetrical. OnePlus did this with the OnePlus 10 too, where '50MP P2D' was written within the circular flash module.
Daytime shots packed rich details, and had fairly accurate colours. The HDR was a hit and miss though. In shots where the sun was not in the frame, the HDR kicked in quickly and correctly recovered the harsh highlights and shadows. But then, in sunsets, when the lighting is soft and warm, the HDR was a little too aggressive. The setting sun looked like a red record icon in some shots and in shots with human subjects, it produced a halo artefact around the outlines. We had to turn off the HDR mode to get a truer-to-life image. We have brought this to the notice of OnePlus, and they said a software update would soon fix it.
The ultrawide camera shot photos with visibly less details, but on a bright sunny afternoon, it clicked some decent photos.
Night shots were vibrant, and could be shot much quicker compared to the Nord 2. The yellow tones were a bit too pronounced, but this made for a more attractive, if not accurate, image.
The portraits were also good, if you keep the aggressive HDR aside. The edge detection of subjects and the emulation of depth was to our liking.
Selfies were lightly trickier to judge. In some photos, the HDR did a good job of recovering brightly lit backgrounds. But then, in some, it struggled to give me a well metered selfie.
Videos max out at 4K resolution at 60fps for the primary shooter and 1080p for the selfie. There's only EIS available in recordings, but the footage was reasonably stabilised. There's also an ultrasteady mode which gives you almost gimbal level stability, but it crops. But there were no overheating issues while recording videos too, and we did this in the cracking heat of Udaipur.
OnePlus Nord 2T Review: Battery performance trumps the package
The Nord 2T is backed by a 4,500mAh battery which can be charged by a new 80W SUPERVOOC charger. It manages to charge the battery from 0 to 100% in about 27 minutes, making it faster than the Poco F4 5G and almost as good as the Neo 6. To avoid heating issues while charging, OnePlus has included nine thermal sensors this time to monitor and moderate the charging speeds.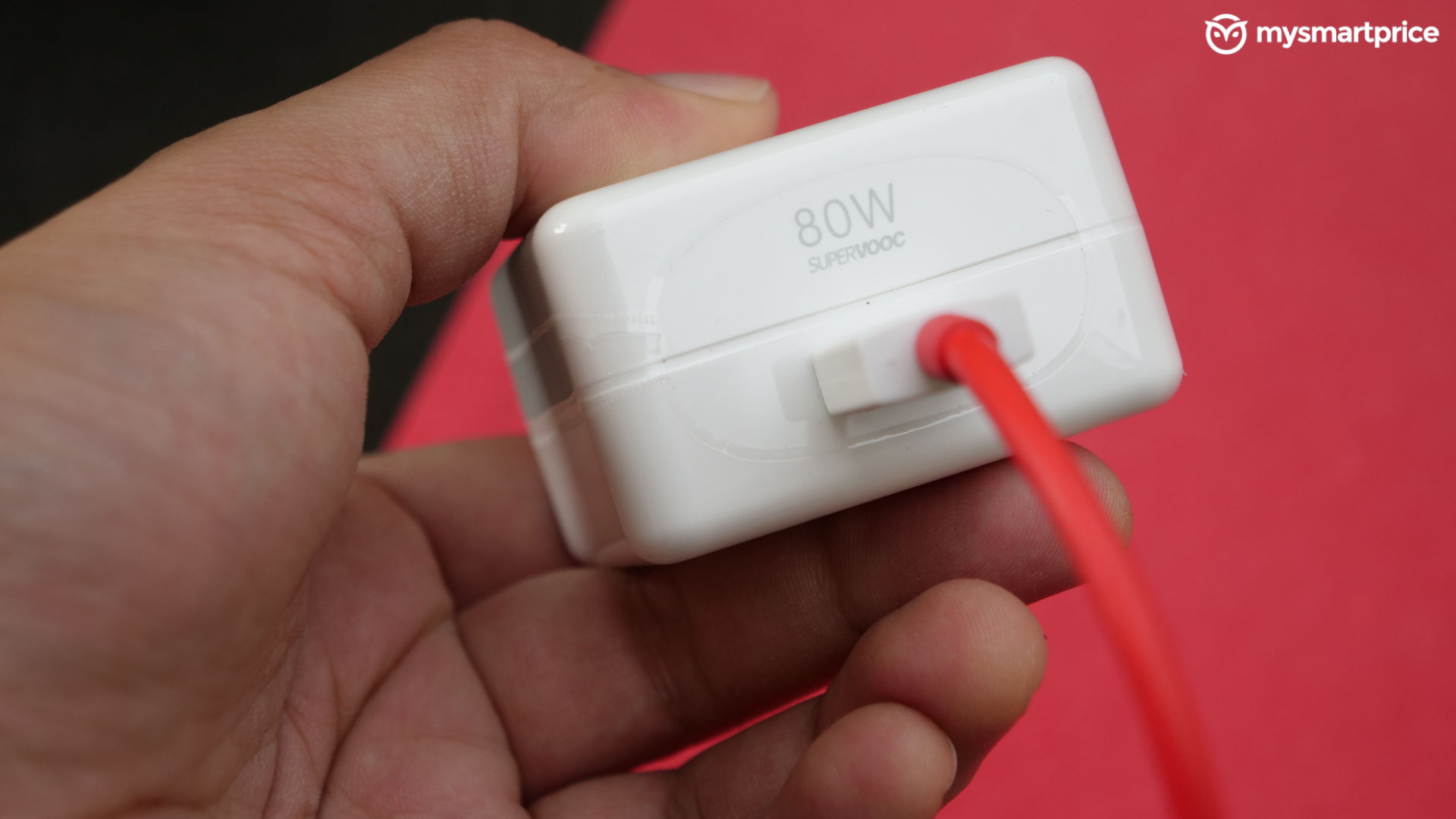 In terms of battery backup, OnePlus claims that the phone can squeeze out 36.2 hours pertaining to their 'day of use' metrics. But in our use, after taking the phone off the charge at 100% at 9 in the morning, we were down to about 10% of battery at 9 at night. Our usage was a bit heavy though, we gamed on the phone, we clicked a ton of photos, watched videos and TV series, and attended about an hour's worth of calls. In a rather conservative usage, you can stretch the battery to the next day with some juice left.
OnePlus Nord 2T: Verdict
Despite being priced between the Poco F4 5G and the iQOO Neo 6, the Nord 2T is a very different phone. Yes, you can do the occasional gaming, and click some decent photos, but where this phone really shines is in offering you an overall premium, upmarket vibe.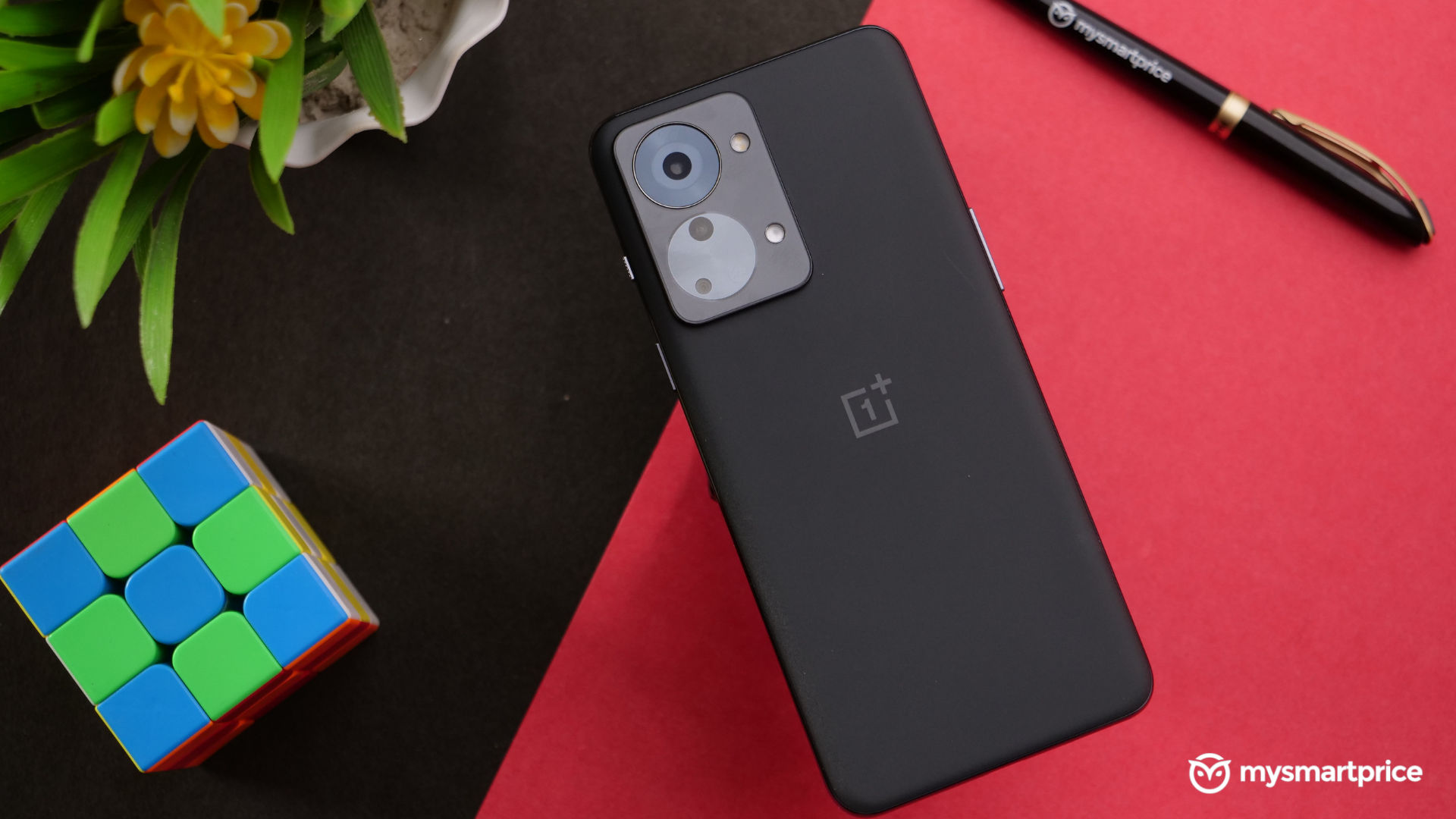 You'll not feel weird handing it over to the elite crowd, not just because of the build but because you don't have unnecessary bloat in the software, and the UI elements and icons aren't that childish. It offers a far more cohesive user experience than the competitors and gets you through a busy day without giving you grief.
This is the phone for the office-goers living in expensive cities, who spend half their salary on rent, but want something that looks and feels upmarket in corporate meetings. For those who want to upgrade from the Nord 2, this will not feel like that big of a difference, so you may have to cling on to it for a bit before jumping ship.
The on-paper specs aren't going to impress you much, and it feels it was launched a couple of months too late. But for now, it's going for a different audience altogether, which is weirdly, not the enthusiasts, but the average users. A bit different coming from OnePlus, don't you think?
What Is Good?
Great build & design
Bloat-free UI
Reliable day-to-day use
Alert slider
Low light photography
Fast 80W charging
What Is Bad?
Display brightness
Camera HDR inconsistencies
Gaming performance