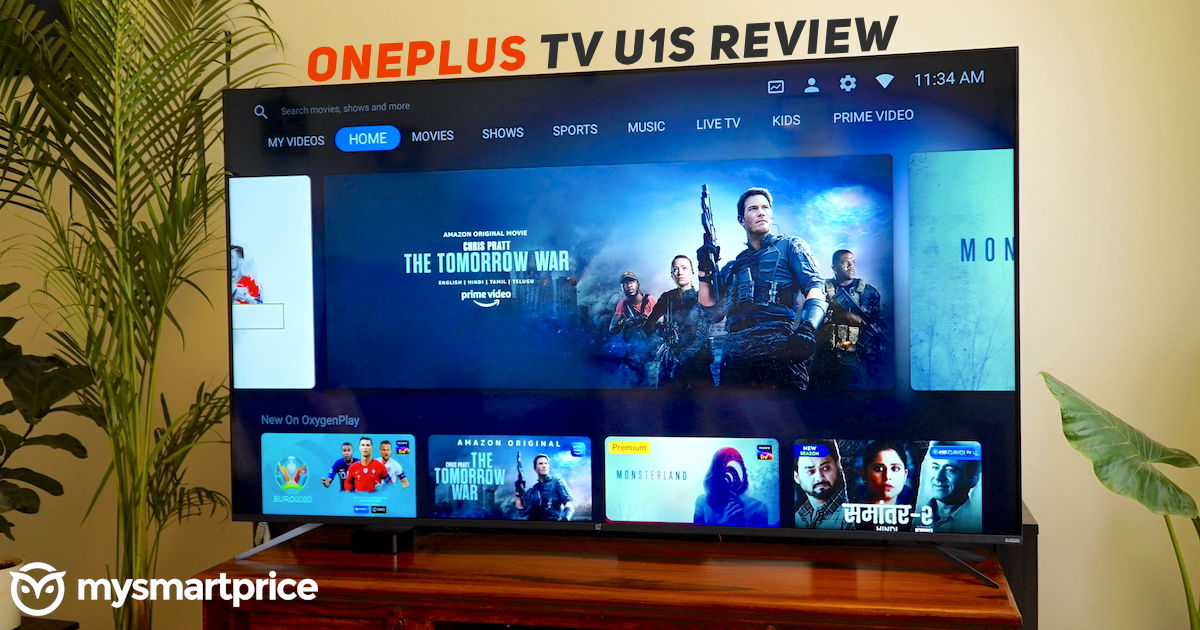 When OnePlus started making TVs, it went all out with the more premium QLED technology and a slide-out Soundbar for its Q1 Pro. And, back then, I expected the company to make more flagship killer TVs with great panels that could undercut the QLED and OLED TVs by Samsung, LG, and Sony. Although, with the introduction of the U1 and the Y Series, it was evident that OnePlus wanted a larger chunk of the pie. And, the new OnePlus TV U1S only further pushes that goal with competitively priced propositions in three different sizes.
In fact, now it feels like OnePlus is seriously trying to compete with the likes of budget TV makers like Xiaomi, Vu, TCL, and more. Which is a crowded market in the online space. So, how is the OnePlus TV U1S? Let's find out in our full review.
Display Performance
Right off the bat, the picture quality of the OnePlus TV U1S' 4K IPS LCD panel is very good. For context, it is better than the Redmi TV 65-inch(review). The 10-bit colour tech coupled with a Delta E of less than 2 actually helps here. In the Movie mode, which is the closest to natural colour accuracy you will find, you get really great facial tones in most HDR and SDR content. I didn't find any Red bias here.
And, despite being an IPS panel, the Blacks were generally great – as far as IPS panels go, that is. Moreover, considering it is an IPS panel, you get great viewing angles without any discolouration or dulling.
The HDR performance, despite lacking Dolby Vision support here, is actually fairly good. The smooth gradation of the evening sky in the African jungles in Our Planet looked absolutely gorgeous. This is something I've rarely come across 65-inch Android TVs in this price range. Although, it was slightly odd that the TV doesn't automatically switch to the HDR10+ Picture Mode when watching HDR10+ content like Jack Ryan on Amazon Prime. Also, I'd suggest you stick to the Movie mode with any other streaming service because the HDR10+ setting on non-HDR10+ content has a very heavy Red bias in facial tones.
And, even in SDR content on Netflix like Working Moms, the TV's picture algorithm does a great job of showcasing good colours and regular dynamic range. Most of the time, I felt like I was actually watching a budget Samsung or Sony TV. You also get a lot of other picture modes and granular settings to change the colour science according to your preference. But, at the risk of sounding like a broken record, the Movie mode is your best bet.
The TV also comes with support for MEMC, which upscales the fps data of regular 24fps and 30fps of the content to 60fps to show you smooth motion. The MEMC implementation on the OnePlus TV is just overdone in my opinion and I am not really a fan of it even while watching sports, to be honest. But, your mileage may vary.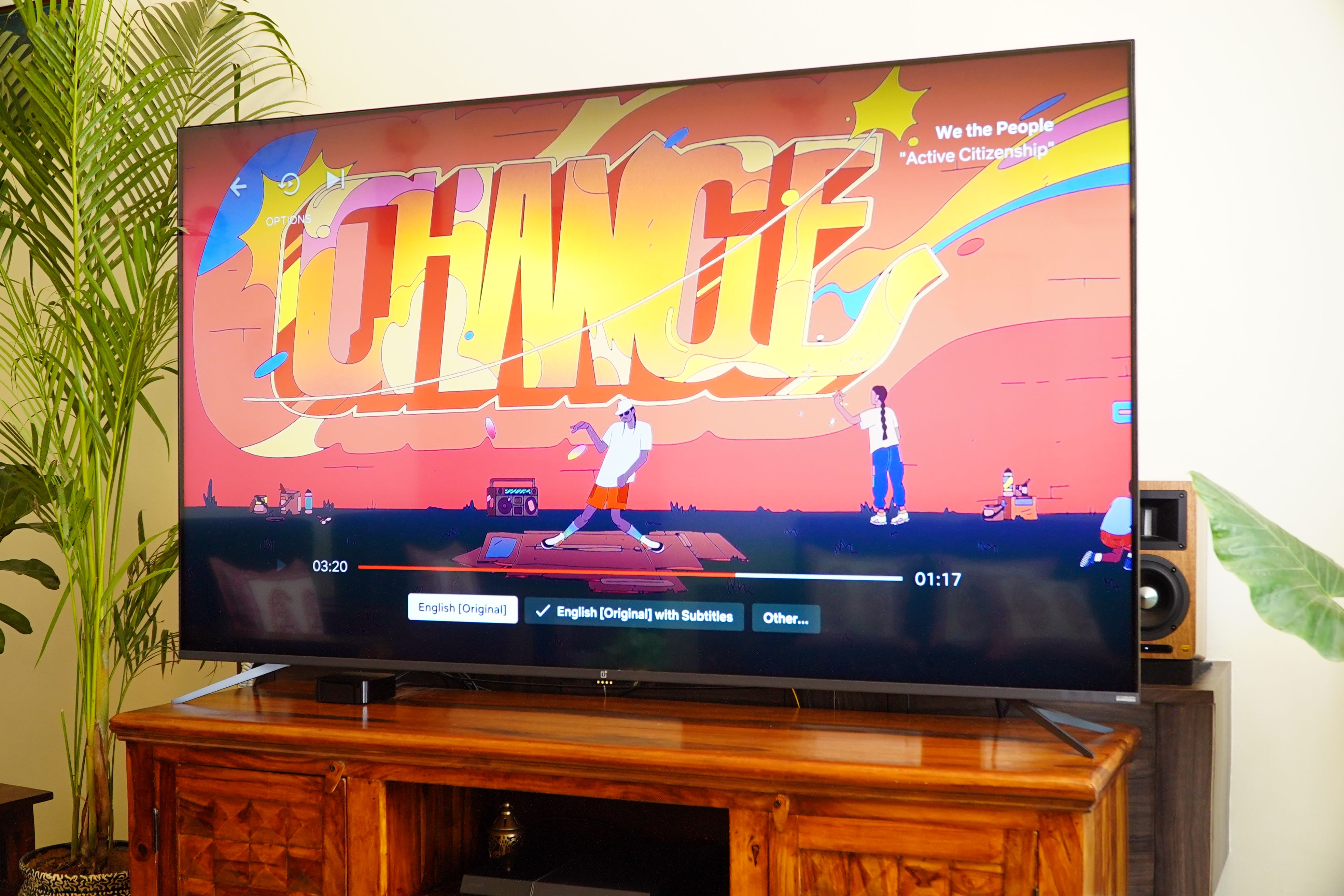 Another downside of the TV is the max brightness level is not very good. I calculated a little over 300 nits in my test, and that's barely passing the muster. This also means that in dark scenes, you are bound to see the reflection of your environment, especially in daylight. But, this is par for the course for a budget 65-inch TVs, so we can't really complain much. And, then there's the basic Global Dimming option that doesn't really do much as far as I could tell.
All the three HDMI ports on the TV are of the HDMI 2.1 standard. But, that's not really helpful on a TV with a max framerate of 60fps. There's no support for VRR either. You do get Auto Low Latency Mode (ALLM) that gets switched on when you fire up your gaming console. Unfortunately, I only have a PS4 and it cannot even do HDR gaming for me to share my thoughts on the TV's gaming performance. Regardless, it looks good with PS4 games, for what it is worth. In fact, I'd suggest checking my friend Sameer Mitha's review on Digit to know how the TV performs with the PS5.
Sound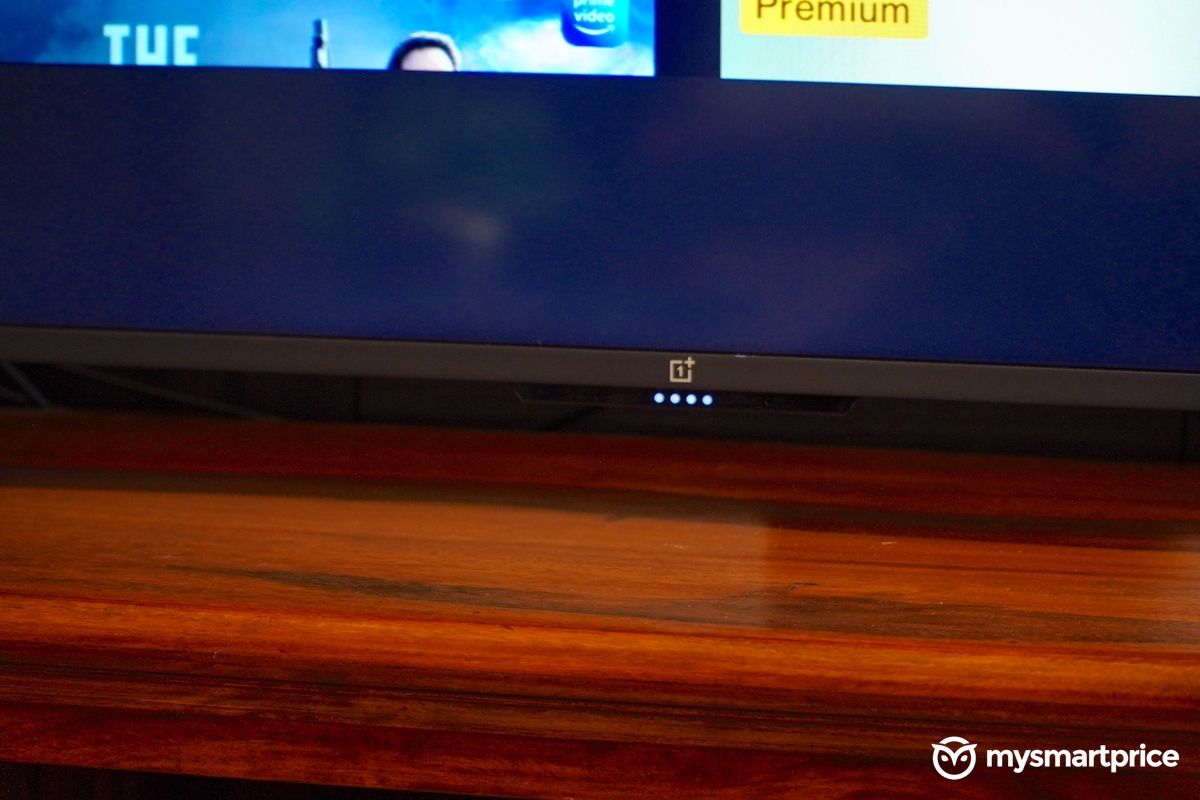 Now, OnePlus also claims some improvements in the sound department with a Dynaudio collaboration. Last time we saw a Dynaudio collaboration was when OnePlus' parent company OPPO launched the Enco X. And, that was a fantastic pair of truly wireless earbuds. Check out our video in the i button. But, tuning TV audio is a different ball-game altogether.
In this case, the OnePlus TV U1S has four downward firing speakers. And, what the Dynaudio collaboration gets right is the instrument separation and dialogue clarity, which is further enhanced by the Dialogue Enhancer. But, I wasn't particularly impressed with the bass response that is vital for action sequences. Here, take a listen for yourself.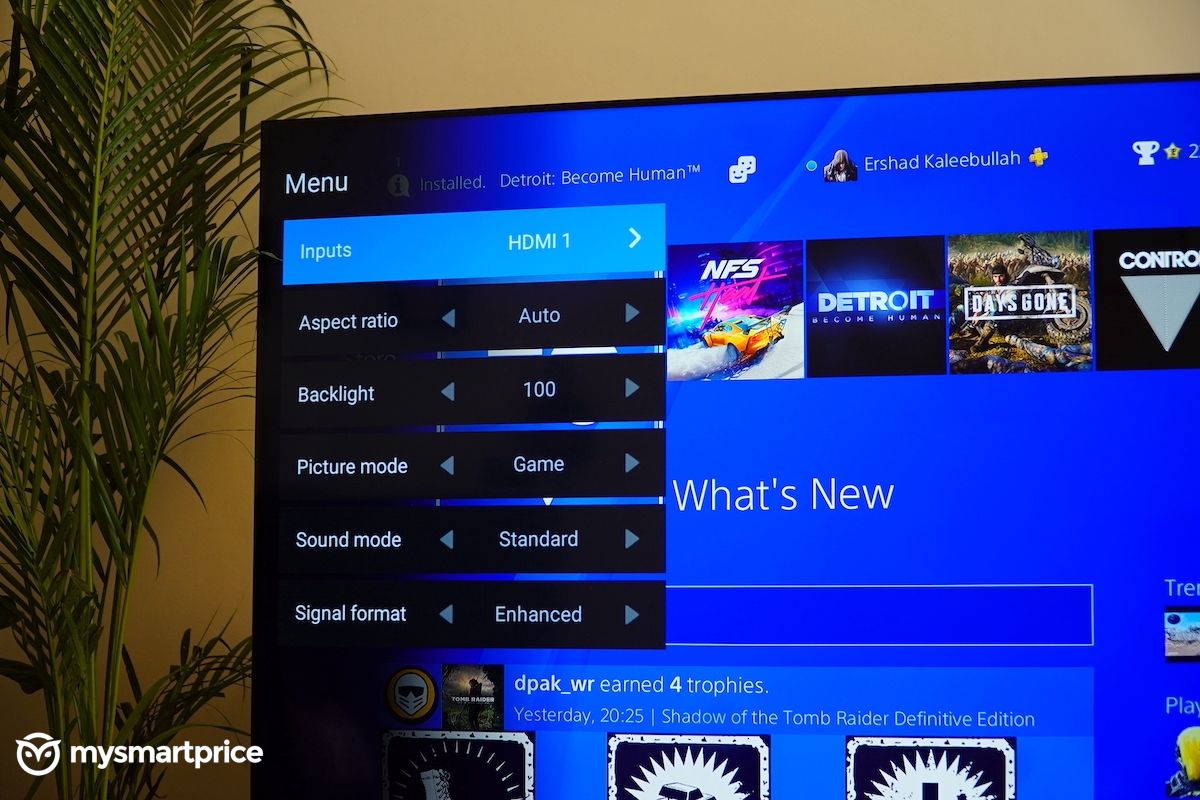 In any case, it is good clean audio when you look at it only from a TV speaker's perspective. But, if you are even slightly serious about good audio quality while watching movies, I'd urge you to invest in a soundbar.
Design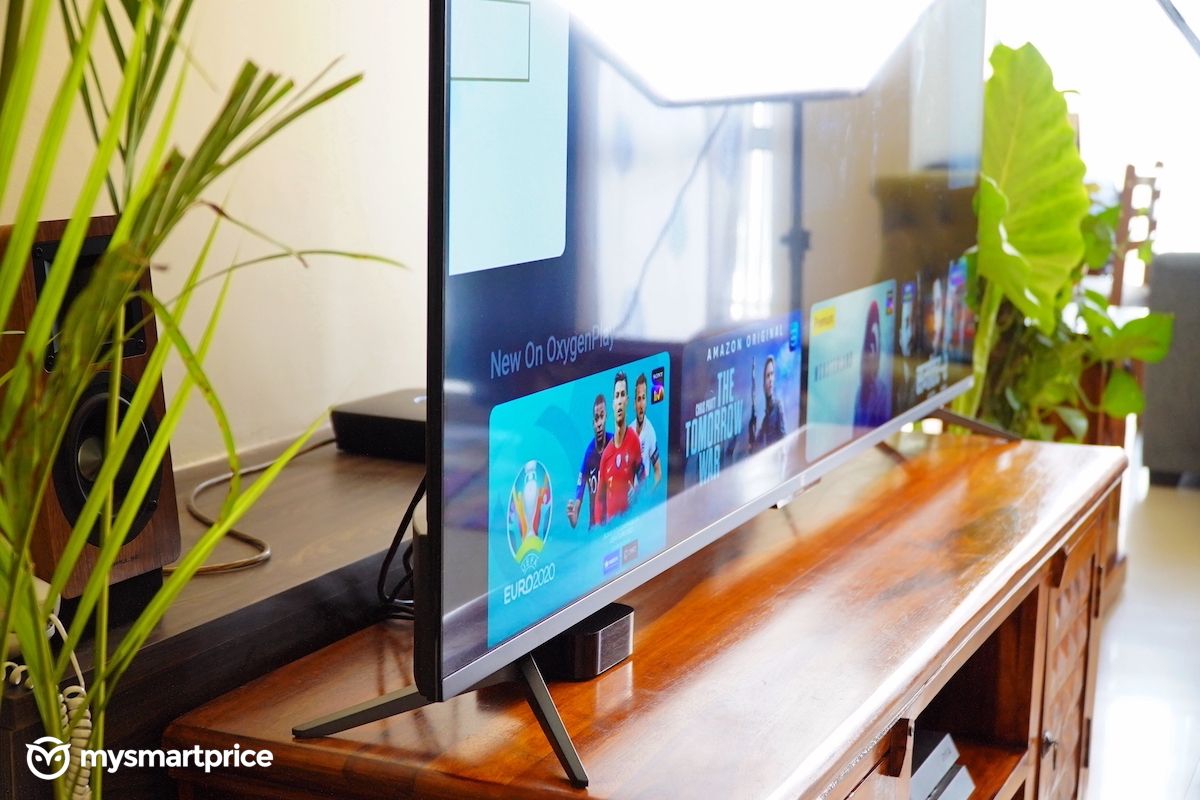 Coming to the design, I strongly feel that this is one of the sleekest, suavest looking TVs around. It doesn't do anything radical but the slim metal chin and almost non-existent bezels on the other three sides makes the TV watching experience extremely immersive. The OnePlus logo sits bang in the center of the chin and below it lies a strip with four LED lights. When the LED lights blink Yellow, it means the far-field mics are off and when it blinks White, it is to indicate that they are on. More about these mics in the performance section.
The whole TV is perched atop a couple of metal stands that are close to the two edges. The TV barely fits on my entertainment unit. And, it does tend to wobble a lot. Something, the Redmi TV 65-inch manages to keep at bay.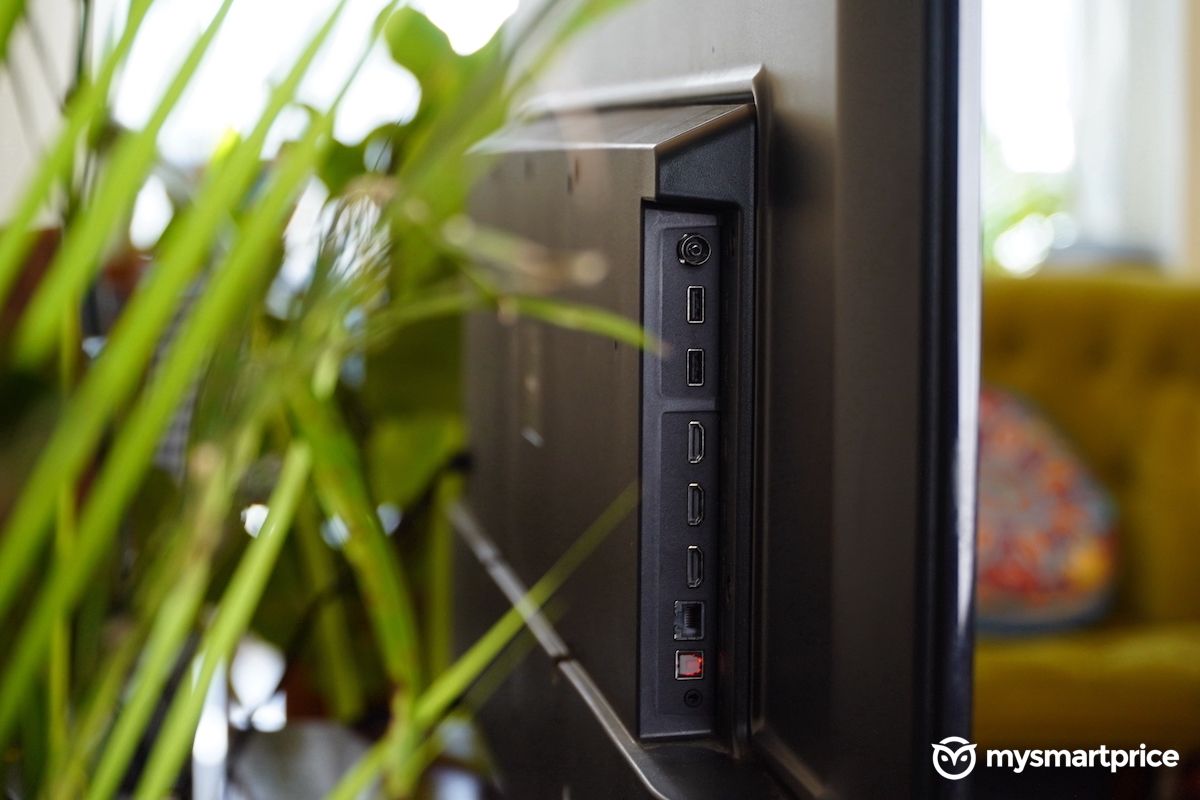 The rear is all plastic but feels sturdy. As for the ports, you get all your standard types that are easily accessible. There are: three HDMI 2.1 ports, a couple of USB 2.0 ports, one AV port, an Ethernet port, an optical out, and a TV cable input. There's no 3.5mm jack, unfortunately.
Remote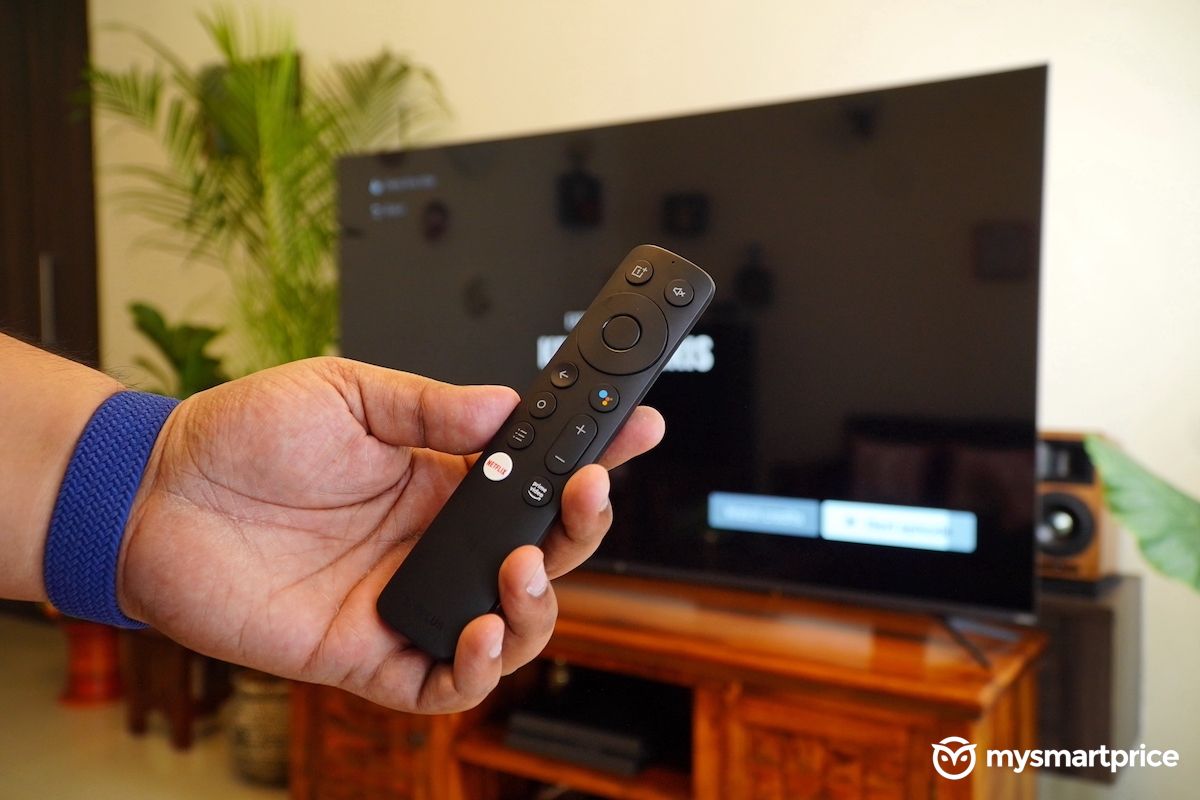 The Bluetooth remote's design has been upgraded once again. You have a nice rounded design with a ton of buttons. The main element is, of course, the circular navigational wheel. The button with the OnePlus logo can be used to put the TV to sleep by single pressing or invoking the switch off menu by long pressing. There's also a dedicated Mute button here unlike Xiaomi's remotes. Then you have a Back button with an indentation that makes it easy to feel and locate with your finger without having to look at the remote.
Finally, you have the Home button, a Menu button, a Volume Rocker, three hotkeys for Google Assistant, Netflix, and Prime Video. By the way, the Menu button pulls up the TV settings only when you long press it, which is an awkward implementation.
Performance, UI and Features
The OnePlus TV U1S has a Mediatek MT9612 SoC with 2GB of RAM and 16GB of internal storage. Initially, the Netflix app was super stuttery and so was the general system UI response. After a couple of updates, most of the problems were ironed out. Yet, it wasn't the smoothest of experiences out there. I did face an occasional lag or stutter while using the TV. For example, opening the Settings Menu while watching a 4K video on Netflix was sometimes a sluggish affair.
The OnePlus TV U1S runs on the latest Android TV 10 software. Anyway, Android TV continues to be my least favourite TV operating system. And, OxygenPlay is not a patch on Patchwall. See what I did there? But, what OnePlus does is add a plethora of features.
Starting with the hands-free voice command for Google Assistant I alluded to earlier. The far field microphones are pretty sensitive even at the 9 feet distance from the TV. But, it tends to trigger automatically sometimes and it is also slower than what we're used to with Android smartphones.

The OnePlus Connect app on Android is pretty good. Apart from acting as a remote control, you can also use it to play any video file directly from your smartphone, which I feel is a neat touch. Plus, the Connect app can also automatically reduce the volume of your TV when you get a phone call, which is pretty neat too.

There's also a neat ecosystem play that OnePlus has added with its own accessories. While it is not as seamless as Apple, it is still pretty intuitive. For example, if you are using the OnePlus Watch, you can use it as a remote. And, if you have a pair of OnePlus truly wireless earbuds, the TV will automatically detect it when you open the play.

OnePlus is also proud of the fact that it offers a swathe Smart Casting options like – Miracast, Chromecast, and DLNA. Additionally, you can multicast two phones on the same TV. I tried it but for some reason, the multicast from the Galaxy S21 Ultra kept crashing.

Then there are a slew of other additional features such as a Data Saver mode that lets you monitor your bandwidth usage, which should be useful for people using a 4G hotspot. Parents can control the Kids Mode directly from the Connect app. And finally, there are some general metrics offered by OnePlus that lets you monitor your screen time as well. All pretty handy, if you ask me.
Should You Buy the OnePlus TV U1S?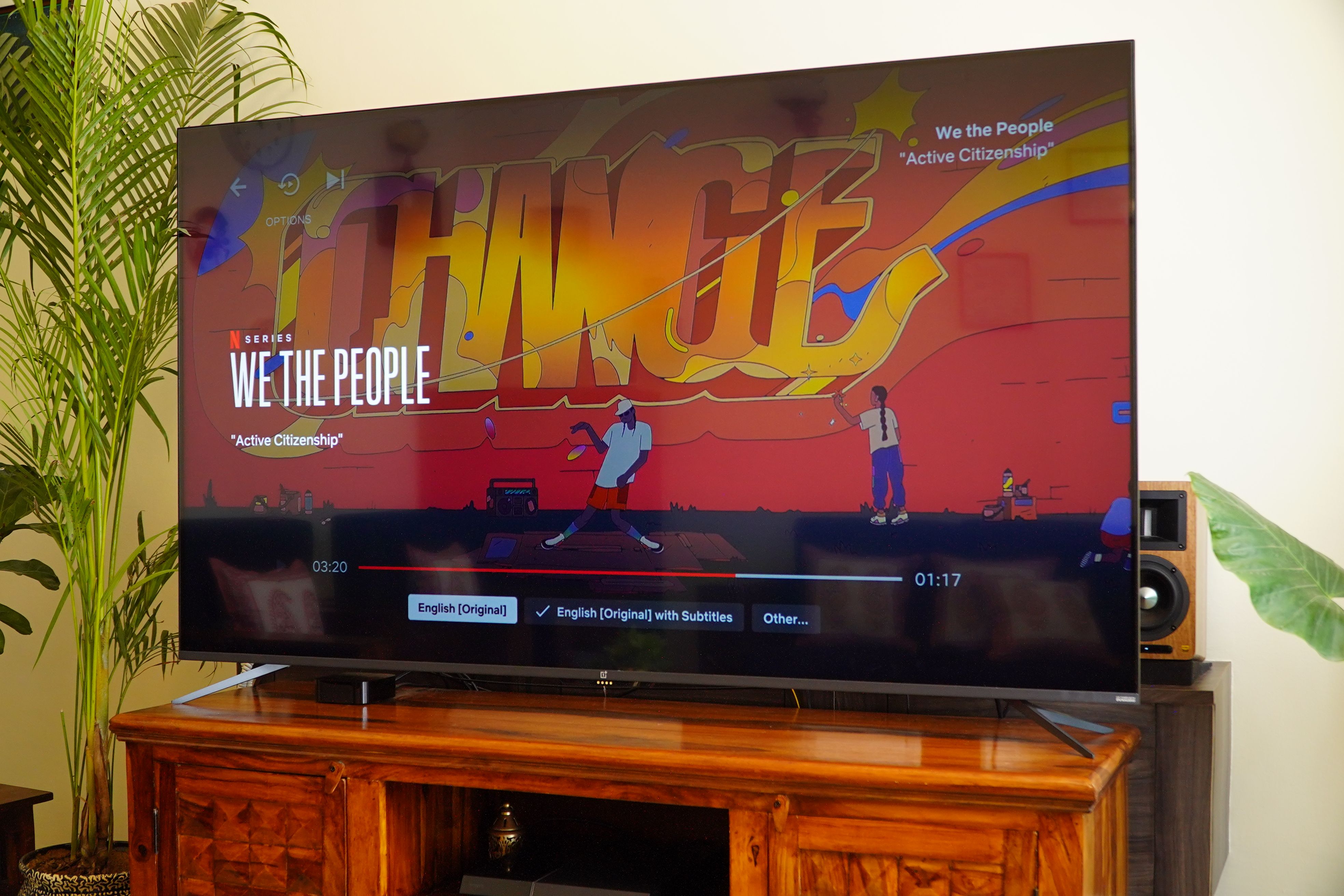 The 65-inch variant of the OnePlus TV U1S that I reviewed is actually a very good value for money product mainly because of the good picture quality. I can easily recommend this TV over the Redmi TV 65-inch or even the Mi QLED TV. No really, the picture quality is that good. But, for everything else, including Patchwall, the speakers, and general performance, those two TVs are better.
But, here's the thing, the picture quality of a television should make up 70% of your buying decision, features etc. are secondary. But, even with the features, OnePlus actually adds a ton of useful ones that are not present on other televisions. And therefore, the OnePlus TV U1S' 65-inch variant becomes an easy recommendation in my opinion. Only if the TV had a higher peak brightness…sigh.
So, what did you folks think of the OnePlus TV U1S? Do let me know in the comments section below.