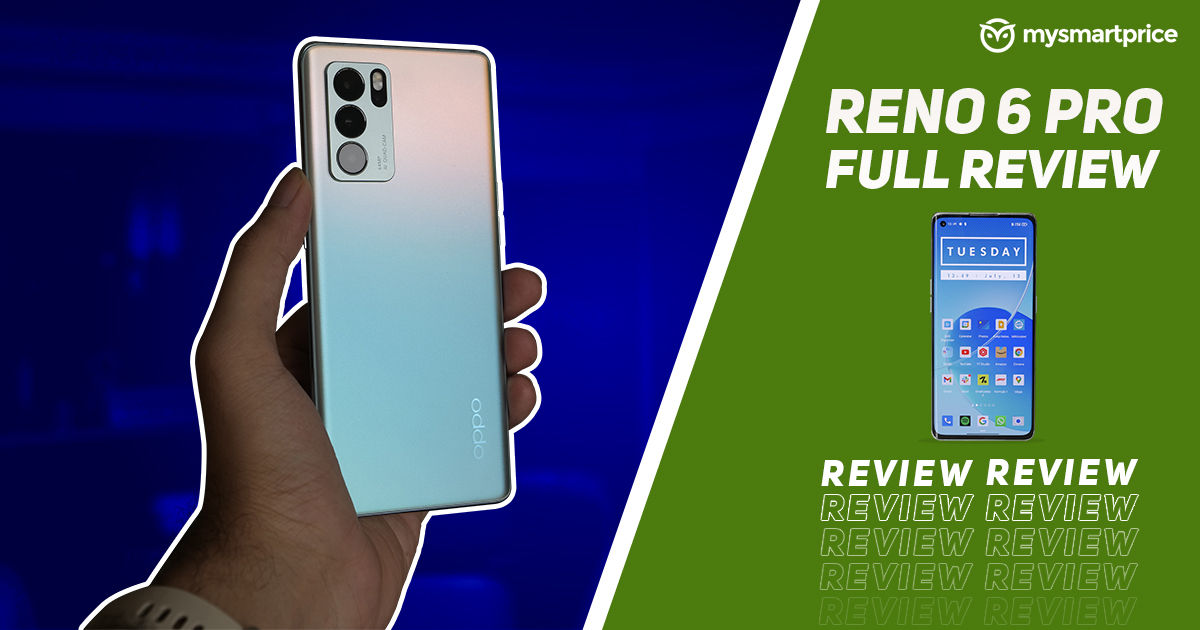 The Reno series started with a bang, launching one of the most affordable flagships of 2019 in the form of the Reno 10x Zoom. But since then, Reno has been more about camera-centric mid-range offerings that's refreshred twice a year in India. This year started with the Reno5 Pro and now we have its successor, the Reno6 Pro 5G. I have been using this phone for a little over 2 weeks now, and I've loved the experience. But there's nothing much that has changed from the Reno5 Pro and except for the chipset, it's almost identical to its predecessor. Here's what you need to know before buying it.
Battery Performance
7.5/10
Network Performance
9.8/10
What Is Good?
Looks great, Comfortable to hold
Gorgeous Curved AMOLED Display
Smooth Daily Performance
Superfast Charging
What Is Bad?
No Stereo Speakers
Throttles Too Soon
Weak Ultrawide, useless Macro
No Real Upgrade Over Reno5 Pro
Oppo Reno6 Pro: Build & Design
The best thing about this phone is how good it looks and how well it feels in your hand. I have the Aurora color variant with us and the 'Reno Glow' design makes a comeback here. It's a matte glass back with a slightly rough texture added on top, which makes it extremely grippy, and almost impossible to scratch or smudge. Plus the shimmering effect when light falls on it makes this back change colors so beautifully, I haven't had a single person who saw the phone in my hand and didn't ask about it.
The phone weighs just 177 grams and at 7.6 mm thickness, it's one of the lightest, most comfortable phones to hold and use even with a single hand. The curved edges at the back and front make the phone feel even more sleeker. The frame here is still a glossy plastic one though, and that kinda takes away from the overall premium-ness of the phone. There's no 3.5mm jack present here, and the phone also lacks a microSD card slot. The power button and volume rocker both feel rightly placed and offer good tactile feedback.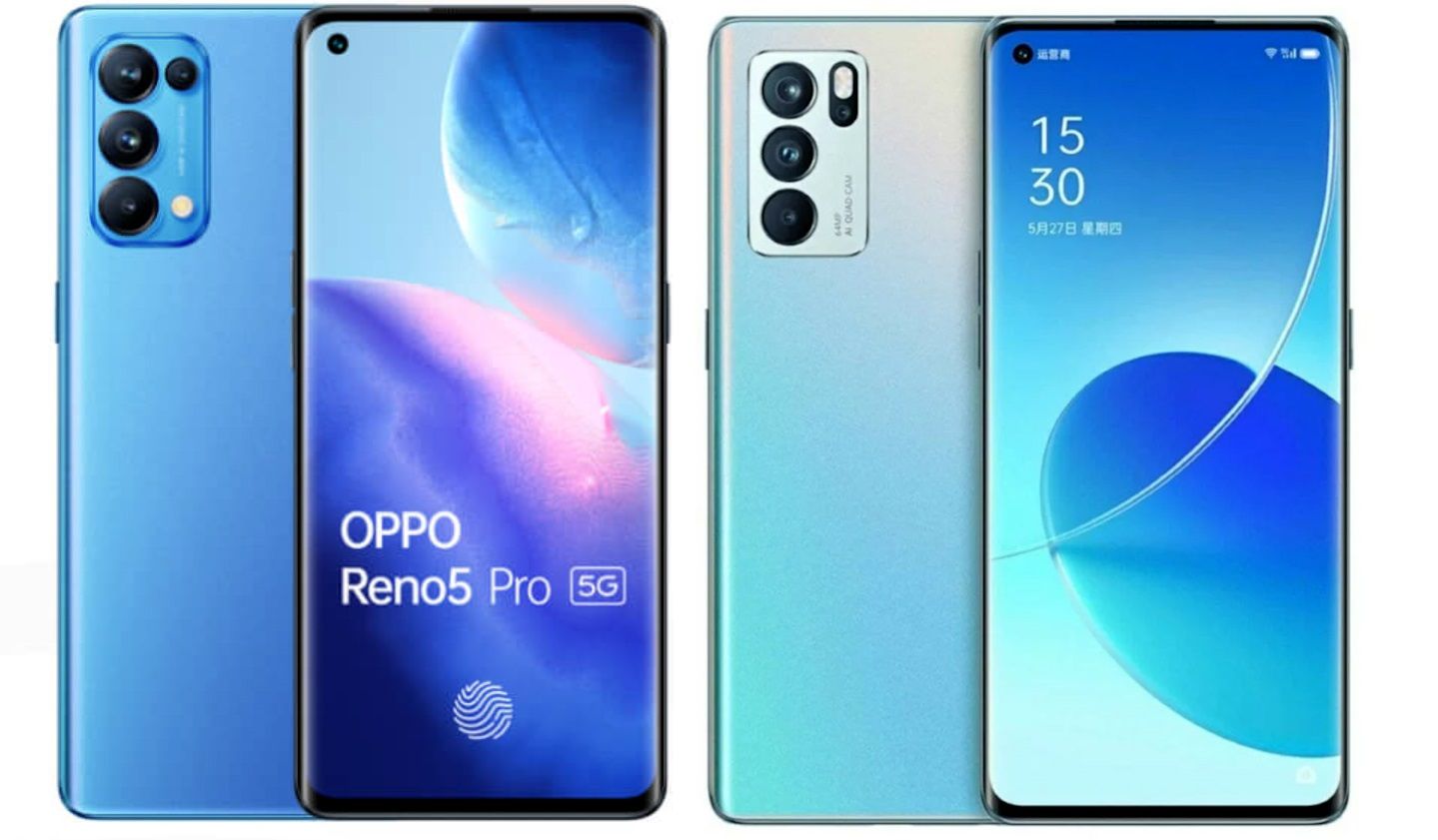 Overall I have very little complaints with how this phone looks but like I mentioned before, the Reno5 Pro basically offered the exact same design and in-hand feel, minus this new color variant.
PS: The top edge on the Reno6 Pro has a kind of 'glow in the dark' coating, which looks really funky in a dark room. Not sure if this was intended to serve this purpose but it might also help you locate your phone without having to turn on the lights.
Oppo Reno6 Pro: Display & Multimedia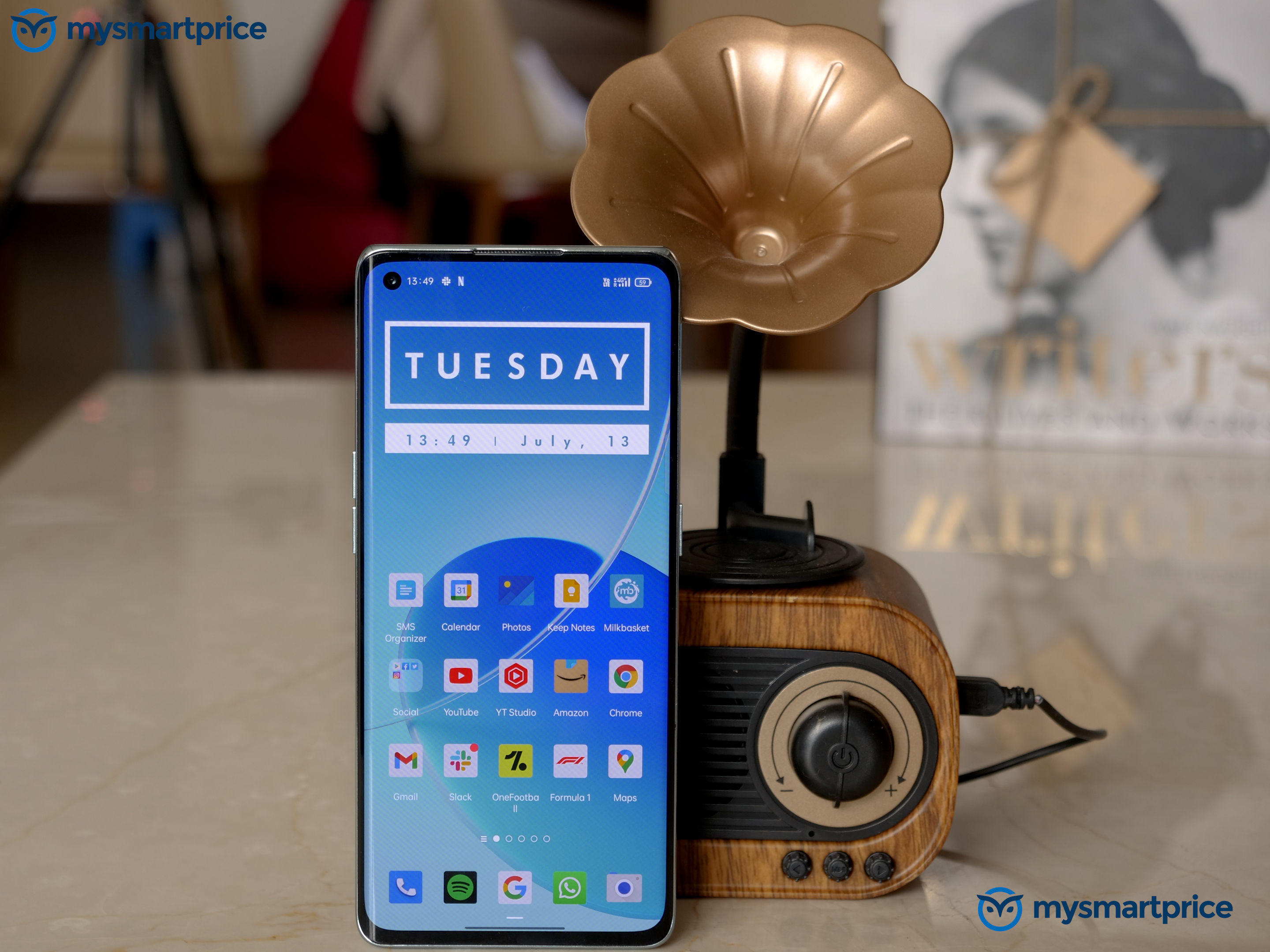 This is another aspect that's virtually unchanged from the Reno5 Pro. We still get the same 6.55-inch AMOLED display with 1080p resolution and a 90Hz Refresh rate. It's a curved display that looks really immersive, although the bottom chin could have been slightly thinner in accordance with 2021 standards. During my usage, I didn't face any accidental touch issues due to the curved edges, although your mileage may vary.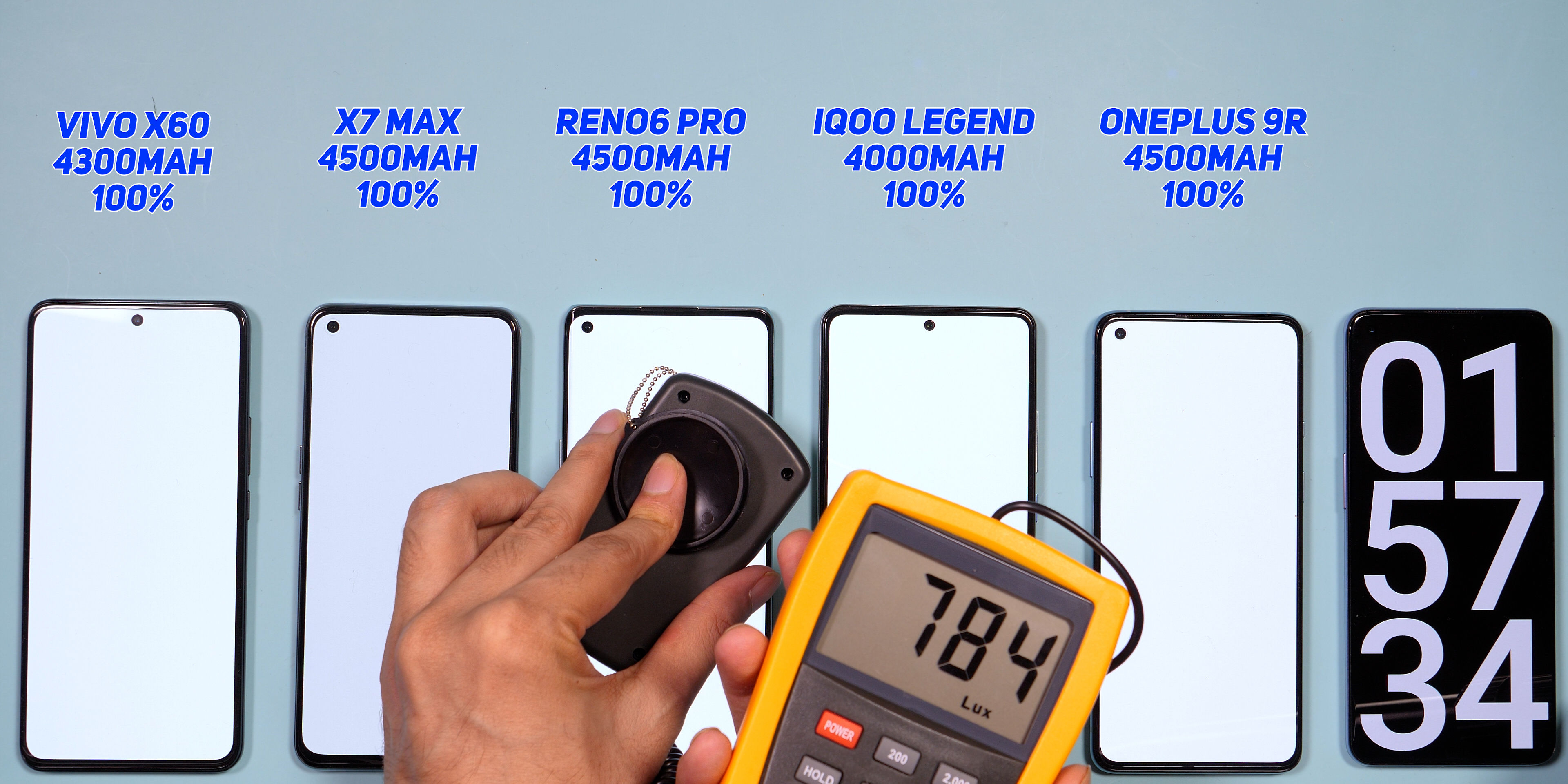 The screen itself is really good with punchy AMOLED colors and sufficient brightness to be used even under direct sunlight. There's support for HDR10+ here, although the phone can't play HDR videos on streaming apps like Netflix and Prime Video etc. Using a lux meter, I could measure a peak brightness of about 800nits in standard mode, which is on par with other phones like the Oneplus 9R, iQOO 7 series etc.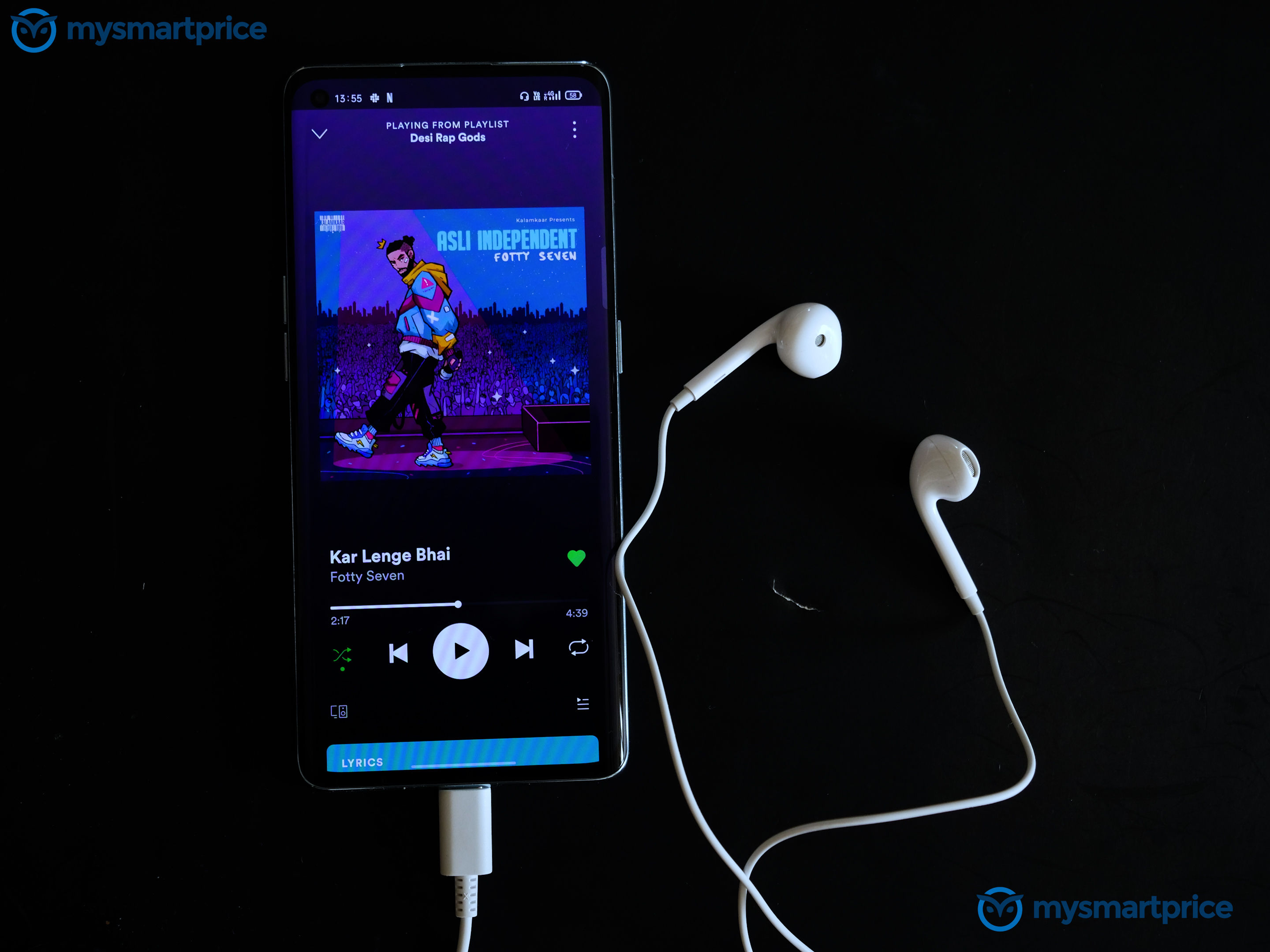 What lets this phone down is the average single speaker we get on the bottom edge. It's loud enough for indoors but falls behind the stereo speaker setups we find on almost every phone in this price segment nowadays. There's no 3.5mm headphone jack here but you do get a pair of basic USB Type-C earphones in the box, and they sound decent enough.
Oppo Reno6 Pro: Performance & Battery Life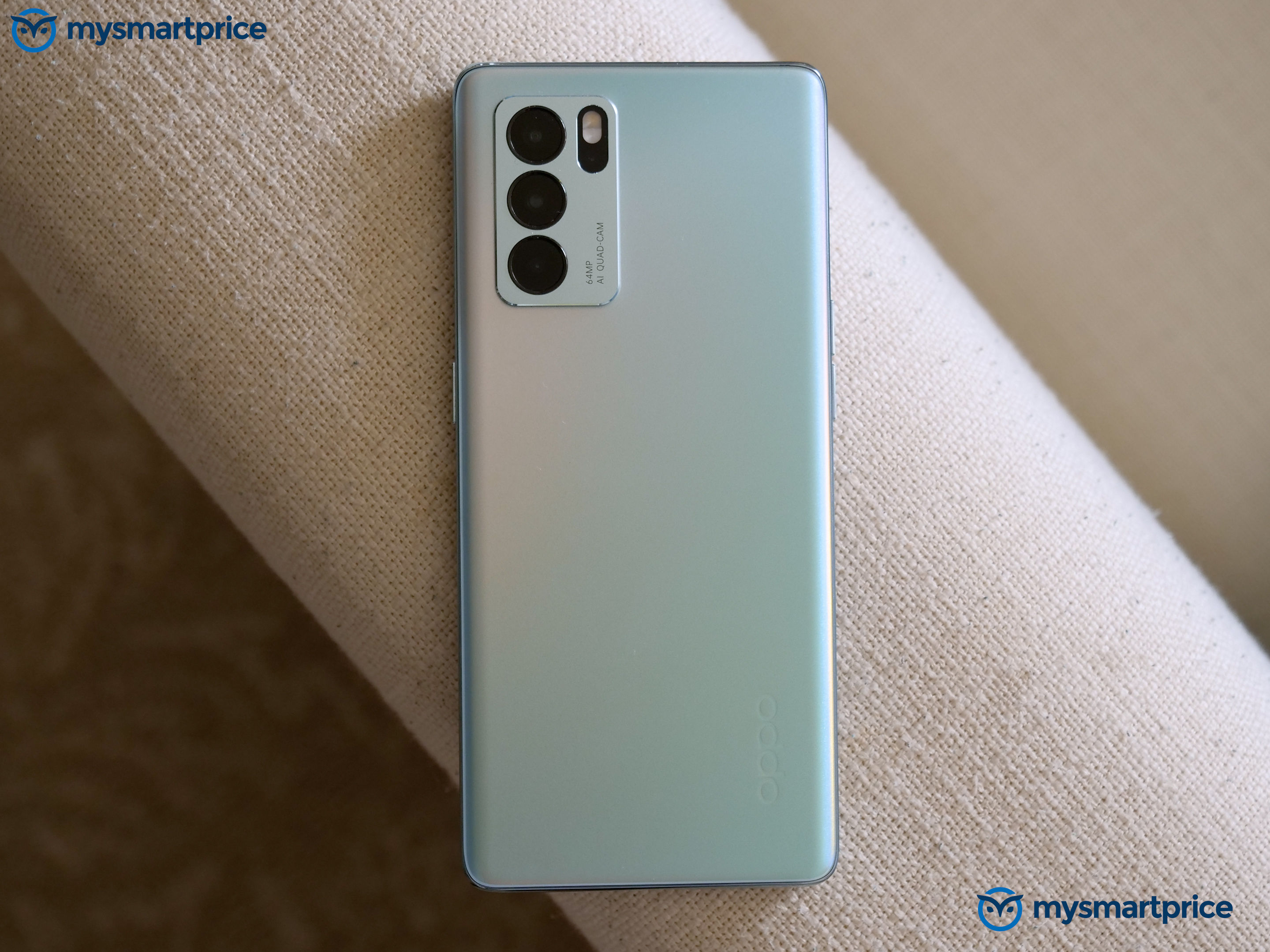 The Reno6 Pro comes in just one storage variant with 12GB LPDDR4x RAM and 256GB of UFS 3.1 storage. This is a slight upgrade over the UFS 2.1 storage we got on the Reno5 Pro, as is the Mediatek Dimensity 1200 SoC, which is a tad more powerful than the D1000+ on the Reno5 Pro. In real world usage however, I couldn't notice any major differences. The Reno6 Pro feels super smooth to use, apps open quickly and the 90Hz refresh rate makes everything glide across buttery smooth. I hardly faced any lags or stutters here, but the Reno5 Pro feels equally slick too.
As far as gaming is concerned, the D1200 lags behind its Snapdragon counterparts especially in terms of graphics support in games like BGMI. It can only run the game at a maximum of HDR Graphics and Ultra (40fps) frame rates, and you get 60fps gameplay only at the lowest graphics settings. While the gameplay experience itself is quite satisfactory, the Reno6 Pro is clearly not meant for performance enthusiasts. I could see clear signs of performance throttling on the phone, with popular benchmarks scoring much lower numbers than the Realme X7 Max with the exact same configuration. That being said, for casual gaming and day-to-day usage, this phone would do just fine.
Coming to the battery department, we get a 4500mAh cell here, and just like the Reno5 Pro it can last just about an entire day with around 6 hours of Screen On Time. For context, this is on par with phones like the iQOO 7 Legend and Oneplus 9R, but the Mi 11x and iQOO 7 will easily give you 6.5-7 hours of SoT. Charging is one area where this phone really shines as the 65W SuperVOOC charger takes just about 35-40 mins to charge this phone from 0-100%.
Oppo Reno6 Pro: Cameras
Reno6 Pro comes with the exact same camera hardware as on the Reno5 Pro. This includes a 64MP Primary (Omnivision sensor), a fixed focus 8MP Ultrawide and two 2MP Macro and depth cameras to fill up the spec sheet. The selfie camera here is a 32MP shooter and it's probably the most impressive camera present here.
The dynamic range in selfies is impressive, there's a good amount of detail and even the dedicated night mode works really well to give you usable selfies even in pitch dark conditions. One thing that you need to remember is that the skin tones aren't the most natural ones here, and even with all beauty filters off, there's a slight hint of skin brightening happening here. But for most people, all it means is good looking selfies ready for social media.
The ultrawide camera is a basic 8MP shooter, which does give you a wider field of view but struggles to capture sharp details. The dynamic range performance is good though and OPPO's color processing does manage to make the pics look good at least till you don't pixel peep. Video recording through Ultrawide camera is limited to 1080p 30fps.
The main camera delivers good looking images with good dynamic range and slightly boosted colors. But it lacks in terms of details and often leaves the darker areas too soft with lots of noise. This is mostly due to the weak sensor used here. For context, the 48MP Sony sensor on the iQOO 7 series does a much better job of capturing natural details. Anyway, this won't be a problem if you're looking for social-media worthy images only, which the Reno6 Pro can deliver easily. Low-light performance isn't too great either and even with Night Mode, the images came out to be a bit too dark and grainy.
The main focus of Reno series is shots of Human subjects, which always come out pleasing to look at. The new feature this time around is the Bokeh Flare Portrait mode, which tries to add a shimmery effect to the background blur in portrait photos and videos. It works as intended but only if you have distinct light sources in the background. For indoor shots with plain backgrounds or outdoor environments with even lighting, this mode basically ends up doing just a basic bokeh effect.
Bokeh Flare Portrait videos are limited to 1080p 30fps and in the right scenarios, they definitely come in handy trying to make a normal scene look fancy. It definitely feels more useful than the AI Highlight video which is mostly a gimmick as there's hardly any change except for a boost in saturation. Video recording otherwise is capped at 4K 30fps, and the EIS struggles to stabilize the footage properly. Video quality otherwise is decent with good dynamic range and slightly boosted colors, however there's nothing here really that makes it better than the competition.
Selfie videos are capped at 1080p 30fps and Bokeh videos from the selfie camera are restricted to just 720p. The regular Selfie videos turn out to be good though, and there's a dedicated Ultra Stable mode which crops into the frame to give you much more stabilized footage. Check out video samples and more in my video review.
Overall the Reno6 Pro cameras perform pretty much the same as last gen, with a few new software tricks. It is definitely not the best camera phone in this segment, as we have phones like the iQOO 7 Legend and Vivo X60 that offer much better ultrawides, actually usable macros, 4K 60fps video recording, OIS on main cameras and useful 2x telephoto lenses. I wish OPPO had managed to put in at least some of these things in the Reno6 Pro.
Oppo Reno6 Pro: Software, Network & UX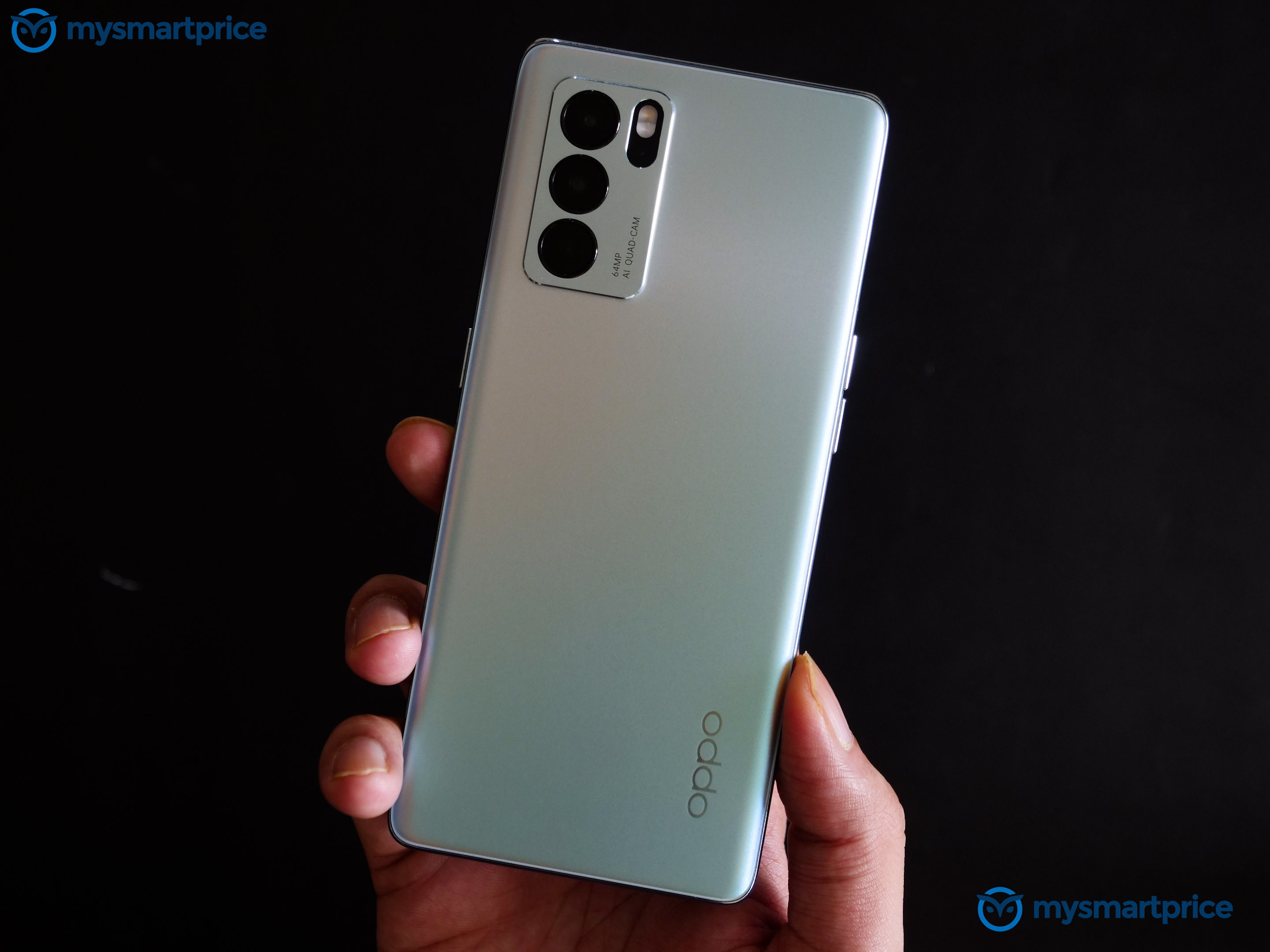 The Reno 6 Pro comes with Android 11 operating system with Color OS 11.3 skin on top. It's one of the most refined UI skins in 2021 with tons of customization tools and theming options. The overall UI feels really slick and light, and the phone mostly just flies during day to day tasks. All the recent BBK phones now come with a 'Virtual RAM Expansion' option, though I doubt any of us will be able to tell the difference in real life, because 12GB is anyway too much RAM for Android phones as of now.
There are some pre-installed apps, and the OPPO Browser can send you random notifications, but other than that the experience is mostly clean. All the necessary sensors are present here. Oppo hasn't skimped out on network capabilities either as this phone supports 11 5G bands (n1/3/5/7/8/28/38/40/41/77/78) and can also do 4G Carrier Aggregation. Network performance here was mostly solid, with my Airtel 4G SIM and the Dual Band Wifi gave me stable WiFi connection as well.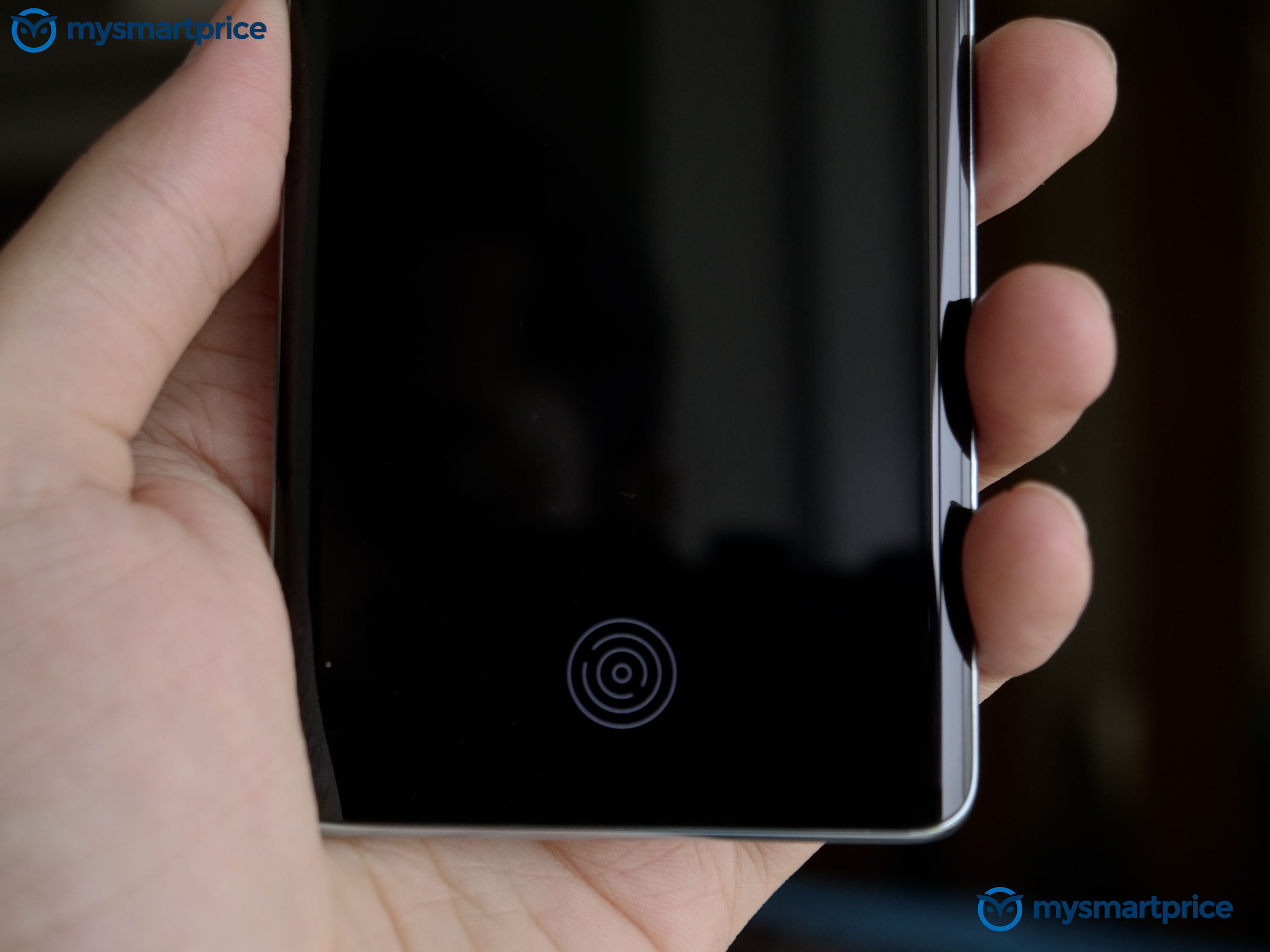 For unlocking you get an in-display fingerprint scanner, which works superfast; just like the Face Unlock option. I do wish the fingerprint scanner was placed slightly higher though. Lastly, there is a linear vibration motor present here which adds some haptic feedback across the UI. However, it's still not at par with the tight haptics we get on the Mi 11x series and the iQOO 7 series.
Oppo Reno6 Pro: Pricing, Verdict & Alternatives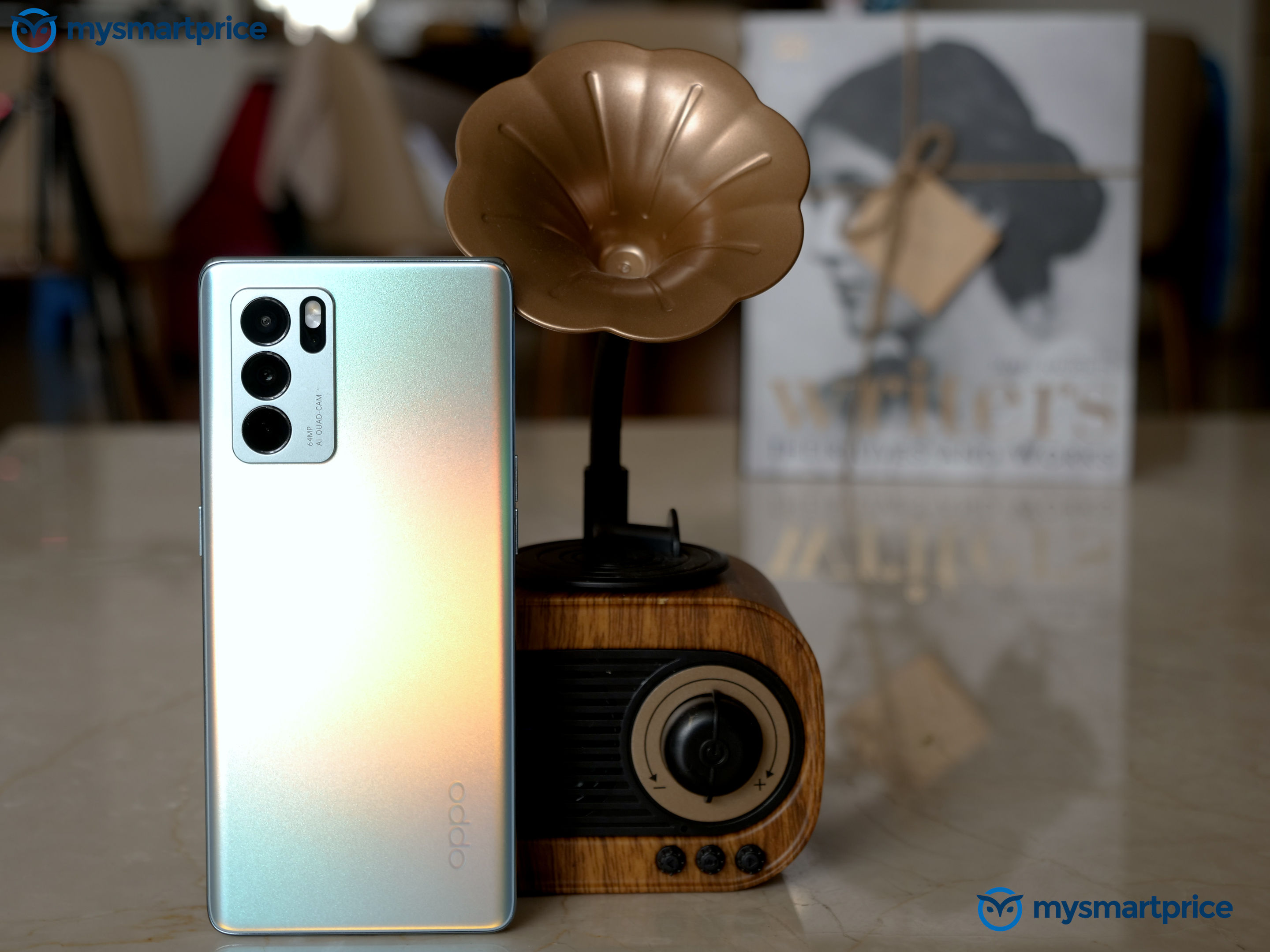 The Reno6 Pro is a delightful phone to use. Just the way that it looks and sits in your hand is bound to win you over. Plus the gorgeous curved AMOLED display, how smooth and slick it feels in daily usage, and the superfast charging that never lets you have any battery anxiety. The cameras too, while not being the best still manage to deliver good looking pictures. In isolation this is a great phone to buy for anyone who isn't concerned too much about gaming performance or clicking color accurate pictures.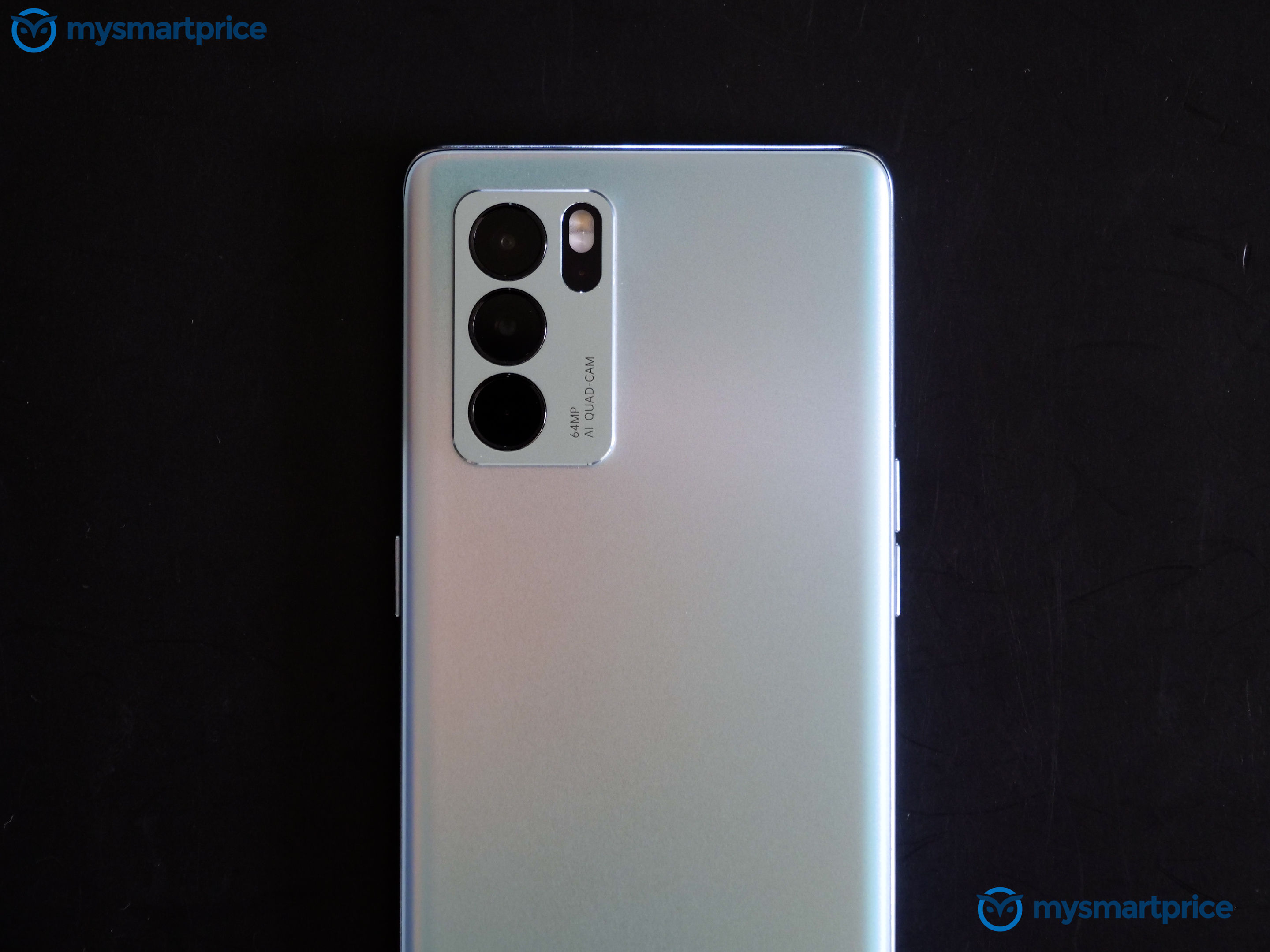 But what lets this phone down are some of the basics that Oppo has managed to skimp on, plus the fact that it's hardly an upgrade over the Reno5 Pro. It's probably the only new phone in this segment with a single speaker, the ultrawide is as basic as it gets, the main camera still uses a very weak sensor and the macro camera is literally useless. For a phone that takes pride in "DSLR level Cameras", these are a few basics that anyone would expect. Unfortunately, this phone's camera prowess comes only in the form of the Bokeh Flare Portrait mode which is a cool new feature no doubt, but some hardware upgrades were definitely needed here.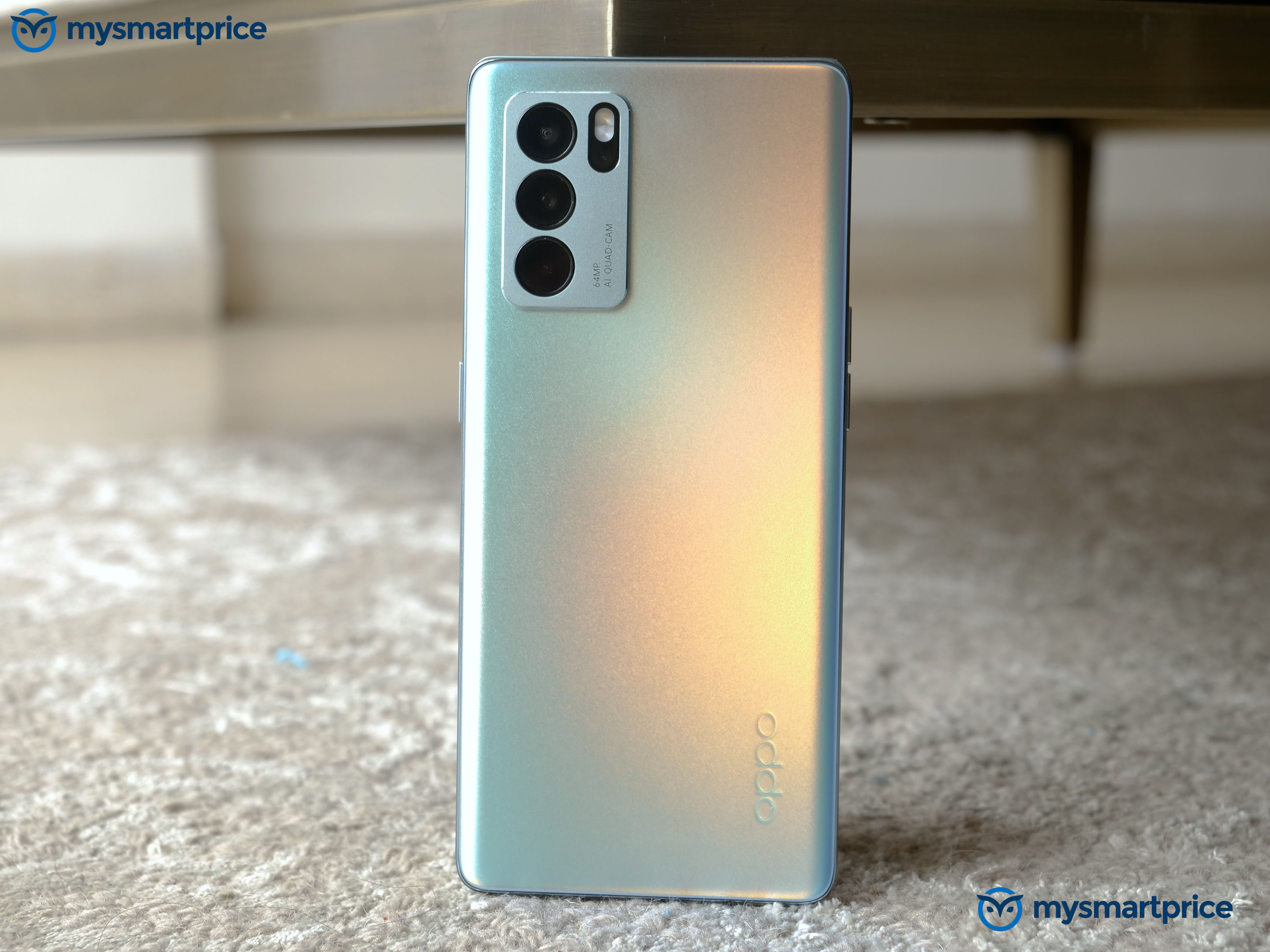 The Reno6 Pro costs Rs 39,990 for the 12/256GB model and at that price it's more expensive than the Reno5 Pro which currently costs Rs 35,990. If you're looking for a good Oppo phone in this price range, going for the Reno5 Pro might be a better decision, unless you absolutely need to use the Bokeh Flare Portrait mode right away. Then there is the iQOO 7 Legend, which will give you better performance, better cameras and better build quality. Or you can save a lot of money and buy the iQOO 7 which will again give you slightly more reliable cameras and much better gaming performance as well. Then there is the Realme X7 Max which gives you the same performance as the Reno6 Pro minus the curved display up front, but it also costs much lower too. You get the gist.
I really like the Oppo Reno6 Pro, so much so that I'll call it my favorite Oppo phone since the Reno 10x Zoom. I feel most users will be happy after buying this phone, especially those who are looking for a stylish, sleek phone. But if you're looking for the best VFM offering in this budget, you'll have to look elsewhere.