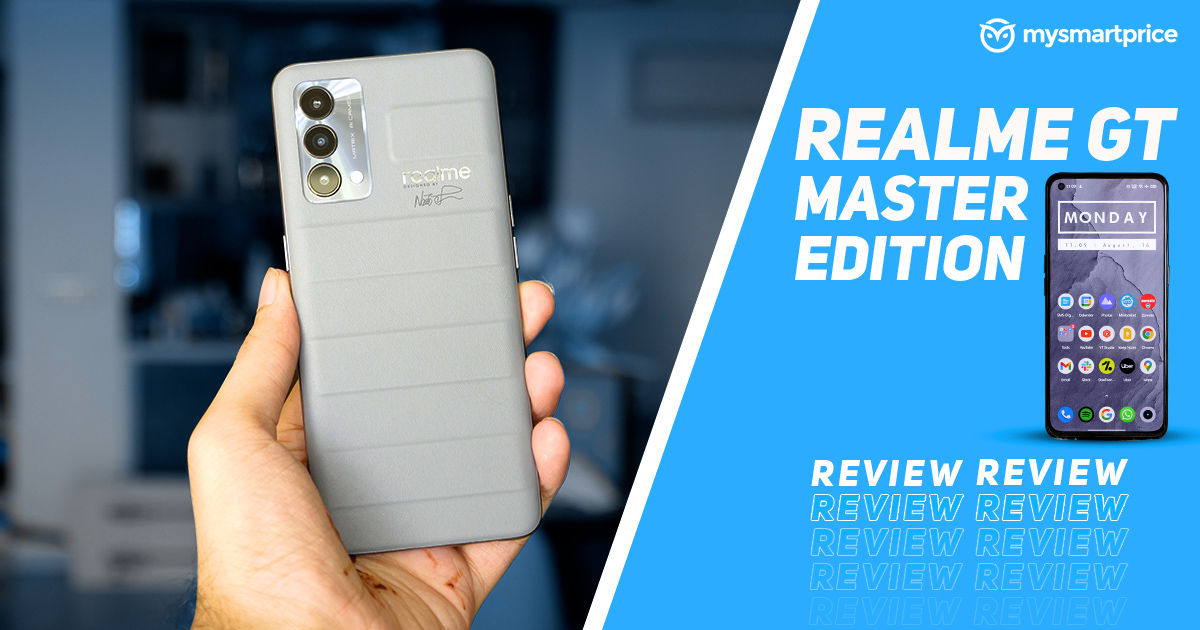 In the six months since Realme debuted their 2021 flagship, the Realme GT; it has become evident that the GT moniker is not limited to one product and instead now it's said to be replacing the 'X' series as Realme's flagship series. Our readers might already be aware that the Realme X7 Max launched in India was actually a rebadged Realme GT Neo. But after a long wait, we finally have the true blue GT products entering the Indian market. While the Realme 'GT Master' sounds like a 'Pro' version of the vanilla Realme GT, it's actually the other way round. We'll talk about the Master moniker and a lot more, as I try to capture my 10 days of experience with the Realme GT Master here.
Realme GT Master Edition
Rs 25,999
Battery Performance
7.0/10
Network Performance
9.5/10
What Is Good?
Ergonomic, Lightweight Build
Suitcase Design Looks Unique
Reliable Performance
Superfast Charging
3.5mm Jack
What Is Bad?
No Stereo Speakers
Average Battery Life
Weak Ultrawide, Macros
Low-Light Performance
Realme GT Master: Build & Design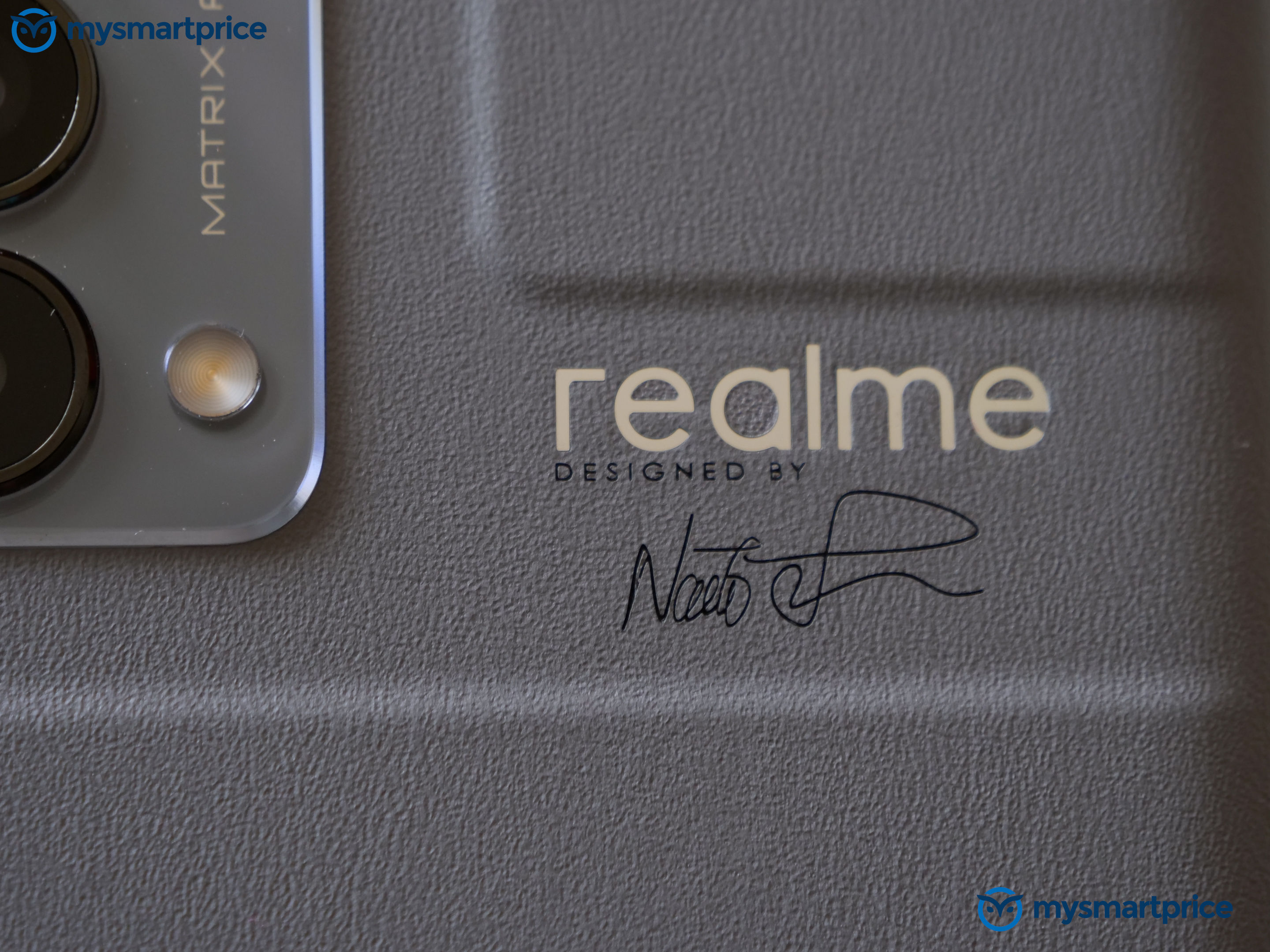 Let's begin with the 'Master' moniker itself. It's being used here to signify the involvement of renowned designer, Mr. Naoto Fukasawa in the design process of this phone. For context, he was also the man behind some of the most unique phone back designs that Realme has come up with, notably the red brick Realme X2 Pro and the onion/garlic options on the Realme X. This time, the inspiration is the iconic suitcase design we're all used to. The 'suitcase' design here isn't just a colorway or gradient pattern, there are actual crests and troughs on the phone's back, which definitely make the phone stand out.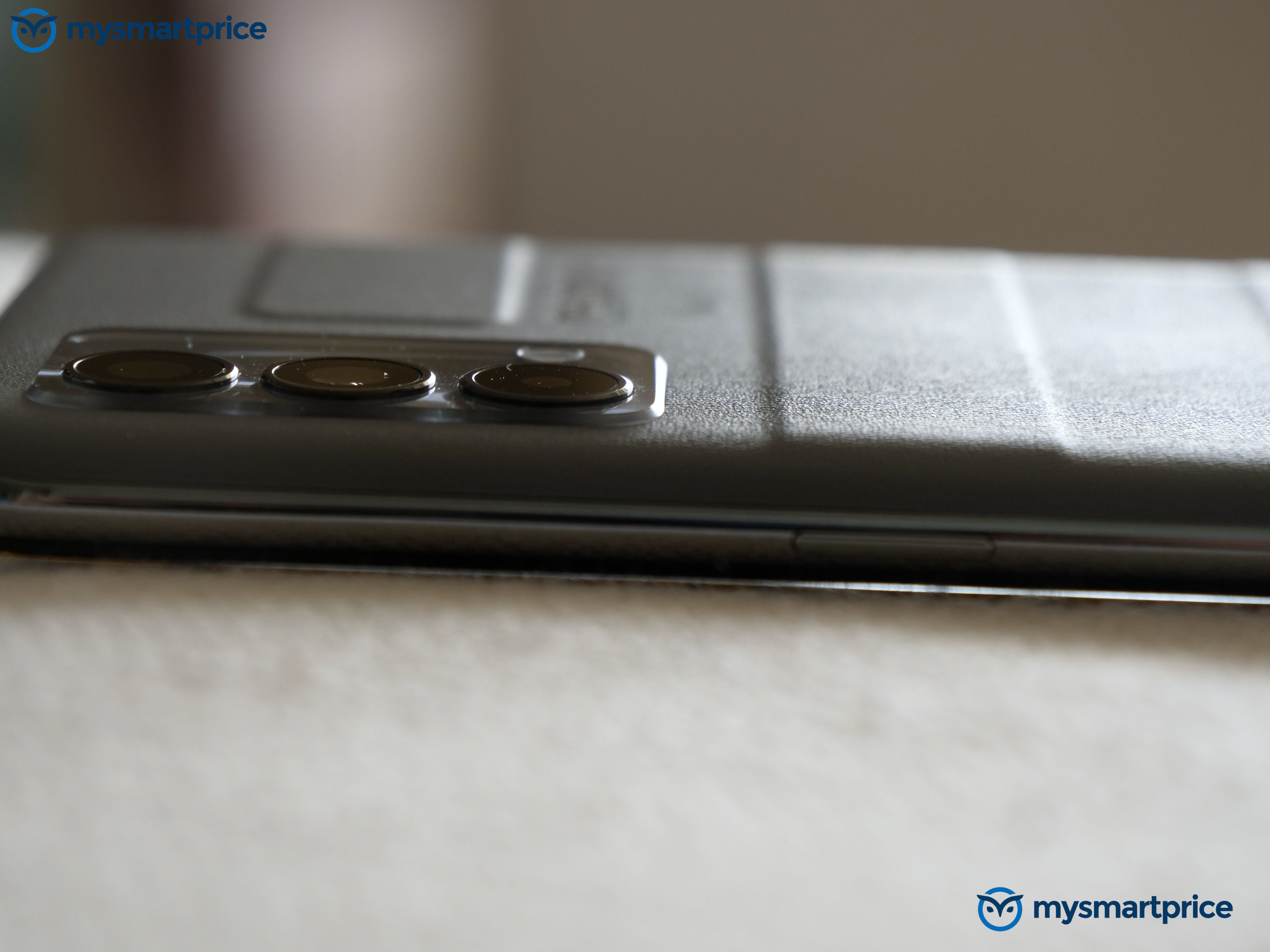 The good thing about the phone's back is that it's done with a vegan leather texture that feels very soft to touch and is also less slippery than regular glass backs. It's still a polycarbonate back but feels much more premium than you'd expect. I personally would have loved having the same vegan leather option in a variety of colors, but as of now you have to make do with the grey color we got. There is a matte white and a glossy black version as well, however they both miss out on the suitcase inspired backs.
Realme GT Master Edition Design
Probably the best part about this phone's design is how lightweight and comfortable it feels in the hand. At just 180 grams (174 grams for non-suitcase variants), and compact dimensions, it's probably one of the most ergonomic phones to use. Infact, it's almost identical to the Realme X7 Max in physical dimensions and ports/buttons etc. The power button and volume rockers feel sufficiently tactile, and the presence of a 3.5mm headphone jack is nothing short of a rarity in 2021. However, there's no microSD card slot here, so you'll have to choose your storage options accordingly.
Overall, it's a really good-looking, well built phone with very little to complain about in terms of build & design. For what it's worth, I feel that the presence of a metallic and/or matte-finished frame might have added a bit to the premiumness of the phone.
Realme GT Master: Display & Multimedia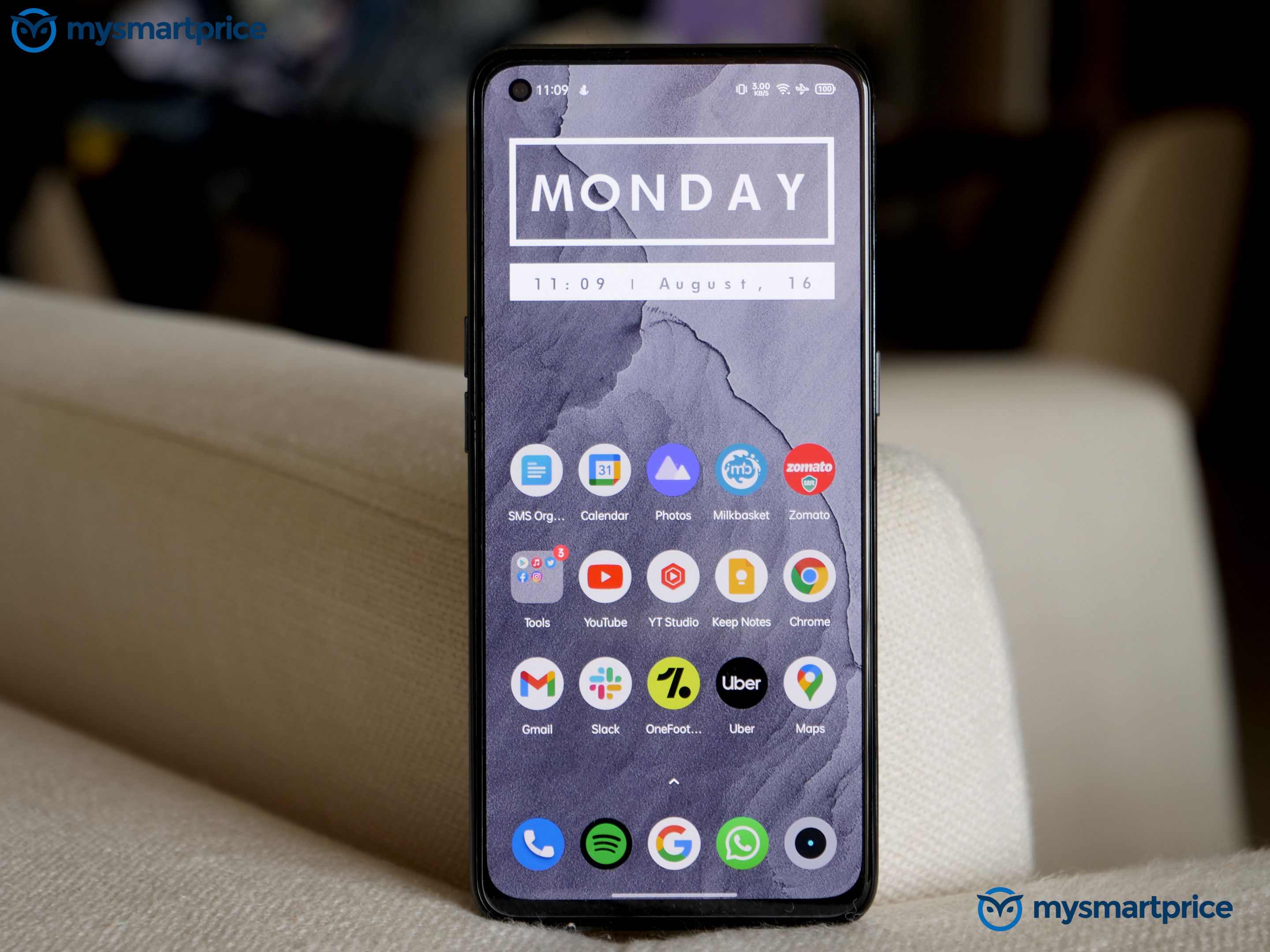 At the front of the Realme GT Master, we find a 6.43 inch sAMOLED display packed in between thin, symmetrical bezels on three sides and a slightly thicker chin. The front fascia of the device is identical to the Realme X7 Max, right down to the punch-hole at the top left corner. The display performance itself also feels very similar, if not exactly the same. We get FHD+ resolution, Widevine L1 certification and a claimed peak brightness of 1000 nits. In our testing, the screen could touch about 700 nits of brightness in regular mode, and I could definitely sense a brightness boost in outdoor conditions. Case in point, it's a good display with ample brightness and punchy colors, good for multimedia consumption and web browsing. However, it lacks HDR playback on apps like Netflix etc, which is available on the Poco F3 GT and Oneplus Nord 2.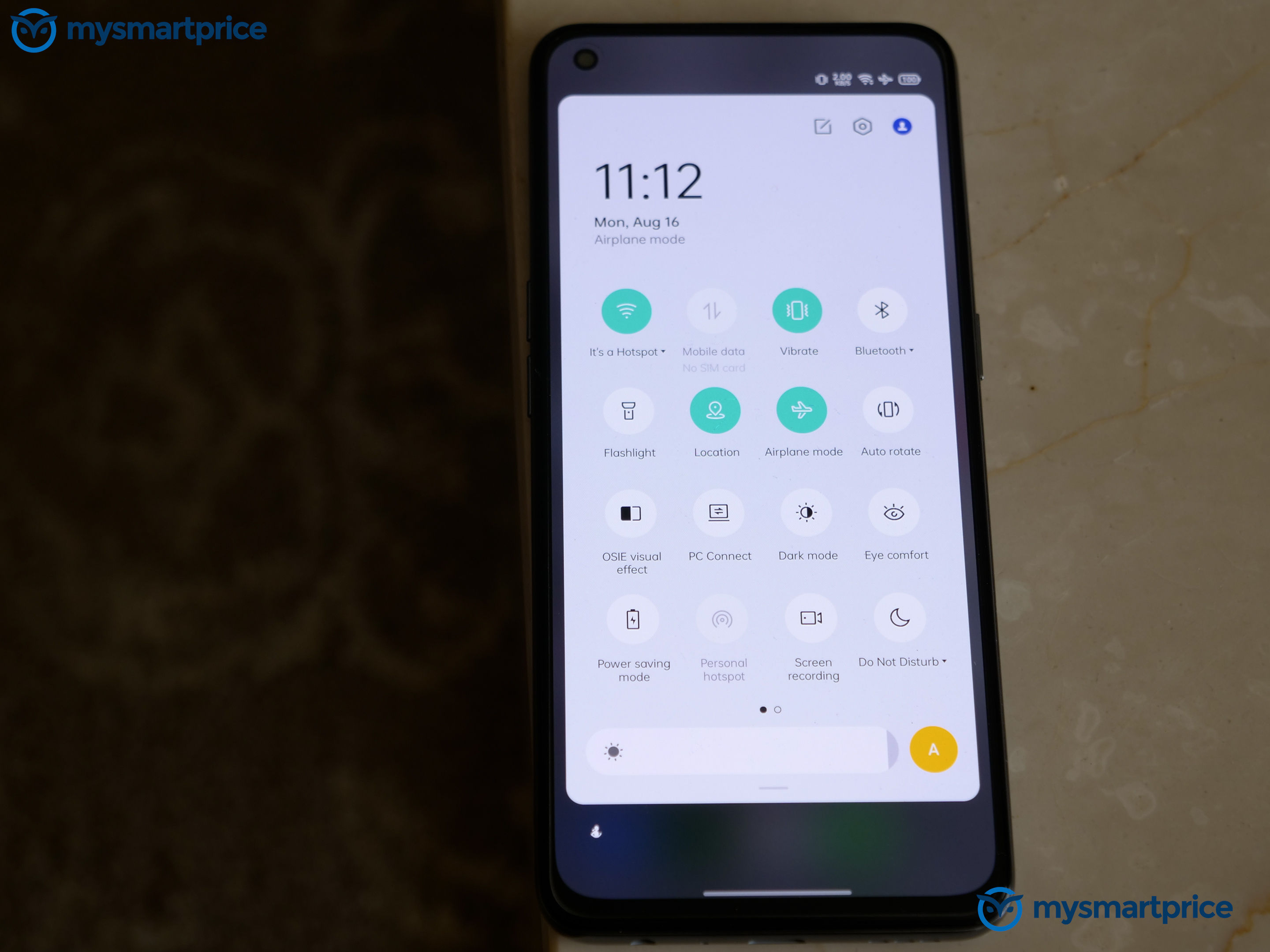 The screen here supports upto 120Hz of refresh rate, and that coupled with the 360Hz touch sampling rate, makes the phone feel super responsive with animations just gliding across the screen. It misses out on a stereo speaker setup though, and while the single bottom firing speaker gets loud enough for most use cases, it still can't match the richness provided by stereo speakers on the X7 Max and Nord 2 etc.. Audio via the 3.5mm jack is as expected, and the ability to use wired earphones while gaming will definitely attract gamers.
Realme GT Master: Performance & Battery
The most exciting part about the GT Master is the brand-new Snapdragon 778G processor it comes with. It's a 6nm chipset, the first in Qualcomm's 7-series, and is a huge bump over the likes of 765G and 768G. I did a detailed performance comparison pitting the 778G against the Dimensity 1200, Snapdragon 860 and 768G. Check out the video here:
TLDR; it's a great chipset only slightly behind the Dimensity 1200 in terms of raw power. It's powerful enough to power the 120Hz screen and day-to-day tasks feel super smooth. There's 8GB of LPDDR4x RAM present here and you can expand it further using Realme's Dynamic RAM Expansion tech. The storage used here is UFS 2.2 though, so the load times on some heavy apps are slightly longer than the likes of Realme X7 Max and Nord 2 etc..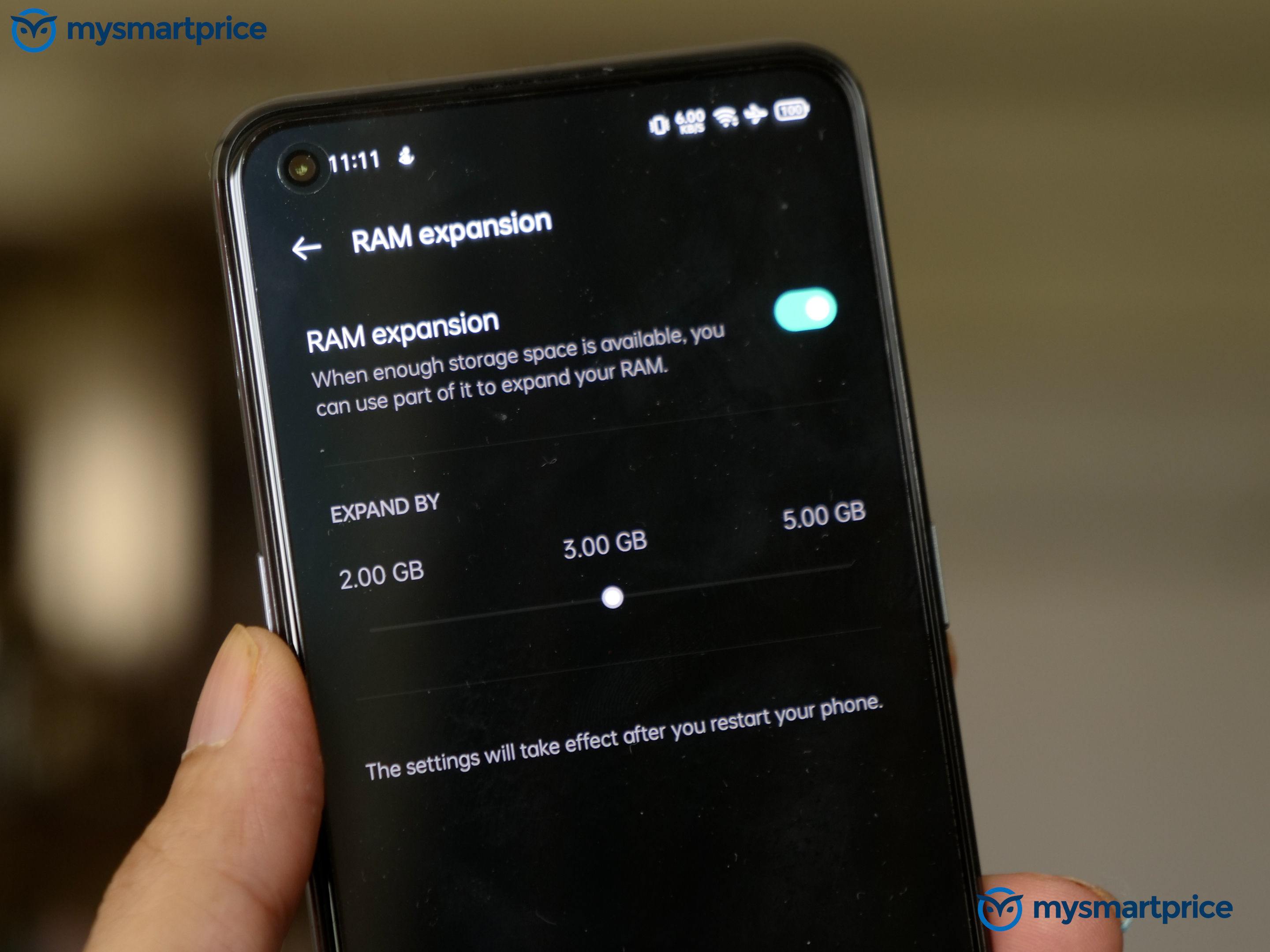 In my 7 days of usage, I was mostly satisfied with the phone's performance, with just some slight niggles when I was pushing the phone too far. E.g. I noticed some stutters when I was using the phone to play music while also running Google Maps navigation on it, AND using social media apps on top of it. But other than that, the phone completely made me forget that it's a mid-ranger and not an all-out flagship. Coming to the gaming performance, the phone can run BGMI on HDR+Ultra or Smooth+Extreme. That's slightly lower than what the D1200 can support, and at par with the 768G. Real-life gaming performance was quite good though, with the phone hardly feeling warm to the touch, and no visible signs of performance throttling at all. In fact, in our extreme performance testing, the 778G beat even the D1200 in terms of performance stability and thermal performance. That said, for true-blue gamers, I'd still recommend something like the POCO F3 GT or iQOO 7 under 30K.
Coming to the battery performance, the 4300mAh cell here is definitely not meant to last more than a day. In my usage, I was getting just about 5 hours of SoT with medium usage spread across 24 hours. That's definitely not great battery life, but it's also not considerably worse from what you get on other competing phones. Charging speeds here more than make up for it, with the bundled 65W charger taking just under 33 minutes to take this phone from 0 to 100%. For context, the Realme X7 Max takes more than 50 minutes to touch 100%. Check out the battery and charging performance in our battery test video above.
Realme GT Master: Software & Network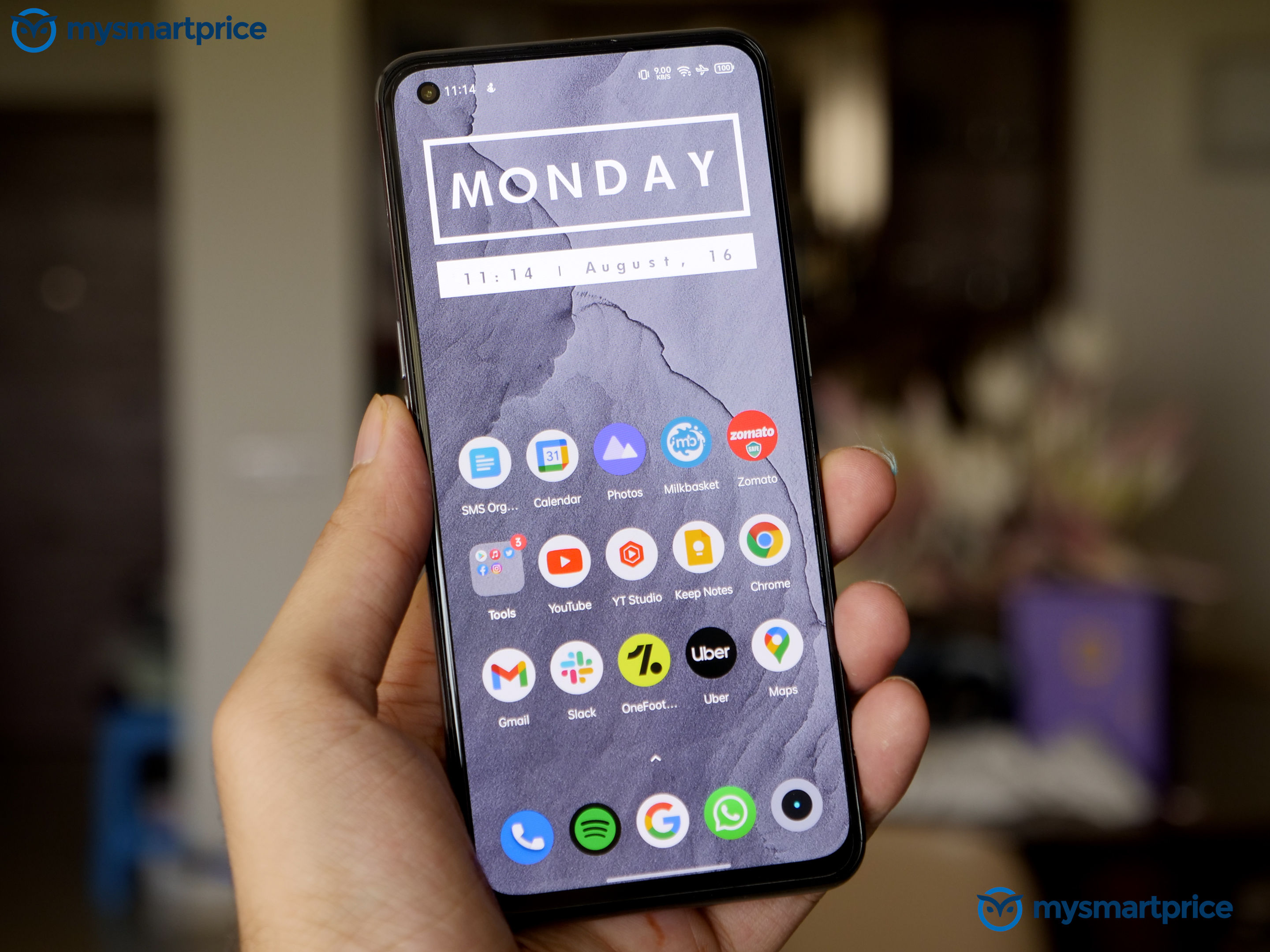 Realme GT Master comes with Realme UI 2.0 layered on top of Android 11. The software experience is identical to what you'll find on any other 2021 Realme phone. There are a few Realme apps that come pre-installed and about half a dozen of third party apps too. There are no ads as such, but the Theme store app and Browser app can send you some pesky notifications. Features wise, you get everything here including options to customize UI colors, fonts and icons etc. Realme really needs to refresh their wallpaper line-up though as almost every pre-installed wallpaper here feels too old.
What's new on the GT series is a dedicated "GT Mode". It works very similar to the Gaming Mode that comes on all realme phones, except it's tuned specifically for GT series this time. The toggle is present in the quick settings panel, and it basically switches to the high performance cluster of the CPU, cranks up the refresh rate to 120Hz and disables any kind of battery optimizations. I didn't really use it though, mostly because I didn't feel I needed extra power, but also partially because I couldn't afford to get any less battery life than I already was.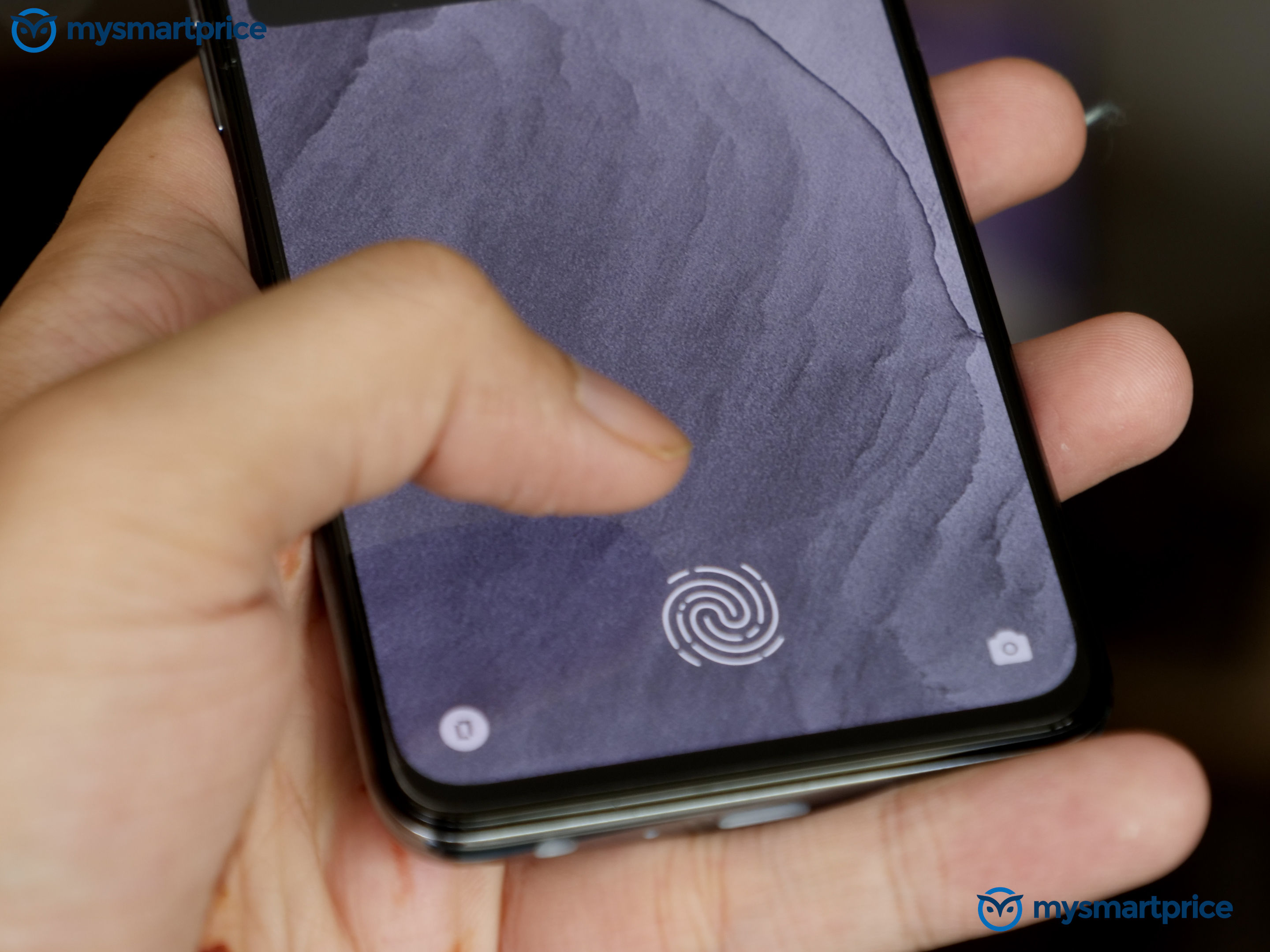 The in-display fingerprint scanner and face unlock both work super fast and I had no troubles with unlocking the phone at all. Coming to network performance, this is a 5G phone with support for 8 5G bands (n1/3/5/8/28a/41/77/78) which is 1 more than what the X7 Max supports. For 4G networks, there's support for Carrier Aggregation and during my usage with Airtel SIM, the network performance was solid here. So was the WiFi performance, thanks to the inclusion of Dual-Band Wifi and even support for WiFi 6.
Realme GT Master: Cameras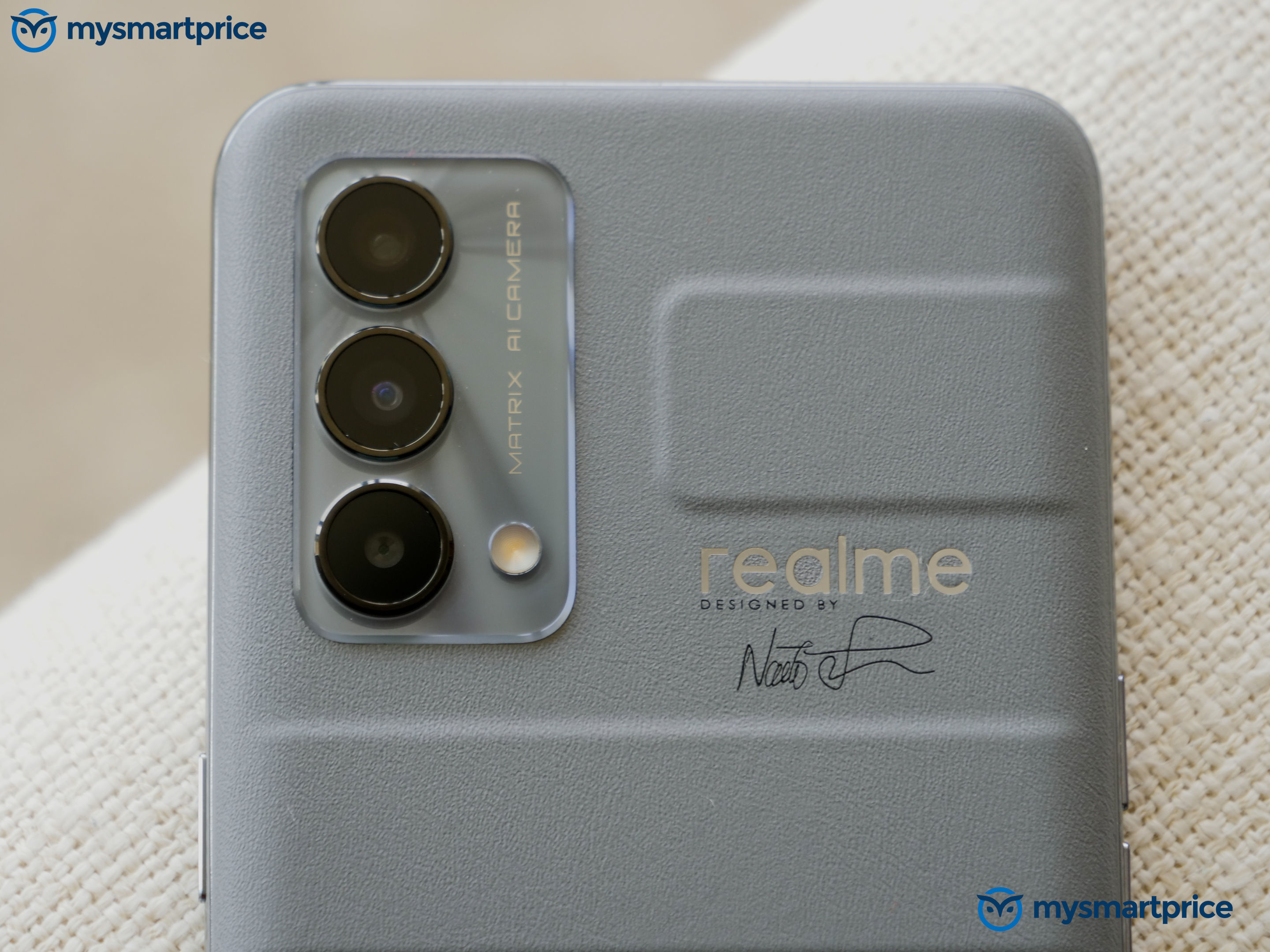 For the umpteenth time now, Realme has launched a phone with a 64+8+2MP camera setup. The primary 64MP camera here comes with an Omnivision sensor, the 8MP Ultrawide and 2MP fixed focus macro cameras are practically unchanged from when they first debuted in 2019. Needless to say, the macro photos are mostly useless. The Ultrawide camera can still churn out OK pictures if the lighting conditions are optimal.
Realme GT Master Ultrawide
The Main camera clicks really nice looking pictures with great dynamic range and good amount of details, albeit with slightly oversaturated colors. In comparison to the Realme X7 Max, I found the GT master's pics to be closer to natural colors probably because of the strong ISP on the 778G. However the Sony sensor on the X7 Max is better in terms of corner details.
Realme GT Master Main Camera
Also, low-light performance is slightly better on the X7 Max too, probably due to the better sensor. All of this would matter only if you're a serious shutter bug though, and for most regular users the camera output of the Realme GT Master should be more than satisfactory.
Realme GT Master Low-Light
Selfies from the 32MP camera turn out to be plenty sharp too, with good dynamic range. However the HDR processing does add a Halo effect around the subject giving the pics a distinct tone-mapped look. In comparison to the X7 Max, the field-of-view is much wider though, and the reddening of skin tones is slightly better controlled.
Video recording is capped at a maximum of 4K at 30fps, while the X7 Max can shoot 4K 60fps videos. Video quality is surprisingly good though with wide dynamic range and much better colors than the X7 Max outputs. There's also support for AI Highlight Video which can do Live HDR and/or Night Mode processing over the video depending on the lighting conditons.
Then there's the all-new 'Street Mode', which has some nifty new features like DIS Snapshot and cinematic filters, however I couldn't really notice anything remarkable about the output via it.
Realme GT Master Street Mode
It's a good camera phone overall, but there's very little on offer here that we haven't seen on other Realme phones. A better ultrawide and/or macro camera would have made a ton of difference.
Realme GT Master: Pricing, Verdict & Alternatives
The Realme GT Master Edition starts at Rs 25,999 for the 6/128GB variant and goes upto Rs 29,999 for the 8/256GB option. If you're planning to spend 30K on a phone, I'd recommend you take a look at phones like the Nord 2 and iQOO 7 that give you much better chipsets, stereo speakers and more capable cameras. If you're looking to buy a phone primarily to game on it, the Poco F3 GT with its gaming triggers is a great buy. Then there's Realme's own X7 Max which shares a lot with the GT Master, but packs in a better chip, stereo speakers and slightly more capable main camera sensor. The GT Master has a fresh new design and much faster charging though.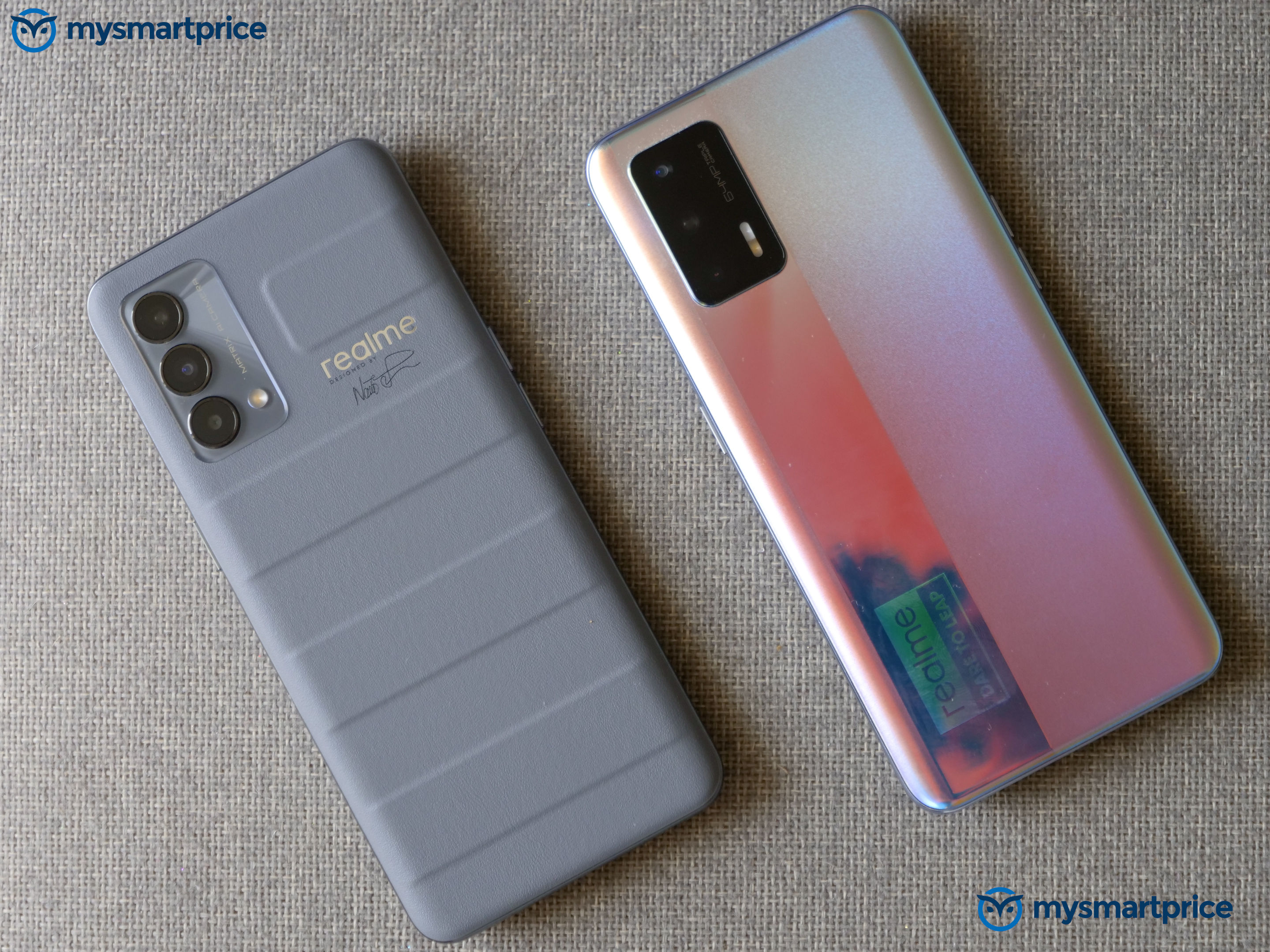 The GT Master is a great phone to use. It looks unique, feels great in-hand, performs well, charges superfast and the cameras output good-looking pictures most of the time. There's nothing majorly *missing* from the phone, but the fact that the Realme X7 Max does most of the same things and now also sells for just Rs 24,999 complicates the equation. Plus, the lack of stereo speakers and Realme's decision to not upgrade the ultrawide and macro cameras, means that it's stuck in a weird limbo right besides the X7 Max. I wish Realme could have priced it in the 20-25k segment by chopping out some things, or added better cameras and speakers even if that took the price upto 30K. Right now, except for its unique suitcase design, there's no real reason anyone would choose this over the other. Albeit I'll agree that for most users, this itself could be a good enough reason to go for it. Like I said in the title, it's the Jack of all trades, but the master of just ONE.