After being incredibly successful in the smartphone segment, OnePlus has entered the smart TV space, at least in India. The Chinese brand's journey in the smart TV segment started with the launch of two premium TVs, and that's bold coming from a brand that shot to its fame for making value-for-money smartphones. Both TVs—OnePlus TV Q1 and OnePlus TV Q1 Pro—were launched in India last month.
Both models use the same 55-inch QLED panel from Samsung, featuring HDR10, HDR10+, HLG, and Dolby Vision certifications for HDR video playback. Both TVs also run Android TV 9 OS, use a faster processor compared to the competition, have a premium design, plenty of ports, and deep integration with smartphones. They also come with Alexa and Google Assistant integration. OnePlus also developed its own video curation service called OxygenPlay that combines content from a bunch of video streaming services.
The OnePlus TV Q1 costs Rs 69,900, while the OnePlus TV Q1 Pro costs Rs 99,900 on Amazon.in (where they are available exclusively). The only difference between the two TVs is the inclusion of a 50W 2.1-channel drop-down soundbar with eight drivers on the Q1 Pro. The Q1 uses a 50W 2.1-channel speaker system but it uses just four drivers. Is the steep price jump of Rs 30,000 worth it? Moreover, should you consider buying a premium TV from OnePlus when you can get similarly specced TVs from much bigger brands like LG and Samsung at the same price? Let's find out in our review of the OnePlus TV Q1 Pro.
Note: You can also treat this as the review of the OnePlus TV Q1 (except the audio part).
[P_REVIEW post_id=168976 visual='full']
OnePlus TV Q1 Pro Design & Connectivity
The OnePlus TV Q1 Pro has a modern design with ultra-thin bezels on all four sides of the screen. There's a power button on the bottom bezel of the TV, and you'll have a hard time noticing that it's there at all. There's an ellipse-shaped stand that is connected to the TV's back through a tall bar that connects to the TV's top and center points. It looks quite unique and the stand takes very little space on the table, but the whole setup isn't very sturdy. The TV wobbles easily when you push it even slightly. Hell, it wobbles even if you look at it the wrong way, which isn't confidence-inducing, especially if you have kids in the home. Plus, the process of connecting the table mount to the TV is quite complicated, so I would suggest you wait till the TV installation guy shows up at your doorstep.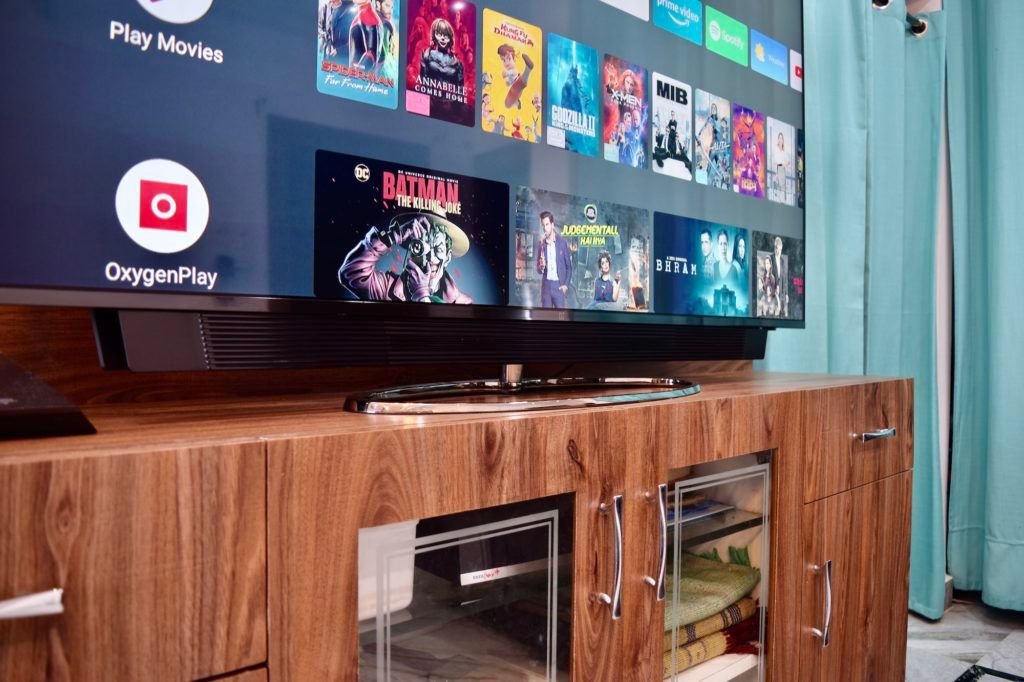 Then there's an integrated 2.1-channel soundbar that uses a motorized mechanism to slide down when the TV is turned on and it slides back up and hides behind the display when the TV is turned off. The motorized mechanism is very silent, too, and you won't notice its noise even in silent rooms. The soundbar also has integrated LED lights that light up the speaker's grill. It's all appears very dramatic and you might find it amusing for a few days, but then you'll start getting irked by the time it takes for the soundbar to slide out (6-7 seconds) and slide in (around 10 seconds). Alternatively, you can set the soundbar to be slid out always.
The rear of the TV is completely covered by a rubbery material with a carbon fiber finish. The company took extra care to make sure its TV looks premium even though almost no one would look at the TV from the rear. There's an I/O panel, which has HDMI 2.0 ports (HDMI 2 supports ARC), one USB 2.0 Type-A port, one USB 3.0 Type-A port, an optical out port, an ethernet port, an RF port, and a composite port. The I/O panel has a magnetic lid which makes it very easy to hide cables. However, if you connect a smart TV stick such as the Fire TV Stick 4K, you won't be able to close the magnetic lid. Other connectivity features include Bluetooth 5.0 LE, dual-band Wi-Fi 5, and a USB Type-C port at the top of the TV. The USB Type-C port at the top can be used to attach a far-field microphone accessory when (if?) the company launches it.
OnePlus TV Q1 Pro Remote Controller Design
The remote controller for the OnePlus TV Q1 Pro looks premium, thanks to its aluminum build and minimalistic design approach. And it can be charged using the USB Type-C port at the bottom. However, it is pretty much the worst TV remote controller I've ever used. It has no dedicated mute button! Who makes a TV remote control with no mute button? It's one of the most widely used functions on any TV and the company decides it's okay to not have a dedicated mute button. I think the company completely overlooked the need for mute function as even the Connect app recently received the functionality. There is no button on the remote controller to quickly switch between inputs. Moreover, the D-pad is badly designed, with no space between the buttons and a completely flat surface. There is no physical separation between the D-pad buttons so you end up accidentally clicking the wrong button more often than not. Volume buttons are on the right edge of the remote, an uncommon design approach, so your parents or guests might spend more time finding volume controls of the TV rather than enjoying the content. Plus, there's no dedicated power button. Looks like OnePlus took inspiration from one bad product (Apple TV Remote) and made it even worse.
OnePlus TV Q1 Pro Picture Quality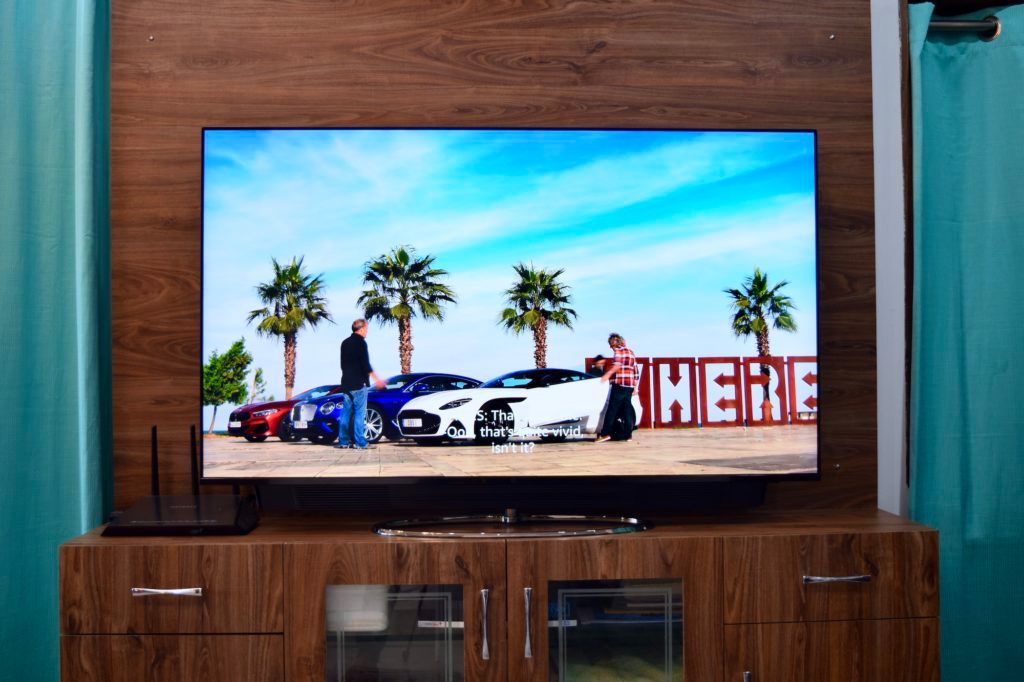 The QLED panel that OnePlus sources for its TVs from Samsung use VA (vertically aligned) technology. VA panels generally have slightly higher contrast ratios and more uniform blacks compared to IPS (in-plane switching) panels. However, IPS panels have much wider viewing angles. So, if you have a wider room where people watch the TV from various angles, they will notice worse colors. However, if you are sitting right in front of the TV, you'll experience really good picture quality. Rtings has a pretty good article that shows a comparison of IPS vs. VA panels' viewing angles, contrast ratio, and black uniformity. The TV supports almost all HDR formats: HDR10, HDR10+, HLG (Hybrid Log Gamma, mostly used for broadcast TV signals), and Dolby Vision. Both HDR10+ and Dolby Vision offer frame-by-frame and scene-by-scene dynamic range metadata for more precise control over HDR scenes compared to HDR10.
The TV's display panel is quite bright, much brighter than TVs from iFFalcon, TCL, Xiaomi, and the likes. Colors look richer, too. However, there is some bug that makes scenes appear underexposed while watching HDR10+ content on Prime Video. Moreover, there wasn't a huge difference in brightness levels between SDR and HDR content. This TV features local dimming, but instead of full-array local dimming, OnePlus has used edge-lit backlight which kind of defeats the whole purpose of local dimming. Obviously, local dimming didn't work well. While OnePlus mentions 480Hz refresh rate in the TV's specs, it's just MEMC mode frame rate. The native refresh rate of the VA QLED panel is 60Hz, like most other TVs. Thanks to a bright panel and an anti-reflective coating, I did not face issues related to light sources like a window or the light getting in the way of a good video watching experience.
I had the 55-inch LG Full HD OLED TV, 55-inch 4K TCL 55P8S TV, and the 55-inch 4K Mi TV 4 TV side-by-side while comparing the picture quality of the OnePlus TV Q1 Pro, and OnePlus' TV had higher brightness and better contrast ratio compared to both TCL and Xiaomi TVs. However, the LG OLED TV's contrast ratio and black levels were much better than the OnePlus TV's. Colors looked more natural, too, at least when using the 'IFS Expert 1' picture preset.
The TV also features MEMC (Motion Estimation/Motion Compensation) that inserts black frames between actual frames of a video to make it appear smooth. It might look good for videos with fast action, such as sports. However, this feature is enabled by default and it makes everything look artificial. It brings the soap opera effect to even movies, which ruins the cinematic experience. If you are buying (or bought) the OnePlus TV, make sure you turn off the MEMC feature while setting up your TV.
OnePlus TV Q1 Pro Audio Quality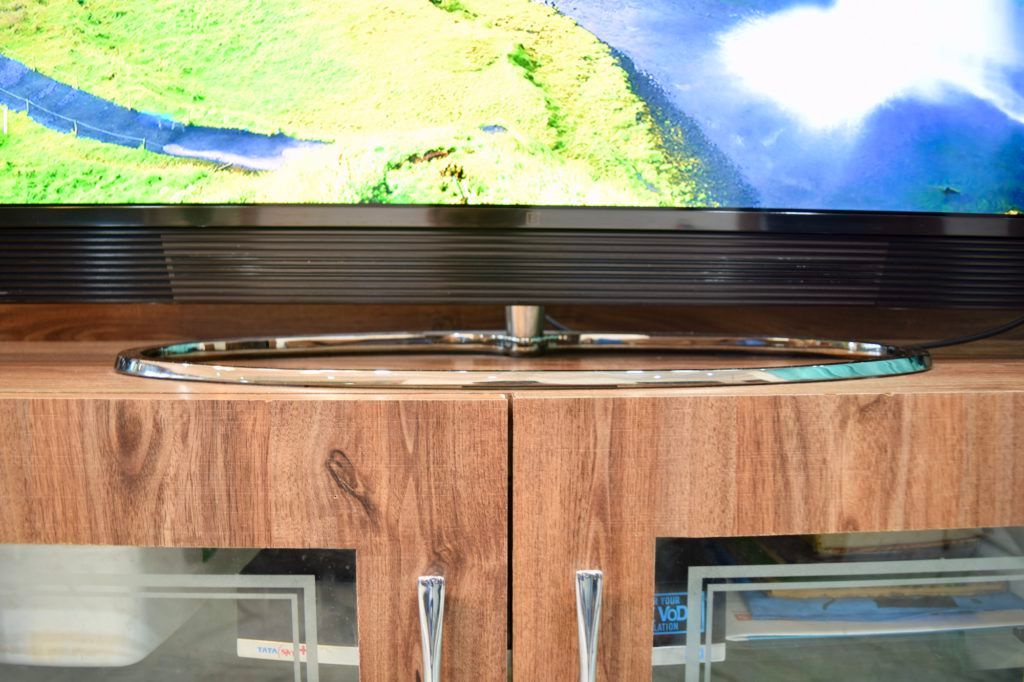 The slim 50W soundbar that is integrated with the Q1 Pro TV has eight speaker drivers. Four of them are full-range drivers, while there are two 10-watt woofers and two tweeters. It works in 2.1-channel mode and it is compatible with Dolby Atmos. The audio quality was better than most TV's I've heard (except the Sony A9G 4K OLED TV, which has 60W speakers with two full-range drivers and two subwoofers). However, you can buy soundbars that offer much better audio quality and audio output power compared to the Q1 Pro's integrated soundbar, and all of that at a lower price when compared to the price difference between the OnePlus TV Q1 and Q1 Pro.
OnePlus TV Q1 Pro Performance & Software
OnePlus TV Q1 Pro Software UI
The Q1 Pro runs Android TV 9 and uses the MediaTek MT5887 chipset which has four 1.5GHz Cortex-A53 CPU cores and Mali-G51 GPU. This chipset is slightly faster than most Amlogic and MediaTek chipsets found in competing TVs from iFFalcon, Motorola, TCL, Xiaomi, and other brands. There is 2.5GB RAM which is coupled with 8GB of internal storage. The TV's UI runs at smoother frame rates compared to cheaper Android TVs. I hoped that multitasking would be better due to slightly higher RAM, but Prime Video reset every single time I switched back from any other app. There's no support for Netflix as OnePlus hasn't received a certification from the online video streaming giant as of now. However, OnePlus claims that its TVs will soon receive the Netflix app. I tried casting Netflix videos through the Q1 Pro's Chromecast Built-In feature, but to no avail. It looks like Netflix is actively blocking any streams to OnePlus TVs.
The company claims that its smart TVs are smarter and have better smartphone integration than the competition, and a large part of the smarter experience comes with the OnePlus Connect app. It's a much better app than the Android TV app for Android and iOS. OnePlus Connect not only allows controlling the TV via a virtual remote controller, but also makes it possible to quickly switch between apps installed on the TV, capture screenshots, cast images and videos stored on the phone, and explore content from OxygenPlay in an easier way. The TypeSync feature, which OnePlus developed in-house, is way faster than Google's own similar feature. The app required the connected smartphone's Bluetooth radio to be turned on, though. The Connect app wasn't able to consistently maintain a connection with the TV as I had to find the TV and reconnect with it via the app.
Apart from standard fare Android TV apps, the OnePlus TV comes pre-installed with a Bluetooth Stereo, E Manual, File Browser, Pictorial, and Weather apps. Other video streaming apps that come pre-installed with the OnePlus TV Q1 Pro include Eros Now, Hotstar, JioCinema, Hungama Play, Prime Video, and ZEE5. You can install more apps (but not Netflix) and games from the Google Play Store. As mentioned earlier, the TV features Amazon Alexa and Google Assistant integration. However, I found Alexa integration quite perfunctory as there are very few commands that work with the TV, and the ones that are there didn't work as well as I expected. For example, the "switch input to HDMI 1 on OnePlus TV" never worked for me. Google Assistant's "switch to HDMI 1" voice command worked more often than not". The Smart Volume control is a near feature which Google should adopt into Android TV. It lowers TV volume when a connected smartphone receives a call.
Should You Buy The OnePlus TV Q1 Pro?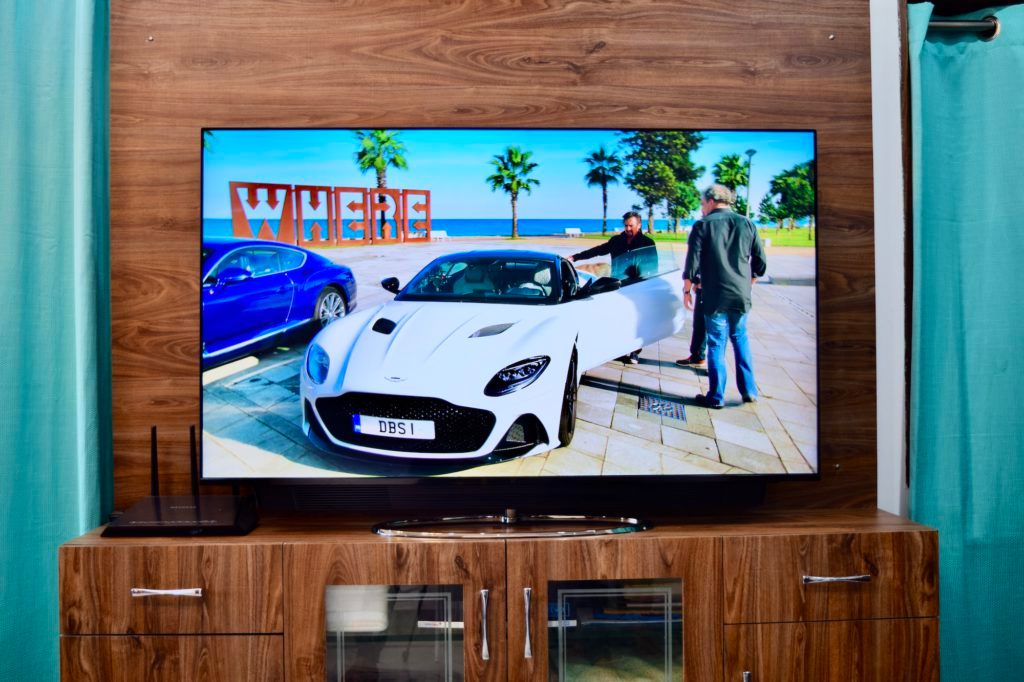 OnePlus did a great job with the picture and audio quality with its first smart TV. Added benefits like fast software, good connectivity, and excellent smartphone integration make this TV even better. However, questionable design choices, bugs, and untenable pricing make it harder to recommend the OnePlus TV Q1 Pro. Stutters in 4K video playback, the absence of Netflix app, and incomplete Alexa integration can be fixed with software updates, but things like a bad remote can't be fixed with an update. Even if you're a true OnePlus fan and value being inside the company's ecosystem, you and your family members will notice practicality-related issues with the Q1 Pro if you end up buying it.
You can buy similarly feature-loaded TVs with equally good picture quality from more recognizable brands like LG and Samsung at the same price. If you value picture quality and practicality more than anything else, you can buy a 4K HDR OLED TV with 80W speakers from LG for as low as Rs 1,30,000. If you end up with a decision to buy a OnePlus TV, I would suggest buying the OnePlus TV Q1 and spend around Rs 20,000 to get a better sounding soundbar (if you don't like wires) that you can use with other products if you decide to upgrade your TV in the future. This solution can also solve the volume control problem of the TV. If you care about audio quality, you can even buy 5.1-channel soundbars with 1000W RMS output for as low as Rs 35,000. Even better, you can get two studio monitor speakers like the KRK Rokit 4 or the KRK Rokit 5 for less than Rs 30,000 and get immensely better audio quality through your TV.
OnePlus TV Q1 Pro
₹99,990
Software & Performance
8.0/10
What Is Good?
Very good image quality, high display panel brightness.
Lively audio through integrated soundbar.
Android TV feels fast.
Premium-looking design.
HDR10, HDR10+, HLG, Dolby Vision, Dolby Atmos.
Good connectivity features.
Excellent software integration with smartphone.
Google Assistant & Alexa smarts.
What Is Bad?
Viewing angles are not the best.
4K videos stutter in Prime Video and YouTube sometimes.
One of the worst remote controller implementations ever.
Motion smoothing is enabled by default, and it looks artificial.
TV wobbles when attached to the table mount.
No Netflix app and it doesn't work via casting as well.
Alexa integration is incomplete and perfunctory (as of now).
Overpriced.