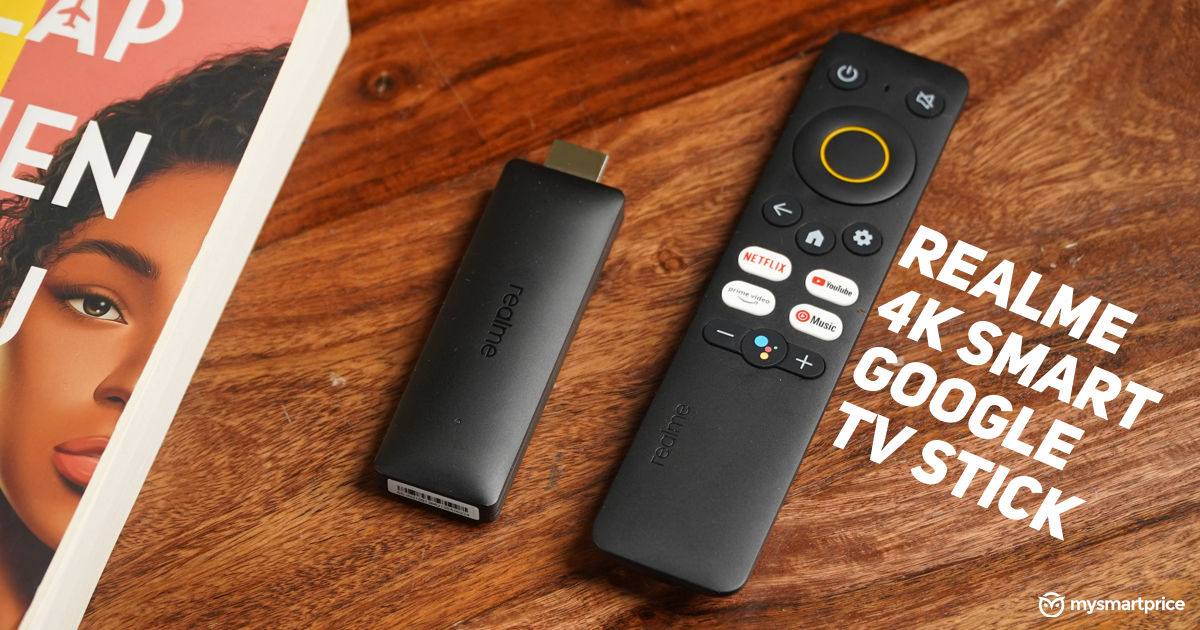 Considering Google India is not very enthusiastic about launching its hardware in our country, it is not surprising that we never saw the Chromecast with Google TV make it to our shores. But, it looks like Realme wants to solve the woes of long time Chromecast fans with its very own 4K streaming stick with Google TV aptly named – Realme 4K Smart Google TV Stick. Making it the only streaming stick in India running the latest Google TV operating system. Anyway, the only real competition for the 4K Smart Google TV Stick in India is the Amazon Fire TV Stick 4K. But, does it hold up?
Design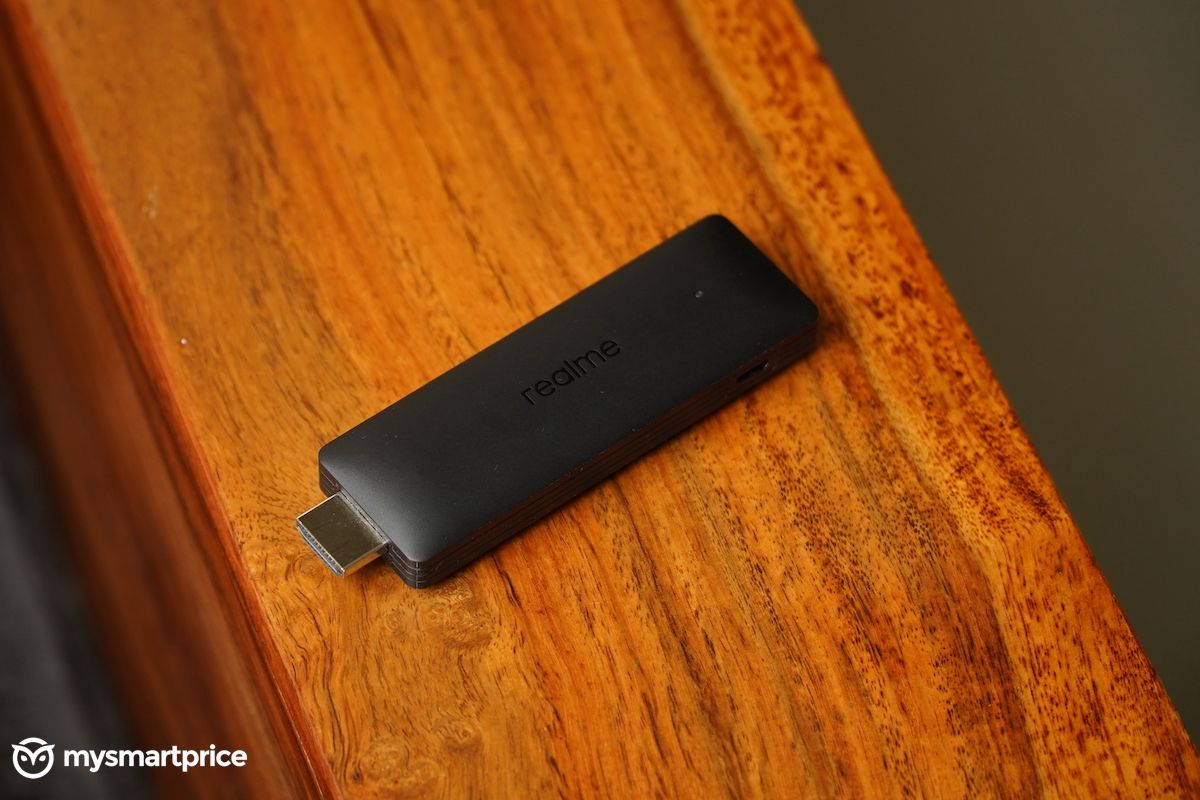 Inside the box, you get the Streaming Stick, Remote Control, Micro-USB Power Cable, Power Supply Adapter, and an HDMI Extender. The Realme 4K TV Stick in Black has a pretty forgettable nondescript design, just like how all multimedia devices should be. In any case, the Stick is going to be hidden behind your TV, so it doesn't really matter how it looks. Also, for some odd reason, Realme asks you to use the HDMI Extender for "Better Experience." I presume it should be a message for folks with older non-Smart TVs with weirdly placed HDMI ports.
Apart from this, the Remote Control is very similar to the one used with Realme TVs. As a matter of fact, you can actually control the streaming stick with any Realme TV remote including the Bluetooth Voice Control one. Otherwise, if you want to use Google Assistant on the Realme TV Stick, you will have to hold down the dedicated button on the Remote for it to register your commands. Additionally, there's support for CEC, which means you can also control your TV with it.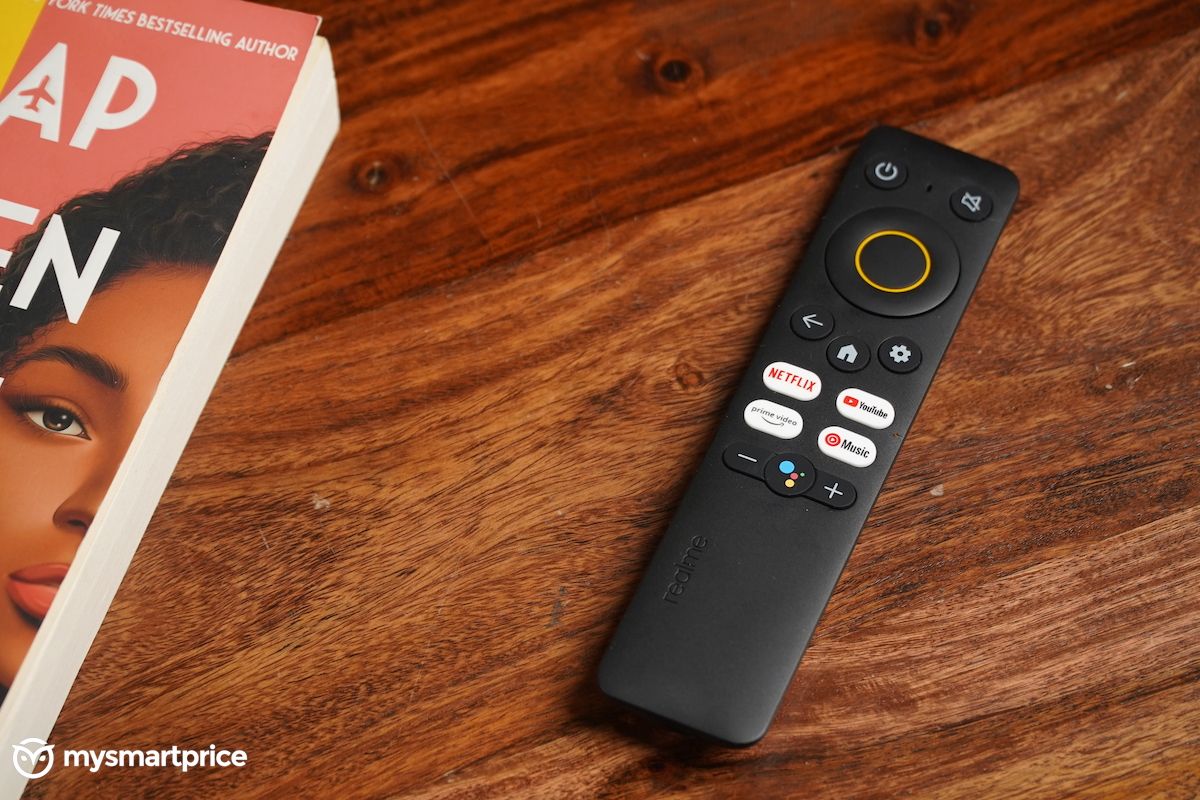 Anyway, the layout of the buttons on the remote you get with the Realme 4K TV Stick includes your Navigation dial with the signature Yellow circular ring that stands out. I like the fact that you get a dedicated Mute key too. And, for what it is worth, there are hot keys for direct access to pre-installed streaming apps like Netflix, YouTube, Prime Video, and YouTube music, which is quite an odd inclusion.
Furthermore, I also appreciate the thicker bottom which makes it easier to grip the remote. It's a very nicely streamlined design.
Connectivity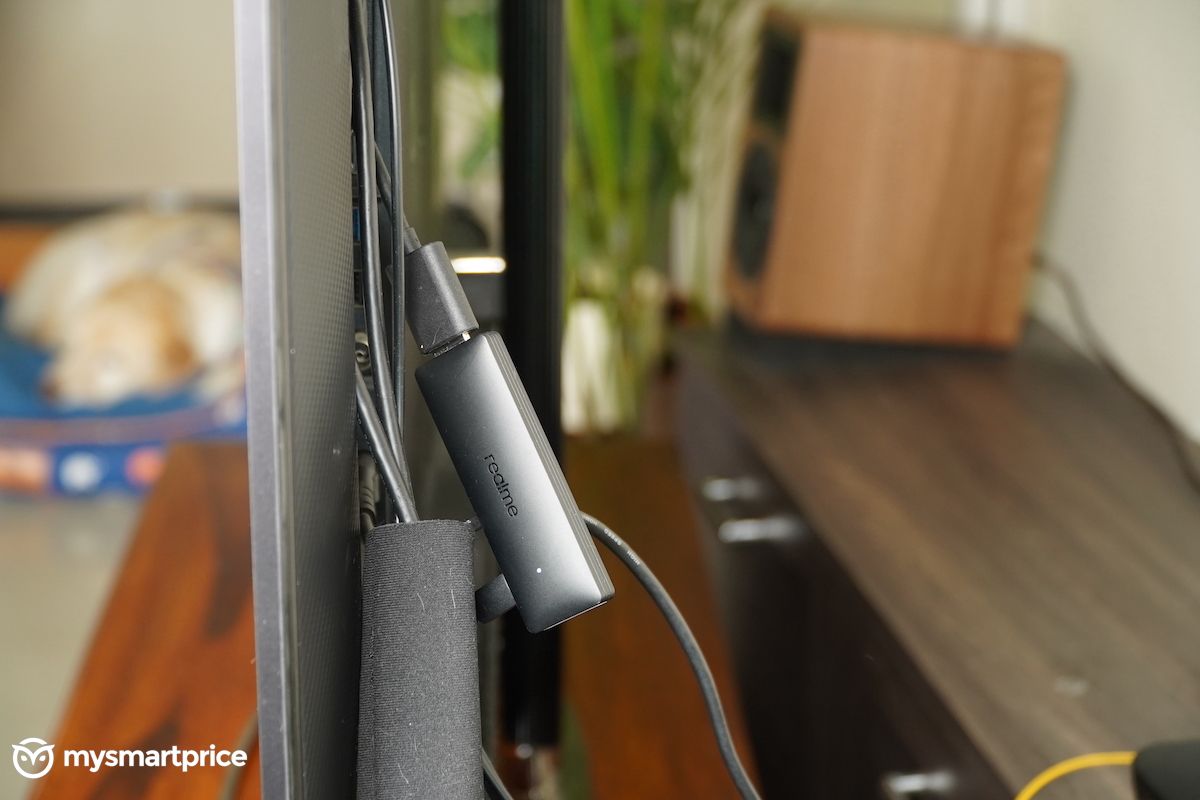 Connecting the Realme 4K TV Stick is a fairly straightforward process where you merely fire up the Google Home app on your phone and follow the onscreen instructions. The Realme Stick connects to 5GHz networks, so high speed data transfers are covered too. It can stream 4K content with ease. However, in our network speed test I noticed that it couldn't achieve the download speeds my phones could. Which is a bit of a letdown.
You also get Bluetooth 5.0 support for connecting your headphones or a wireless controller to play games on the Realme 4K TV Stick. As for the HDMI connection, it is of the 2.1 standard but there are no special features per se; all you get is a 4K 60fps resolution video out at a fairly high throughput.
Software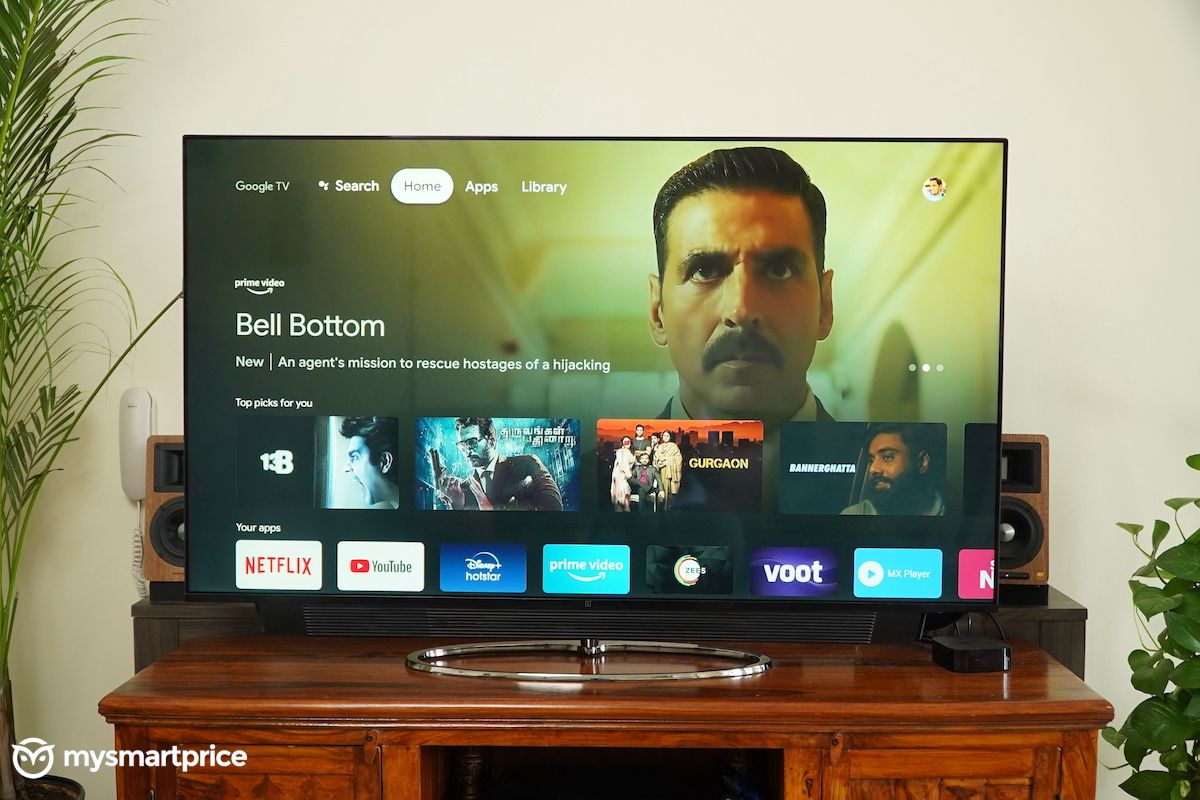 Software is where most of the change can be seen. This Stick runs on the new Google TV platform instead of Android TV. To be honest, apart from a major visual overhaul, not too much is different. You essentially get a layout that puts content recommendation up, front and centre. I noticed that it gave me the option to choose Prime Video, Hotstar, and Apple TV to curate content from. Netflix was absent, which is not really a surprise.
I have said this before and I say it again, I am not a fan of algorithms dictating the kind of shows and TVs I should be watching. So, this automated feed is not for me. But yes, this layout is 1000 times better than the abomination that is Android TV.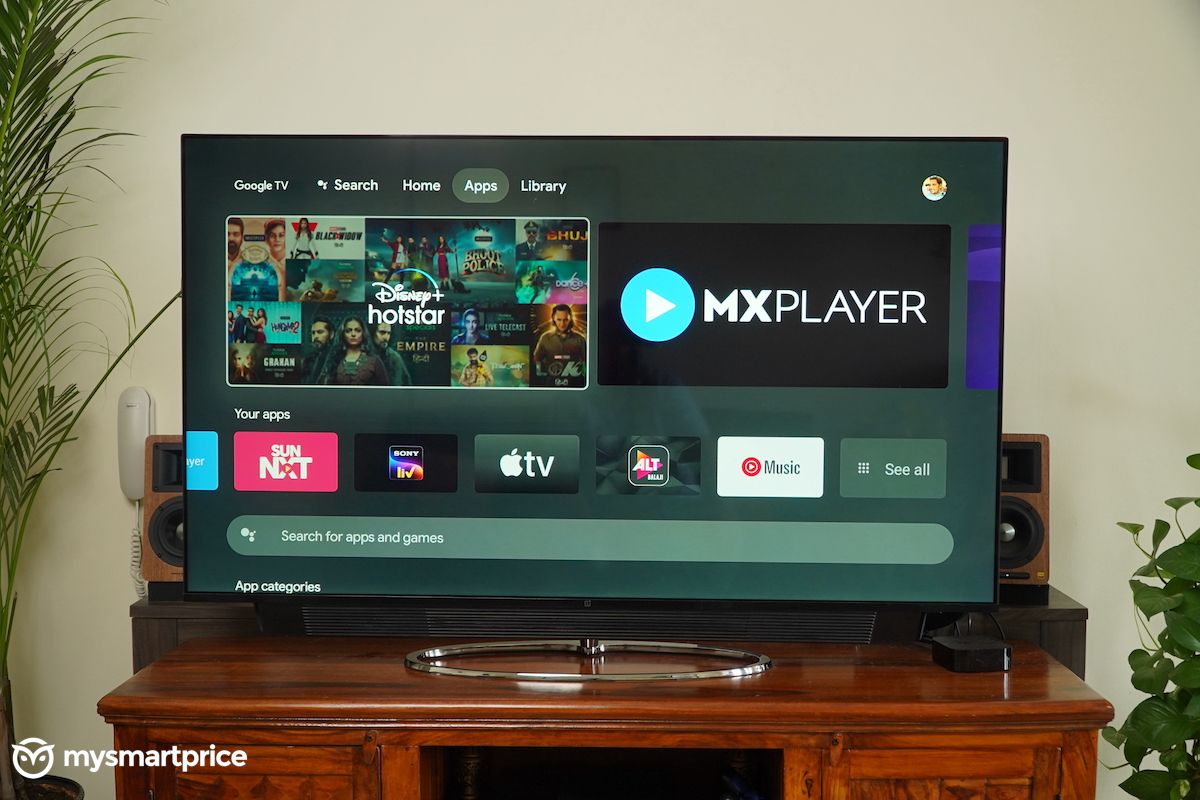 The second tab is your regular list of apps that you can download from the Play Store. And, the final tab curates something called Library, which is essentially a collection of your purchased movies and TV shows. Plus, there's also the new Watchlist feature. This is possibly my most favourite new feature. Essentially, if you add any movie or TV show to your watch list from Google, it gets added here automatically. And, you can directly watch your favourite show from here later. This is particularly useful for me who keeps forgetting the cool shows that many people recommend on Twitter.
Performance and Visual Fidelity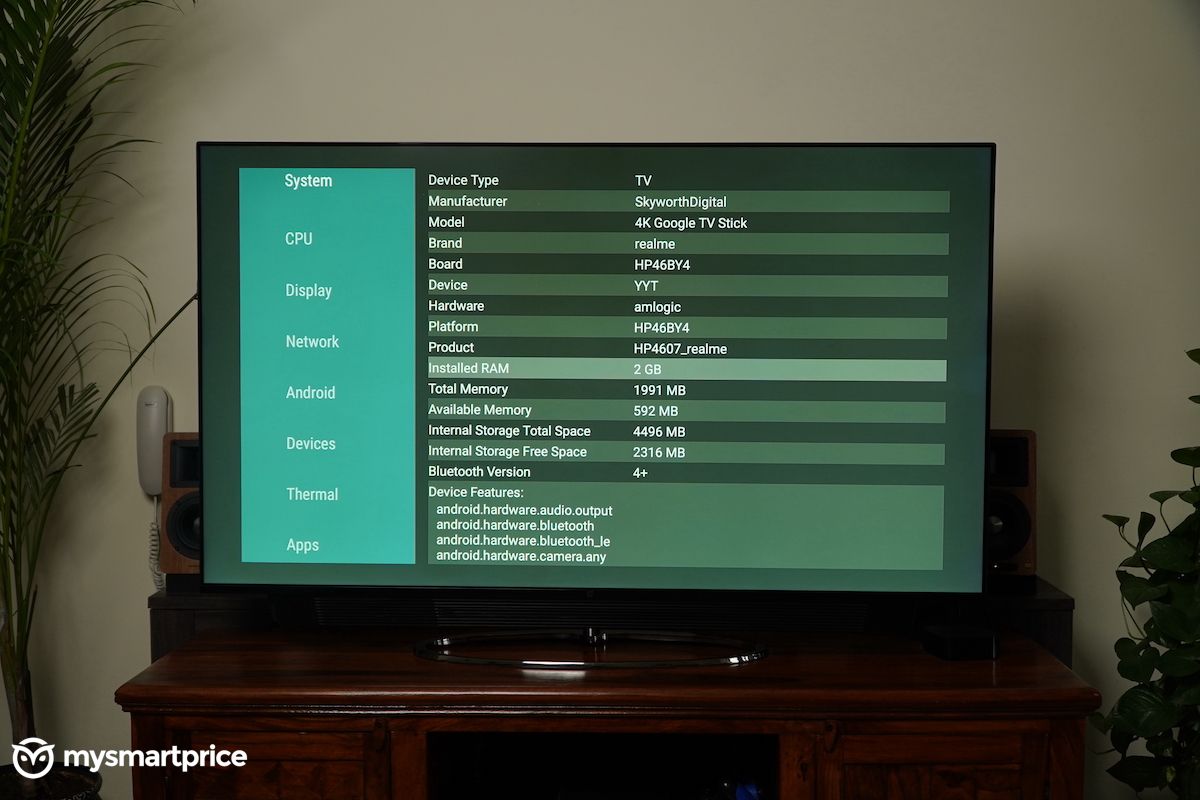 Internally, the Realme 4K TV Stick has a quad-core Arm Cortex chip with A-35 cores, 2GB of RAM and 8GB of storage, which is too low for 2021. Gladly though, the performance is very good and Google TV seems to be far more responsive and nimble compared to Android TV. I found the navigation to be smooth except for the Settings menu when sometimes the Realme 4K TV Stick would stutter. And occasionally, I had some audio-video sync issues with my Speakers connected using Optical Out. But again, this happened once or twice, after which it stopped entirely.
Most importantly though, you get support for HDR10+ codec but no Dolby Vision (DV). Which to me is definitely a negative because DV's HDR tech is far more capable and the picture quality is immediately stunning. And, unlike HDR10+, Dolby Vision is generally a very stable standard of encoding across all TVs supporting DV. You can be assured of a similar colour science with a few inconsistencies here and there. Which is why, certain shows on the Realme 4K TV Stick played back in HDR have slightly reddish facial tones or a very average tone mapping at times.
But, for most occasions, it is almost as good as a Fire TV Stick when it comes to processing HDR content. And, only the trained eye is going to be able to tell the difference. Plus, when you look at the price, these minor niggles immediately fall by the wayside.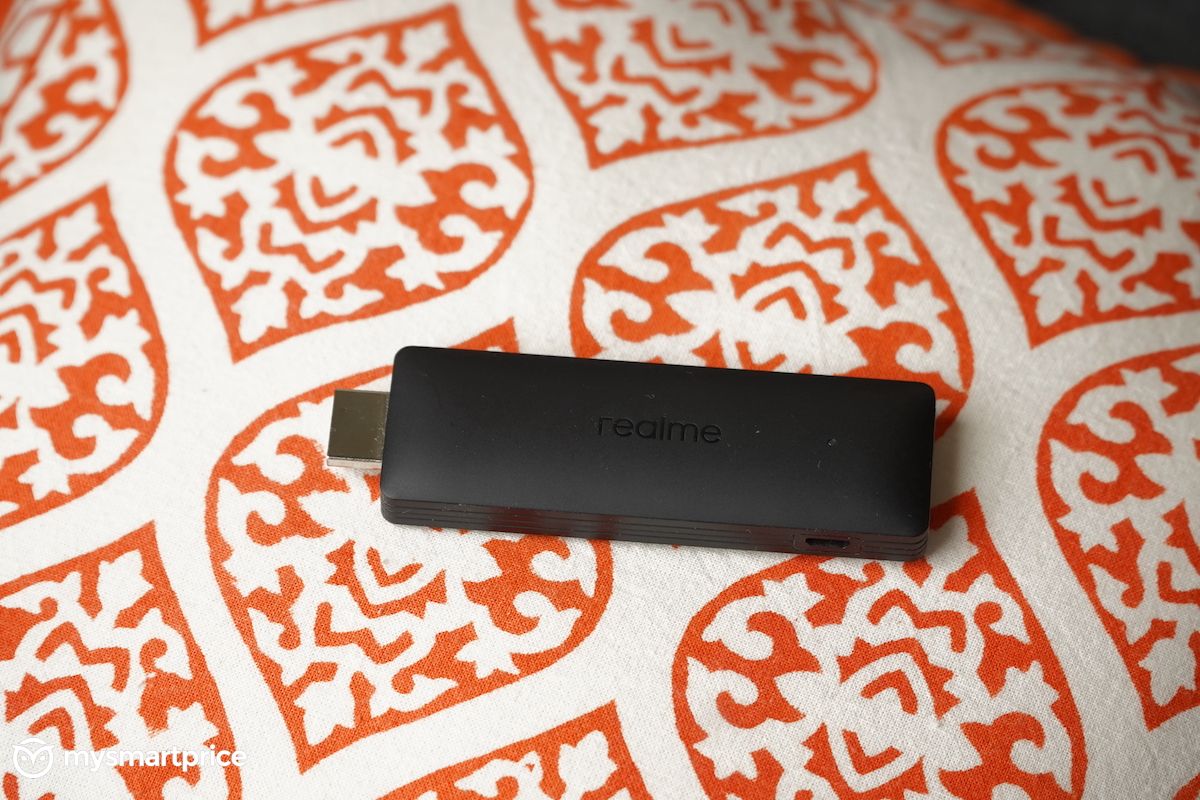 My only suggestion is that you switch to the YCbCr 4:2:2 12-bit colour depth profile from the settings as soon as you get the stick. This will give you the widest colour range possible. And, it makes HDR content such as Boys on Prime or Our Planet on Netflix pop. I am actually pleased with Realme's HDR performance and picture quality here. Which is why, it goes without saying that regular 4K and 1080p content looks great too provided you are switched to the Cinema mode or the Film mode on your TV.
Should You Buy the Realme Smart 4K Google TV Stick?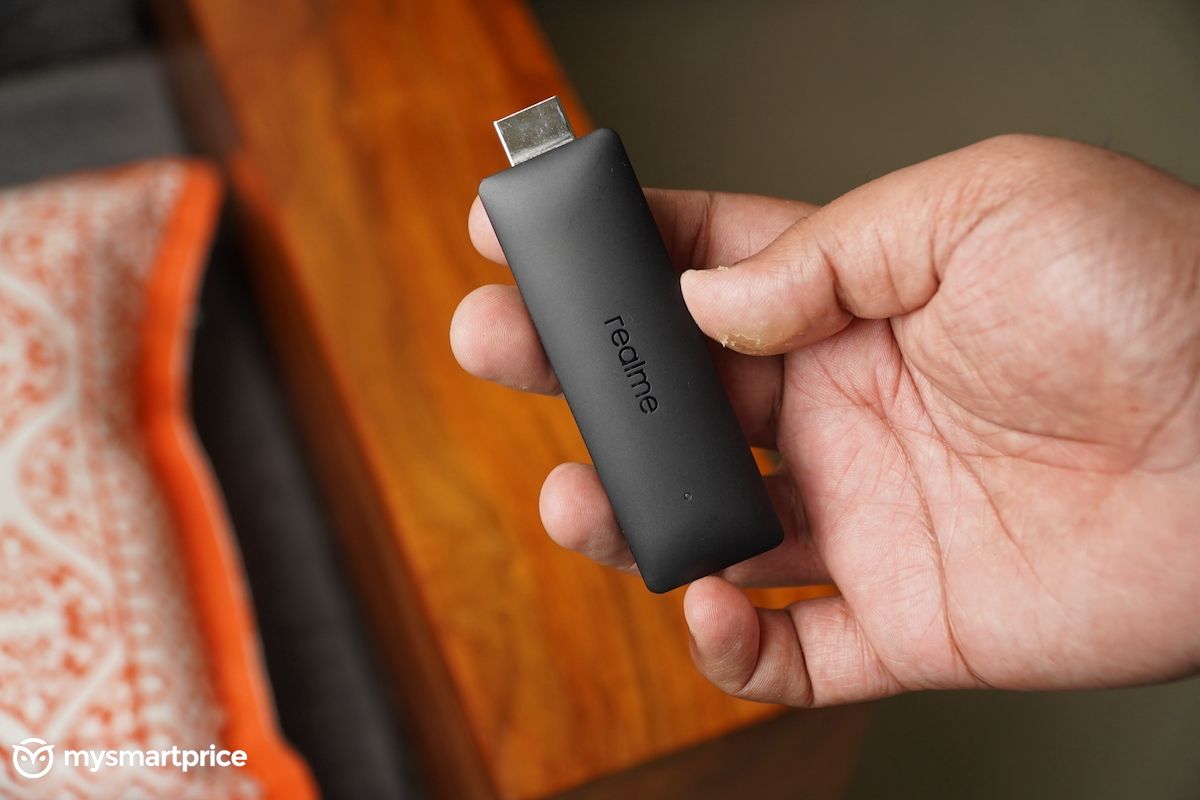 Creating a product like the Smart 4K Google TV Stick is like ordering Curd Rice at any restaurant in Chennai. They – Realme and the restaurant – cannot and should not mess it up. Point being, this stick is a basic product that gets the basics right. The only limitations are in the form of missing features due to the low price tag. I really missed Dolby Vision but I know Dolby charges a bomb for certification. So yeah, at Rs 2,999 during the sale period, the Realme TV 4K Stick should be an easy recommendation over the Amazon Fire TV Stick 4K right?
Also Read: Amazon Fire TV Cube 2021 Review & Comparison vs Apple TV 4K 2021
Wrong, because the Fire TV Stick 4K routinely goes for as low as Rs 2,999. Heck, that was the price of the product at the time of filing this review. With support for Dolby Vision and years of work behind the product, it is easier to recommend the Fire TV Stick 4K over Realme's offering. So, for those who are reading this review at a later date. Keep that in mind, which product you should buy will depend on the price of the product at that time.