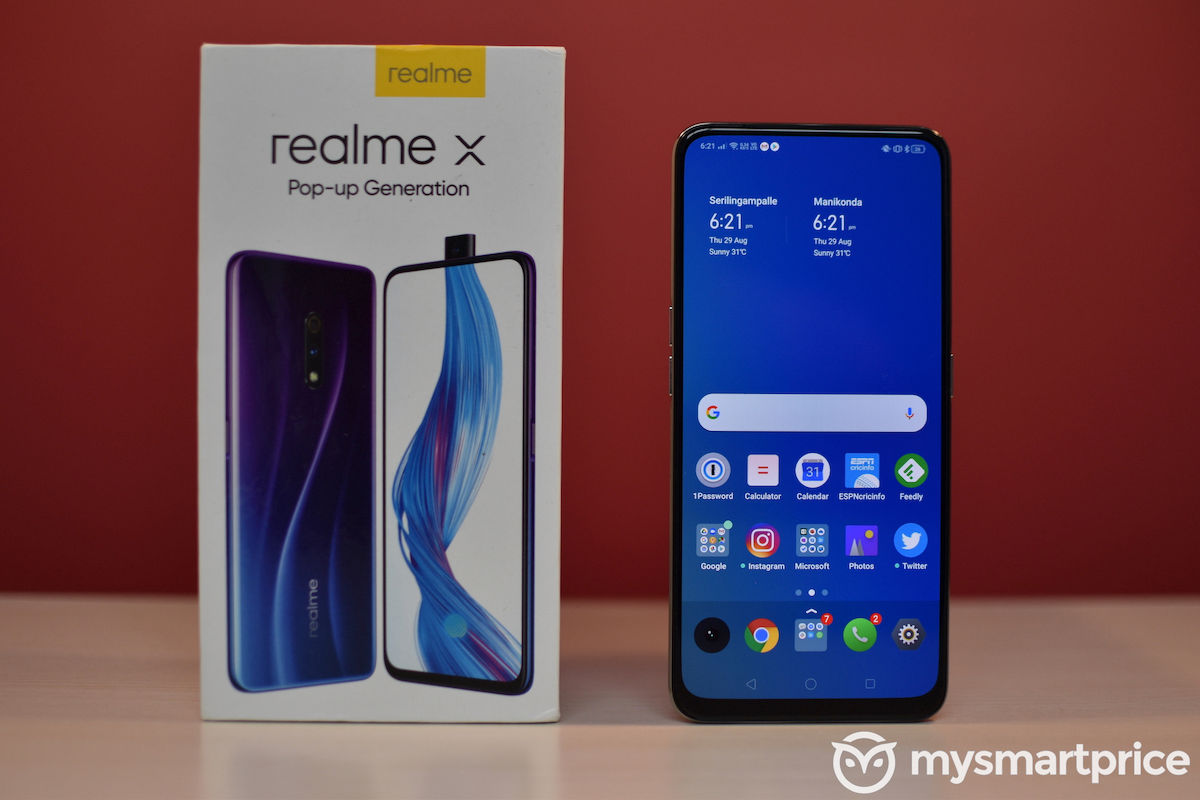 Realme X is the company's first step into the premium segment, and Realme has focussed a lot on the phone's styling and feature set. Priced at Rs 16,999, it comes with a combination of premium features that you can rarely find in the price segment: a notch-less OLED screen, a 48MP rear camera, a pop-up selfie camera, fast performance, and a fast in-display fingerprint reader.
Design and Build Quality
8.5/10
What Is Good?
Premium design.
AMOLED screen.
Fast in-display fingerprint reader.
A good set of cameras.
Fast performance.
Good battery life.
What Is Bad?
The screen could've been brighter.
The software needs a lot of UI improvements, notifications in particular.
It's a real upgrade from the Realme 3 Pro (Review) in terms of design, screen, camera, as well as battery life. The only real complaint which we had from the Realme 3 Pro, the absence of a USB Type-C port, has been finally fixed. But, is the Realme X as good to use as it looks on paper? Let's find out if Realme has managed to nail it this time and if it can be a true competitor to Xiaomi's offerings.
[P_REVIEW post_id=165609 visual='full']
Realme X Design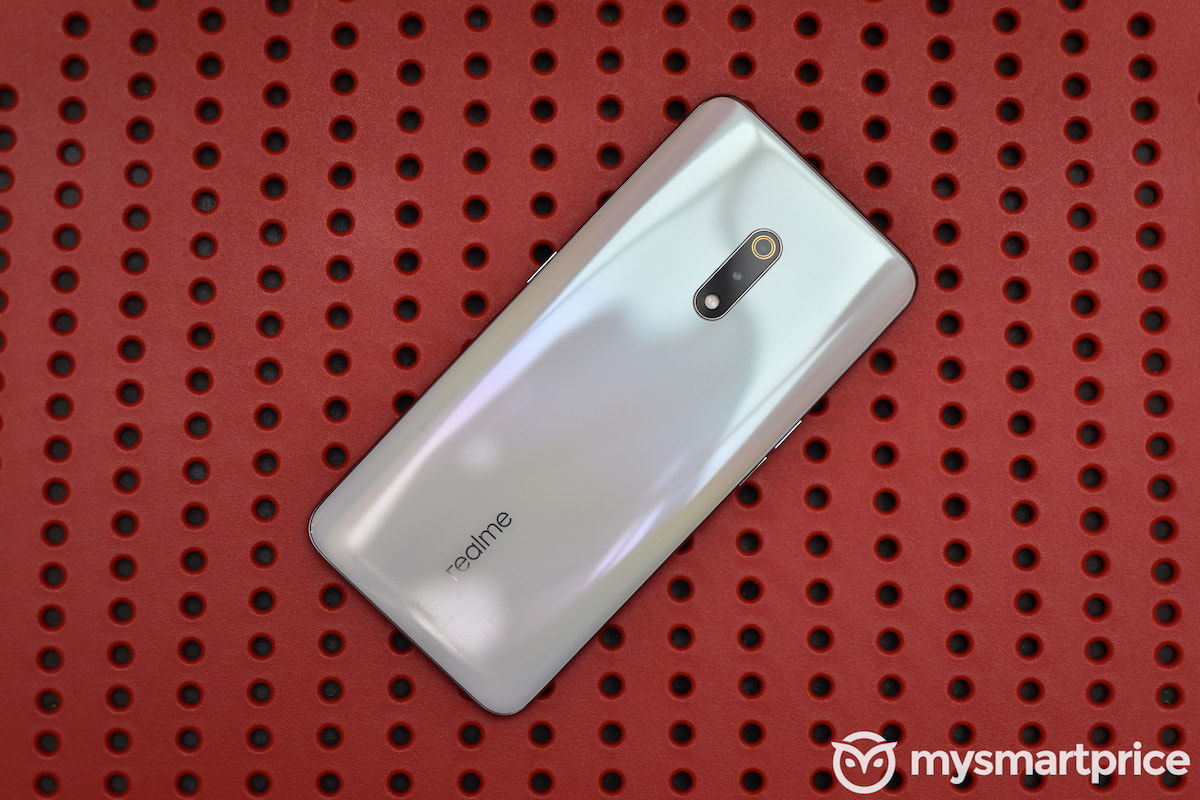 The Realme X feels quite premium and well-made, even though its chassis and back are made using plastic. The front of the phone is mostly screen, surrounded by thin bezels all around, and it is covered under Gorilla Glass 5. Since the back of the phone is covered by plastic material, it got scratched up after a few weeks of use. We wish the phone's rear was covered by Gorilla Glass 5 as well. At the front, there's an extremely thin slit above the screen under which the earpiece is placed.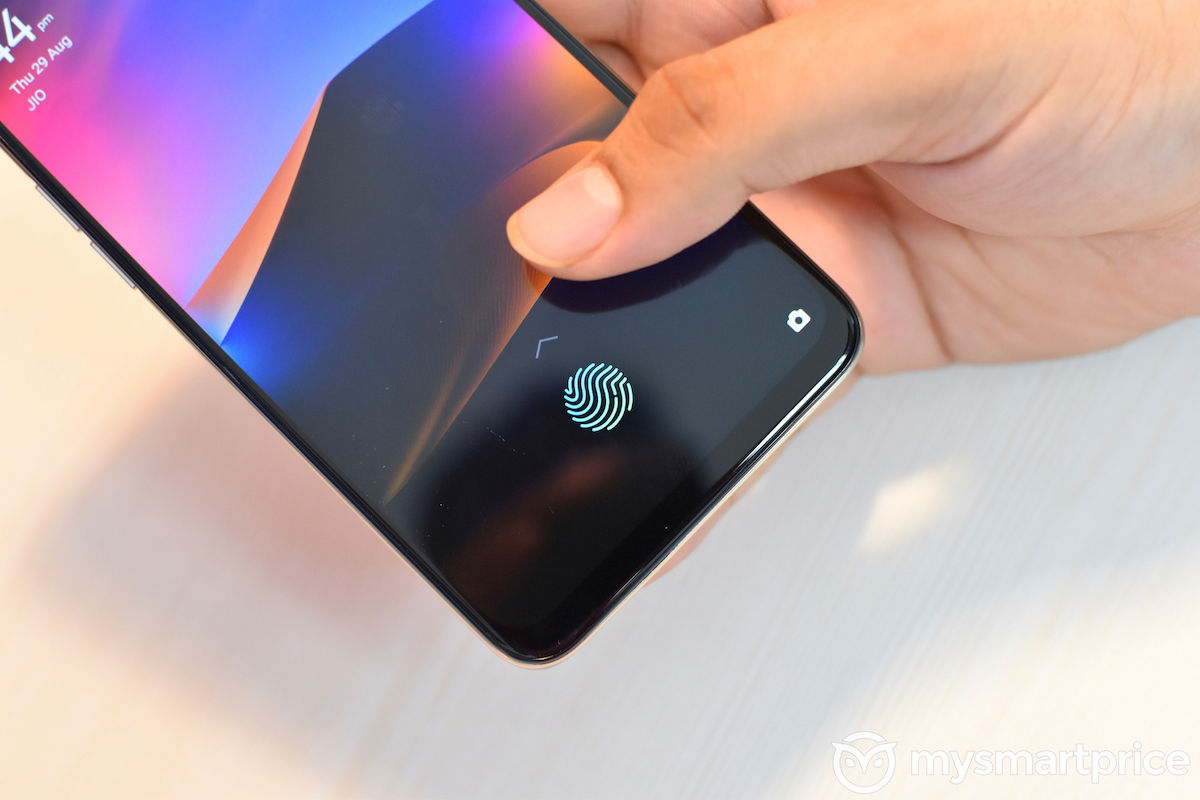 The lower part of the OLED screen consists of an optical fingerprint reader, and it's fast, almost as fast as the one on the OnePlus 7 series. It's way faster than optical readers found on similarly priced phones, and faster than the one on the costlier Realme K20 Pro.
Power and volume buttons are larger than usual, and they're easy to press. Above the power button, there's a dual-nano SIM card slot. At the top, there's a centered and motorized pop-up selfie camera mechanism. It is natural to feel cautious about moving parts in a phone, but the company claims that the Realme X's selfie camera mechanism can stand well for up to 200,000 pop-ups, which means at least 2-3 years of use. To protect itself against unintended drops, it can retract itself inside the phone if detects a free fall.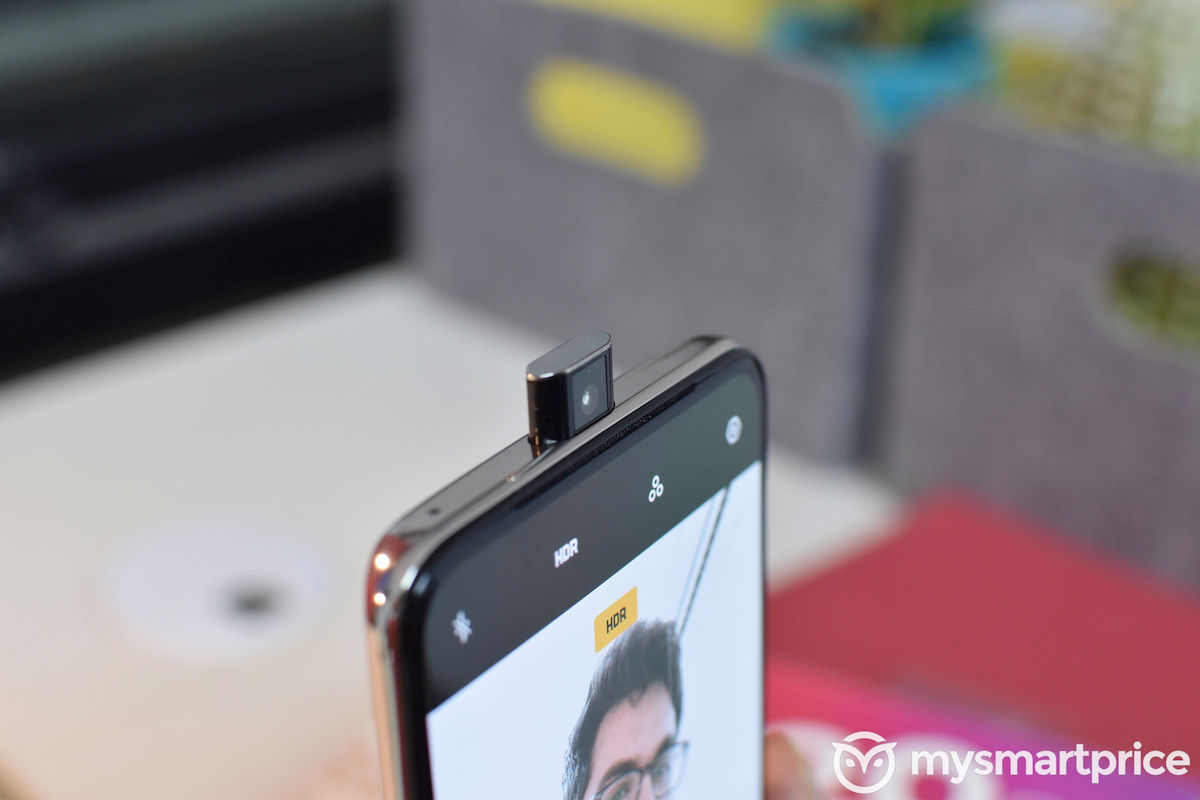 The bottom of the phone is where you'll find the USB Type-C port, the loudspeaker, and the 3.5mm headphone port. The back of the phone is curved towards its left and right sides, which makes it a bit easier to hold. But it still feels like a huge phone. The rear camera setup is centered, so there's no weird wobble when the phone is placed on a flat surface.
Realme X Screen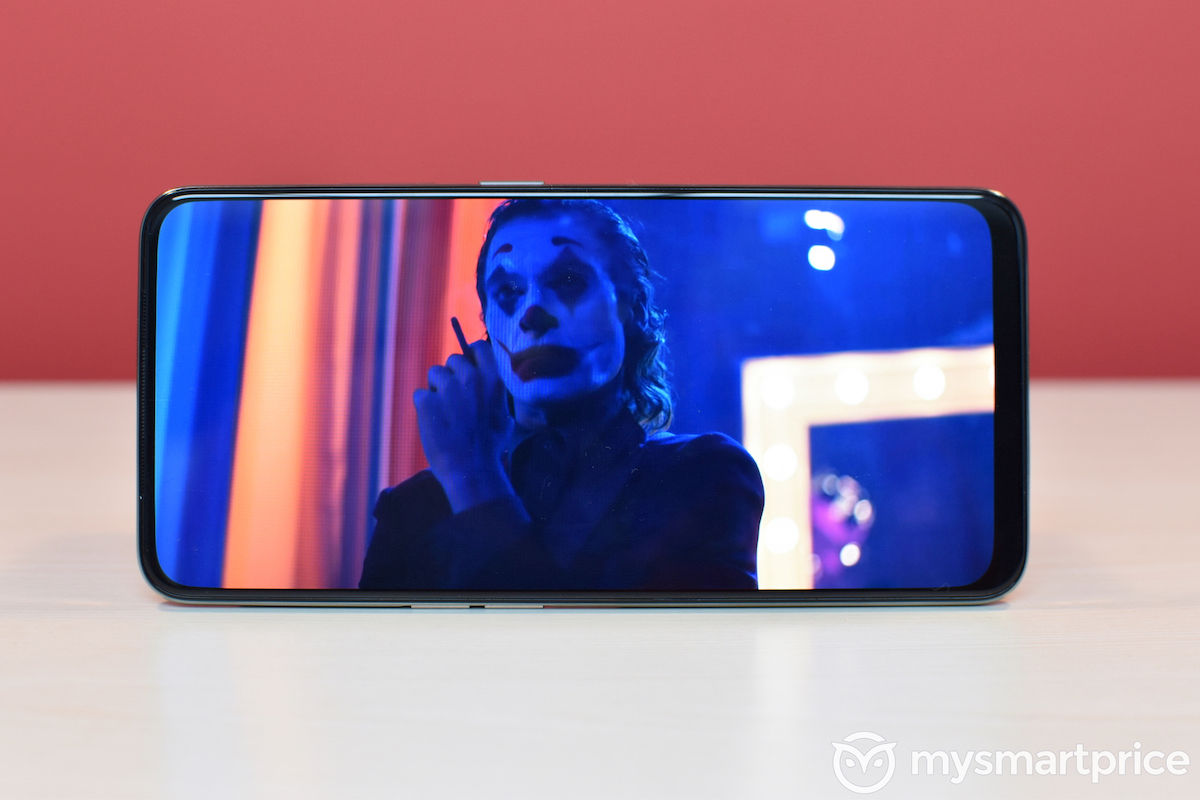 Very few phones in the sub-Rs 20,000 price segment have a notch-less OLED screen, and the Realme X is one of them. The 6.53-inch AMOLED screen is quite sharp, thanks to its Full HD+ resolution, and it is colorful. It is not as bright as the screen on the Redmi K20 or Samsung's high-end phones, but it is bright enough that it is possible to see the content on the screen even under direct sunlight. The auto-brightness calibration of the screen is slightly off, and it dims more than usual in certain situations.
There's no notch on the screen which makes it enjoyable to watch videos and browse the web. The colors are not very accurate, and it looks like it is because the company calibrated it to show punchy colors. Even with the warm setting, colors don't look particularly accurate. However, having a chance to experience a bright, colorful and sharp AMOLED screen without a notch, and that too, at this price is quite rewarding. There's a decent down-firing loudspeaker and I have no complaints about it. Audio quality while using earphones was good, too.
Realme X Cameras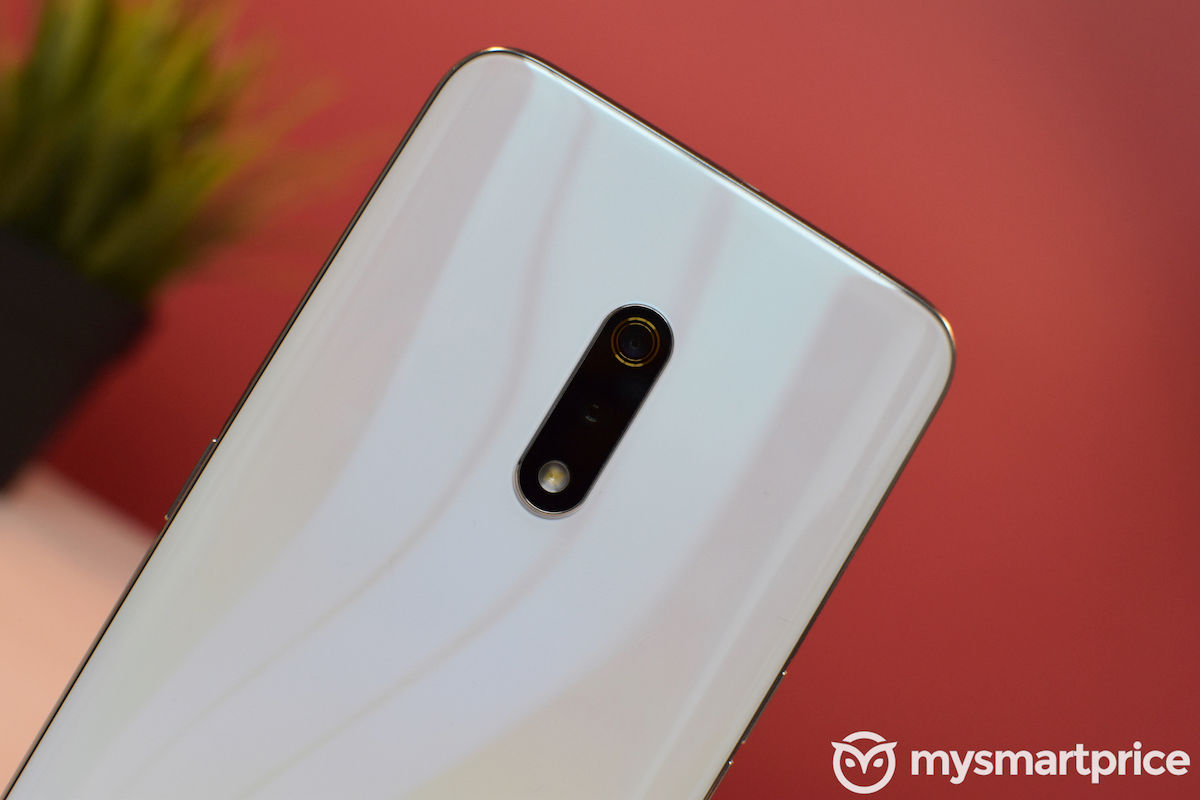 While there are newer mid-range phones with three and even four cameras on the rear, the Realme X only has two rear-facing cameras. There's a 48MP camera, the Sony IMX586, with F1.7 aperture and phase-detection autofocus.
In the photo mode, the default resolution is 12MP (with 4-in-1 pixel binning), but if you want full 48MP images, you'll have to choose the special mode. The other camera is a 5MP depth sensor that is used to create images with a background blur effect.
Realme X Rear Camera Samples - Daylight
The still images captured in daylight conditions are sharp with lots of details and they have lively colors. There's slight oversharpening but nothing to a degree that it ruins details. The dynamic range is quite wide, too. If you want your images to look even more colorful, there's a Chroma Boost option that can help you with it but I found it too colorful for my own taste. It's best to leave HDR on Auto and Chroma Boost turned off.
Realme X Camera Samples - Low-Light/Night
As the ambient light drops, noise increases and details drop. The phone can still retain colors really well, at least for its price tag. The photos appear a bit dim, though. This is where the Nightscape mode comes in for the rescue. Images shot in low-light conditions using the Nightscape mode have wider dynamic range, lower noise, and higher brightness. There's not a huge improvement in details, but brighter images definitely look better. The Realme X also excels in portrait images. Edges of a subject are well separated from the background when there's enough ambient light.
Realme X Selfie Camera Samples - Daylight & Low Light
Selfies captured by the Realme X are sharp and lively, and that's when all beautification options are turned off. Otherwise, it can result in images with lost details, especially the skin. In low-light conditions, the phone struggles to accurately separate the subject from the background, especially when the subject is a little far away from the phone. Be it the front-facing camera or the rear-facing one, its performance in capturing portrait images remains similar. The dynamic range is slightly limited in portrait images that are captured using the front-facing camera.
The rear-facing camera can record up to 4K 30fps videos. If you want to record buttery smooth 60fps videos, you'll have to downgrade the resolution to 1080p or 720p. 4K videos aren't stabilized but they're quite detailed and the dynamic range is wide, too. Audio is recorded in stereo. Only 1080p 30fps videos are stabilized and they're quite detailed, too.
Realme X Software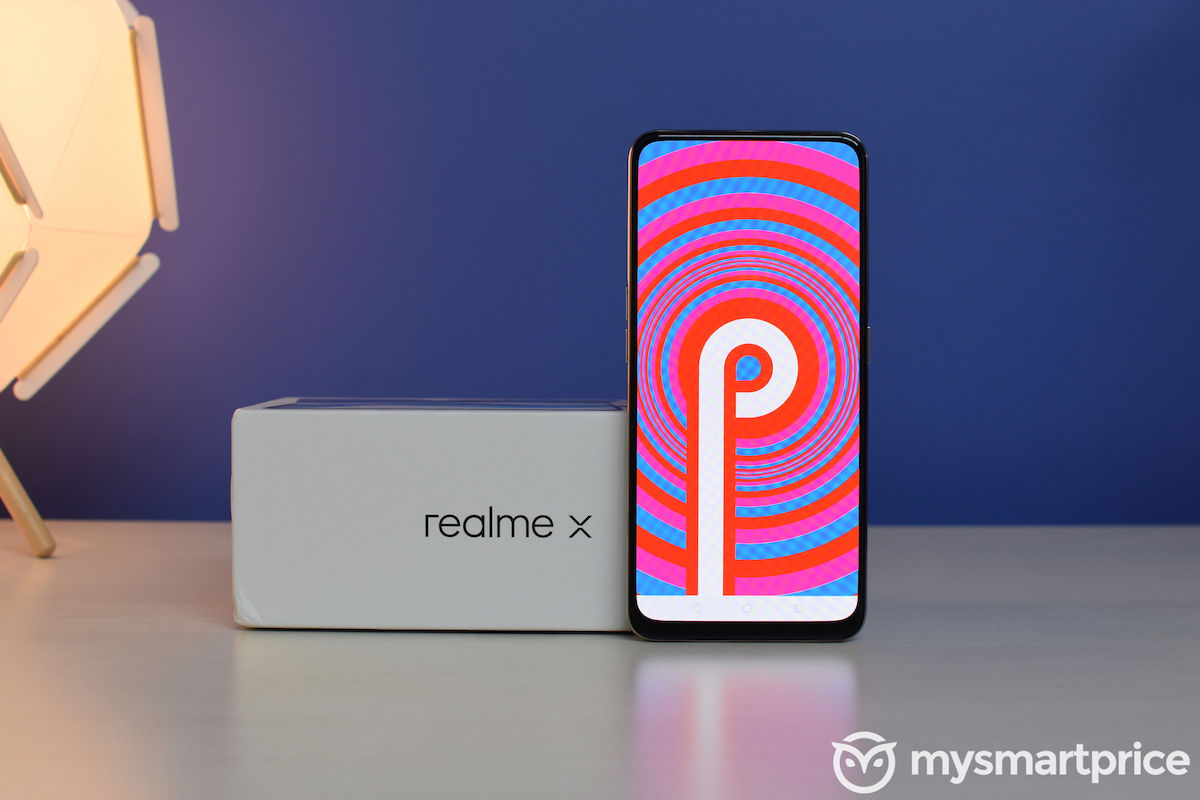 ColorOS 6.0 is a huge improvement over previous versions, and it is now based on Android 9 Pie. But there's still a lot of room for improvement, especially in how notifications can be interacted with. There is no option to dismiss the notification while it is being showcased as a banner. You can't long-press the notification to showcase notification settings and other related features. Quick setting toggles are bigger than they should be and there is no consistency in the shape and size of app icons. There is no option in the default app launcher to access notifications with a swipe down gesture. There are lots of bloatware apps, but thankfully, they can be uninstalled. While the company has addressed the problem of quick setting toggles' size and shape with ColorOS 6.0.1, but the newer software hasn't been rolled out to the Realme X yet.
Now coming to the good parts of the software, there are very few push notifications and ads. If you're someone who wants two instances of apps like Instagram, Twitter, and WhatsApp, you can do that with the Clone App feature. The Game Space feature improves the performance of the phone, turns off notifications, clears memory, improves networking performance, and an option to use mini-app windows. There are a lot of settings where you can see exactly which permissions have been granted for every app that is installed on the phone. There is an Emergency SOS feature, and even an option to block fraud, harassment, and marketing-related calls and messages.
Realme X Software UI & Features
Realme X Performance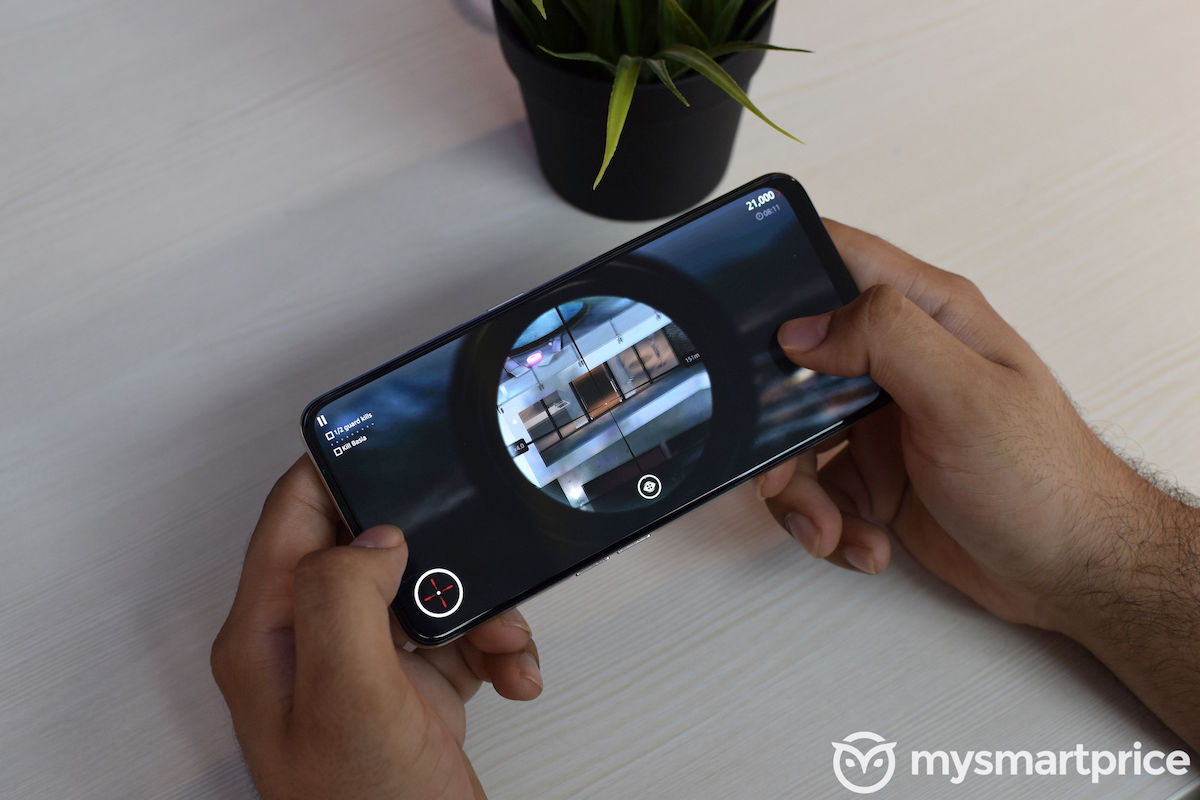 Thanks to the Snapdragon 710 chipset, 8GB RAM, and 128GB UFS storage, the phone never felt slow. Be it gaming or day-to-day tasks, the performance was good and the UI felt adequately smooth. The entry-level variant of the Realme X which has 4GB RAM might have some issues in keeping background apps in the memory for a long time. The company should have used 6GB of RAM in the entry-level variant of the phone to keep it future-proof. While the Snapdragon 710's CPU performance is slightly lower compared to the Snapdragon 675 and the Exynos 9610, its GPU performance is way ahead.
Realme X Battery Life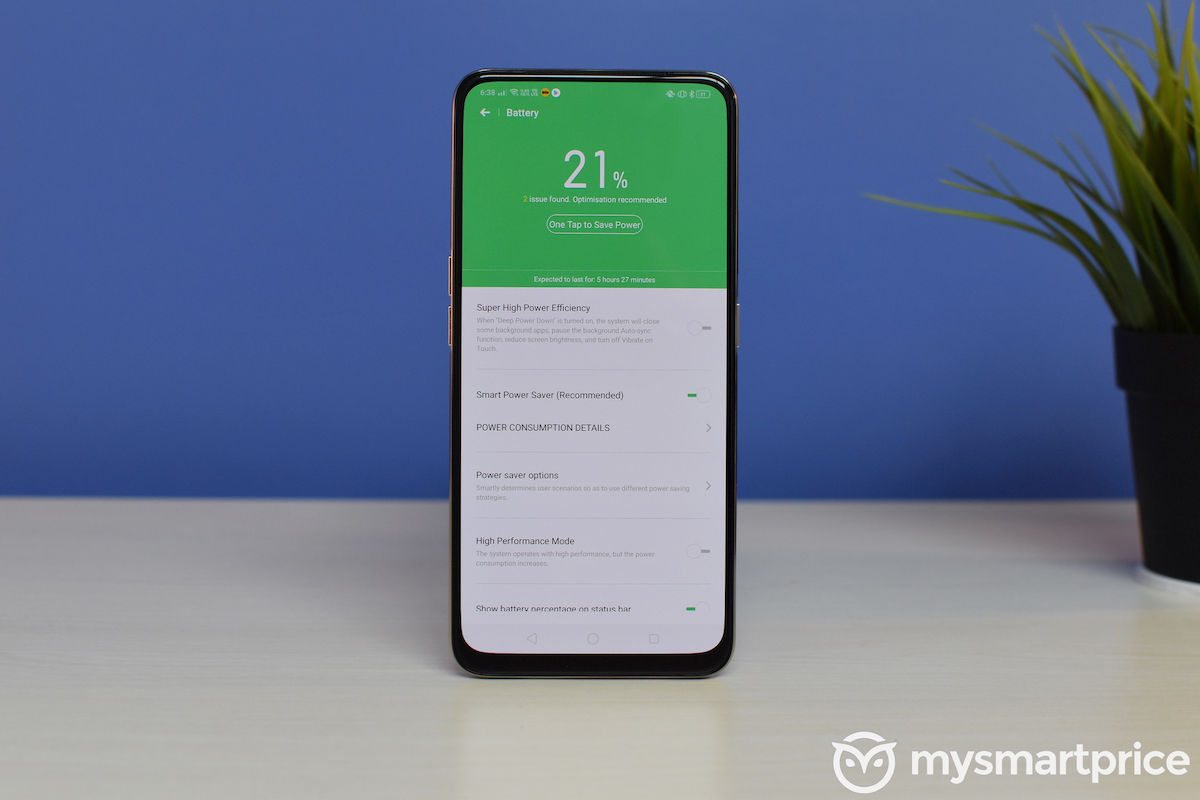 The 3765mAh battery inside the Realme X lasts a whole day on a single charge. One of the things that I really hate about ColorOS is its inability to show screen-on time. If I take a guess, I think the screen-on time could be somewhere around 6 hours. At least, battery life is good, and the charging speed is even better. The phone comes bundled with a 20W VOOC 3.0 charger, and it can be fully charged in an hour and 20 minutes. However, the phone is only compatible with VOOC chargers, and not USB-PD or Quick Charge. So, you'll have to carry the bundled charger with you wherever you go if you want to fast-charge it.
Should You Buy The Realme X?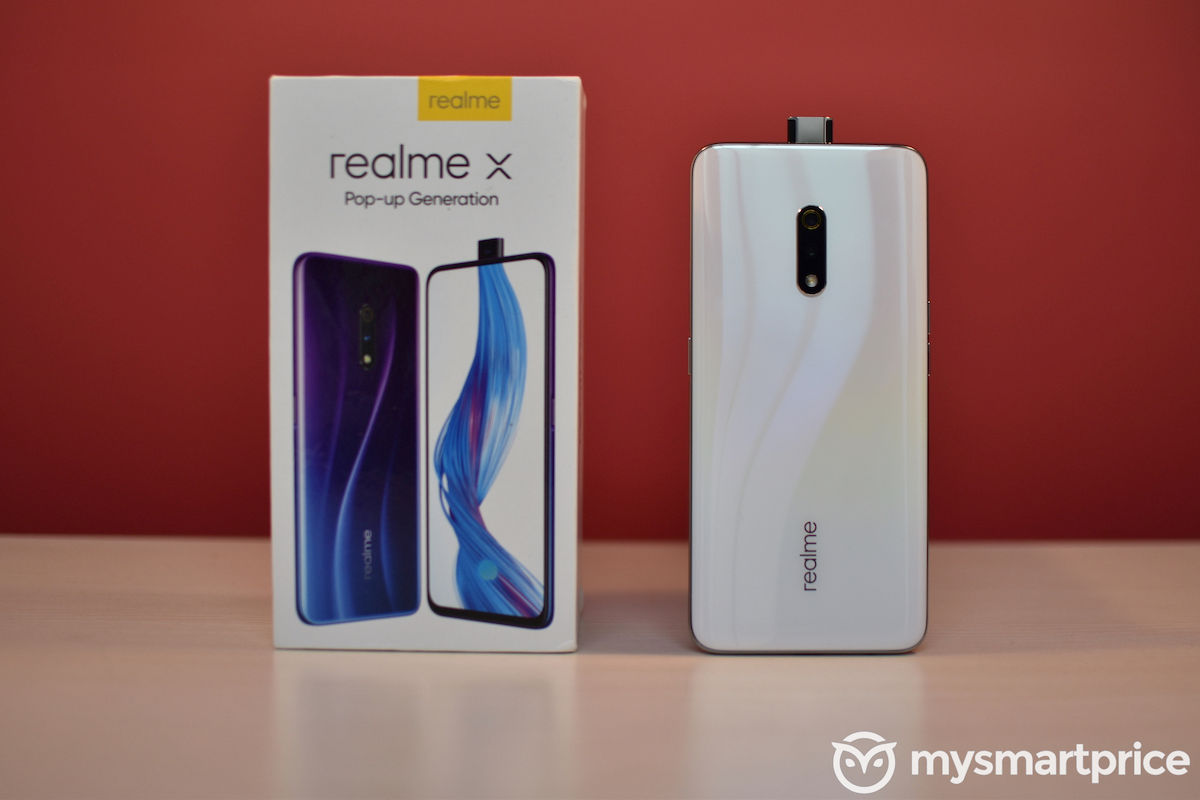 If you're looking for a premium phone priced under INR 20,000 that has a notch-less AMOLED screen, a great set of cameras, and all-day battery life, the Realme X is a perfect phone. However, we can't help but think how much better the phone could've been if it had a cohesive software UI. We hope Realme's upcoming and much-talked-about software brings all the changes that we wish to see.