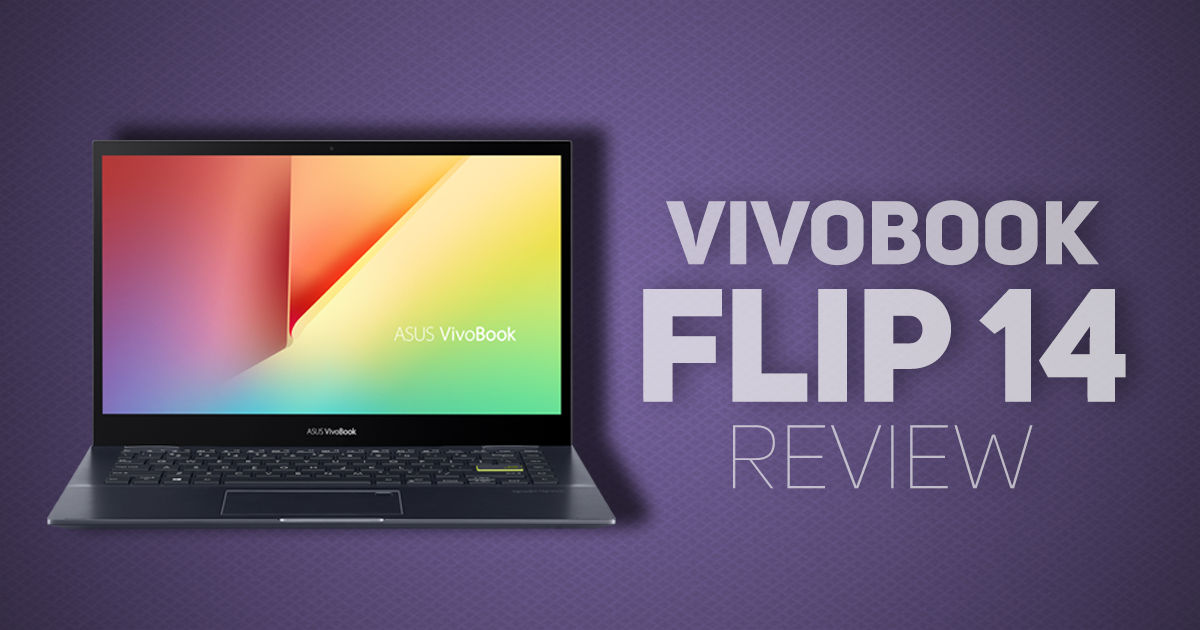 It's true that we as reviewers tend to gush over the more expensive notebooks with the latest and greatest chipsets, but in markets like India, it's a good budget laptop that would sell more. But finding a good budget laptop that doesn't feel like a shoddy compromise is a daunting affair. The new Asus Vivobook Flip (2021) makes settling for a budget laptop a little easier. Vivobooks are Asus' budget offerings and the Vivobook Flip offers something for everyone.
Asus Vivobook Flip 14
Rs 59,999
Keyboard and Trackpad
6.8/10
What Is Good?
Day-long battery life
2-in-1 form factor
Loud, clear audio
Controlled thermals
What Is Bad?
Dim screen
Drastic performance reduction on battery
RAM may feel inadequate
It's a 2-in-1 convertible that weighs less than 1.5Kgs, packs a reliable Ryzen CPU and a touchscreen display with stylus support. With ultrabook-grade specs, the Vivobook Flip takes on stalwarts like the Microsoft Surface Laptop and the Lenovo Yoga 7i, and seemingly offers more value with a sweet Rs 60k price tag, but there are some glaring compromises. Here's our full review —
Asus Vivobook Flip 14 (2021): Specs and Prices
Specs
Asus Vivobook Flip 14 (2021)
Processor
AMD Ryzen 5 5500U
Graphics
Integrated AMD Radeon Graphics (512MB VRAM)
Memory
8GB DDR4 3200MHz
Storage
512GB PCIe M.2 SSD
Display
14-inch Full-HD LED-backlit display with 45% NTSC coverage

Touch Screen

Stylus + Stylus Holder

Keyboard
Backlit Chiclet Keyboard
Colour Blocked Enter Key
Wireless
Dual-band WiFi 6 (802.11ax) + Bluetooth® 5.0
Ports and I/O
1 x USB 3.2 Gen1 Type-A

1 x USB 3.2 Gen 2 Type-C

1 x HDMI 1.4

1 x Audio Jack Combo

1 x Micro SD Card reader

Battery
42 Wh Li-ion battery (3-cells)

65W Barrel-Pin Charging

USB PD Support

Size
324 x 220 x 18.2 mm
Weight
1.5Kgs
Price
Rs 59,999
The Vivobook Flip this year is offered in both AMD and Intel CPUs but you only get the AMD variants here. While the variant I was sent for review features the AMD Ryzen 5 5500U, you also get a Ryzen 7 5700U variant that's slightly more expensive. Both sport integrated Radeon graphics with 512GB VRAM along with 8GB RAM that's soldered to the board, and not upgradable. You get a single storage slot with 512GB M.2 SSD, which can be replaced for higher capacity, and an integrated webcam, backlit keyboard and a bundled stylus. And it's also Windows 11 compatible. What makes this even more attractive is the 2-in-1 form factor. The hinges on either side allows the screen to rotate 360-degree, turning it into a tablet, perfect for doodling and taking handwritten notes. All this for Rs 59,999.
Asus Vivobook Flip 14 (2021): Display and Audio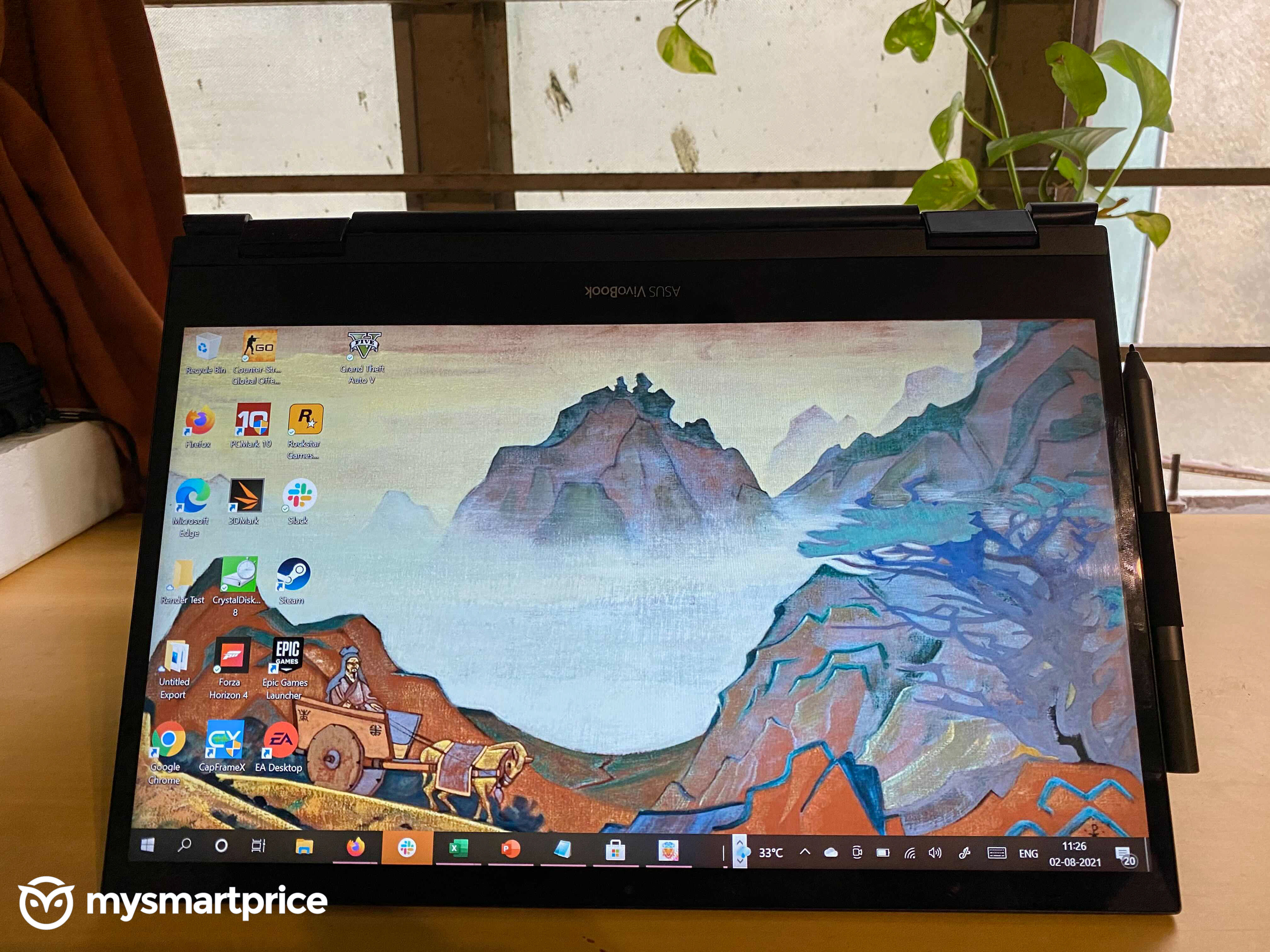 At that price tag, while Asus is indeed offering a whole lot of features, you can't really expect the highest quality. The display is the first thing you'll notice that isn't top notch. At just 250 nits of brightness, it's quite dim for a premium laptop and demands to be used strictly indoors in the day, but this isn't alone in doing so. Most laptops in this price range offer a dim display, but what's disappointing is the colour accuracy. It's not as vibrant or punchy as I'd have liked. Having used the Lenovo Yoga 7i, there was a stark dial-down of the contrasts and colour output on the Vivobook Flip 14.
Not everyone needs the best looking display on a laptop, to be honest. If you're going to use this primarily for Microsoft Office or browsing the web, this is perfectly fine. The added touchscreen and the bundled stylus, adds far more value to the laptop, than HDR certification or high colour accuracy at this affordable price point. The touch accuracy is actually great. But it would have been nice if it was a little less dimmer.
If you like to spend time on painting apps, the bundled stylus is decent. It's far from beating the Apple Pencil but is functional enough for amateur doodling. It is pressure-sensitive but you can't scribble too lightly. But adding more pressure to the tip will result in bolder lines.
The Vivobook Flip 14 comes with speakers tuned by Harman Kardon that are quite loud, and fills the room with crystal clear audio, and amidst a lot of laptops with poor 2W speakers, the audio quality is just fantastic.
Asus Vivobook Flip 14 (2021): Design and Build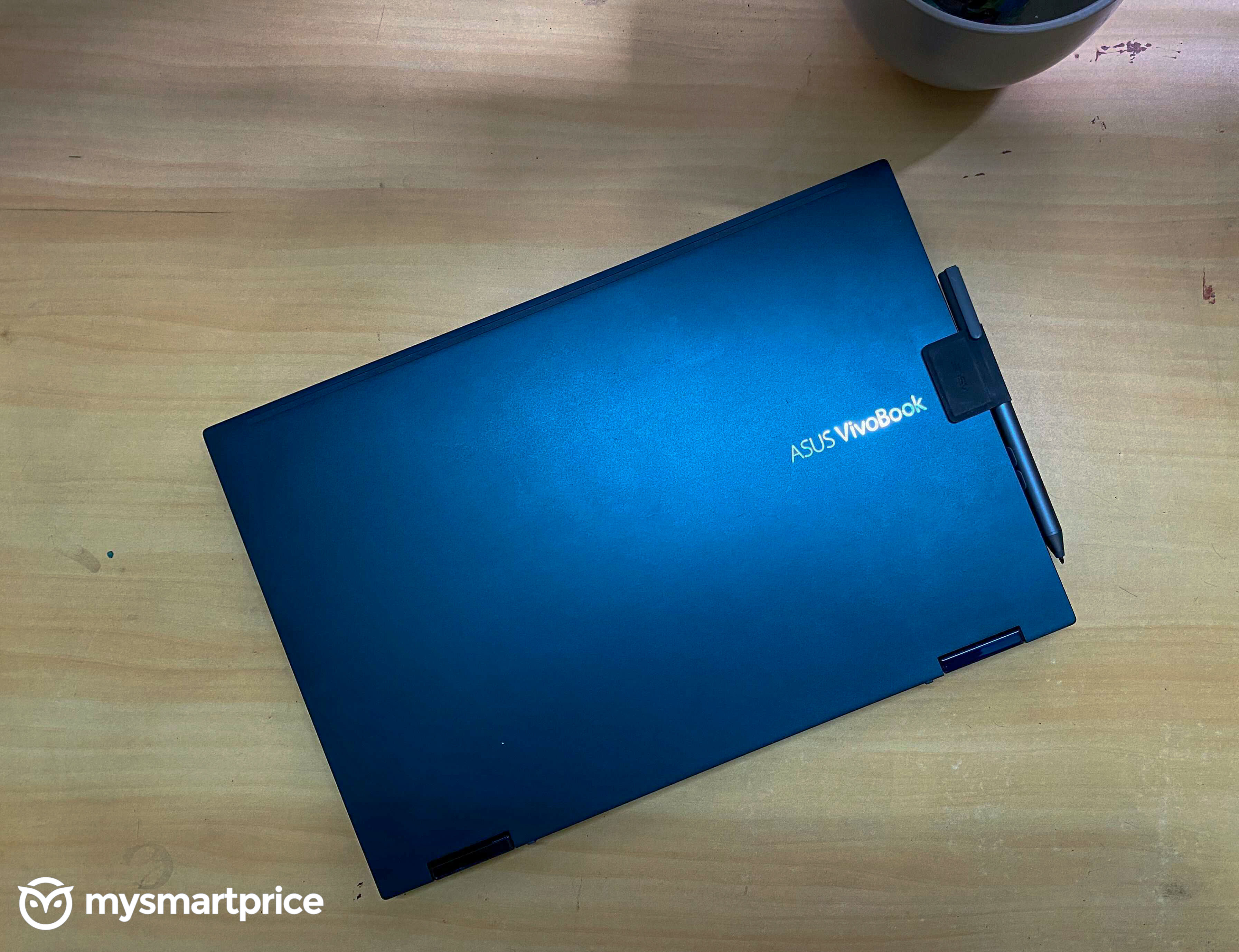 The Vivobook Flip 14, despite it's low price tag, is not cheaply built. In fact, it's the same design as last year's Vivobook Flip 14. The laptop sports a suave design, dipped in a black finish with the Vivobook logo etched in grey on the lid. The colourway is uniform across the body save for a darker shade of black on the display bezels, and a lemon yellow colour-blocked Enter key. It's a design that simply stands out amidst metallic grey finishes found in most laptops at this price. There's also an integrated webcam on top of the display, and a backlit keyboard with a decently large trackpad.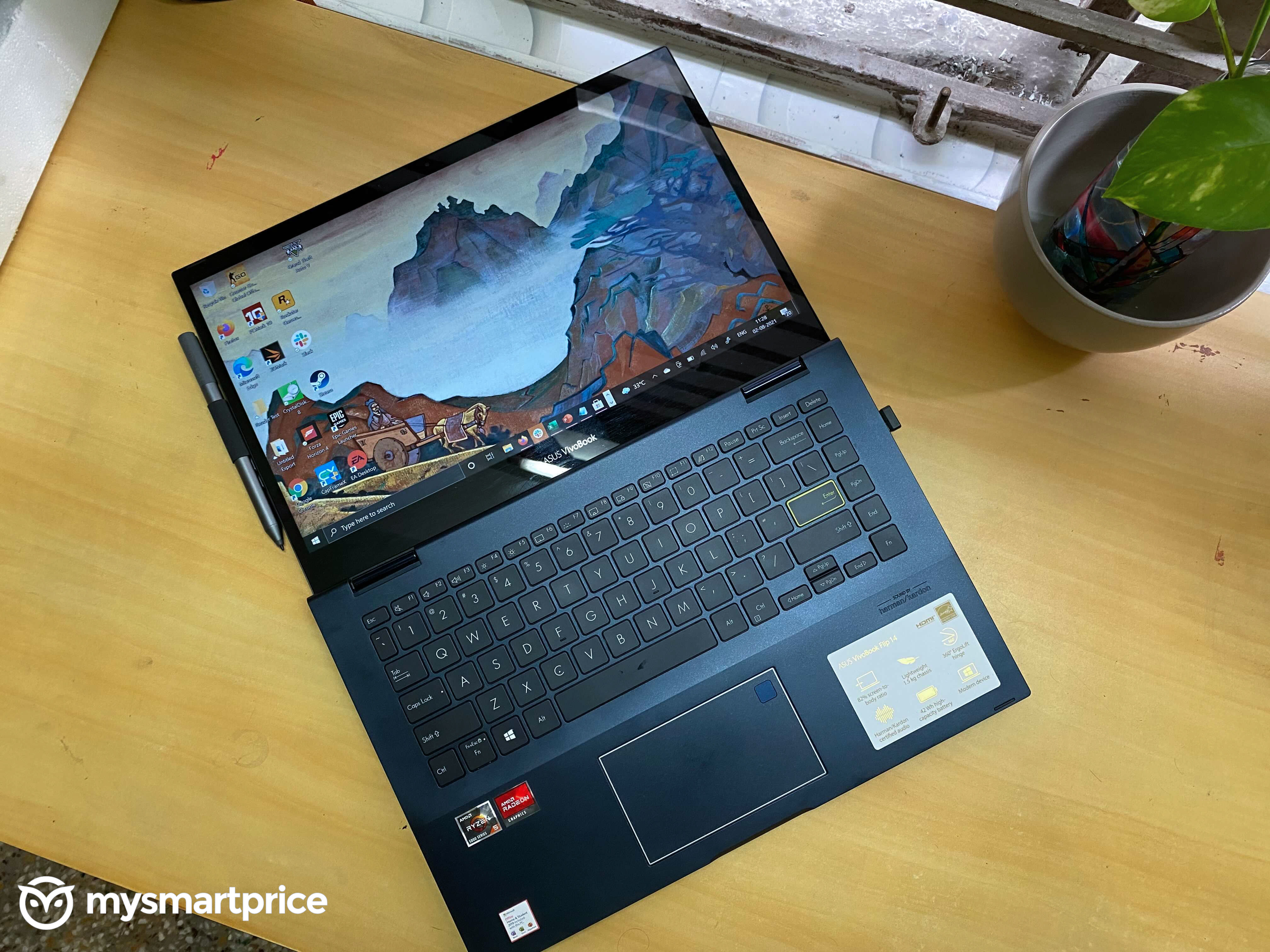 The hinge raises the laptop up as it opens, allowing more airflow under the chassis, but it's too tight to open the laptop one handed. On the other hand, it feels sturdy enough to quickly rotate the laptop around to turn it into a tablet, and I feel that's more important than opening the lid one-handed. The hinge lets you rest the laptop in just about any angle and feels durable enough to last long. That bit, though, I can only be sure of, after prolonged use.
What I don't like about the Vivobook Flip 14 is the side-mounted power button. I've had my fair share of these power buttons either getting jammed, or popping out of these budget laptops, and it's much better to have them on the keyboard deck with little chance of such extreme wear and tear.
Asus Vivobook Flip 14 (2021): Performance
The Flip 14 is essentially the same laptop as last year, refreshed with an AMD Ryzen 5 5500U with 8GB LPDDR4X RAM and 521GB SSD. There's also a Ryzen 7 variant, but the hard truth is that the APUs used in the Flip 14 are based on last year's Zen 2 Lucienne cores instead of the Zen 3 Cezanne cores found in the more powerful Ryzen chips. Going by the specs of the APU, it essentially feels like a rebranded Ryzen 5 4500U that powered the Vivobook Flip 14 last year, and when compared against the 11th Gen Intel chips for ultrabooks, the tables are reversed in favour of Intel.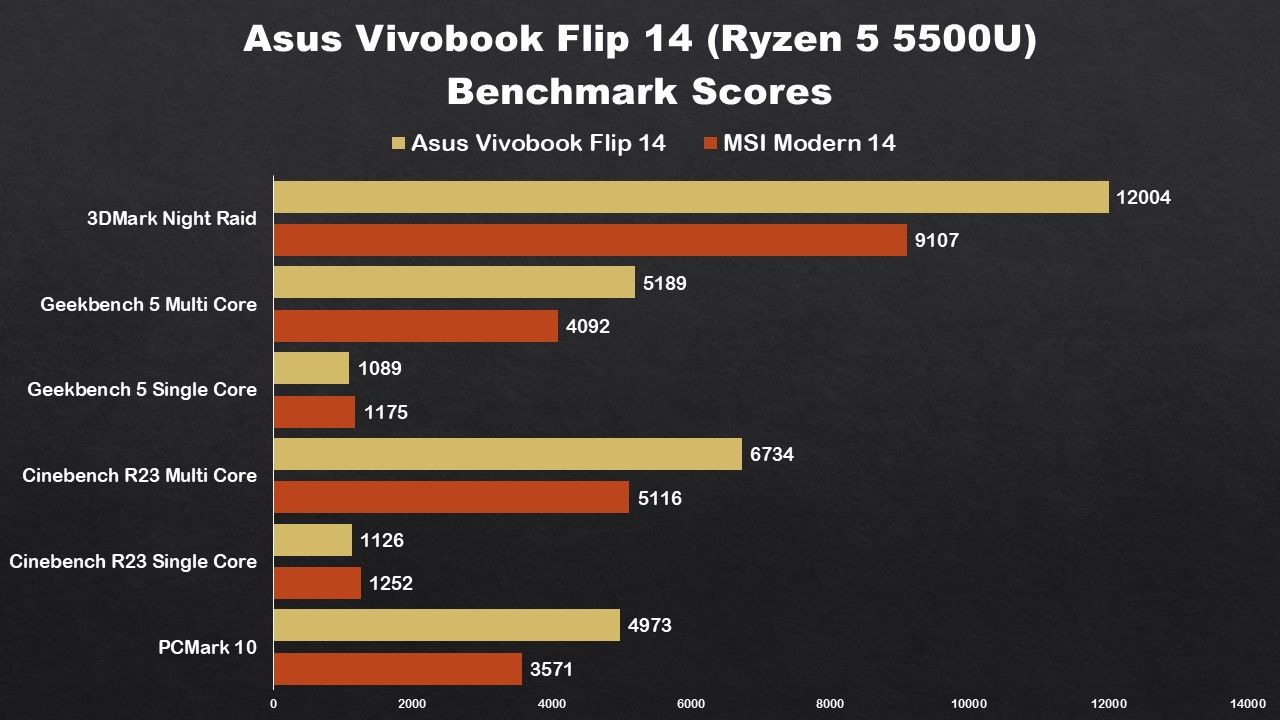 We tested the performance of the Vivobook Flip 14 on PCMark 10, Geekbench and Cinebench R23 and the graphics performance with the 3DMark Night Raid test for integrated graphics. The results, as shown below, prove that there's not much of a performance gain from last year, and in fact, can be considered slower than laptops powered by Tiger Lake chips from Intel. We had the MSI Modern 14 with an 11th Gen Core i5 G7 chip to compare, and there's a significant delta in performance.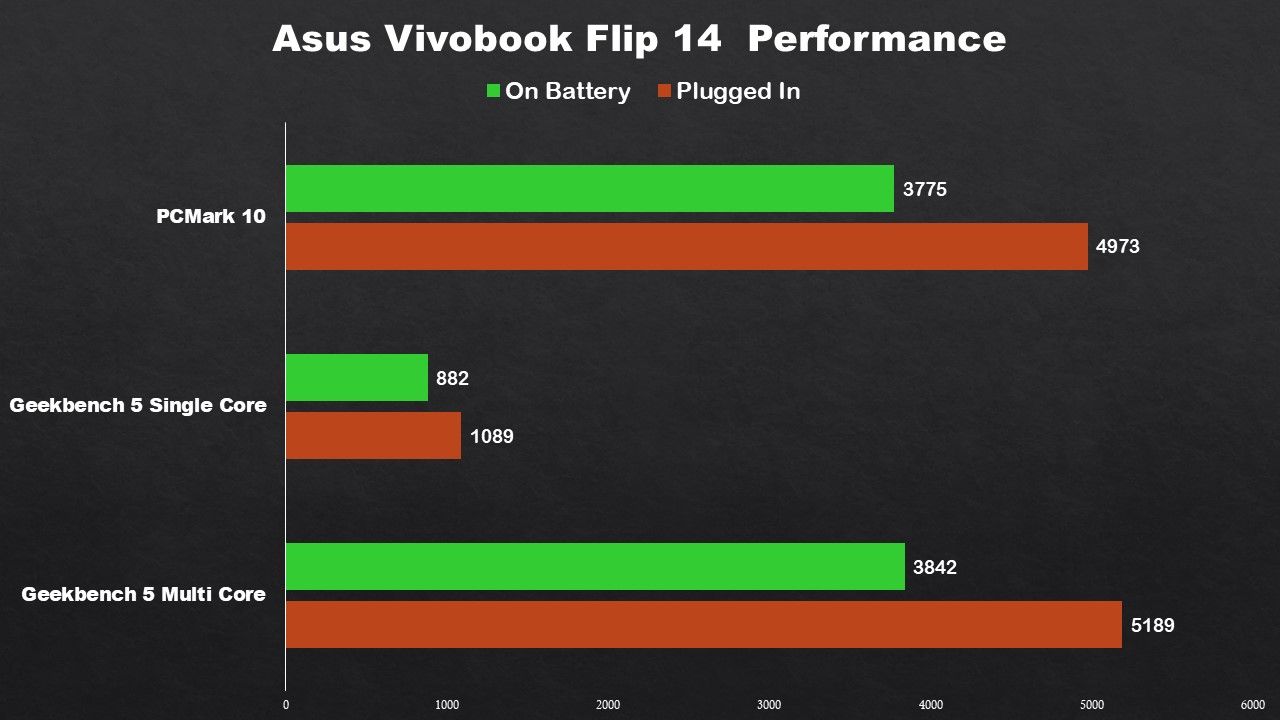 But that's just settling the AMD vs Intel debate for ultrabooks. What's even more critical to note is how the performance dips when the laptop is running on battery as compared to when it's plugged in. While it's true that you won't ever get full performance on battery, but there's significant throttling on the Vivobook Flip 14 when on power, to the extent that it became sluggish with a few Firefox tabs open.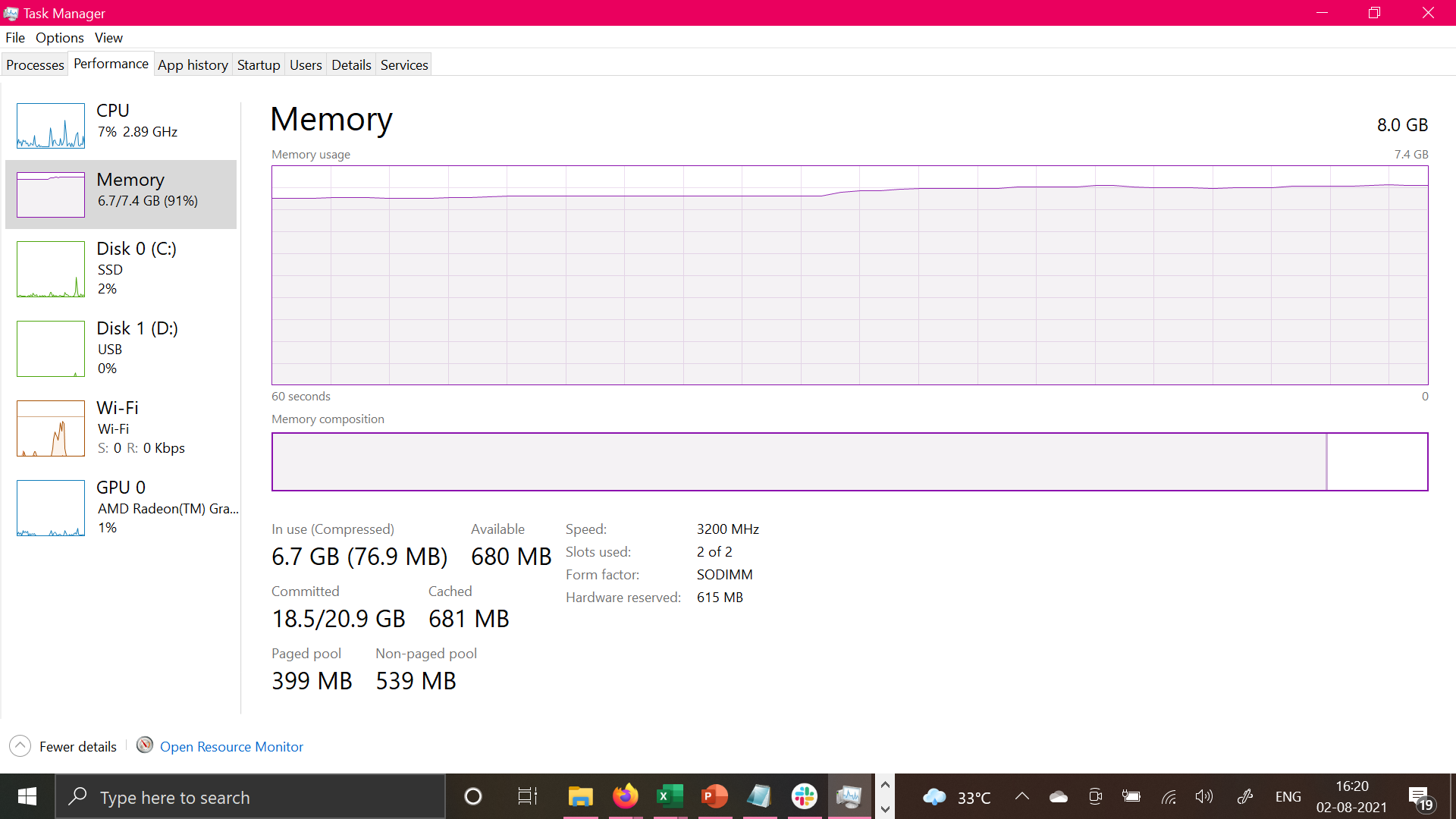 The non-upgradable 8GB RAM also doesn't help the cause, and RAM usage was around a constant 80% at all times with Firefox running. This just means that while the Vivobook Flip 14 is fine for basic, everyday usage, this won't really impress power users and multitaskers. It does boot up in an instant and I was able to attend Zoom meetings (the video quality is quite nice thanks to the integrated HD webcam), doodle on Windows Inkspace, and binge watch movies and shows without a hassle.
The good news is that the integrated Radeon graphics with 512MB VRAM is just about good for playing CS:GO at medium graphics with 46 FPS on an average. But don't be too optimistic. Smoke and stun effects in the game will slow you down to a crawl.
The laptop also clocked a hot 46 degrees on the left edge of keyboard, right beside the air vent, but overall the keyboard remained well under 40 degrees which is a sign of good thermal management.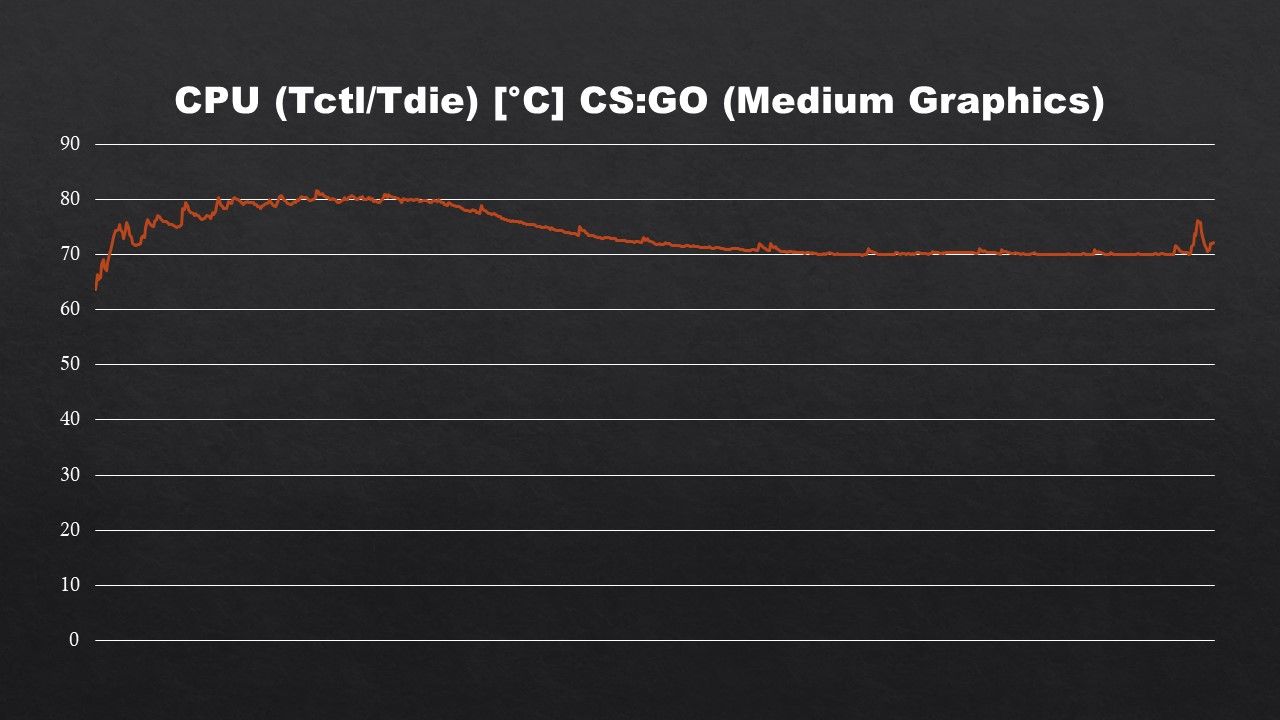 Even inside, the temperature never went beyond 82 degrees, which is well below the APU's thermal limit of 105 degrees. There is a fan inside but even after an hour of gaming, it silently dissipates the heat inside. Easily one of the best thermal management I've seen in this segment.
Overall, the Vivobook Flip 14 is perfect for everyday use, but isn't made for heavy usage or pro gaming.
Asus Vivobook Flip 14 (2021): Keyboard and Trackpad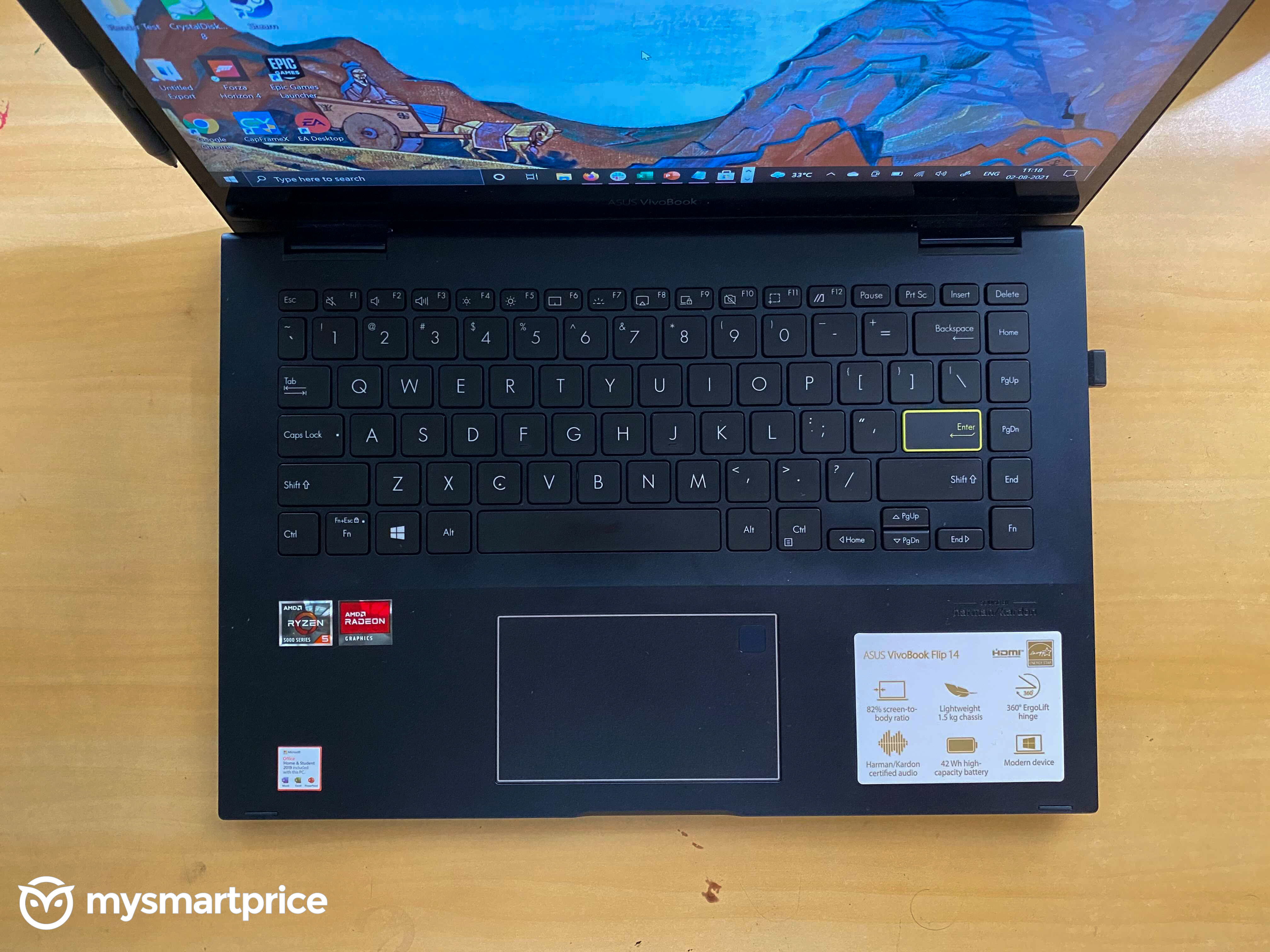 The keyboard of the Vivobook Flip 14 is its strongest suite. There's three degrees of keyboard backlight and a colour-blocked enter key that makes it look fantastic. Just that you'll have a hard time removing any oil stains on the keys. The keys itself are springy, responsive and overall, great for typing out long essays and quick emails. There's ample spacing between the keys and save for the fused up and down arrow keys, everything is right where it should be, and muscle memory will pick the rhythm right up.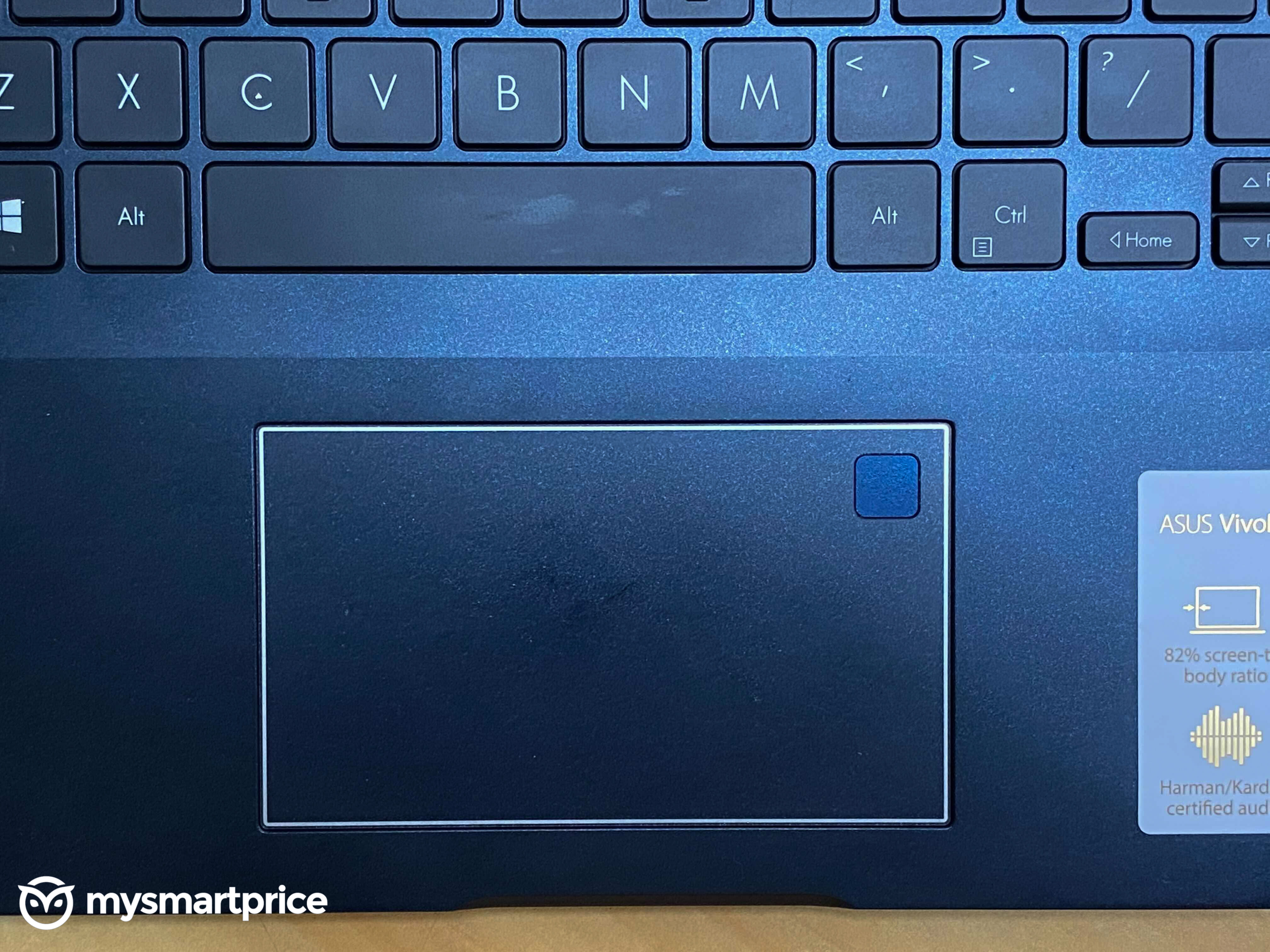 The trackapad is decent enough for regular use. It has the fingerprint scanner on the top right corner and it's mighty responsive. It also supports the necessary precision gestures that makes Windows 10 all that more fun to use, and because of its depressed-crater like design, won't come in the way of typing. But like the keyboard, this too attract a lot of stains.
Asus Vivobook Flip 14 (2021): Ports and Connectivity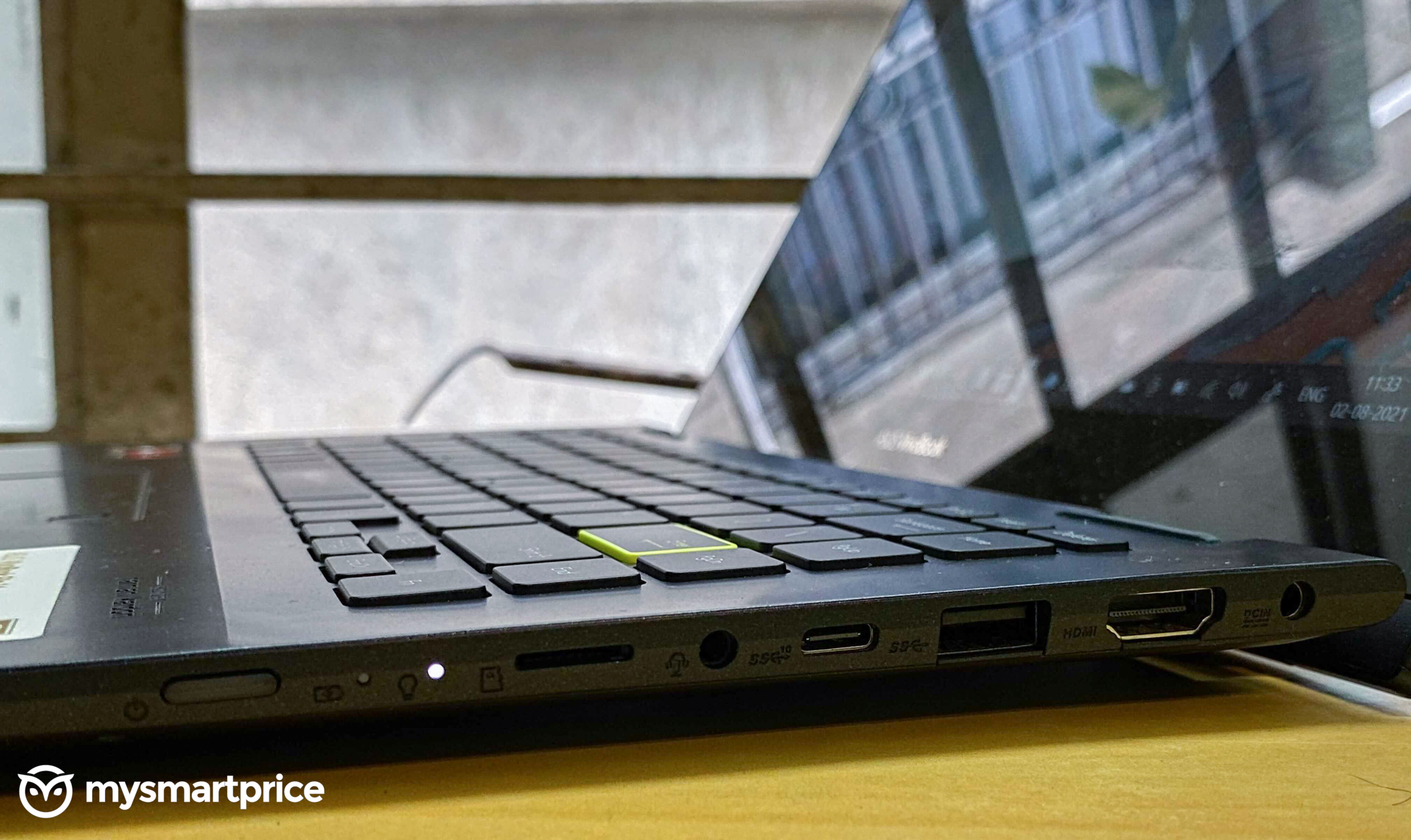 While the Vivobook Flip 14 may lack the multitude of ports and connectors that's a staple in more high-end creator machines, Asus has generously offered one Type-A port each of USB 2.0 and USB 3.2, and one USB 3.2 Type-C port. Other than that, there's a microSD card reader, HDMI 1.4 and a 3.5mm audio jack. It also supports Wi-Fi 6, and should you have a compatible router lying around, you can enjoy the high speeds and lower latency brought forth by the latest generation of Wi-Fi.
Asus Vivobook Flip 14 (2021): Battery Life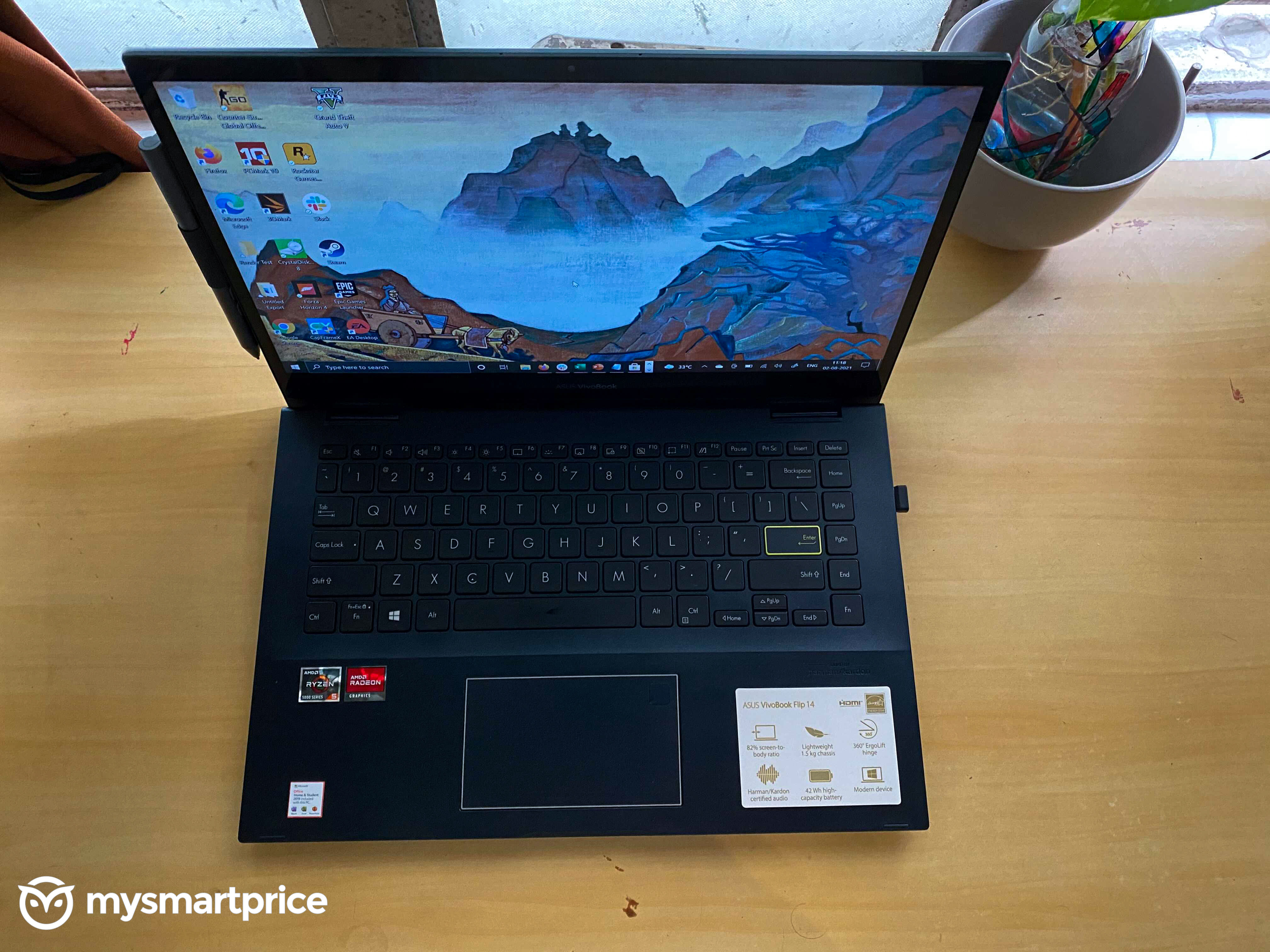 The Vivobook Flip 14 packs a 42Whrs battery inside that tops up with a 65W barrel-pin charger, with additional USB PD charging support. On performance mode, I got around 3.5 hours of active usage, which increases to well over 5 hours under Whisper mode, but you have to sacrifice a lot of performance for that. If you manage to remember to switch between the performance profiles depending on the task you're about to embark upon, you can easily stretch the battery life to around 8 hours which is decent enough for a mainstream 2-in-1 laptop.
The 65W charger can top this from 0-100 in around an hour which is again quite good for the price, and I had no complaints whatsoever from the battery life.
Should You Buy The Asus Vivobook Flip 14 (2021)?
Looking at the overall proposition, the Vivobook Flip 14 seems to promise a lot of things, but you should really tame your expectations down a bit. It's perfect for everyday use at school or for regular office work, and even some light gaming. But don't buy this expecting a powerhouse suitable for video editing or heavy AAA gaming. The myriads of features including the stylus and flip form-factor easily sets it apart from a host of mainstream laptops found in this price range, and it's this broad feature set that makes this an excellent recommendation.