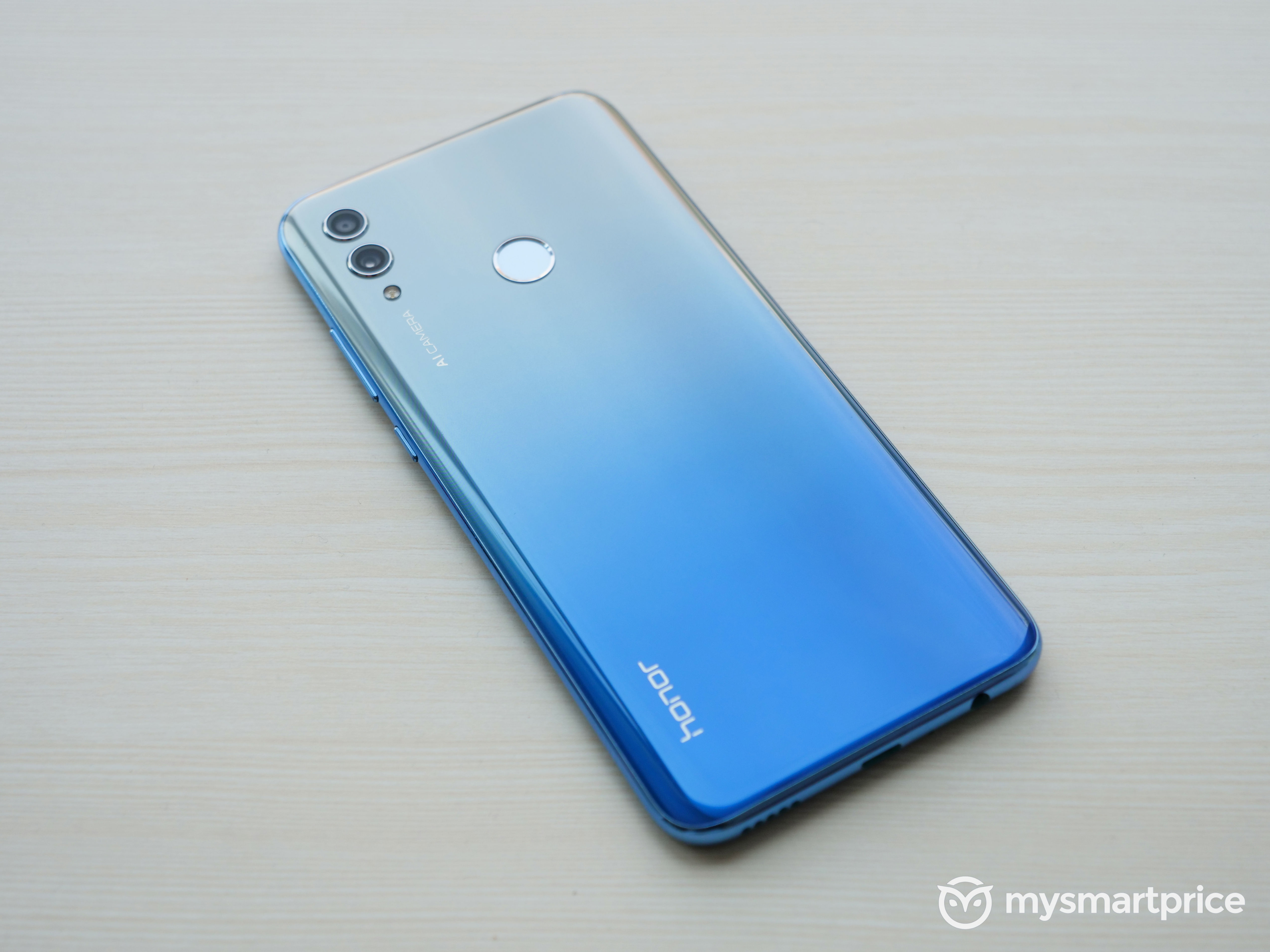 The Honor 10 Lite is more of a successor to the Honor 9 Lite (review) and 9N (review) rather than being a cut-down variant of the Honor 10 (review). The Huawei sub-brand has yet again presented us with a package that not only looks good from the outside but is also loaded on the inside. The use of a Kirin 710 chipset on the 10 Lite contributes to a significant performance upgrade over the aforementioned budget offerings. This is the first phone from the brand with a waterdrop notch design to make its way to the Indian market. Add a gradient rear panel design to the mix and the overall package sounds quite promising. At a starting price of INR 11,999, is the Honor 10 Lite good enough to rule the budget segment? Let's find out.
[P_REVIEW post_id=150535 visual='full']
We have already seen what Honor is capable of with making its affordable smartphones look premium, and the 10 Lite is no exception. There is a waterdrop notch at the front, along with a gradient finish at its back. This color variant is called Sky Blue, while a Midnight Black and plain Blue option are also offered for those who prefer less flashy handsets. While all color models possess attractive glossy back panels, it is hard to ignore how the 10 Lite's rear has a more plasticky feel when compared to the 9 Lite and 9N. The use of a plastic frame further contributes to this feel. The 10 Lite is also more prone to getting smudges and fingerprints all over the back. There is also no protection rating for the front glass, putting it at a higher risk of scratches.
With that said, Honor has taken the liberty of shipping the 10 Lite with a pre-applied screen protector. You also get a transparent silicon case that should help with the smudge situation. Overall, the phone is as sturdy and robust as you'd expect from an Honor smartphone. The power button and volume rockers on the right-hand side of the phone are well-pronounced and offer satisfactory tactile feedback when pressed. A headphone jack, micro USB charging port, and loudspeaker are found at the bottom of the phone. Meanwhile, a hybrid SIM slot can be found at the top. Considering how the use of a waterdrop notch would make it difficult to squeeze other sensors at the top, Honor made a rather clever decision to move the notification light to the bottom chin.
With that said, Honor did end up making a not so clever and easily avoidable mistake with the design of this phone. A secondary microphone is placed just beside the SIM tray at the top, making it easy to stick the SIM ejector tool inside this opening by accident.
The Honor 10 Lite comes with a 6.21-inch LCD screen with a Full HD+ resolution, 19.5:9 aspect ratio, and a 91 percent screen-to-body ratio. The affordable nature of this phone makes it difficult to stress on any shortcomings of the phone's screen. There are two display modes, namely the Normal and Vivid mode. The former allows for a more color accurate tone but does seem to turn down the brightness a bit. Most users are likely to stay on the Vivid mode anyway, which offers a cooler overall tone with brighter and punchier colors. The phone also allows more granular control over the screen's tone with the help of a color wheel. There is also an Eye comfort mode that helps reduce eye strain by turning down blue light emission.
Overall, the screen of the Honor 10 is on par with what you would expect from a phone of this caliber. Viewing angles are quite good and standard video playback presents no issues. The gaming experience is also immersive thanks to the large real estate. As mentioned earlier, the phone has a tiny notch at the top along with extremely thin bezels. The notch doesn't really hamper the experience and barely gets in the way of general content consumption. If it does bother you, you can always hide the notch as Honor indeed provides the option to do so.
Imaging prowess of mid-range smartphones has come a long way over the past few years. The Honor 10 Lite's overall performance in this segment is also well above average. The phone ships with a 13MP + 2MP rear cameras at its back, while the front notch houses a 24MP selfie shooter. Both the front and rear camera are capable of capturing good details with accurate color when you have ample ambient lighting. However, this is true only when AI mode is disabled, as enabling it produces oversaturated images. Then again, images snapped with AI mode enabled do look quite appealing in many conditions.
A plethora of shooting options can be found on the 10 Lite, all of which perform as intended most of the time. Both the Aperture and Portrait modes add bokeh to shots, with the former allowing manual control over its intensity. In both these modes, I found the edge detection of the 10 Lite's cameras to be quite satisfactory. Beauty mode allows facial enhancement options such as skin smoothening, but it can become overbearing and resulting images tend to lack sharpness. The rest of the shooting modes are comprised of Pro, Panorama, AR Lens, Light Painting, HDR and Night.
It is worth noting that many of these shooting modes tend to get the rear camera's resolution down from 13MP to 8MP. I'm still not sure why Honor does not offer an auto-HDR option on its devices. The dynamic range was another aspect which felt a bit lacking, as darker areas generally lacked detail and produced noise. Noise becomes significantly more prominent in low-light situations. Night mode helps to recover some details, but that requires quite a steady hand.
Honor 10 Lite Camera Samples
As for video recording, the 10 Lite can only go as high as 1080p at 60fps. With a lack of image stabilization, videos tend to be shaky. Beatification can be applied to videos as long as you shoot at 720p.
The 10 Lite sports the relatively new Kirin 710 chipset that is found only on a handful of other Huawei and Honor smartphones. The first time I used this processor was on the Huawei Nova 3i (review). There were still a few bugs that needed to be ironed out back then, but it seems Huawei has managed to fix them this time around. While I reviewed the 6GB RAM variant, the Huawei sub-brand also offers a 4GB RAM model. Both models offer 64GB of onboard storage, with expandability being possible via a hybrid card slot. As for its software, the phone comes with Android 9.0 Pie with EMUI 9 running out-of-the-box.
After using the phone for over two weeks, I can confidently say that the Kirin 710 has finally reached its full potential. No longer was I riddled with the same navigation-related bugs I found on the Nova 3i. This hardware and software combination lends to a pleasantly smooth and snappy user experience. I had no problems in navigating and opening apps. Multitasking was hassle-free as well. Demanding game titles also fared pretty well.
It has become standard for smartphone makers to offer face unlock and fingerprint scanners these days. The 10 Lite also offers both of these, and unlocking the phone with either of these methods works flawlessly. In very rare occasions, such as extremely dim lighting situations, did I find face scan to not function properly.
With EMUI 9.0.1 on the Honor 10 Lite, you get a Digital Balance feature that gives you a breakdown of how you have used the phone. Screen time management then allows you to set limits to usage times either across the entire phone or specific apps. You also get gesture navigation that hides the traditional navigation buttons and lets you move around with a series of swipes from the edge of the display. There is some bloatware on the 10 Lite, although you do get to uninstall (or at least disable) most of them.
Honor 10 Lite Battery Life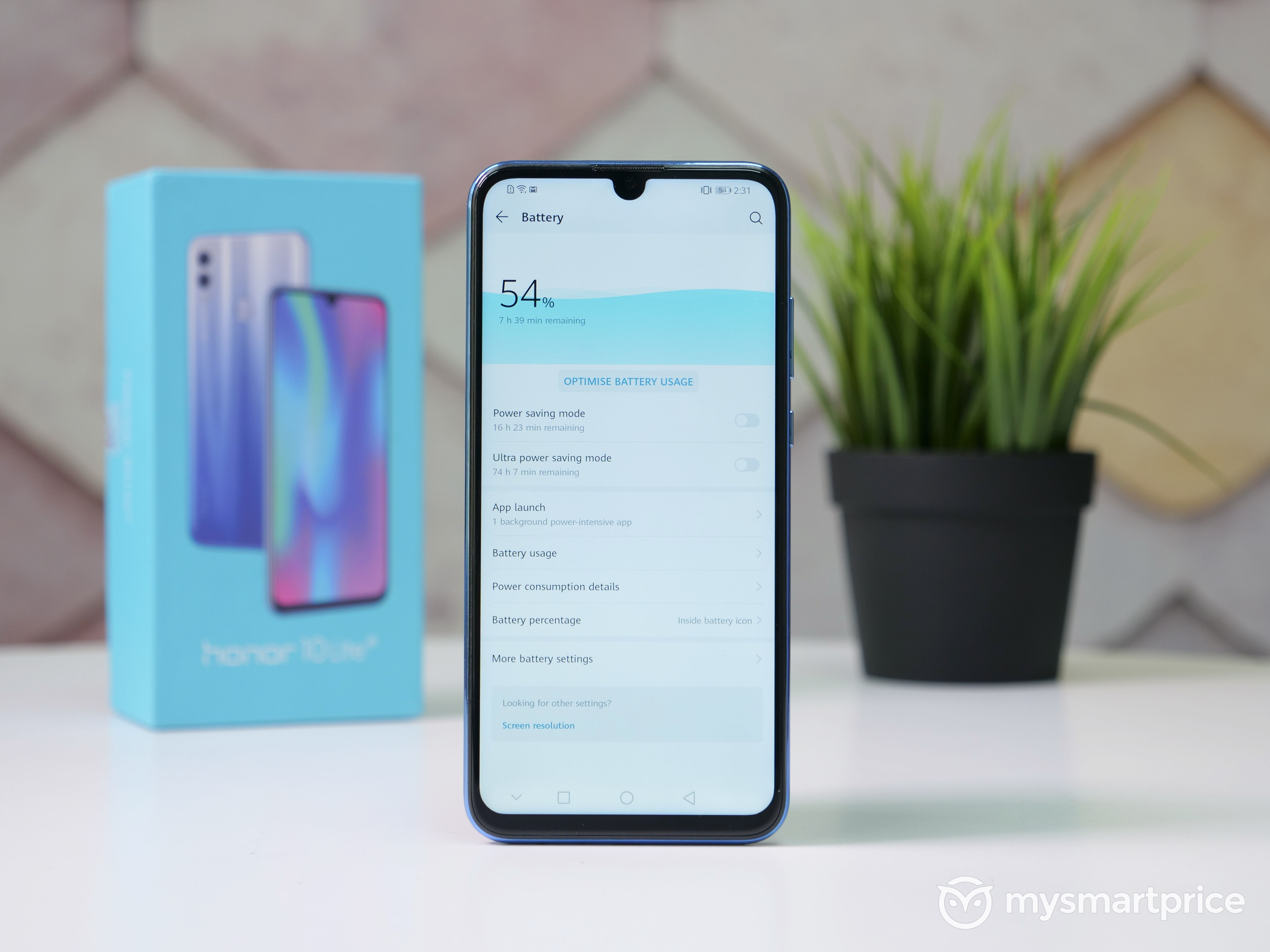 The Honor 10 Lite, with its 3400mAh battery, manages to offer an impressively long battery life. On average use, I was able to achieve about 7 hours of screen on time with 34 hours of standby. The included 10W charger takes around 2 hours to fully charge the phone. Charging takes place over the phone's micro USB port, an aspect I would have overlooked if the phone had fast charging.
Honor 10 Lite Battery Life
Honor 10 Lite Verdict

As it stands, the Honor 10 Lite ends up being a direct competitor to the Redmi Note 7. The latter, however, starts off at a slightly lower price tag (INR 9,999). For that price, the Note 7 offers a slightly better Snapdragon 660 processor and a larger 4000mAh battery that supports Quick Charge 4. Both phones are similar aesthetically, but the Note 7 gets Gorilla Glass 5 construction as opposed to the 10 Lite's plastic build. If Xiaomi's offering was not in the picture, I would have had no issues recommending the Honor 10 Lite to potential buyers as it is a good phone on its own. But if you are willing to live with Xiaomi's bloatware and ad-filled software, the Redmi Note 7 is a better deal. Alternatively, you can also go for the Zenfone Max Pro M2 (review).
Design and Build Quality
7.5/10
Front-Facing Camera
8.0/10
What Is Good?
Vibrant screen.
Decent still images in daylight conditions.
Decent performance.
Great battery life.
What Is Bad?
Charges over micro USB, lacks fast charging.
Hybrid SIM + storage slot.
Plastic build.